This recipe for small-batch Angel Food Cupcakes will make six dreamy marshmallowy cupcakes perfect for a light dessert. 
We're nearly two full weeks into January. How is your healthy eating going? Is the December bloat beginning to fade away?
Do you need some cupcakes now?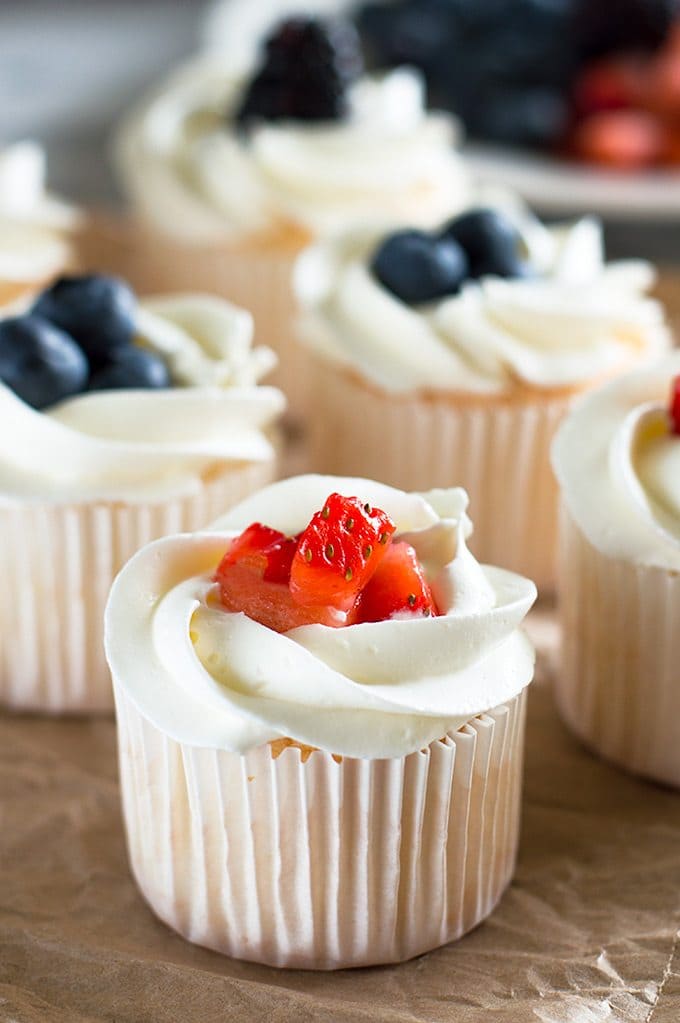 I dooooooooooooooo.
Don't get me wrong, I really do love the fresh, healthy feeling of January. I love that it's a great chance to check back in with your eating habits, and healthy food can absolutely be delicious food, so I'm not exactly suffering over here, but sometimes a girl just really needs a cupcake.
And you know I like my decadent cupcakes, but (fab) heavy things, like my Tagalong Cupcakes or Brooklyn Blackout Cupcakes feel a little excessive for mid-January, so I thought now would be a good time to break out something a little lighter: small-batch Angel Food Cupcakes!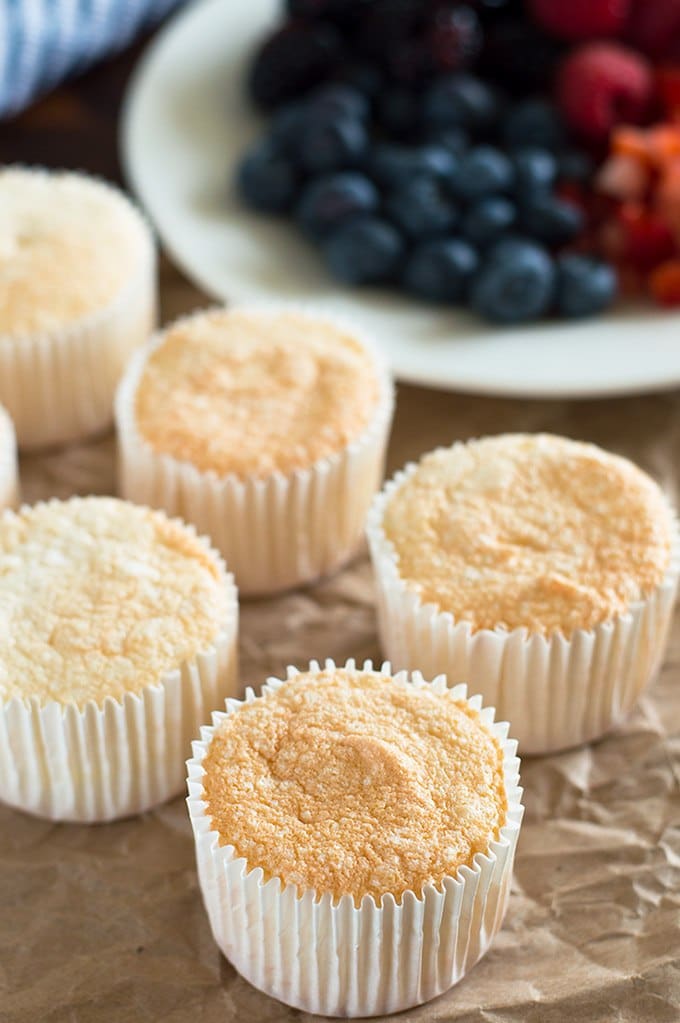 Would you believe that I grew up thinking I didn't like angel food cake? Turns out I just didn't like whatever it is they sell at the grocery store that they call angel food cake. The first time I made the real thing, I was floored. The texture is nothing like the store-bought stuff. It's so light and tasty, like eating a marshmallow spun into a cloud.
This small-batch recipe will make a half dozen angel food cupcakes that come in at about 40 calories each. You can absolutely enjoy these cute little cupcakes by themselves, but if you add a little whipped cream and chopped fruit, even better.
If you're looking for a light dessert, these are a perfect way to add some cupcakes to your January.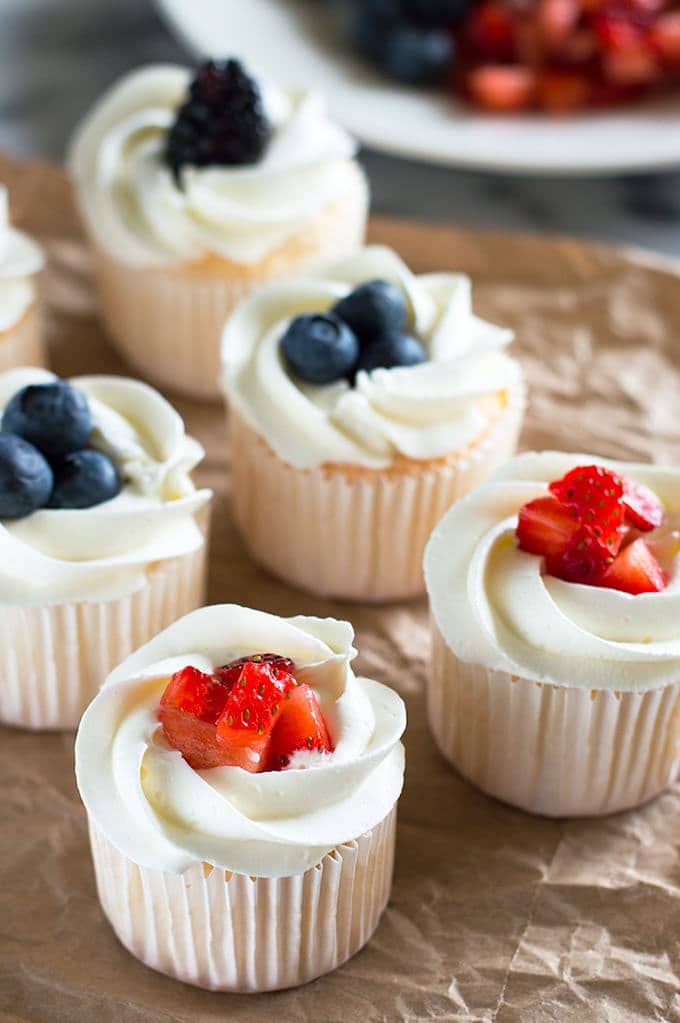 Like this post? Want to get more small-batch dessert recipes delivered to your inbox weekly? Subscribe to my newsletter and get a free mini e-cookbook, "A Week of Easy Meals for Two!"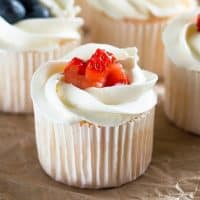 Small-batch Angel Food Cupcakes
This recipe for small-batch Angel Food Cupcakes will make six dreamy marshmallowy cupcakes perfect for a light dessert.
Print
Servings (Hover or Click to Change Yield):
6
Ingredients
Angel Food Cupcakes
5

tablespoons

granulated sugar

divided

3

tablespoons

(

21

g) cake flour

Pinch of salt

2

large egg whites

at room temperature

1 1/2

teaspoon

warm water

1/8

teaspoon

vanilla extract or a couple drops of almond extract

1/4

teaspoon

cream of tartar
Serve With
Strawberries, blueberries, or blackberries
Instructions
Preheat your oven to 350°F and line cupcake pan with 6 liners.

Into a medium bowl, sift together

2

tablespoons of the sugar, the flour, and salt.

In a medium bowl, combine remaining

3

tablespoons of the sugar, egg whites, water, vanilla, and cream of tartar and whisk until foamy. With a handheld electric mixer, beat on high until medium peaks form, 2 to 3 minutes--eggs should be white and glossy, and when the beaters are lifted straight up, peaks should stand on their own and curl over at the tip.

Sift 1/3 of the flour mixture over the top of the egg whites and use a silicone spatula to fold flour into the egg mixture until just incorporated. Repeat twice more, being careful not to overmix and deflate the eggs.

Fill your prepared cupcake cups about 80% of the way full and smooth tops (discard any extra). Bake for 17 to 20 minutes, until cupcakes have pulled away from the edges of the cupcake pan, are very lightly golden, and a toothpick inserted into the center of the cupcakes comes out clean.

Cupcakes can cool in the pan. If desired, once cooled, pipe a circle of whipped cream around the top of the cooled cupcake and fill with chopped fruit. Enjoy!
Notes
Approximate nutritional information is for cupcakes only. Does not include whipped cream or fruit. The cupcakes in the photos used about 2/3 cup whipped cream total and come in at just under 90 calories a piece.
Adapted From Cooking Classy
This post may contain affiliate links, which means I receive a small commission if you make a purchase using them. There is absolutely no additional cost to you.