Saturday Morning Snapshot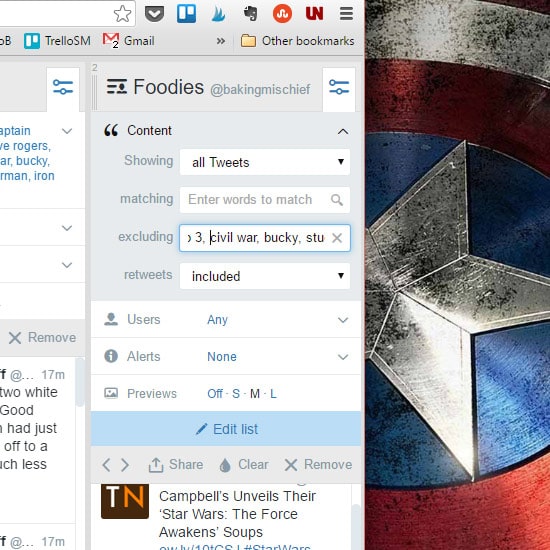 Cap 3 screenings have begun, time to go on the spoiler offensive…
State of the Blog
My Slow Cooker Baked Potatoes With Broccoli and Cheese Sauce were featured in a Redbook round up of slow cooker meals on their site this week. The caption they gave it cracked me up, and if you are looking for some super easy dinners, go check out the fantastic other recipes in that post!
On the blog, I posted one of my most made recipes, homemade panini. Fun fact about that post, I spent a ridiculously long time AGONIZING about whether Baking Mischief was going to be a site that said "panino" or "panini." I went down a linguistic rabbit hole that included Reddit, cooking sites, Italian and English language forums, and more than one academic paper, hoping someone would just tell me what to do. No one would, so I went with my personal preference, fully aware that I'm probably on the wrong side of history with this one. Wednesday, things were much simpler with another easy green bean side, and Friday there were scones!
Next week is sandwich number two of our Hot Sandwich series, I do a magic trick with Nutella, and on Friday, turn that magic trick into something delicious.
Recipes/posts released this week were:
Easy Homemade Panini Without a Panini Press – Perfectly cooked panini, crunchy and toasted on the outside, warm, gooey, and cheesy on the inside, all without using a panini press!
Quick Green Beans With Bacon Side Dish – Fresh green beans with chopped bacon, tossed in bacon drippings make an easy, tasty, and surprisingly low-calorie side dish.
Glazed Jam Scones – Adorable buttermilk scones baked with your favorite jam inside and brushed with a buttery vanilla glaze.
Pop-culture Corner
The first wave of Captain America: Civil War screenings has started, and the minute I began to see early (good!) reactions in my Twitter feed, up went the Twitter and Chrome keyword blockers. I'm not usually a spoiler-phobe, but since I've read the comics and know what happens, I guess I really don't want to know what happens.
The Rogue One teaser dropped. Whadja think? I'm a big fan of Felicity Jones and an even bigger fan of flowing capes, so for me, so far, so good.
Speaking of that Rogue One trailer, every time I peak outside of my perfectly curated Twitter bubble into the wider Twitterverse, the world feels like a completely garbage place.
Except for when I stumble upon tweets like this:
A message from an old friend. #Kingsman pic.twitter.com/n4HShWktIK

— Taron Egerton (@TaronEgerton) April 7, 2016
Or this:
Pedro Pascal joins the #Kingsman sequel, where he can explore new ways of getting murdered: https://t.co/xbt70o4jop pic.twitter.com/YRh1tpgMtK

— Vulture (@vulture) April 9, 2016
Truely, Kingsman Twitter this week has been delightful.
Finally, it was announced this week that Hugh Dancy would be joining Fifty Shades Darker. The passive-aggressive headlines like, "Hannibal's Hugh Dancy to deal with more dead-eyed weirdos in Fifty Shades Darker" and "Someone Convinced Hugh Dancy to Join 'Fifty Shades Darker,'" reporting this news sustain me. And, um, Uproxx's headline wasn't snarky so much as just plain good advice. 😉 "Hugh Dancy Is A Go For 'Fifty Shades Darker,' So Adjust Your 'Hannibal' Fan-Fiction Accordingly"
Meal Planning
Saturday: Pesto Chicken Sandwiches
Sunday: Basil Chicken with Orzo
Monday: Sweet and Sour Chicken
Tuesday: Light and Healthy BLT Salad
Wednesday: Salsa Chicken
Thursday: Buffalo Wraps
Friday: TBD