Moist and sweet cornbread muffins topped with homemade honey butter make a tasty and easy side dish!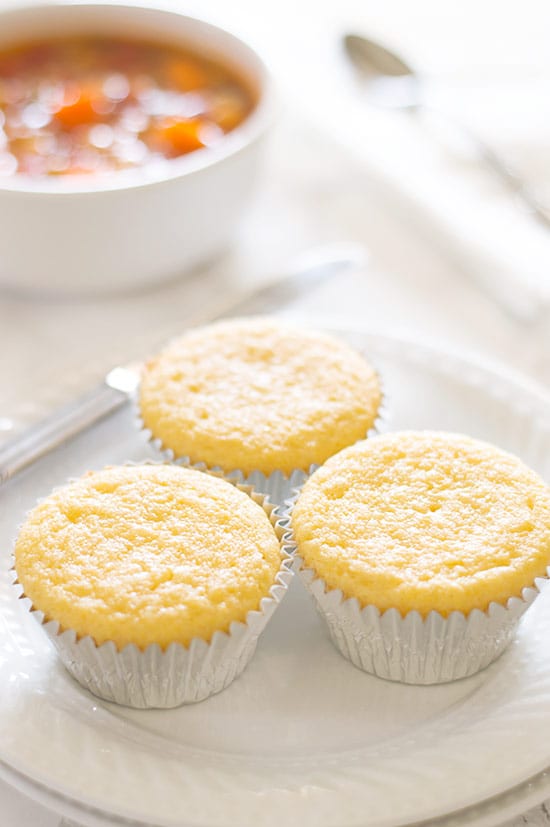 Cornbread is one of those foods people seem to love or hate, and even people who love it have very specific requirements for their cornbread. Are you a savory or a sweet cornbread person. Dense and gritty or light and fluffy?
Me? I love cornbread. How do I like my cornbread? Like cake. I like my cornbread to be cake.
Okay, not quite, but my ideal cornbread is definitely sweet. Savory cornbreads, I just don't get you. And I want it to be fluffy and slightly moist, not dry and crumbly. Ick.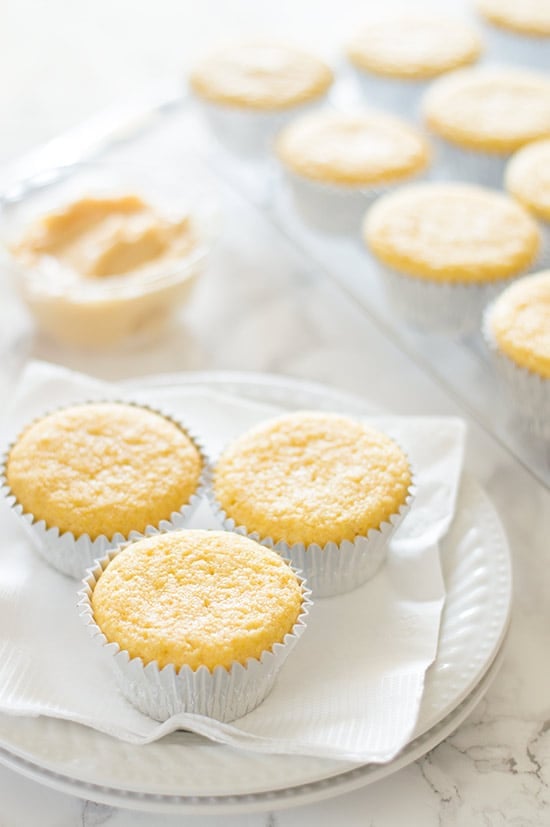 Maybe I love wrongly. Maybe I'm just trying to turn cornbread into an excuse to eat dessert with my meal, but I don't care. I'm an adult and I do what I wanna. (Except for all the things I'm not allowed to do.) So that's what today's cornbread muffins are.
They are sweet, but not too sweet, and made with tangy buttermilk, which keeps them moist and soft, while still maintaining that dense, cornbread texture. They are fantastic on their own, but even better when topped with homemade honey butter. If you like your cornbread on the sweet and cakey side like I do, welcome to your new favorite cornbread recipe!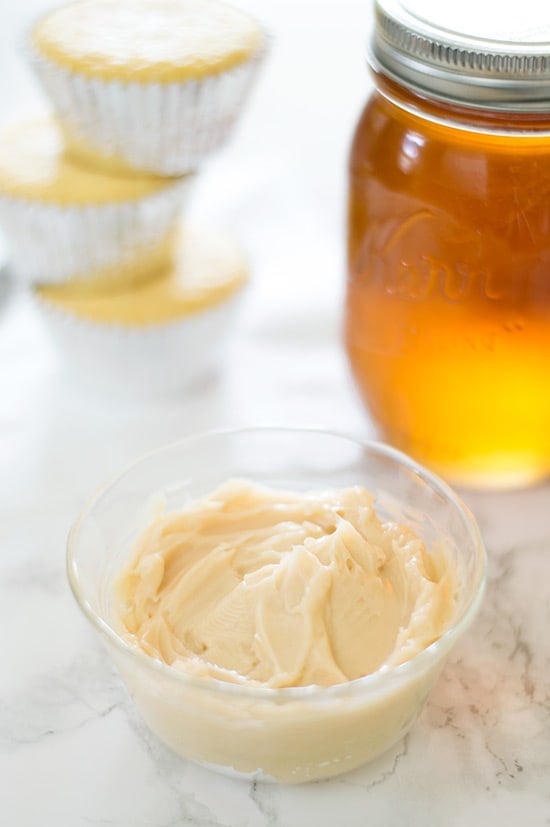 Meals to Serve With Cornbread Muffins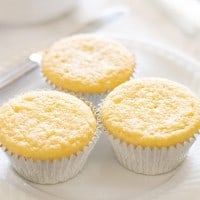 Sweet Buttermilk Cornbread Muffins With Honey Butter
Moist and sweet cornbread muffins topped with homemade honey butter make a tasty and easy side dish!
Print
Pin
Servings (Hover or Click to Change Yield):
18
Ingredients
Muffins
1

cup

(

120g

) all-purpose flour

1

cup

(

120

g) yellow cornmeal

2/3

cup

(

132

g) granulated sugar

1

teaspoon

salt

1 1/2

teaspoons

baking powder

1/2

teaspoons

baking soda

1

egg

1

cup

buttermilk

1/3

cup

vegetable oil
Honey Butter
1/2

cup

(

4oz

) butter

room temperature

3

tablespoons

(

64

g) honey
Instructions
Cornbread Muffins
Preheat oven to 400°F. Line muffin pan with liners or grease well with cooking spray.

Whisk together flour, cornmeal, sugar, salt, baking powder, and baking soda.

Add egg, buttermilk, and vegetable oil. Mix until combined.

Spoon batter into muffin cups, filling them just under 2/3's of the way full.

Bake for 12-15 minutes, until a toothpick inserted into the center comes out clean.
Honey Butter
In a medium bowl, whisk together butter and honey until well-combined.

Store leftovers by spooning the butter onto a sheet of parchment paper and rolling into a log. Secure with tape and place in the freezer for 15 minutes before transferring to the refrigerator. Slice off pieces as needed.
Nutritional Information Muffins
Nutritional Information Honey Butter
Recipe Adapted From: AllRecipes
Small-batch Instructions: For the oil, 1/2 of 1/3 cup is equal to 2 tablespoons and 2 teaspoons. Instead of halving the egg, this recipe is fine if you just use an entire egg yolk. No other prep or cooking changes are needed.
Freezer Notes: In testing, I found frozen muffins a little dry, but not horribly so, and much improved when heated for 10-15 seconds in the microwave. If freezing, wrap individually in foil and freeze together in an airtight container for up to one month. To defrost, unwrap and allow to come to room temperature on a wire rack (so the bottom doesn't become soggy) for about half an hour.
This post may contain affiliate links, which means I receive a small commission if you make a purchase using them. There is absolutely no additional cost to you.