Making Tri-tip in the oven is SO easy and delicious and a total crowd-pleaser.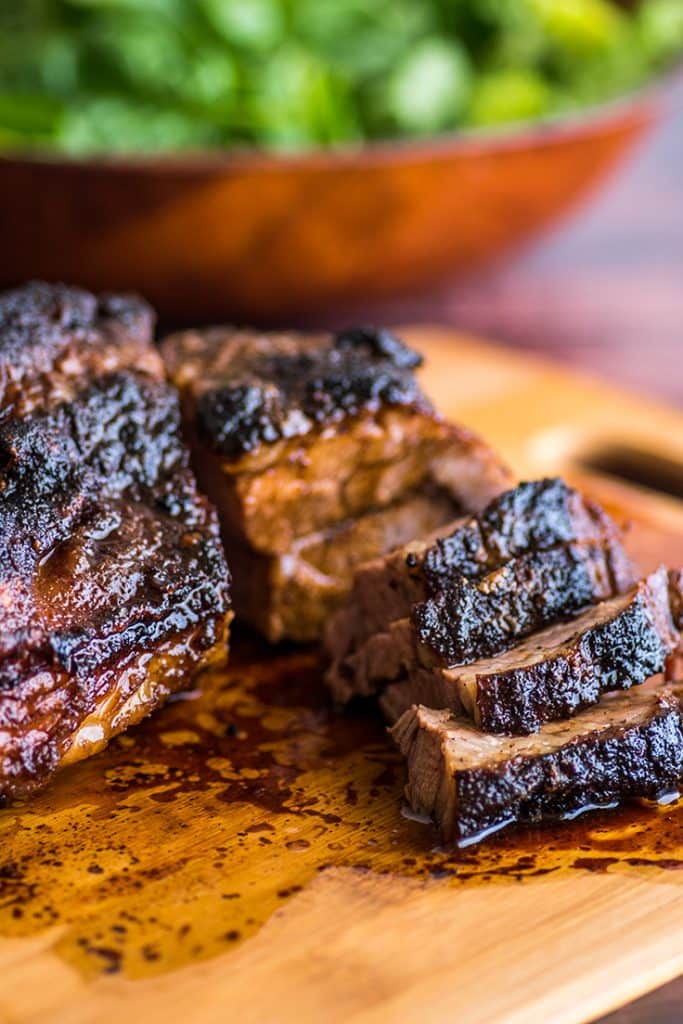 Sometimes when I'm developing recipes, I have to do quite a bit of testing so I end up eating A LOT of that recipe (remember all those test batches of Freezer Meatballs? I'm still happily eating my way through them).
This was another recipe I tested a bunch before making it for the site, and despite the fact that I've eaten more tri-tip in the last two months than I have in the last two years, it's so good that I'm already thinking about making it again this weekend.
Tri-tip is one of those cuts of meat that is usually prepared on the BBQ, but as I've said before, I'm not much of a grill master. Most of my life I've made tri-tip in the slow cooker, and it's pretty killer that way, especially for BBQ sandwiches, but recently, I've been enjoying making tri-tip in the oven, because It. Is. Amazing.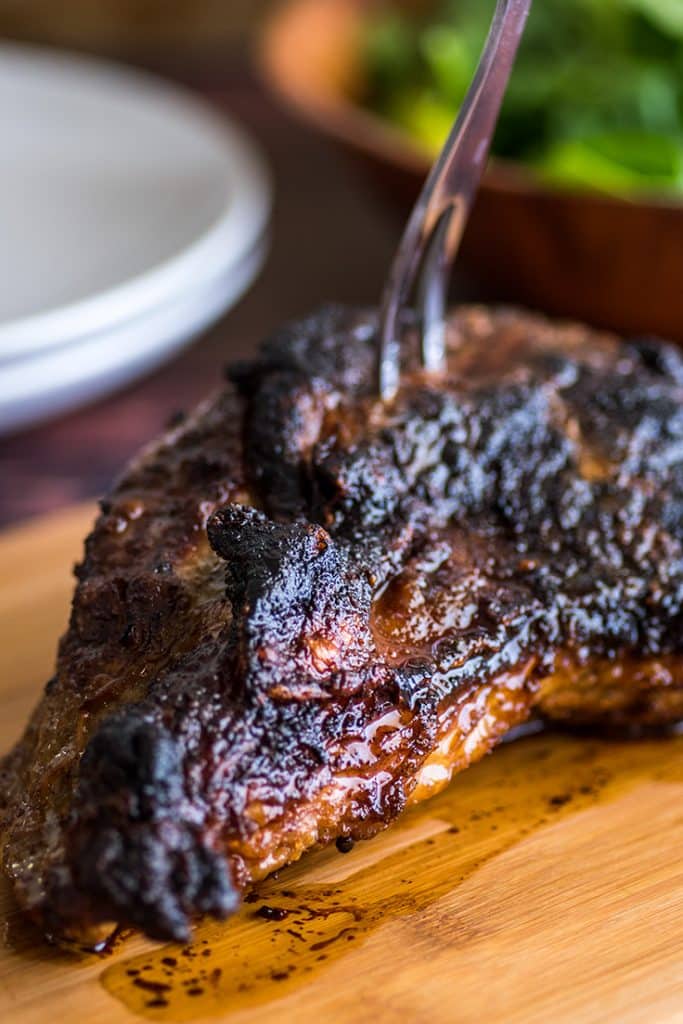 Starting tri-tip on the stove and finishing it in the oven, you get super moist and flavorful meat and that gorgeous, crispy charred exterior, all without having to step foot outside or get near a BBQ.
Seriously, as soon as you cut into the roast, you will want to start grabbing pieces to eat. I don't usually eat while I'm shooting photos, but I'm not going to lie, I totally stopped for a snack halfway through this shoot. 😉
I grew up eating tri-tip, but when I was writing my last tri-tip recipe post, I learned that it's actually not such a popular cut of meat around the world. So if you're reading this going what the heck is tri-tip?, read on.
What is Tri-tip?
Tri-tip is a 1.5 to 2.5-pound, triangular-shaped cut of meat that comes from the bottom of the sirloin. It's most popular in California and on the West Coast, but it is growing in popularity around the country.
You might find it under alternate names like "The California Cut" or "Bottom Sirloin Tip" or "Triangle Roast" (why so many names for tri-tip??).
One tri-tip will serve 4 to 6 people depending on its size and the appetite of your guests, and because of its shape, is great if you are feeding people who like different levels of doneness in their meat because the thinner end will cook quicker than the center.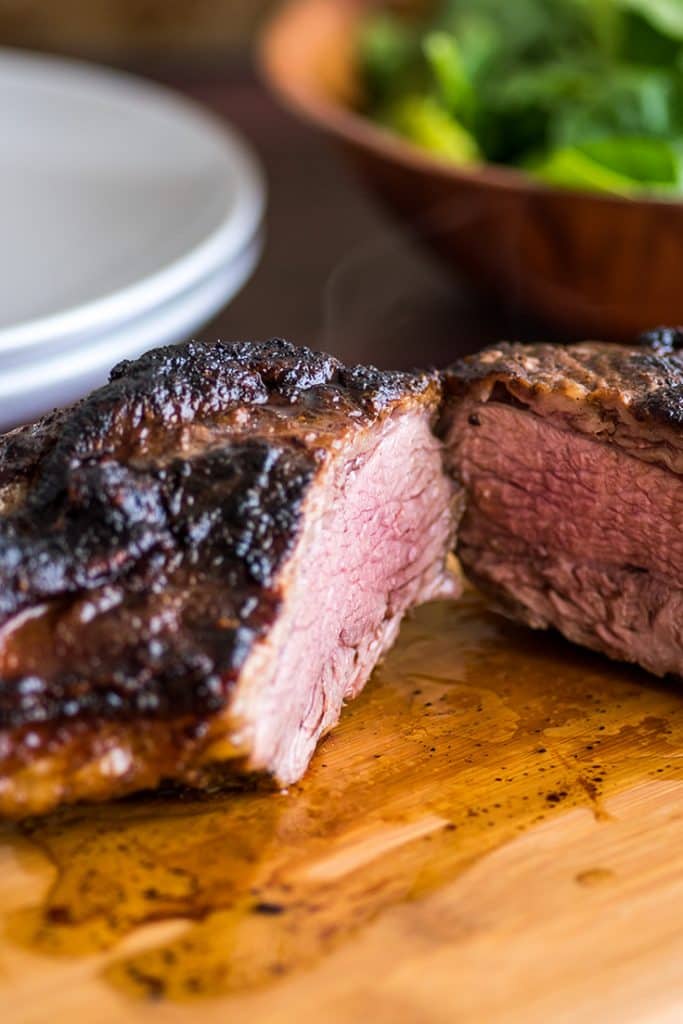 Untrimmed vs Trimmed Tri-tip
Tri-tip is sold as either untrimmed or trimmed. Untrimmed tri-tip has a nice layer of fat on one side (sometimes both sides). Trimmed tri-tip will have this removed.
I like trimmed tri-tip roasts when I am cooking them in the slow cooker, but for roasting, I prefer untrimmed as the fat helps keep the meat nice and moist.
On rare occasions, I will get a tri-tip that is untrimmed on both sides. If that happens to you, you'll want to trim one side. One side of the tri-tip will have a thick, pretty even fat cap. That's the side you want to keep. The other side will be irregular with some muscle showing through. That's the side you'll want to trim.
Just use a very sharp knife to slice off the fat and any silver skin (the thin bluish, silvery membrane that sticks tightly to the meat). It doesn't have to be pretty! You can see the hack job I did on my tri-tip below.) 🙂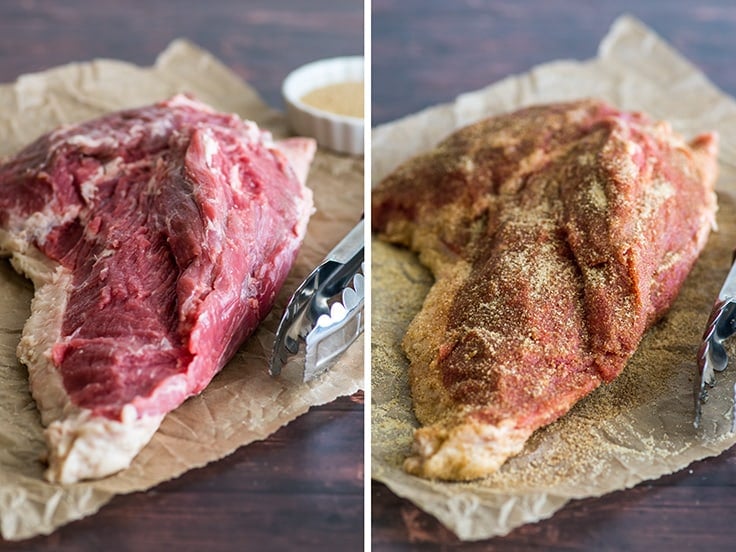 Okay, with that little tri-tip lesson out of the way, are you ready to see how easy it is to cook in the oven? (Scroll all the way down for the full recipe.)
How to cook tri-tip in the oven:
Rub tri-tip with your favorite seasoning salt.
Heat oil in an oven-safe pan and sear the tri-tip, fat-side down.
Flip tri-tip and pop it in the oven.
Bake for 10 to 15 minutes per pound.
Allow roast to rest for 10 minutes, and done!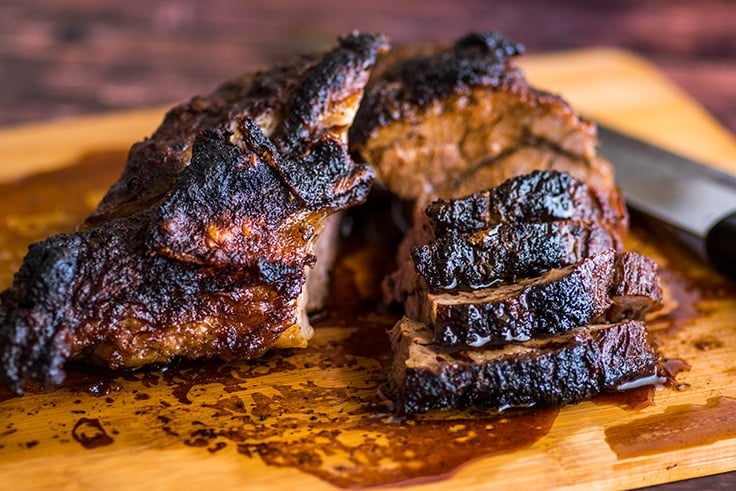 How easy is that? This has seriously become one of my go-to dinners for nights I know I'm going to be tired and not want to cook, because even though there are 20 to 40 minutes of oven time, the effort is minimal and the results are sooooooo good.
The meat is fabulous if you want to build a tri-tip sandwich, but usually, I eat it exactly as is, maybe with a little macaroni salad, broccoli, or green beans as a side.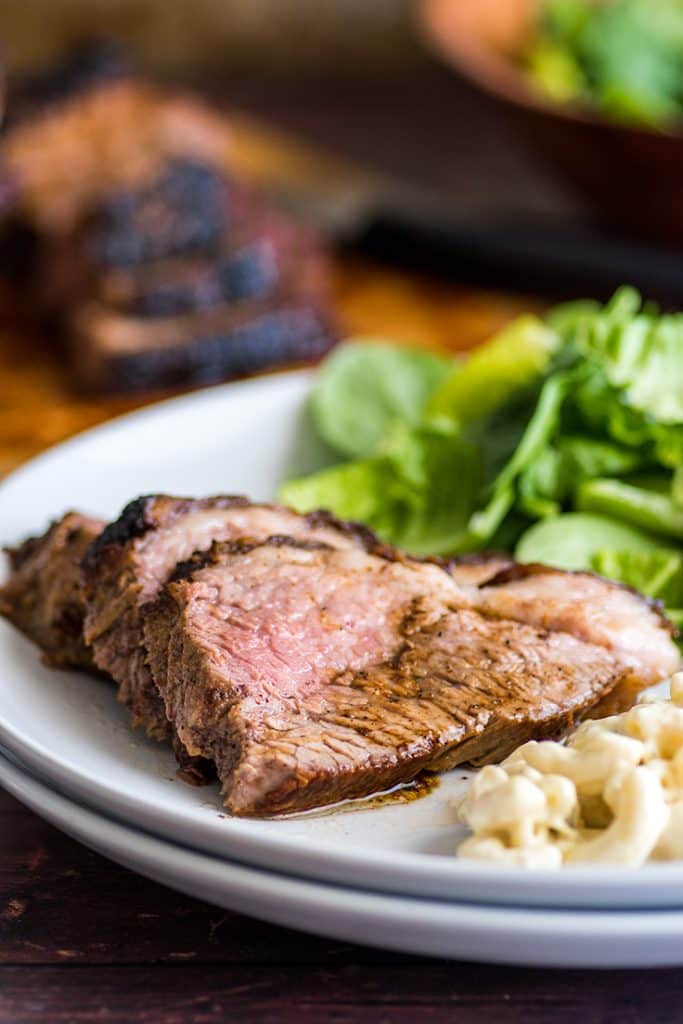 Tri-tip Recipe Notes
If cooking more than one tri-tip roast at a time, just make sure they're not touching in the oven pan so there's plenty of room for air to circulate. Cook for the recommended time based off the smallest roast. You may have to pull one roast out sooner than the other, and cooking time will probably be slightly longer, particularly if roasts are crowded together or you have to open the oven multiple times to check temperatures.
Looking for more meaty main dishes? Try (my favorite) Crispy Carnitas and Country-style Ribs.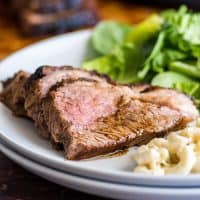 Tri-tip in the Oven
Making Tri-tip in the oven is SO easy and delicious and a total crowd-pleaser.
Print
Servings (Hover or Click to Change Yield):
4
to 6 servings
Ingredients
Tri-tip
1

untrimmed tri-tip*

2

tablespoons

olive oil

Seasoning salt*
Instructions
Preheat your oven to 425°F.

Trim any silver skin from the bottom of the tri-tip and sprinkle the entire thing with seasoning salt, gently rubbing it into the surface.

On the stove, heat olive oil over medium-high heat in a large oven-safe skillet. Once oil is hot place tri-tip, fat-side down, in the pan. Cook for 4 minutes, or until well-seared. Flip meat and place pan in the oven.

Roast for 10 to 15 minutes per pound (start checking the internal temp at about 20 minutes for a medium-sized roast). Cook until internal temperature in the thickest part of the meat reads 135°F for medium-rare to 145° for medium (the roast in the photos was pulled at 145°F). Tent with foil to keep warm and allow meat to rest for 10 minutes before slicing.

Slice roast against the grain by cutting it in half at the center point and then across the grain on each end and enjoy!
Notes
*If your tri-tip is untrimmed on both sides, leave the fat cap and trim the other side (see post for more details).
This cooking method will still work with a trimmed tri-tip, the fat layer just helps keep the roast moist.
*If you don't have seasoning salt, mix together 2 teaspoons each of salt, pepper, and garlic powder.
This post may contain affiliate links, which means I receive a small commission if you make a purchase using them. There is absolutely no additional cost to you.
Recipe Adapted from The New York Times