Country-style Pork Ribs ribs are a great rich and fall-apart tender alternative to traditional ribs. Cheap, easy to make, and SO good, this might just be your new favorite way to eat pork.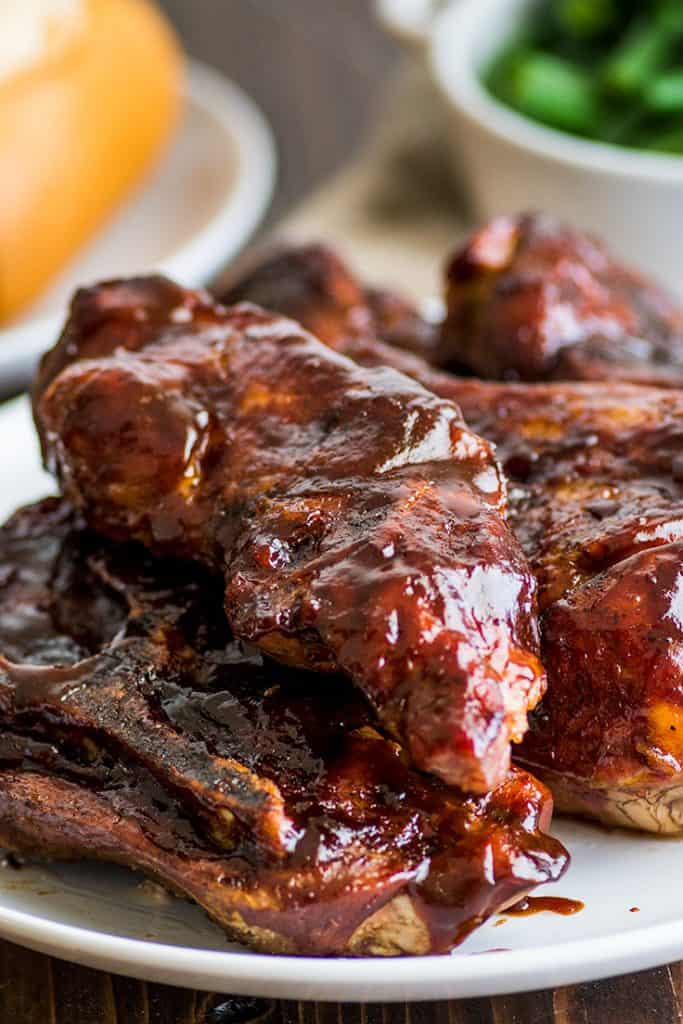 One of the first really popular recipes on this site was my No-Fuss Easy Oven-Baked Ribs. The recipe's designed to use beef back ribs, but since the post went live people have been asking about using it to make country-style pork ribs.
And asking.
And asking.
And asking.
And every single time, I would have to admit that I had no idea because I'd never eaten, let alone cooked, country-style ribs.
Whelp, I finally got sick of saying "I don't know," and feeling like I was missing out on something (because clearly, people love these things), so I tried them for myself, and now I am so angry.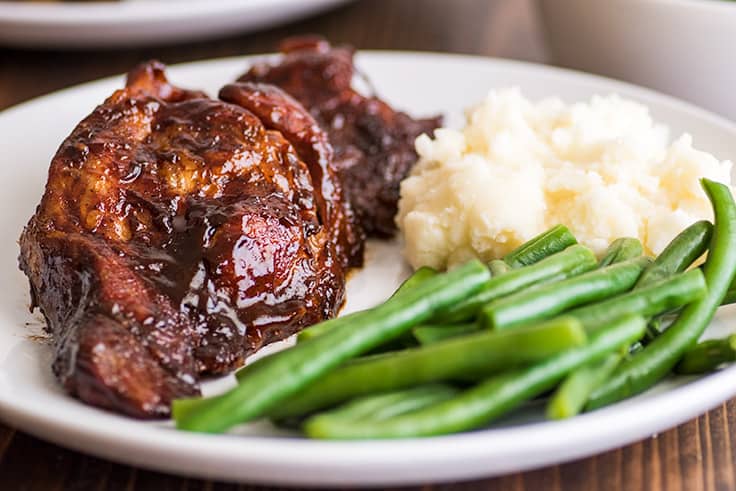 Guys, I am so angry I haven't been making these for years because country-style ribs ARE AMAZING. And this is coming from someone who is usually firmly Team Beef Ribs over pork.
These ribs are so tender and rich and easy to make. Two ingredients, ten minutes of hands-on prep time, and you end up with these absolutely beautiful ribs with meat you can shred with a fork.
And if you're sitting there going sure, that sounds great, but WTF are country-style pork ribs? Read on, friend.
What Are  Country-style Pork Ribs?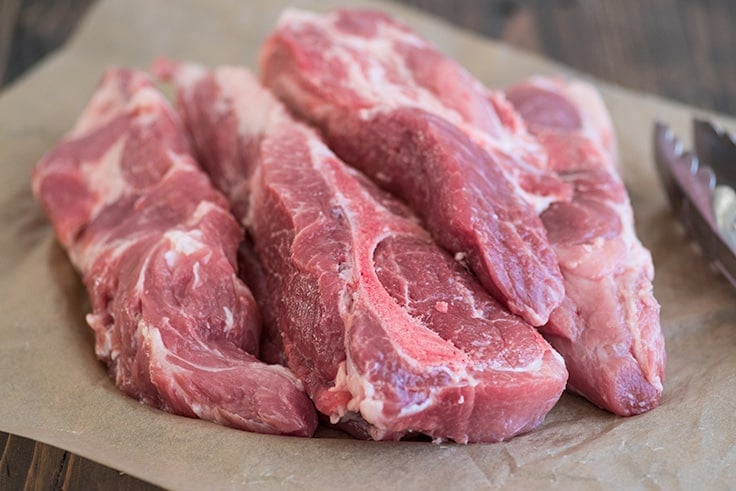 Country-style pork ribs aren't ribs at all. They're cuts of pork shoulder, which is the same meat you use to make pulled pork and carnitas. If you get bone-in "ribs," you'll recognize the distinctive y-shaped bone you get when you buy a bone-in pork shoulder roast.
This means that one, just like pork shoulder roasts, country-style ribs are super cheap, usually about $2/pound.
Two, they're way meatier than regular pork or beef ribs (and don't have all that gross cartilage), so you're getting more meat for your buck.
And three, they have that wonderful marbling of fat which helps keep them moist during the long, slow cooking process on the way to tender, fall-apart ribs.
And speaking of long, slow cooking…
How to Cook Country Style Pork Ribs in the Oven
For fall-apart meat, country-style ribs really need to cook long and slow. Otherwise you're going to get chewy pork.
The good news is that the cooking time is almost entirely hands-off. After a minimal amount of prep to get the ribs ready to cook, your oven's doing most of the work here.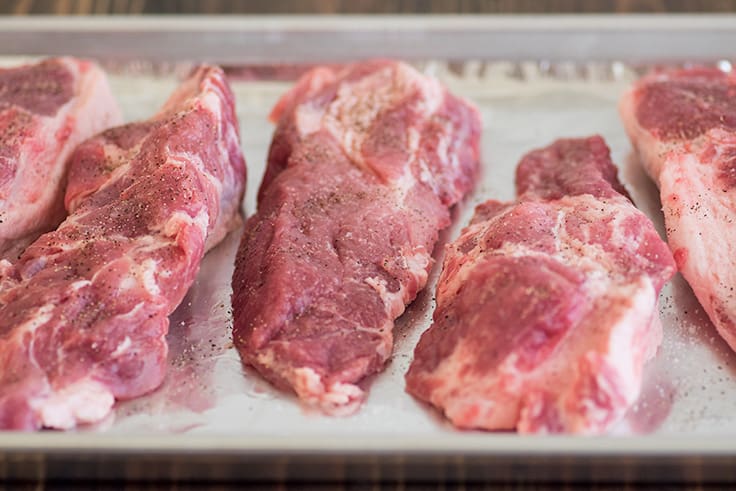 You start by salting and peppering your ribs and placing in a single layer in a roasting pan or baking dish. If you use a baking tray, make sure it has a fairly high rim, as the meat will release a lot of liquid as it cooks.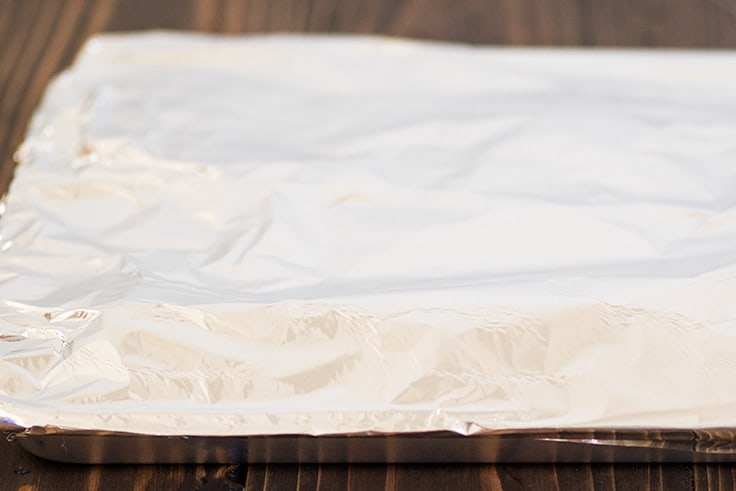 Cover with foil and bake at 300°F for 2 hours. Go read a book and sip some lemonade in front of a fan.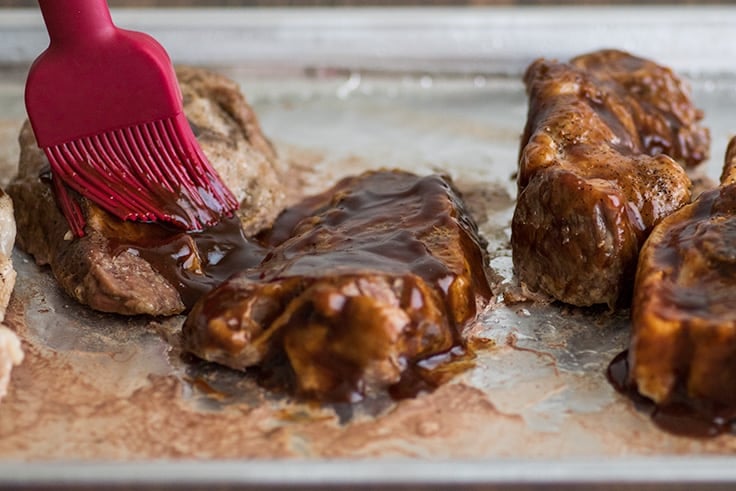 When your timer goes off, carefully uncover the meat–the steam will be hot–and drain the liquid from the tray. The meat looks super gross and sad at this point, but don't worry. The next time it comes out of the oven, it will be beautiful.
Brush a generous coat of your favorite BBQ sauce over the meat.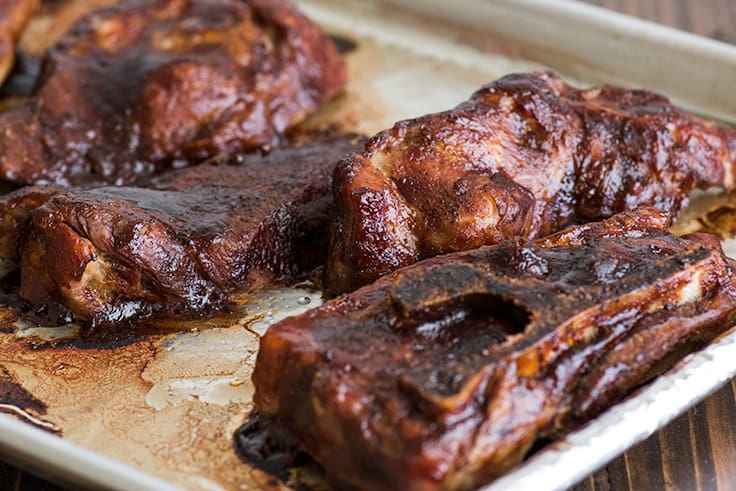 Lower the temperature to 275°F and then bake uncovered for another hour. Your ribs are done when the meat has a beautifully baked-on coat of BBQ sauce and when you can pull it apart with a fork.
Brush with a little more sauce, give the ribs a couple minutes to rest, and then serve with some mashed potatoes or macaroni salad, and a simple veggie side like Garlic and Butter Green Beans or Oven-roasted Broccoli, and enjoy!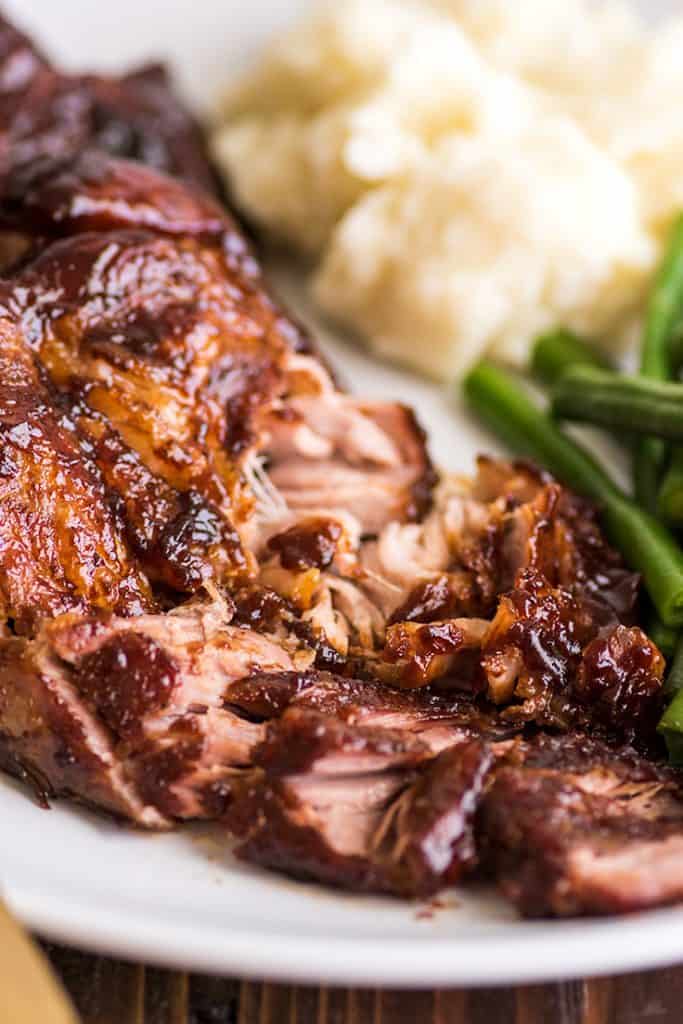 Country-Style Ribs Recipe Notes
This post may contain affiliate links, which means I receive a small commission if you make a purchase using them. There is absolutely no additional cost to you.
If making for guests, I recommend making two ribs per person. That's going to be a really generous serving, but you won't have to worry about anyone going hungry. If making a lot of ribs, you can make two trays at a time. Just add 15 minutes to the initial cooking time and swap them halfway through both cooking periods so that they cook evenly.
You can use bone-in or boneless country-style ribs for this recipe. Since they are covered for most of the cooking time, both come out equally moist and tender. My local stores sell them in mixed packs, so I usually cook with both at the same time.
Be very careful removing the ribs from the oven the first time. Hot liquid can slosh out of the pan, and the steam will be very hot when you remove the foil.
For brushing on BBQ sauce, I love these silicone basting brushes that can go through the dishwasher.
Looking for more simple meaty mains? Try my Tri-tip in the Oven, Broiled Steak with Mustard Sauce, Carne Asada, and Quick Rosemary Pork Chops.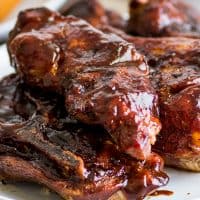 Easy Country-Style Pork Ribs in the Oven
Country-style Pork Ribs ribs are a great rich and fall-apart tender alternative to traditional ribs. Cheap, easy to make, and SO good, this might just be your new favorite way to eat pork.

Print
Pin
Servings (Hover or Click to Change Yield):
4
Ingredients
Country-style Ribs
Country-style pork ribs*

Salt and pepper

Your favorite BBQ sauce
Instructions
Preheat your oven to 300°F. Salt and pepper both sides of your ribs and place in a single layer in your pan, fattier side up.

Cover the pan tightly with foil and bake for 2 hours. Carefully (steam and liquid in the tray will be hot!) remove ribs from the oven and check the meat. They should be starting to become tender. If they still feel tough, re-cover them and place them back in the oven for 15 to 30 minutes.

Transfer ribs to a plate and drain liquid from the pan. Return ribs to tray and brush with a generous coating of BBQ sauce.

Turn oven down to 275°F and bake ribs, uncovered, for 1 hour more, or until you can pull the meat apart with a fork (if your ribs were small and already pretty tender when you put them back in the oven, start checking after 20 minutes). Brush with another coat of BBQ sauce, rest for 5 minutes, serve and enjoy!
Notes
*If your "ribs" are very large, 10 ounces or larger, extend the initial covered cooking time by 30 minutes. 
If any of your ribs have the fat cap still attached (a very thick, even layer of fat attached to one side of the meat), you can cut that off.
Approximate nutritional information is for 6 ounces of cooked meat and 2 tablespoons of BBQ sauce.