This thick and sweet homemade teriyaki sauce recipe is quick, foolproof, and so, so good.
Today I'm sharing a stand-alone recipe for my absolute favorite teriyaki sauce. If you've ever wanted to make your own teriyaki sauce at home or haven't quite found your perfect recipe, give this one a try.
You can make it in about 15 minutes, and it's perfect as a thick and sweet glaze or as a marinade.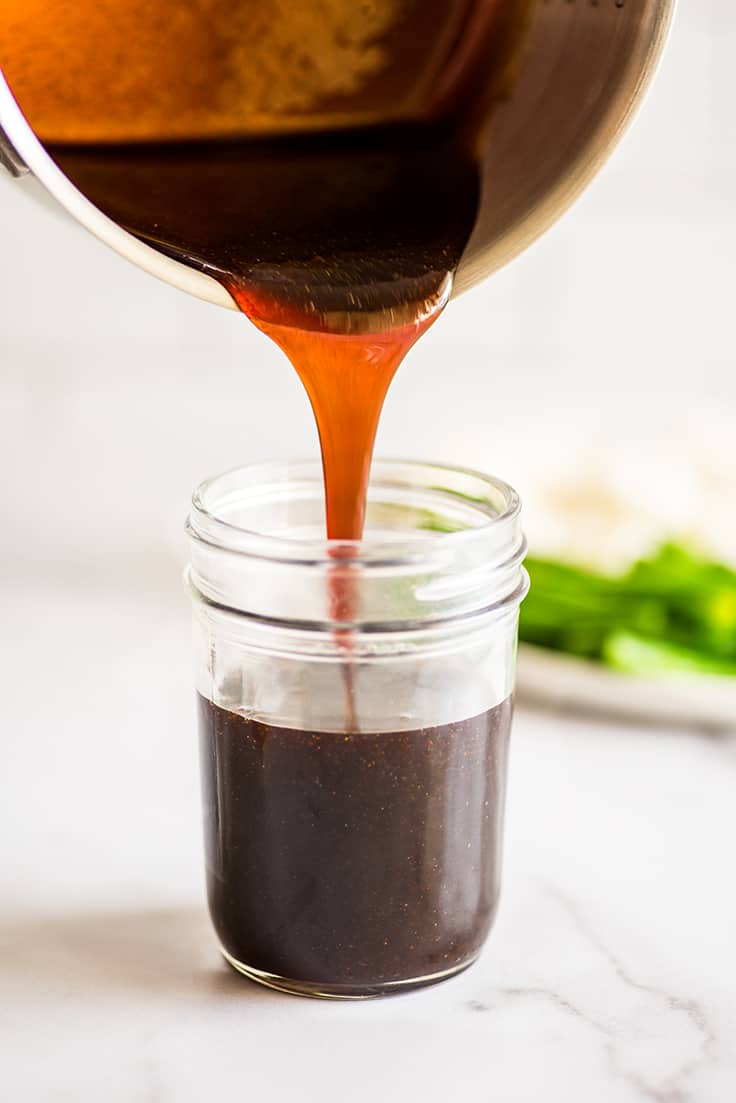 What is teriyaki sauce?
Traditional teriyaki sauce is a mix of soy sauce, sugar, and sake and/or mirin. In Japanese, teriyaki actually refers not to the sauce, but to a cooking method where meat is broiled or grilled and brushed with or marinated in this mixture.
Thick and Sweet Teriyaki Sauce
This teriyaki sauce is much thicker and syrupy than traditional teriyaki sauces (think the consistency of Panda Express teriyaki sauce). So while it's not exactly authentic, it does create an absolutely amazing glaze over chicken and other meats and is thick enough to make an excellent dipping sauce.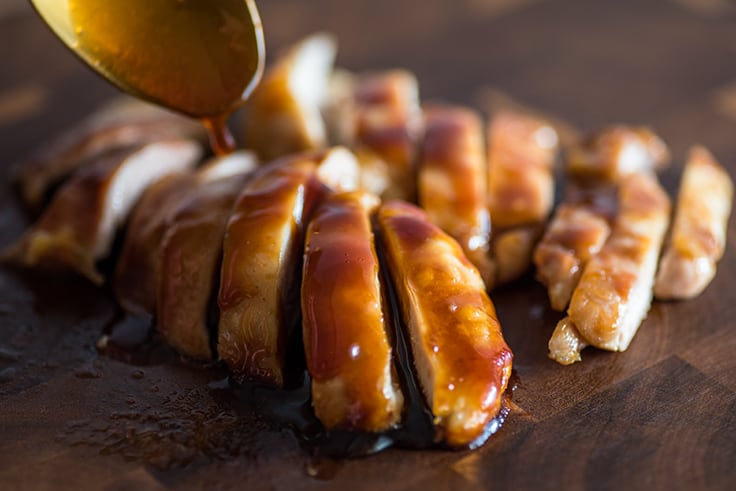 Homemade Teriyaki Sauce Ingredients
This recipe calls for eight ingredients: soy sauce, mirin, rice wine vinegar, granulated and brown sugar, garlic powder, ground ginger, and cornstarch.
You probably already have most of these ingredients on hand, but unless you do a lot of Japanese cooking, you might not be familiar with mirin and rice wine vinegar.
Mirin: Mirin is a slightly sweet Japanese wine and helps to give the sauce its tangy umami flavor. It's readily available online, and (at least here in California) you can find it in the Asian section of your grocery store for less than $3 (it might be labeled Aji-mirin). In a pinch, you can use sherry or Marsala in its place or omit it completely, but if you can get your hands on some, use it. You won't be sorry.
Rice Wine Vinegar: Rice wine vinegar, AKA rice vinegar gives the sauce a little acidic bite. You should be able to find it with the other vinegars at your local grocery store (or online), but apple cider vinegar works well as a substitute. If you'd like to use white distilled vinegar, which has a harsher taste, cut the amount used in half.
How to Make Homemade Teriyaki Sauce
Once you've assembled your ingredients, you've done the most difficult part of this recipe. When it comes to actually making the sauce, you're basically just stirring the ingredients together.
First, you'll whisk together a little water and cornstarch. Whisking your cornstarch with water before adding it to the rest of the ingredients will prevent cornstarch lumps from forming, and the mixture will help thicken the sauce.
Then you'll combine the cornstarch mixture and all the other ingredients in a medium pot and bring to a simmer. Heads up, keep a close eye on your sauce when it starts to steam. This sauce can boil over very quickly once it starts to simmer, so be ready to turn down the heat.
Simmer, stirring occasionally, until sauce is thickened and syrupy. Depending on the size of the pot you're using, this will take 5 to 10 minutes.
Then let it cool slightly (it will thicken further as it cools) and use or store in an airtight container in the refrigerator.
Uses for Teriyaki Sauce
Some of my favorite uses for this Teriyaki Sauce are:
Teriyaki Chicken (of course)
Dipping sauce for chicken strips
Teriyaki Sliders
Teriyaki Burgers
FAQ
Is teriyaki sauce same as soy sauce?
No. Soy sauce is an ingredient in teriyaki sauce, but they have very different flavors and cannot be used interchangeably. Soy sauce is very salty and quite thin where this teriyaki sauce is sweet and syrupy.
Can I double this recipe?
Yes. This recipe will make 2/3 to 3/4 cup of sauce, which is usually perfect for a meal or two depending on how you're using it. If you'd like to double or triple the recipe, simply extend the simmering time slightly as needed for the sauce to thicken.
To change the recipe yield, in the recipe card below, hover over the serving size or click if you're on mobile, and slide the slider. No other cooking changes are needed.
How to Thicken Teriyaki Sauce
The easiest way to make teriyaki sauce thicker is with a cornstarch slurry (which this recipe uses). Whisk together 1 1/2 teaspoons cornstarch with 1 tablespoon water, and add the mixture to your sauce while it simmers.
Is there a difference between teriyaki marinade and teriyaki sauce?
Teriyaki marinades are often thinner than teriyaki sauce simply because there's no need to take the time to thicken them. However, any teriyaki sauce can be used as a marinade. If your sauce seems a little too thick to easily coat the meat, simply whisk in a little water to thin it out.
Can I make this sauce ahead of time?
Yes. This sauce can be stored in an airtight container in the refrigerator for a couple of weeks.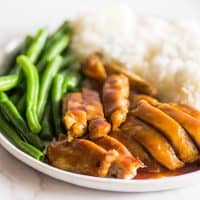 Thick and Sweet Teriyaki Sauce
This thick and sweet homemade teriyaki sauce recipe is quick, foolproof, and so, so good.
Print
Pin
Servings (Hover or Click to Change Yield):
12
tablespoons (approximately)
Ingredients
1/3

cup

soy sauce

1/4

cup

water

2

tablespoons

mirin

or sherry or Marsala

1

tablespoon

rice wine vinegar

or apple cider vinegar

1/4

cup

(

50g

) granulated sugar

3

tablespoons

(

37g

) brown sugar

1/2

teaspoon

garlic powder

1/2

teaspoon

ground ginger

1 1/2

teaspoon

cornstarch

whisked with 1 tablespoon water
Instructions
In a medium saucepan, over medium-high heat, combine all ingredients. Bring to a simmer, watching closely to make sure sauce does not begin to boil over.

Once at a simmer, turn heat down to medium to keep it there. Simmer for 5 to 10 minutes, stirring occasionally, until thickened. (Sauce will thicken further as it cools.)

Cool sauce slightly before using and enjoy.
Notes
Store leftover teriyaki sauce in the refrigerator in an air-tight container.
Teriyaki Sauce Adapted From Food Network
This post may contain affiliate links, which means I receive a small commission if you make a purchase using them. There is absolutely no additional cost to you.