A healthy and delicious chicken soup for quick weeknight dinners. So good, you'd never guess it takes fewer than 10 minutes to make.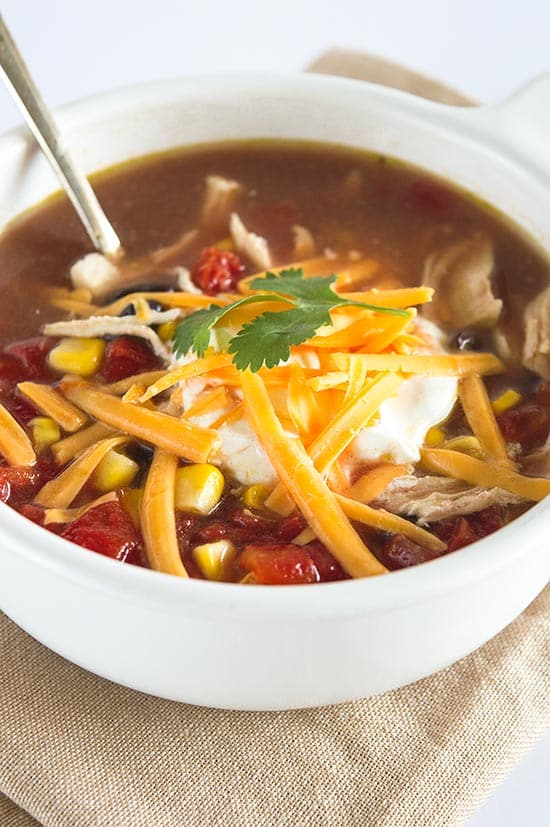 Would you look at that? Baking Mischief is officially two months old! How time flies.
Last month we did a January salad series, and that worked out so well I figure we will keep up the themed months, at least until it stops being fun. Coming into cold and chilly February, I thought, what better than a month of soups? So every week until March we'll have a new soup or stew or chowder, starting with, drum roll please… the World's Easiest Chicken Taco Soup.
If you drew a graph where x was hard to easy and y was ick to delicious, this soup would hanging pretty in that top right hand corner (something gross and hard to make would be down in the bottom left). Does that make sense?
See Also: Easy Salsa Chicken
I always trot out that graph metaphor when I describe this soup to people and am usually met with blank stares, but I can't help it. I feel like I need graphics to explain just how easy and amazing this soup is! To make it, you literally open a few cans, toss in some chicken, heat and eat. It might just be magic.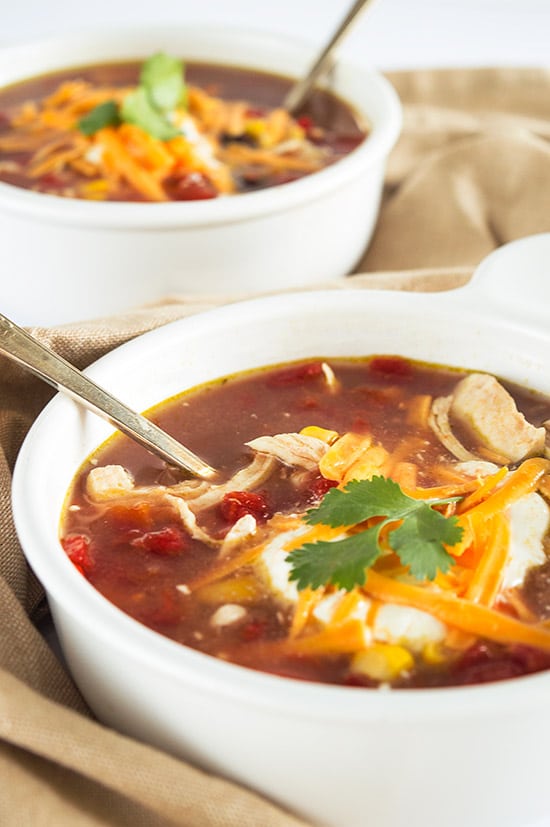 And lest you hear canned food and think this soup must be packed full of salt and high in calories, think again! Make sure your chicken broth and beans are low-sodium, and you are good. Even with a healthy dollop of sour cream and handful of cheese, this soup still comes in at under 400 calories. You can't complain about that!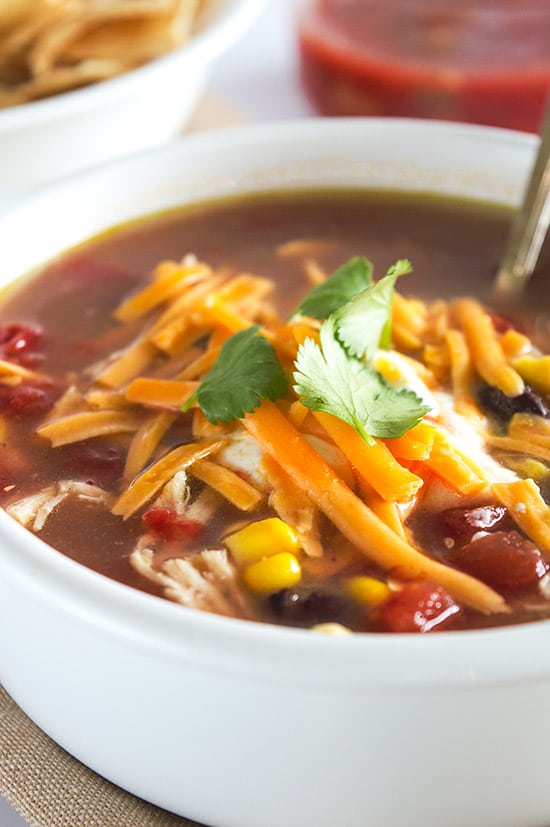 This is my go-to soup for crazy week nights and potlucks when I know time is going to be tight. It's a total crowd-pleaser and you cannot imagine how many people ask for this recipe and are shocked when they hear how simple it is. Seriously, give it a try. You won't regret it.
This recipe calls for shredded white meat from a rotisserie chicken, but if you don't feel like running to the store to pick one up, check out my post on How to Cook Shredded Chicken.
You might also like Chipotle Chicken Tacos, Homemade Carnitas, Carne Asada, and Carnitas Tacos.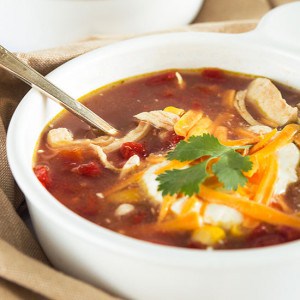 World's Easiest Chicken Taco Soup
A healthy and delicious chicken soup for quick weeknight dinners. So good, you'd never guess it takes fewer than 10 minutes to make.
Print
Servings (Hover or Click to Change Yield):
5
servings
Ingredients
Breast meat from a rotisserie chicken

shredded*, about

12

oz

4

cups

low-sodium chicken broth

2

14oz cans

1

15-ounce can black beans

drained and rinsed

1

8.75-ounce can corn

drained

1

10-ounce can green enchilada sauce

1

14.5-ounce can diced tomatoes with green chilies
Toppings
5

tablespoons

sour cream

1 1/4

cup

shredded sharp cheddar cheese

Green onions

thinly sliced, optional

Fritos or tortilla chips

crushed (optional)
Instructions
Dump everything together in a large pot.

Heat.

Dish.

Mix in cheese and sour cream.

Eat.
Notes
Make-ahead Instructions: Chicken can be shredded and stored in an air-tight container up to 24 hours in advance.
Freezer Instructions: This soup freezes well and will keep in the freezer for up to four months. I like to freeze soups in individual servings, in quart bags laid flat on a cookie sheet. Once frozen, they can be easily stacked to save space. Defrost in the refrigerator.
Recipe adapted from: AllRecipes
This post may contain affiliate links, which means I receive a small commission if you make a purchase using them. There is absolutely no additional cost to you.