This cheesy Salsa Chicken is the easiest homemade chicken dinner ever. No cutting or measuring needed and made all in one pan!
I've shared a lot of low-effort dinners here, like my Quick Beef Teriyaki, BBQ Chicken Thighs, and Parmesan Chicken Soup. Today I'm sharing the recipe I make when I don't even have the energy to make those.
This is the ultimate easy dinner, requiring no measuring, no cutting, you make it in one pan, and you probably always have the ingredients on hand: Salsa Chicken.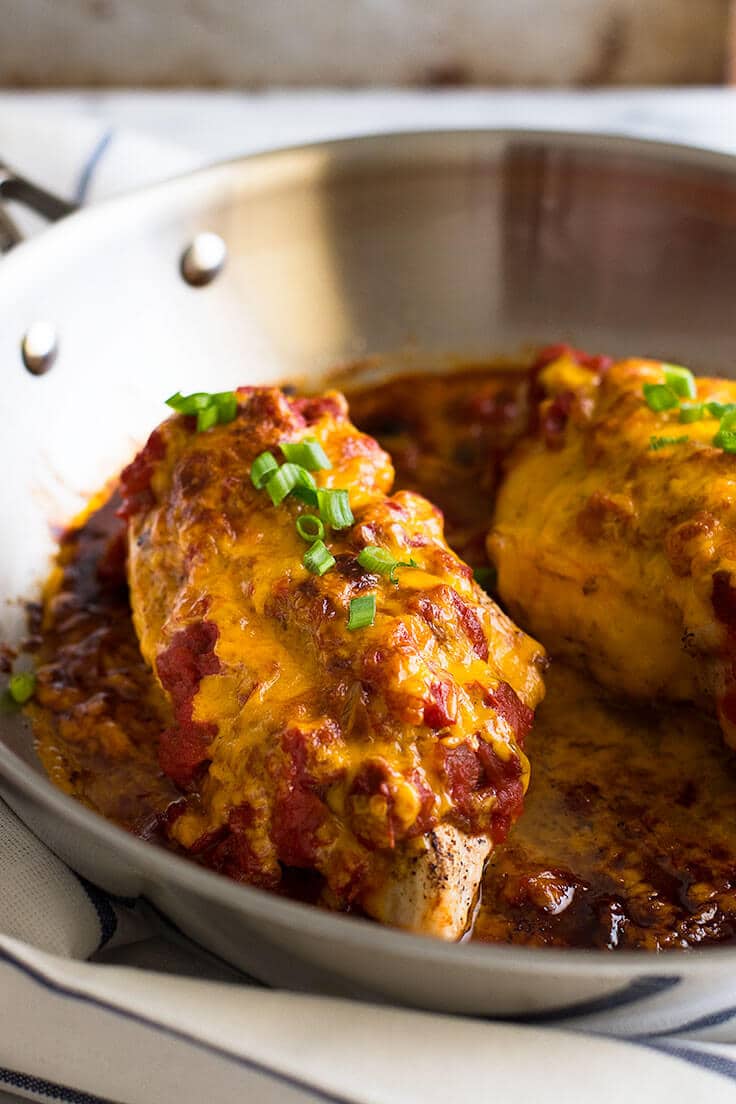 Looks good, huh? (It tastes even better!) The salsa reduces down in the oven, making it perfect for spooning over rice on the side, and the chicken comes out moist and perfect every time. All you have to do is steam some broccoli or toss together a quick side salad and dinner is DONE.
I've included measurements in the full recipe below so I could give a calorie count, but the wonderful thing about this recipe is that you don't have to measure anything if you don't want to. Eyeballing the ingredients works just fine and means you don't have to wash any extra measuring cups or spoons.
Ingredient Notes & Substitutions
Small-to-medium boneless skinless chicken breasts: This recipe calls for 8-ounce chicken breasts. You can use larger chicken breasts, but you'll need to extend the cooking time.
Taco seasoning: If you don't keep a taco seasoning blend on hand, substitute chili powder and cumin in its place.
Cheddar cheese: I like to use cheddar cheese for salsa chicken, but you could also use pepper jack, Monterey, or a Mexican blend instead.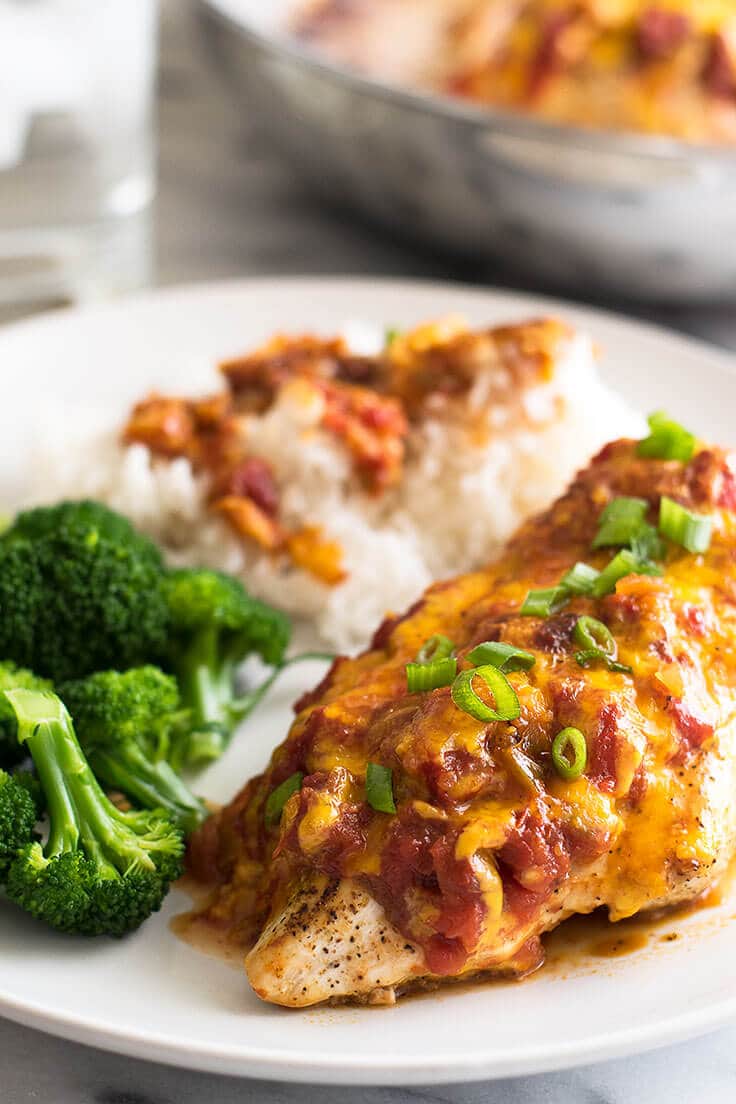 How to Make Salsa Chicken
Sprinkle salt, pepper, and taco seasoning over both sides of your chicken breasts–don't measure it, just sprinkle until it's lightly coated.
Sear your chicken on the stove in an oven-safe pan, pour salsa over the top and then bake for 15 to 20 minutes. In the last five minutes of cooking time, sprinkle cheese over the top.
Let the chicken finish cooking, rest the meat for 5 minutes, and you're done!
FAQ
I don't have an oven-safe skillet. What can I use instead?
If you don't have an oven-safe skillet, go ahead and sear the chicken breasts on the stove and then transfer them to a medium-sized baking dish. You want to use a dish that's large enough to fit all of your chicken pieces without them touching (for even cooking) but not too large. If you use a dish that's too large, the salsa can end up spread too thin and burn.
Once your chicken is transferred, follow the rest of the recipe as written.
What to serve with salsa chicken?
Serve your salsa chicken with a simple and easy side like steamed broccoli or green beans and rice. Spoon leftover pan drippings over the rice and enjoy!!
Can I make a smaller/larger batch of chicken?
Absolutely. This recipe scales up or down without any major preparation changes. To change the recipe yield, hover over the number of servings (or click if you are on mobile) and slide the slider.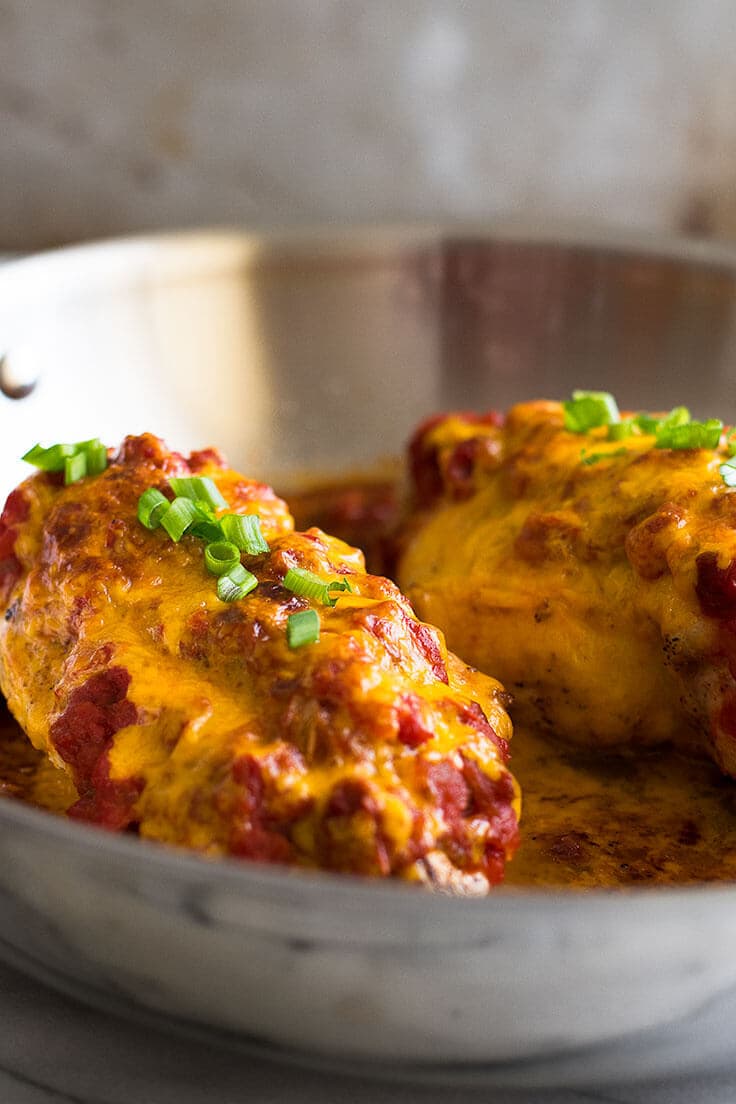 More Easy Recipes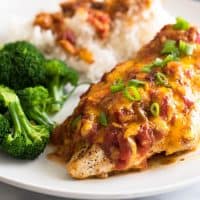 Easy Salsa Chicken
This cheesy Salsa Chicken is the easiest homemade chicken dinner ever. No cutting or measuring needed and made all in one pan!
Print
Pin
Servings (Hover or Click to Change Yield):
4
servings
Ingredients
Special Equipment
Salsa Chicken
4

small (about 8-ounce) boneless skinless chicken breasts

Salt*

Pepper

Taco seasoning*

1 ½

cup

salsa

1

cup

(

4oz

) shredded Cheddar cheese
Instructions
Preheat your oven to 400°F.

Sprinkle both sides of your chicken breasts with salt, pepper, and taco seasoning. Heat a large oven-safe skillet over medium-high heat. Grease with cooking spray or a drizzle of your favorite cooking oil. Once hot, add chicken breasts to the pan and cook until well-browned. Flip the breasts and repeat.

Once both sides of the breasts are browned, remove pan from heat and pour salsa over the top of the chicken. Place pan in the oven and bake for 15 to 25 minutes (the size of your chicken breasts will have a dramatic effect on cooking time), until an instant-read thermometer inserted into the center of the chicken reads 150°F.

Sprinkle cheese over the top and cook for another 5 to 10 minutes, until the chicken reaches 165°F. Remove from the oven and allow chicken to rest for 5 minutes before serving. Spoon extra salsa from the pan over white rice and serve with steamed green beans or broccoli and enjoy!
Notes
*If using a taco seasoning blend that includes salt, skip adding extra salt. 
*If you don't have taco seasoning, just sprinkle on a little chili powder and cumin.
*If using a very thick, chunky salsa, you can add a couple tablespoons of water or chicken broth over the top to keep the juices in the pan from burning.
This post may contain affiliate links, which means I receive a small commission if you make a purchase using them. There is absolutely no additional cost to you.