Cookiefied versions of "Star Wars: The Force Awakens'" best character: Poe's Jacket.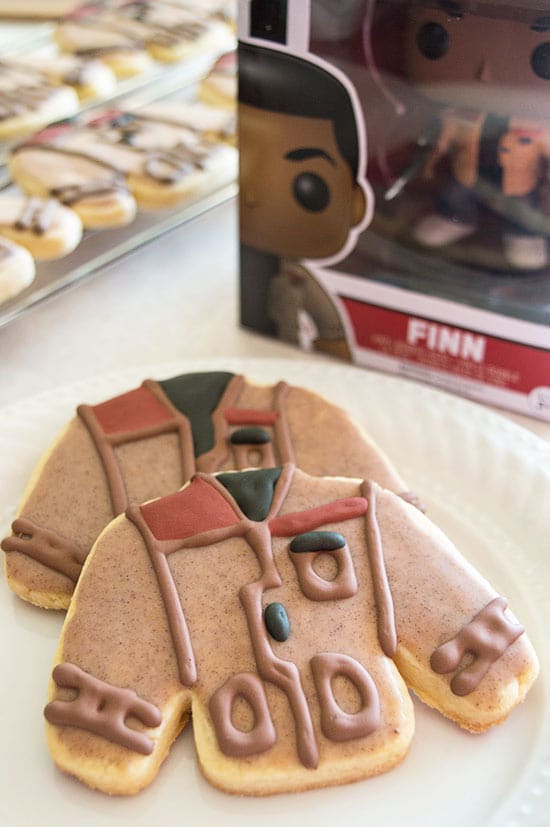 Okay guys, I was not going to do another Star Wars recipe after my BB-8 Cupcakes. When I started this blog, I said I'd limit myself to one nerdy recipe per franchise, lest the blog just become all Hannibal recipes all the time (people-free obviously, and I'm saving that one for a special occasion). BUT, I wanted to do a nerdy/pop-culture Valentine's Day treat and once this idea popped into my head, it refused to leave. So here you go: Poe's Jacket Cookies.
Why are these my Valentine's Day treats? Because, was there a purer expression of love and friendship in all of pop-culture this year than the sharing of Poe's jacket? I think not. The movie might as well be called Star Wars: Siblinghood of the Travelling Jacket for all that thing gets passed around by our three heroes. AND IT'S BEAUTIFUL!!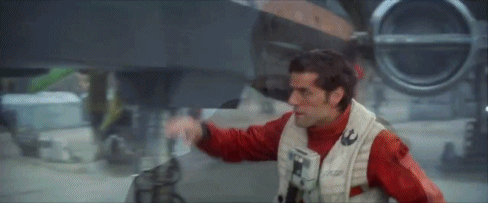 Disney via Dork Side of the Force
The jacket starts off the film with the best pilot in the Resistance, who passes it off to the universe's most adorable stormtrooper, who then loans it out to our favorite young Jedi, who then gives it back to our newly minted Resistance member, where it, *SPOILER* probably helps save his life. And each time it's handed off, it's given in the spirit of friendship and affection. I love it so much, I might just cry. And if that jacket doesn't get repaired and make it into the sequel, I really will.
I made these cookies with the recipe from my Copycat Heart Cookies with Cinnamon Icing, minus the food coloring. If you want to see me rave over how delicious they are, click over to that post. Just trust me when I say they're really, really good, but you can use whatever cutout cookie dough you like best (or store-bought to make things simple). I do recommend using the cinnamon icing I link to though, because the cinnamon is what gives the coat the great, slightly distressed leather look, no coloring needed!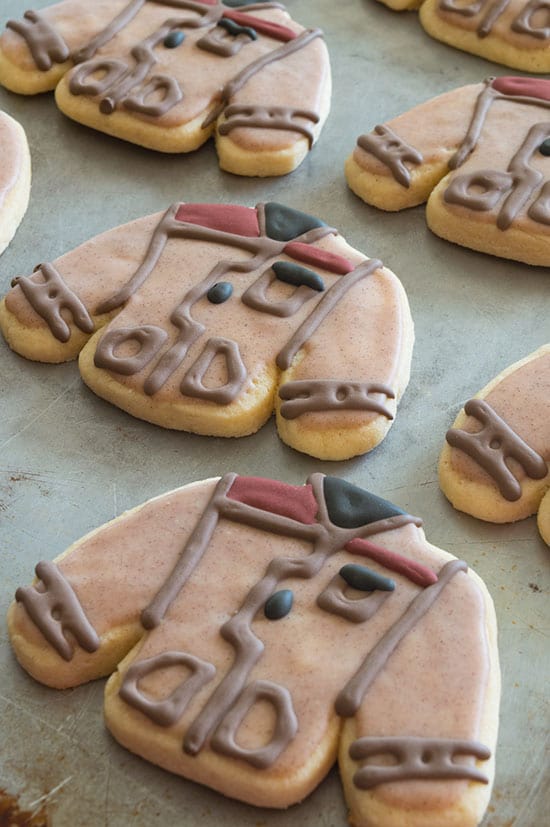 To shape the cookies, you'll need an ugly sweater cookie cutter or something similar. I tried to get around that for you and make a template so you could cut them out, but it was messy and took waaaay too much time to be feasible on a larger scale. This is the one I bought for $6 after the template failure. That's an affiliate link, you don't have to click it. I still love you.
In case you want to use these as valentines or party favors, I created some printables to go with the cookies. You can print them out on sticker paper or just use double-stick tape like I did. (Click on each one for a large version.)
And before we move on to the instructions, I'll tell you now, these cookies are a bit of a labor of love. They are easy to make, BUT they require a few resting periods, so they are not quick cookies. Don't start these at 8pm on Valentine's Day eve or the morning of a party. There will be tears. With that dire warning out of the way, on to the instructions!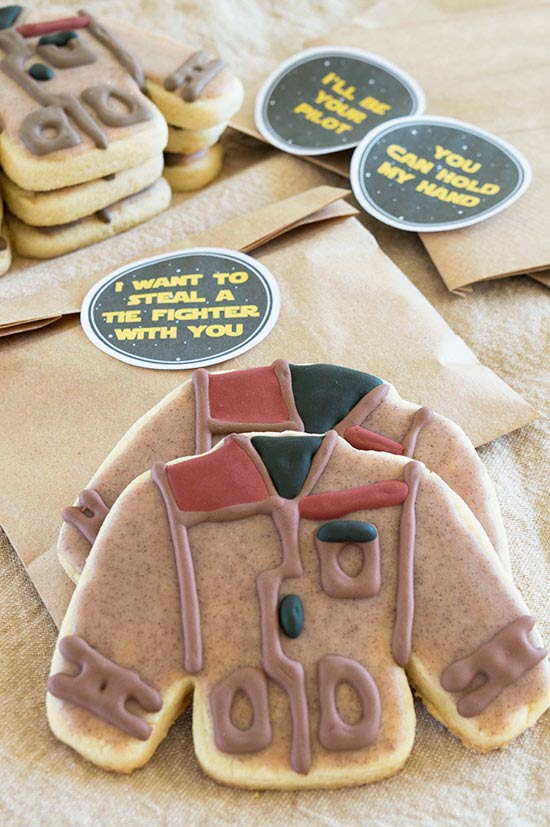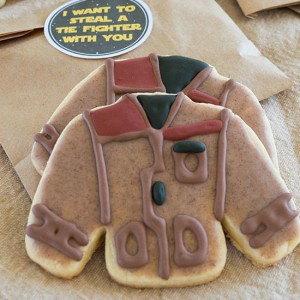 Poe's Jacket Star Wars Cookies
Cookiefied versions of "Star Wars: The Force Awakens'" best character: Poe's Jacket.
Print
Servings (Hover or Click to Change Yield):
18
Cookies
Ingredients
You Will Also Need
Piping bags

A coupler and #2 tip
Instructions
Icing
Cover cookies by dipping them in the cinnamon icing. Use a knife to scrape off the excess and clean up the edges. Set aside to harden.

Separate royal icing into three bowls. 1/4 in two of them and 1/2 in the third. In one of the small bowls, make black icing. In the other small, make the maroon. I used mostly red with a couple drops of yellow and green. In the largest, make your brown icing. I used about 57 drops of red, 45 green, and 11 yellow.

Stir and check the consistency of your icing. You want 15-second icing, which means, if you run a knife through it, it takes about 15 seconds to fill back in. If it is too thick, add a little water to it in 1/4-teaspoon increments. If it becomes too thin, stir in a little sifted powdered sugar.

If your cookies are firm enough to handle without smudging the base icing, you can begin piping. Otherwise, cover the royal icing and wait.
Piping
Fill your piping bag with the brown icing and pipe on the jacket details.

Switch to maroon and do the breast line and shoulder patch. I used a toothpick to spread the icing around and get into the corners.

Finally, switch to black and do the accents and fill in the shirt. Again, using a toothpick for the corners if needed.
Rest
Allow to dry for at least four hours before stacking or packing. The royal icing will dry quickly, but the base icing needs a few hours, or it will dent and smear.
Notes
*You want your royal icing thick to start, because your food coloring will thin the icing considerably. (If you use the recipe I linked to, the starting consistency is perfect.)
It's not best practices, but I just took apart and rinsed out and dried my piping bag and coupler in between each color. I hate wasting bags.
Packaging note: Make sure to use grease-proof cookie bags when packaging your cookies! The plain brown lunch bags I used for photos began to show marks after an hour or so.
This post may contain affiliate links, which means I receive a small commission if you make a purchase using them. There is absolutely no additional cost to you.
Used to make this recipe: