Easy small-batch chocolate chip cookies that use melted butter and require no chill time so you can enjoy them almost instantly!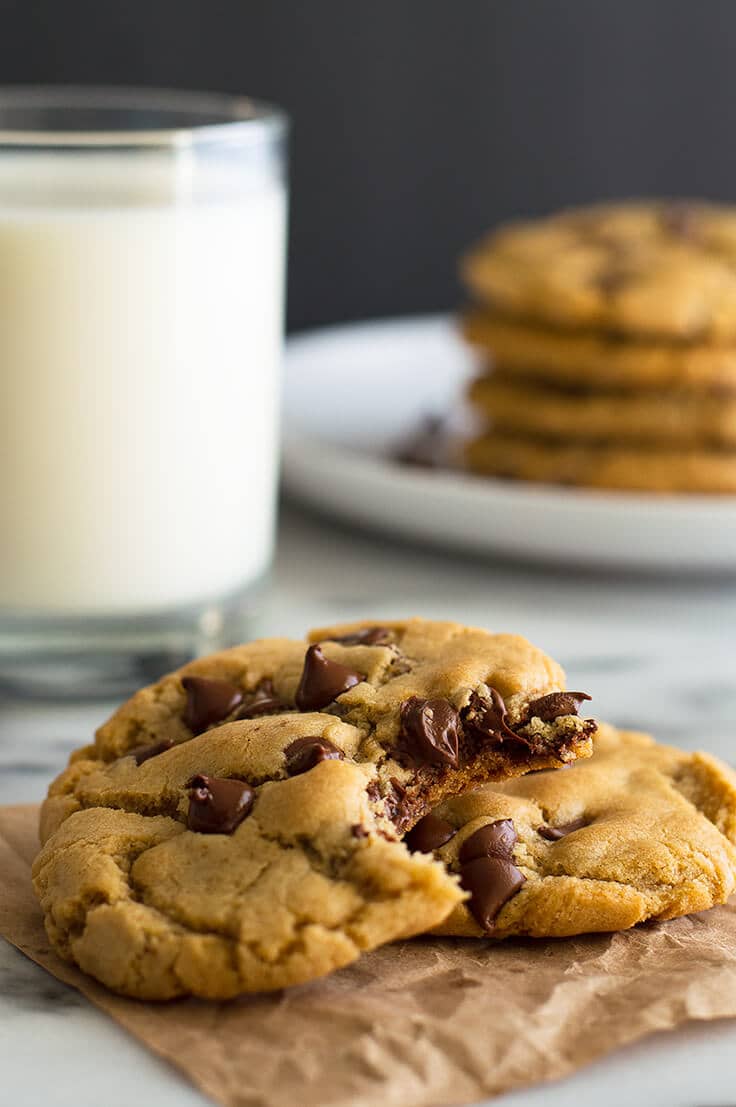 Hey, fellow cookie lovers, has this ever happened to you: You find yourself with a craving for cookies, but then it's FOREVER AND EVER before you can actually eat them? Butter must be left out to soften and then dough chilled, and by that time, ugh, you don't even want cookies anymore, you WANTED SOME THEN!! WHY IS THE WORLD THE WORST!? (I may turn into a toddler when I want cookies…)
Well no more, here's a recipe for instant gratification cookies, a No-chill Small-batch Chocolate Chip Cookie recipe that I created mostly for myself (see the above reasons) but that I'm sharing with you because we're friends.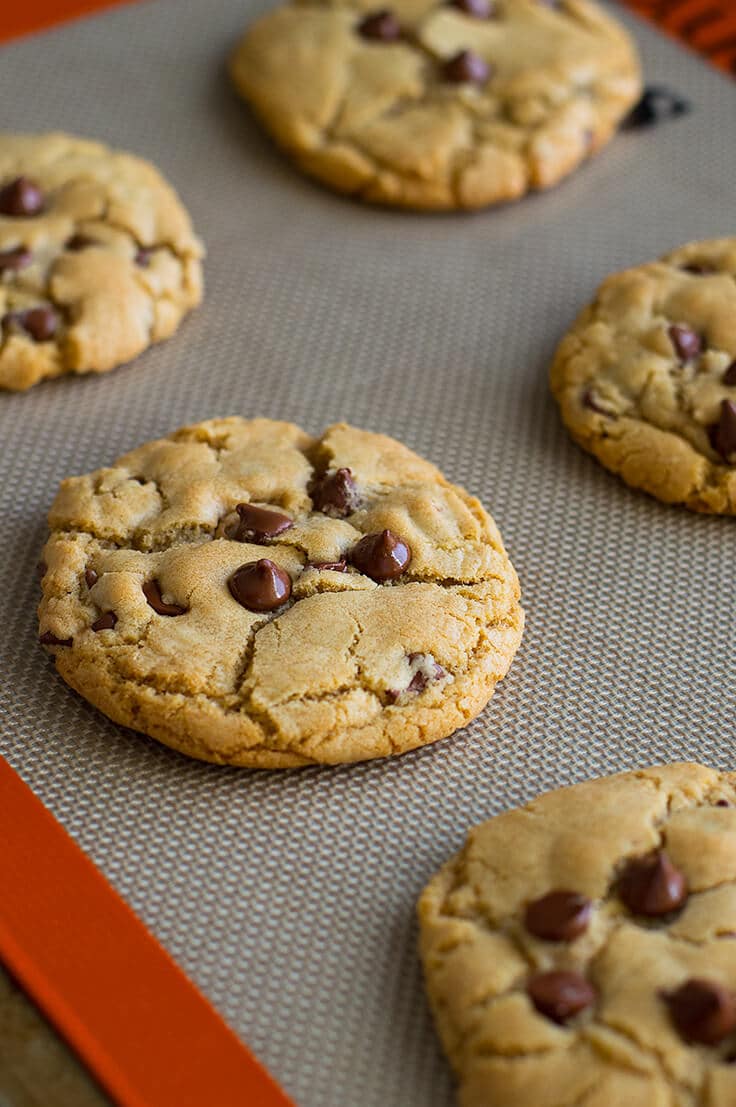 They're instant gratification chocolate chip cookies because they go from the thought Hey, I could really go for some cookies right now, to eating some cookies in about 20 minutes.
They use melted butter so there is zero waiting time for butter to come to room temperature, and you don't have to chill them! That's right, throw this cookie dough together with no planning needed, and then they can go right into the oven.
See Also: Perfect Small-batch Sugar Cookies
They come out soft, a little chewy, and packed full of chocolate chips. And as per usual, like my Small-batch Buckeye Brownie Cookies and Small-batch Gingerbread Cookies, this is a small-batch cookie recipe, so it makes just a half dozen chocolate chip cookies.
How you choose to distribute those is up to you, though I vote for being a cookie monster and eating two for breakfast and then hiding the rest of them at the back of your freezer so you don't have to share. (Give them five minutes to soften just the tiniest bit before eating and they make a fabulous frozen treat!)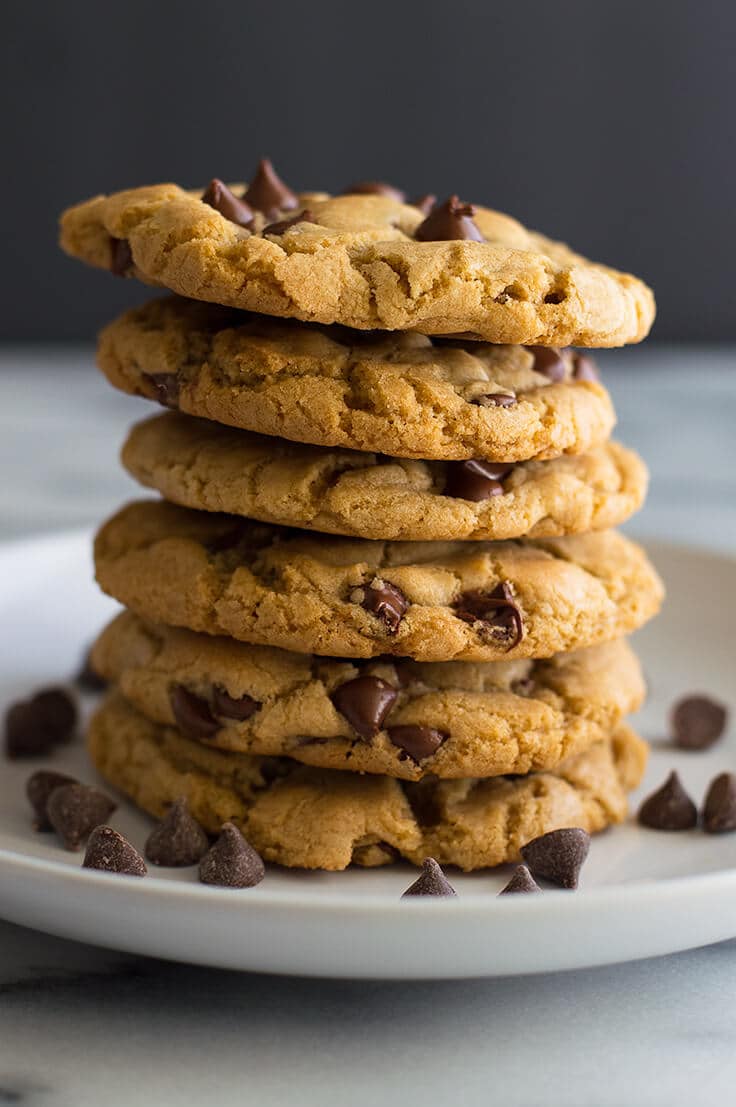 This recipe uses just one egg yolk. Check out these Egg White Recipes for ideas on what to do with the leftover egg white.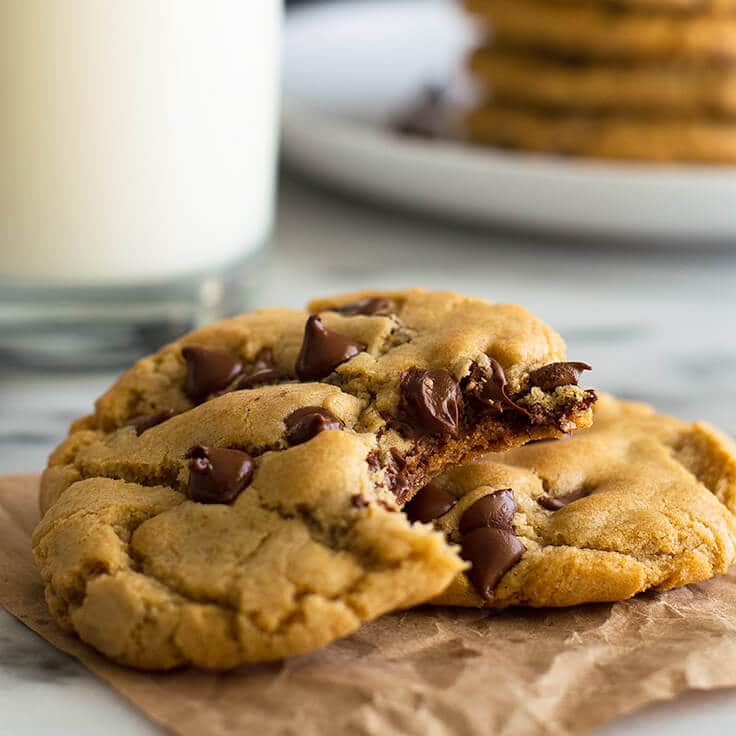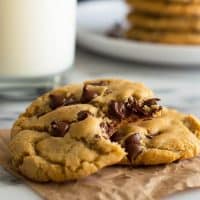 No-chill Small-batch Chocolate Chip Cookies
Easy small-batch chocolate chip cookies that use melted butter and require no chill time so you can enjoy them almost instantly!
Ingredients
2/3

cup

(

80

g) all-purpose flour

measured by weight or the spoon and sweep method*

1/4

teaspoon

baking soda

1/8

teaspoon

salt

1/4

cup

(

2

oz) unsalted butter

melted and slightly cooled

1/3

cup

(

66g

) brown sugar

2

tablespoons

(

25g

) white sugar

1/2

teaspoon

vanilla extract

1

large egg yolk

1/2

cup

(

3oz

) semi-sweet chocolate chips
Instructions
Preheat your oven to 350°F and line a baking sheet with parchment paper or a silicone baking mat.

In a small bowl, whisk together flour, baking soda, and salt.

In a medium bowl, whisk together the butter and brown and granulated sugars. Add egg yolk and vanilla and whisk until well-combined. Stir in the flour mixture until just mixed and fold in the chocolate chips.

Drop dough by rounded spoonfuls (just under two ounces) onto your prepared cookie sheet (for the most perfectly round cookies, roll into ball first), and bake for 9 to 12 minutes, until the cookies just look set. Cool on the cookie sheet and enjoy!
Recipe Notes
*To measure using the Spoon and Sweep Method, spoon flour into your measuring cup and sweep excess off with the flat of a knife. This will give you the most accurate measurement next to weighing.
This post may contain affiliate links, which means I receive a small commission if you make a purchase using them. There is absolutely no additional cost to you.