These small-batch peanut butter cookies are easy to make, super peanut buttery, and SO good.
Hey, workweek got you down? You should make yourself a cute little batch of peanut butter cookies. Your day will get 97% better immediately. I promise.
I love a good peanut butter cookie and these cookies definitely earn that label. Other words used to describe them by taste testers have been, "amazing," "really really good," and "my favorite peanut butter cookies ever."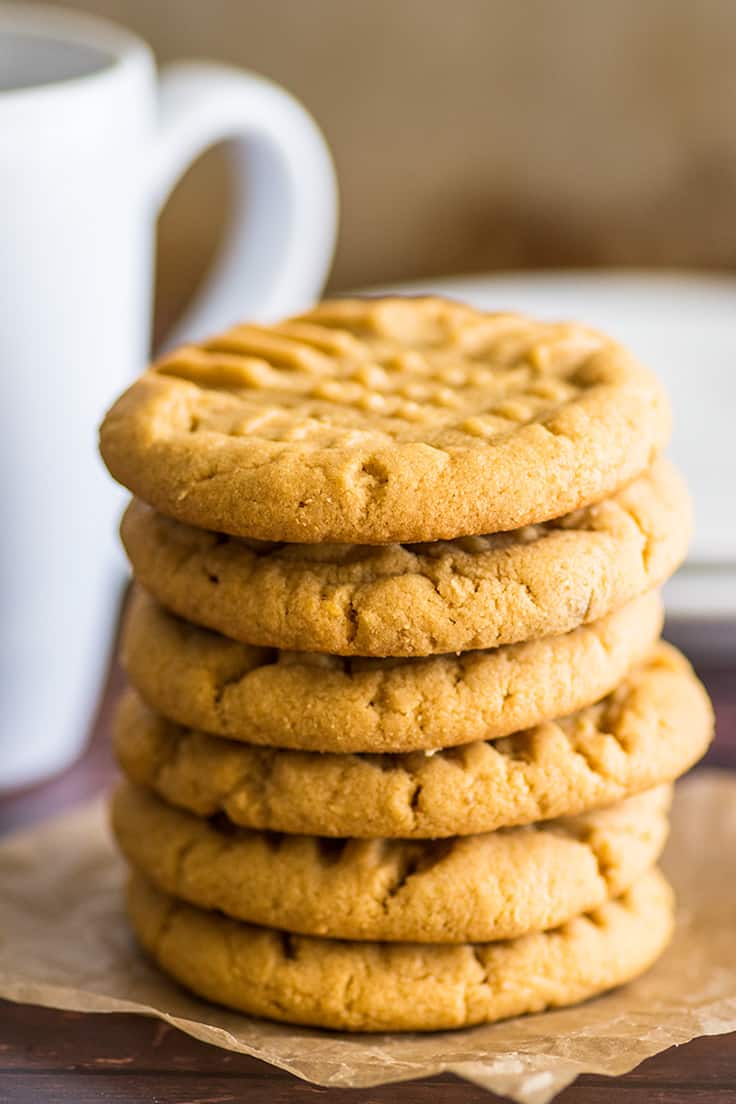 The Perfect Small-batch Peanut Butter Cookies
These cookies are super peanut buttery and the perfect (or at least my perfect) peanut butter cookie texture where they're a little soft and crumbly, a little chewy, and with a little extra oven time, a little crunchy.
This recipe makes six cookies so there are just enough to share, but not so many that you're in any real trouble should you choose not to. 😉
Notes Ingredients
Baking staples: The bulk of the ingredients for these cookies is made up of baking staples, flour, baking soda, salt, butter, brown and granulated sugar, and vanilla extract.
Peanut butter: Smooth or chunky peanut butter will work, but stick with a processed brand like Jiff or Skippy, as these give you the most consistent results for baking.
Egg yolk: This recipe uses only an egg yolk. For ideas on what to do with that leftover egg white, check out my post What to Do With Leftover Egg Whites (I recommend a small batch of banana muffins).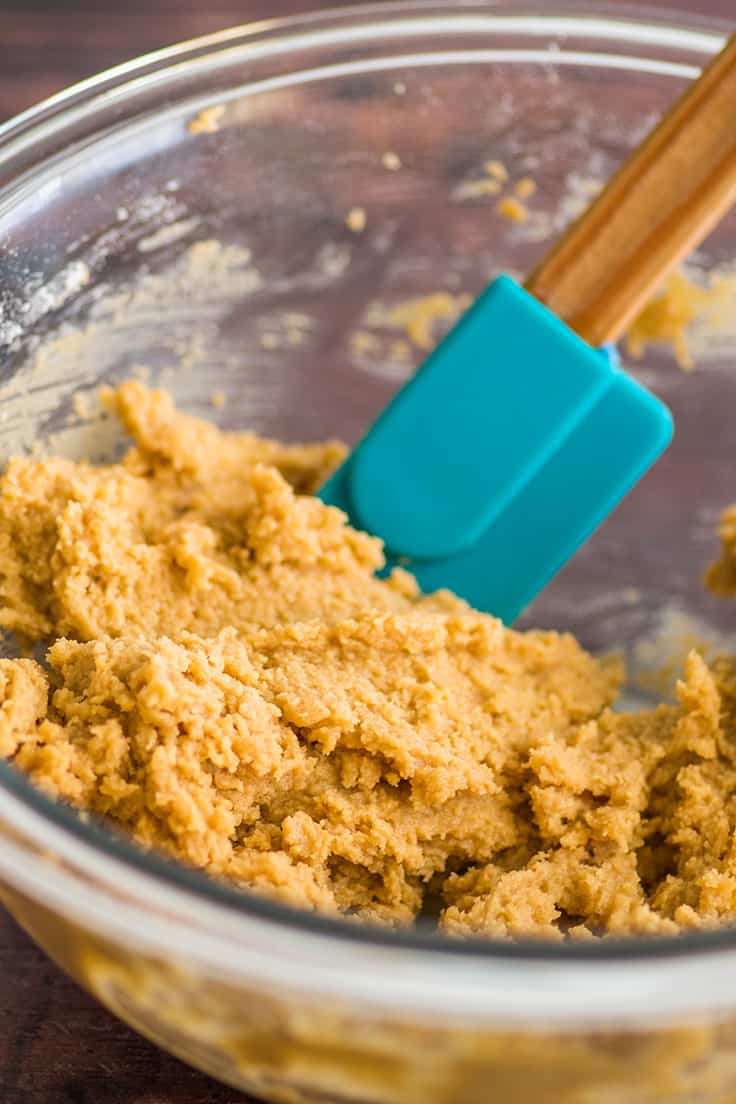 How to Make a Small Batch of Peanut Butter Cookies
Mix dry ingredients together in a small bowl.
Whisk together wet ingredients in a medium bowl. You can use a handheld mixer for this part if you'd like, but all you really need is a whisk and a little elbow grease.
Stir dry ingredients into the wet and mix.
Scoop rounded spoonfuls of the dough and roll into balls before placing on the cookie sheet and using a fork to press a crosshatch pattern into the top of each cookie.
Bake and let the cookies cool and set for at least 10 minutes before eating.

Peanut Butter Cookie Variations
Chocolate chip/Peanut butter cup cookies: Add 1/3 cup of chocolate chips or chopped peanut butter cups to the dough before baking.
Nutella-stuffed cookies: On a plate lined with parchment paper, freeze six 1-tablespoon-sized dollops of Nutella until solid, about 20 minutes. Make the cookie dough, and when forming the cookie dough balls, split them in half and place a frozen dollop of Nutella inside. Squish the top and bottom halves back together, press with a fork, and bake according to recipe instructions.
Peanut butter cookie sundae: Top warm cookies with a scoop of ice cream, peanut butter sauce or fudge sauce (or both!!), whipped cream, and sprinkles.
Small-batch Peanut Butter Cookies Troubleshooting
These cookies are pretty simple to make, but occasionally people run into trouble. These are the two issues I've seen:
Warm cookies are falling apart: This is normal! The cookies need to set before you can eat them. If you try to move them right after they come out of the oven, they will crumble in your hand. Give them 10 to 15 minutes on the baking sheet and they will firm right up.
If you prefer a softer, slightly underdone cookie and don't want them to continue to cook from the heat of the baking sheet, slide the entire sheet of parchment paper (with the cookies still on it) off the tray onto the cool counter. This might be a little challenging if you're using a rimmed baking sheet, but I believe in you.
Dough too crumbly: This happens when there is too much flour in your dough or if you have an extra small egg yolk. Next time be sure to measure the flour by weight or using the spoon and sweep method (stir the flour in your container to fluff it up and then spoon it into your measuring cup, sweep excess off with the flat of a knife).
You can fix the dough by adding just a bit of milk or water, 1/2 teaspoon at a time, until the dough comes together and there is no dry flour at the bottom of your bowl.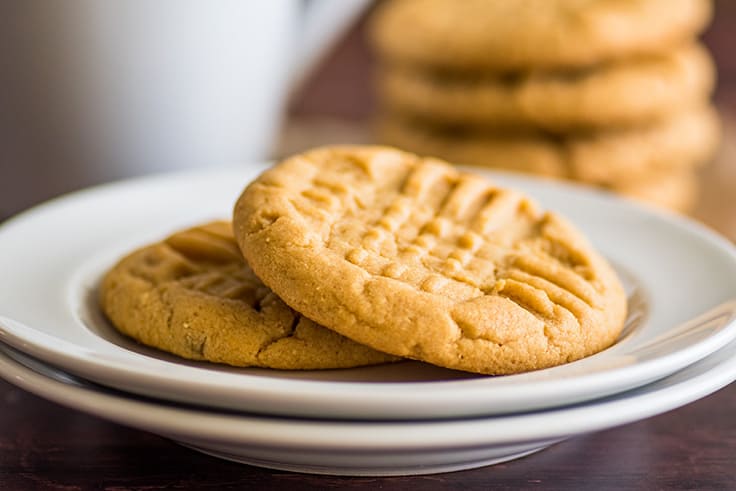 FAQ
How to store peanut butter cookies?
Store your cookies at room temperature in an airtight container for up to five days.
Can I freeze peanut butter cookies?
Yes! These cookies freeze *really* well. If you have leftovers, put them in a freezer bag and they will keep in the freezer for up to 2 months.
Can I use natural peanut butter in these cookies?
You could probably get away with using natural peanut butter if you really want to, but these cookies have not been tested with it, so I can't guarantee the results.
More Peanut Butter Desserts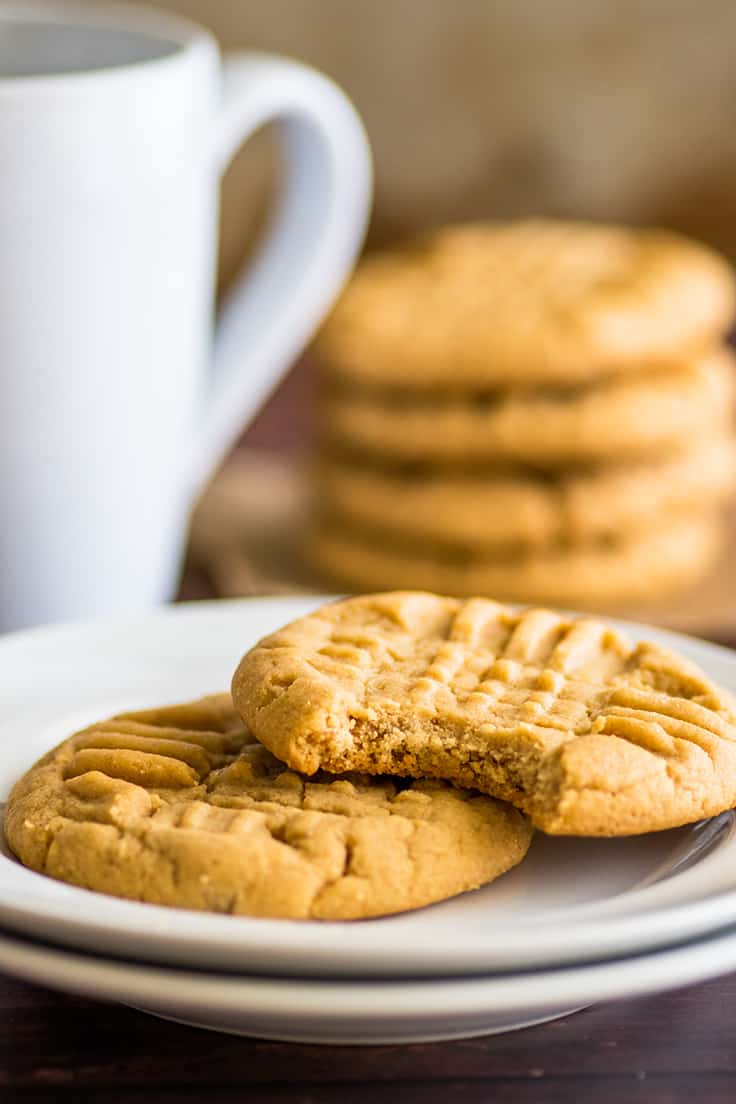 More Small-batch Cookies
Or check out my entire Small-batch Cookie Recipe Archive.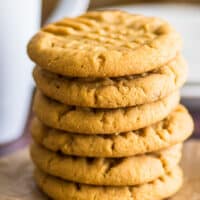 Small-batch Peanut Butter Cookies
These small-batch Peanut Butter Cookies are easy to make, super peanut buttery, and SO addictive.
Print
Pin
Servings (Hover or Click to Change Yield):
6
cookies
Ingredients
1/2

cup

(

60g

) all-purpose flour

measured by weight or using the spoon and sweep method*

1/4

teaspoon

baking soda

1/4

teaspoon

salt

1/3

cup

(

85g

) peanut butter

(not natural peanut butter)

3

tablespoons

(

1.5oz

) unsalted butter

softened

3

tablespoons

(

37g

) brown sugar

2

tablespoons

(

25g

) granulated sugar

1

large egg yolk

1/2

teaspoon

vanilla extract
Instructions
Pre-heat your oven to 350°F and line a baking sheet with parchment paper or silicone baking mat.

In a small bowl, whisk together flour, baking soda, and salt.

In a medium bowl, combine peanut butter, softened butter, brown sugar, granulated sugar, egg yolk, and vanilla. Whisk together until smooth.

Stir in flour mixture until just combined. Scoop rounded spoonfuls of the dough and roll into

6

balls. Place dough onto prepared cookie sheet and use a fork to firmly press a crosshatch pattern onto the tops of the cookies.

Bake for 8 to 11 minutes, until the edges of the cookies look set, but the cookies are still pale (for a crispier cookie, bake for 10 to 12 minutes until the cookies begin to darken). Cool on the baking sheet for at least 10 minutes before moving (cookies will be quite soft until they cool).

Enjoy!
Notes
*Correct flour measurement is very important in this recipe. For best results, measure by weight or the Spoon and Sweep Method (stir the flour in your container to fluff it up and then spoon it into your measuring cup, sweep excess off with the flat of a knife).
This post may contain affiliate links, which means I receive a small commission if you make a purchase using them. There is absolutely no additional cost to you.