(Not) Saturday Morning Snapshot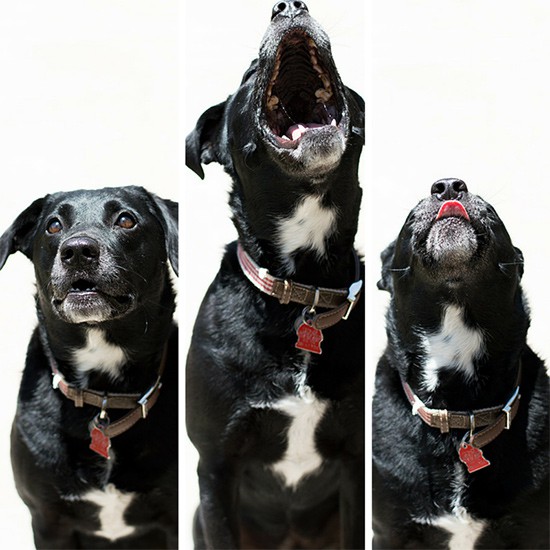 Dog treat photo shoot outtakes…

State of the Blog
How was your week? Did you make anything delicious? Have a good Memorial Day? My sister came up for a visit over the long weekend and we had a low-key family BBQ, so I'd say mine was pretty near to perfect.
This week on the blog, we had one last Nerd Month post in which I rounded up of some of my favorite nerdy recipes from other bloggers. Go check it out. They are AMAZING. Then on Wednesday I posted one of my favorite quick weeknight dinners, and on Friday my Caramel Apple Pie Sundaes went up.
If you like apple pie, you have to try them! It was seriously dangerous photographing those things with no one there to feed them to because I totally could have eaten them all! I didn't, but it was a close call.
Next Monday we start a new month-long recipe series in honor of summer. Wednesday get ready for lots more Ella pictures because there's a new dog treat recipe going up. Friday, I'm in the process of writing way too many words about some of my favorite low-cost kitchen tools and on Saturday, there will be a new Simple Saturday recipe that tastes great over waffles…
Recipes/posts released this week were:
Nerd Month Retrospective and 40+ Perfectly Nerdy Recipes – 40+ of my favorite nerdy recipes inspired by books, television, and movies. Recipes for everything from 'Game of Thrones' and 'The Walking Dead' to 'Star Wars' and the Marvel Cinematic Universe!
Quick Rosemary Pork Chops – Quick pork chops made with rosemary and sherry that can be on the table in about 20 minutes. So easy and delicious you won't believe it.

Caramel Apple Pie Sundae – Apple pie in sundae form! Tart Granny Smith apples cooked with brown sugar and cinnamon and dowsed in caramel sauce. Served over vanilla ice cream in a flaky homemade (easy!) buttermilk pie crust shell.

Pop-culture Corner
Aside from some spectacular American Gods casting, mysterious Star Wars reshoots, and lots of angry writing about whether or not fandom is broken, it's been a pretty quiet week in pop culture. So lets talk summer movies!
Do you have any you are looking forward to seeing this summer? I'm most excited for the new Ghostbusters, but I'll probably end up seeing most of the big ones just because it's so hot here in the summer, and going to the movies is one of the few tolerable daytime activities during June through August.
Will I ever stop posting that GIF? No. No I will not.
Meal Planning
Saturday: Easy Weeknight Chicken Cacciatore
Sunday: Takeout
Monday: Breakfast for Dinner
Tuesday: Basil Chicken over Angel Hair Pasta
Wednesday: Easy Homemade Panini Without a Panini Press
Thursday: Simply Delicious Asian Chicken Salad
Friday: Roasted Summer Veggies and Chicken Sausage