Quick and easy shortcut 5-minute caramel sauce!
This is a quick and dirty post for 5-minute caramel sauce. I've used this caramel in a ton of recipes across the site, like my Caramel Macchiato, Apple Pie Sundae, and Salted Caramel Snickerdoodle Milkshake, and I will certainly use it in many more, so instead of re-typing the recipe every time, I thought I'd give it it's own dedicated page.
Why is this recipe called *shortcut* 5-minute caramel? Because it uses brown sugar instead of the traditional white sugar (which technically makes it a butterscotch) so it only takes 5 minutes to make.
To get the dark, amber color in caramel, you have to melt granulated white sugar, which isn't all that hard but requires fairly careful watching and more time than I'm often willing to give to a quick dessert or my morning coffee.
By using brown sugar, you get the delicious caramel flavor and almost none of the work. You just throw the ingredients together and let it simmer away.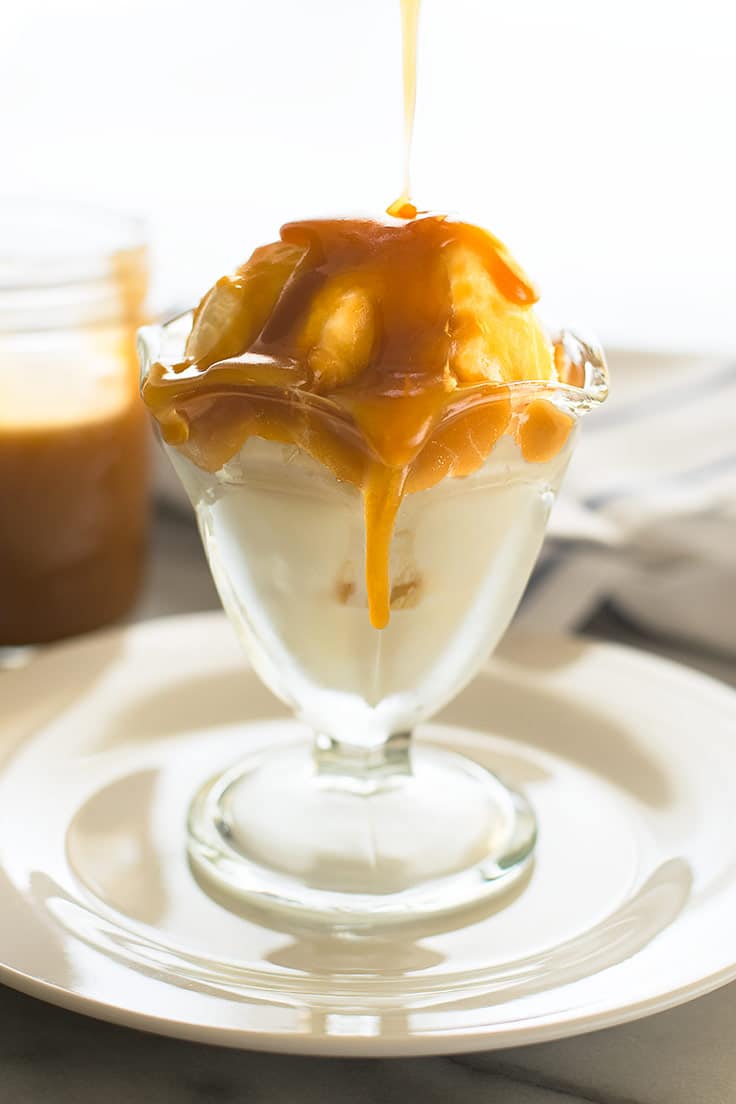 This shortcut version is perfect for serving over ice cream, whipping into buttercream frosting, or drizzling over whatever takes your fancy. It's also quite good by the spoonful out of the jar, if you're into that sort of thing… 😉
More Perfect Dessert Sauces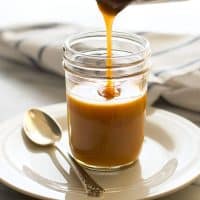 Shortcut 5-Minute Caramel Sauce
Quick and easy shortcut 5-minute caramel sauce!
Print
Pin
Servings (Hover or Click to Change Yield):
16
Ingredients
1/4

cup

(

2oz

) unsalted butter

1/2

cup

(

100g

) brown sugar

1/2

cup

heavy cream

1/4

teaspoon

salt*

1

teaspoon

vanilla extract
Instructions
In a small pot, over medium-high heat, combine cream, brown sugar, butter, and salt. Cook, whisking occasionally, until butter is melted and ingredients mixed.

Bring to a low simmer, turn heat down to medium and continue to simmer for 5 minutes, stirring every minute or so.

Remove from heat and stir in vanilla.
Notes
*For salted caramel, double the salt in the recipe.
Recipe makes about 1 cup of caramel sauce. Serving size is 1 tablespoon.
Sauce will keep in the refrigerator (covered) for up to two weeks.
Small-batch Information: This recipe halves cleanly, but you need to cut the simmering time to 4 minutes so the sauce doesn't become too thick.
Slightly Adapted From Smitten Kitchen
This post may contain affiliate links, which means I receive a small commission if you make a purchase using them. There is absolutely no additional cost to you.