Carne Asada Fries are a SoCal restaurant favorite, but they're incredibly easy to make at home. Here's how to make the best Carne Asada Fries you've ever eaten.
These fries make an irresistible appetizer for company or a decadent (and delicious) dinner for a night in.
With all that gooey cheese, gorgeous carne asada, and mountain of toppings, it's the sort of dish that has major WOW factor when you put it on the table.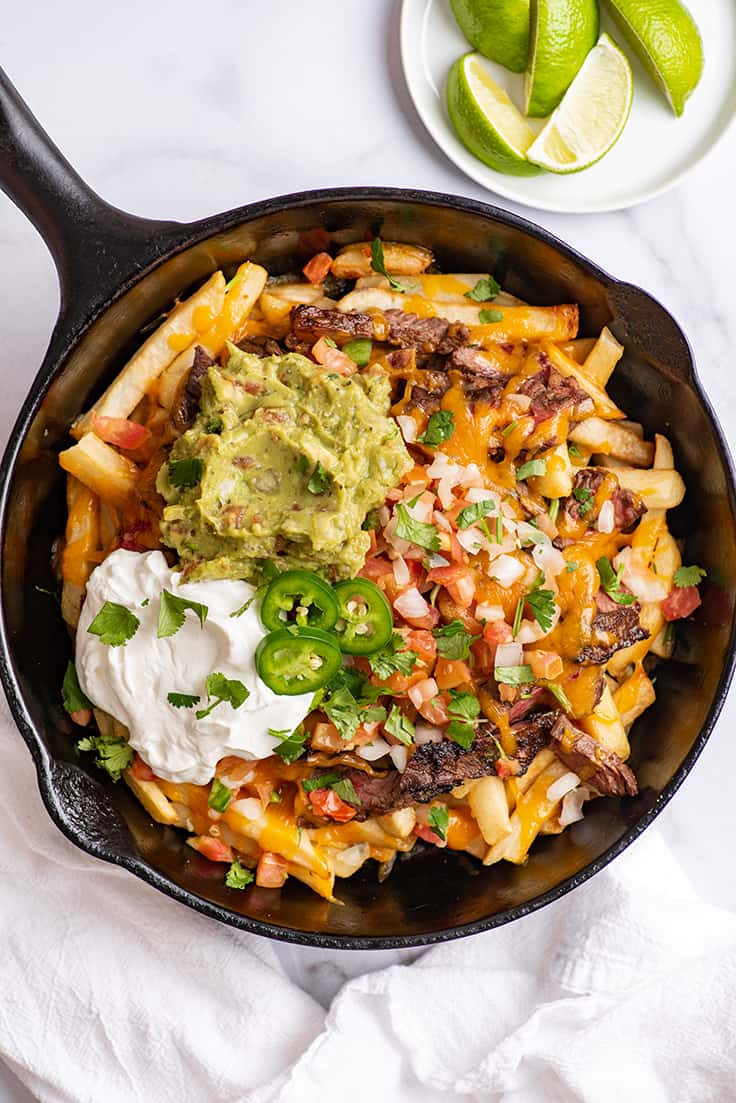 What are carne asada fries?
Carne asada fries are a Mexican-American dish that originated in the taco shops of San Diego in the '90s. And the dish is exactly what it sounds like, crispy fries loaded with chunks of carne asada and then topped with cheese and usually sour cream and guacamole.
Ingredient Overview
Steak: You can use leftover carne asada here if you have it, but I prefer to make the carne asada from scratch. The best cuts of meat for carne asada are flank steak, flap meat, and skirt steak. All cook up beautifully over quick, high heat and have fantastic beefy flavor. I like flap meat best of the three, but go with whatever is available and cheapest in your area.
Marinade: We're using my favorite Carne Asada Marinade for this recipe. It's citrus-based, so it's packed with flavor and the acids from the lemon, lime, and orange juices help tenderize the steak as it marinates.
Fries: I call for a 28-ounce bag of frozen fries in the recipe. Big hearty fries like steak-cut fries stand up well to the weight of the toppings but any fries will work. If you'd like to make homemade fries, try the fry recipe from my Cheese Fries (but double or triple it).
Cheese: Use your favorite melty cheese here. Cheddar works beautifully as do Mexican-style blends. Feel free to use pre-shredded bagged cheese to cut down on grating time.
Pico de Gallo and Guacamole: Make your own or grab pre-made containers at the grocery store.
Sour cream, lime juice, and chopped cilantro: A big dollop of sour cream, squeeze of lime juice and handful of chopped cilantro complement and help balance the rest of the flavors in your skillet. They're optional but highly recommended.
More Topping Ideas
There's really no limit on the types of toppings you can add to your fries. Go forth and make the carne asada nacho fries of your dreams. For more topping ideas, start with:
Refried beans
Black or pinto beans
Corn
Olives

How to Make The Best Carne Asada Fries (Tips & Tricks)
Give your meat a nice long marinade. You can marinate your carne asada for as little as 4 hours, but it really benefits from 12+ hours, up to 24 to really soak up all the flavor from the marinade.
Cook the carne asada over quick, high heat. In this recipe, I call for cooking it under the broiler because it cooks up quick and beautifully with little charred bits that you'll be stealing off the cutting board.
Bake your fries until *just* done. Since you'll be topping your cooked fries with cheese and returning them to the oven, you don't want them too soft/crispy to start with or they'll be overcooked by the time your cheese melts.
Heat any ingredients that should be served warm. If adding extra ingredients like beans or corn to your fries (or if your carne asada has cooled significantly), heat them before layering them over the cooked fries because they might not warm all the way through in the short time it takes for the cheese to melt.
Carne Asada Fries FAQ
How can I make my steak tender?
The key to tender carne asada is starting with the right cut of meat (flap meat, flank steak, or skirt steak), cooking it no higher than medium doneness 140-150°F, and cutting your steak against the grain when slicing it into pieces.
Here's an excellent article on what happens when you cut meat across the grain, but basically, you are cutting the muscle fibers into shorter pieces which leads to a less chewy, more tender bite of meat.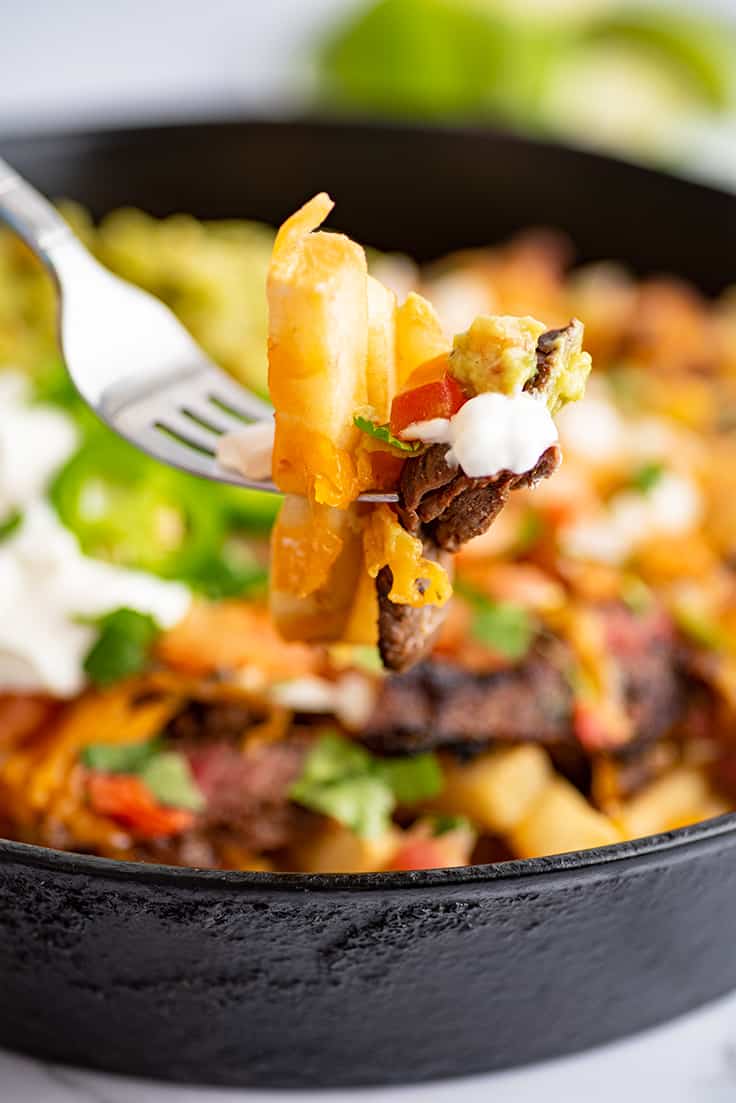 Can I make these carne asada fries in advance?
Any dish involving fries is best eaten immediately, so I don't recommend cooking this dish in advance, but you can prepare all the ingredients ahead of time. Carne asada can be cooked the day before and the rest of the ingredients bought or chopped 24 to 48 hours in advance.
Then all you have to do when it's time to serve the carne asada fries is reheat the carne asada, cook the fries, and assemble everything.
How to reheat carne asada fries?
As mentioned above, fries are best eaten immediately, but it you have leftovers, there are some things you can do to make them the best leftovers they can be. Preheat your oven to 400°F and line a baking tray with parchment paper or greased foil. Scrape any sour cream and guacamole left on your fries onto a small plate and set aside to add back to the fries later (you don't want those going in the oven).
Then spread the carne asada fries out on the prepared baking sheet in an even layer and bake until everything is heated through. Reheating time will vary depending on the number of fries you have, but start checking on them at 7 minutes.
Once everything is hot, scoop it all back on a plate, add the sour cream and guacamole, and enjoy!
More Carne Asada Recipes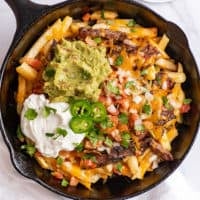 Carne Asada Fries
Carne Asada Fries are a SoCal restaurant favorite, but they're incredibly easy to make at home. Here's how to make the best Carne Asada Fries you've ever eaten.
Print
Pin
Servings (Hover or Click to Change Yield):
4
to 6 servings
Ingredients
Marinade
1/2

cup

orange juice

bottled is fine

1/2

cup

soy sauce

low-sodium is fine

1/4

cup

lemon juice

bottled is fine

1/4

cup

olive oil

2

tablespoons

lime juice

bottled is fine

2

cloves

garlic

pressed or diced

1

teaspoon

chili powder

1

teaspoon

ground cumin

1

teaspoon

paprika

1

teaspoon

dried oregano

1

teaspoon

black pepper

1/4

teaspoon

ground chipotle chili pepper OR

1

teaspoon finely chopped, canned chipotle pepper

optional

1/2

bunch fresh cilantro chopped, about

3/4-1

cup very loosely packed
Meat
1 1/2 to 2

pounds

skirt, flank, or flap steak
Carne Asada Fries
1

28-ounce bag frozen fries

1 to 2

cups

shredded cheese

1

cup

pico de gallo

1/2

cup

sour cream

1/2

cup

guacamole

Chopped cilantro

optional for topping

1

jalapeno

sliced, optional for topping
Instructions
Carne Asada Marinade
Combine and stir together all marinade ingredients. Transfer meat into a large plastic bag or container and pour marinade over the top. Marinate for at least 4 hours, up to about 24, flipping the meat once halfway through.
Carne Asada
Adjust top rack of your oven to about 4 inches below the broiler. Heat broiler on high. Place meat on a foil-lined heavy-duty baking sheet or broiling pan and broil 4 to 6 minutes per side. Pull at 135°F for medium-rare, 145°F for medium. 

Allow meat to rest for 10 minutes before slicing across the grain into strips or chunks. Tent with foil to keep warm while your fries cook.
Fries
While your meat rests, bake fries according to package instructions, until just done.

Set oven temperature to 350°F. If desired, pile cooked fries into a cast iron skillet or assemble fries on the baking sheet.

Top cooked fries with chopped carne asada and cheese. Return fries to the oven until cheese is melted, 5 to 7 minutes.

Add guacamole, pico de gallo, and sour cream. Sprinkle with cilantro and add sliced jalapenos if desired. Serve and enjoy!
Notes
Approximate nutritional information is for 6 servings made with 2 pounds of skirt steak, 1 cup of cheddar cheese and assumes 10% marinade retention.
This post may contain affiliate links, which means I receive a small commission if you make a purchase using them. There is absolutely no additional cost to you.