This dreamy homemade White Chocolate Mocha can be made with pantry staples in about 5 minutes. No need to leave the house to get your morning mocha!
I've shared a ton of Starbucks-inspired recipes on the site over the years like an Easy Homemade Mocha, my mom's favorite Caramel Macchiato, a Pumpkin Spice Latte made two ways.
And I love them all because I love coffee, but today I'm finally sharing my personal Starbucks order of choice: a White Chocolate Mocha.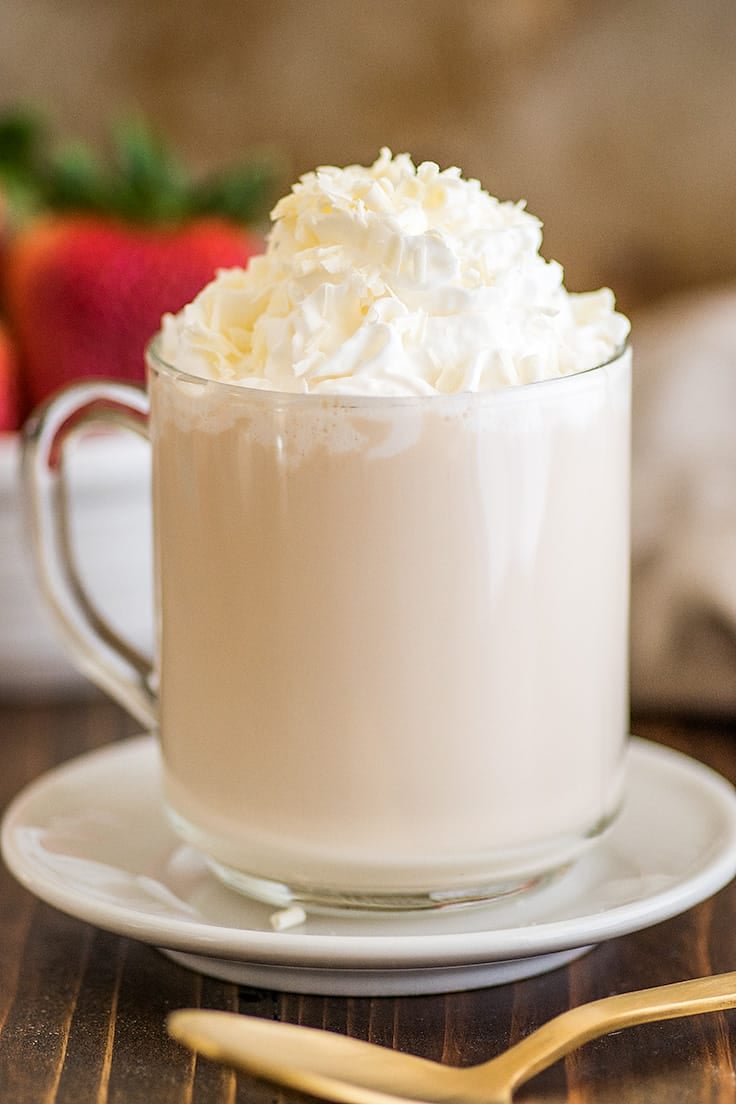 And if you're here, I'm guessing you love these as much as I do. So next time you're craving a sweet coffee treat in the morning but can't bring yourself to put on pants and leave the house to get it, come back here for this recipe and make your White Chocolate Mocha at home.
What's in a White Chocolate Mocha?
This is not an exact copycat version of Starbucks' White Chocolate Mocha— their recipe uses condensed milk and espresso–two ingredients I'm guessing most people don't have sitting around in the minute quantities needed to make one cup of coffee.
But this homemade version is just as good and will hit all those White Chocolate Mocha sweet spots. You will need:
Hot coffee: Use your favorite brand, brewed strong if you can.
White chocolate: Be sure to use high-quality white chocolate in your mocha. Cheap white chocolate chips that are great in cookies don't have the best flavor for white chocolate drinks. If you wouldn't eat a handful of them, don't melt them down to flavor your coffee.
Milk: Any percent milk will work just fine here, but the higher fat your milk, the richer your drink will be.
Heavy cream: Heavy cream is optional but adds a little extra richness that is *so good.* And if you have too much heavy cream, go check out my post on what to do with leftover heavy cream.
Sugar: The white chocolate doesn't provide quite enough sweetness to get that classic white chocolate mocha experience, so a little sugar is needed to sweeten things up. Start with the amount called for in the recipe and then add more to taste.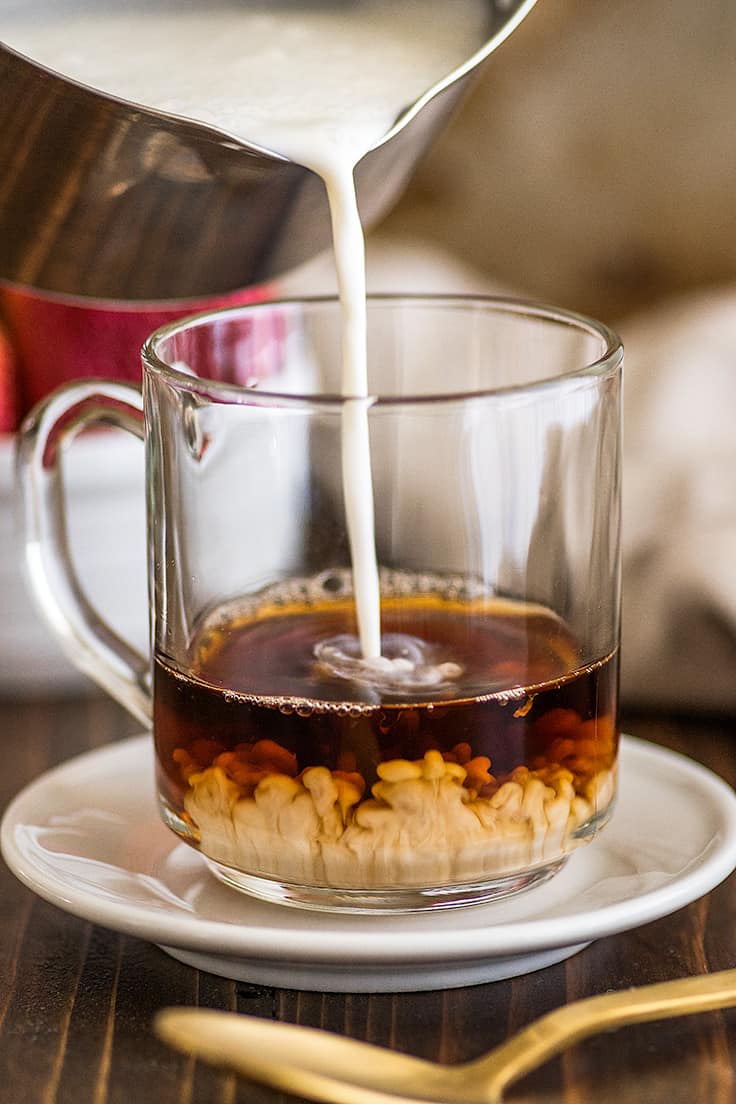 How to Make a White Chocolate Mocha at Home
White Chocolate Mochas are one of the easiest coffee drinks to make at home. You just need to complete 3 simple steps:
On the stove, heat milk to steaming and whisk in chopped chocolate until completely melted.
Pour hot coffee into an 8-ounce cup and pour milk mixture over your coffee.
Add sugar, stir everything together, and adjust to taste. If you want your drink a little sweeter, you can add sugar, a little richer, add cream.
Iced White Chocolate Mocha
Iced White Chocolate mochas are equally as easy to make at home. The ingredients are mostly the same, but the technique is a little different. Go check out my post on how to make an Iced White Chocolate Mocha or White Chocolate Mocha Frap.
Tips and Tricks
This recipe makes a little over 1 cup of coffee, enough to fill one 8-ounce mug. If you want to fill an over-sized mug, double the recipe.
If you'd like to make white chocolate shavings for the top of your mocha, use a vegetable peeler and run it down the edge of a piece of white chocolate bar to make the curls.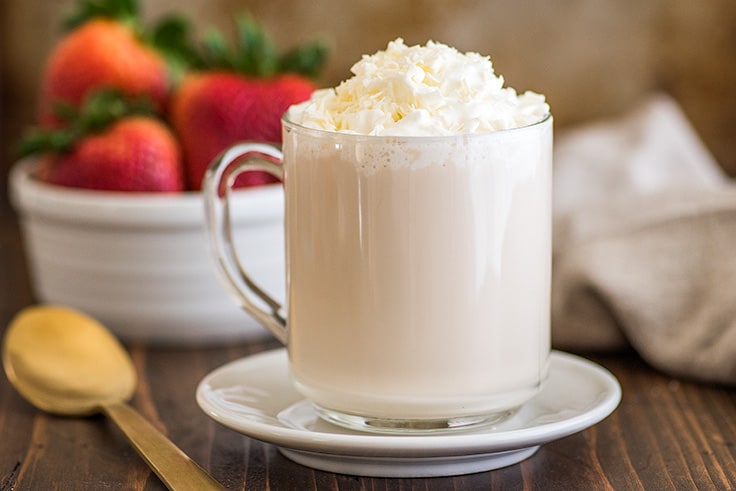 More Starbucks Copycat Recipes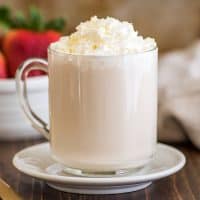 Homemade White Chocolate Mocha Recipe
This dreamy homemade White Chocolate Mocha can be made with pantry staples in about 5 minutes. No need to leave the house to get your morning mocha!
Print
Pin
Servings (Hover or Click to Change Yield):
1
Ingredients
White Chocolate Mocha
3/4

cup

milk

any percentage

1

tablespoon

heavy cream

optional

2

tablespoons

(

1oz

) white chocolate

chopped (high-quality chips are fine)

1/2

cup

strong coffee

1

teaspoon

granulated sugar

or to taste
Optional Toppings
Instructions
In a small saucepan, heat milk and optional cream until steaming.

Remove from heat and stir in chopped chocolate until melted and smooth. Whisk until foamy.

Pour coffee into an 8-ounce mug. Pour milk mixture over the top and stir in sugar to taste. Top with optional whipped cream and enjoy!
This post may contain affiliate links, which means I receive a small commission if you make a purchase using them. There is absolutely no additional cost to you.