This fabulous creamy homemade cheese sauce is one of the quickest, easiest sauces to make. It's perfect for dipping broccoli and other veggies or drizzling over baked potatoes, nachos, or french fries.
You'll be so glad to have this little recipe in your back pocket because it's so useful and versatile.
Need a quick lunch? Steam some broccoli in the microwave and top with cheese sauce. Nachos for dinner? Cheese sauce. Baked potato feeling a little sad? CHEESE SAUCE IT.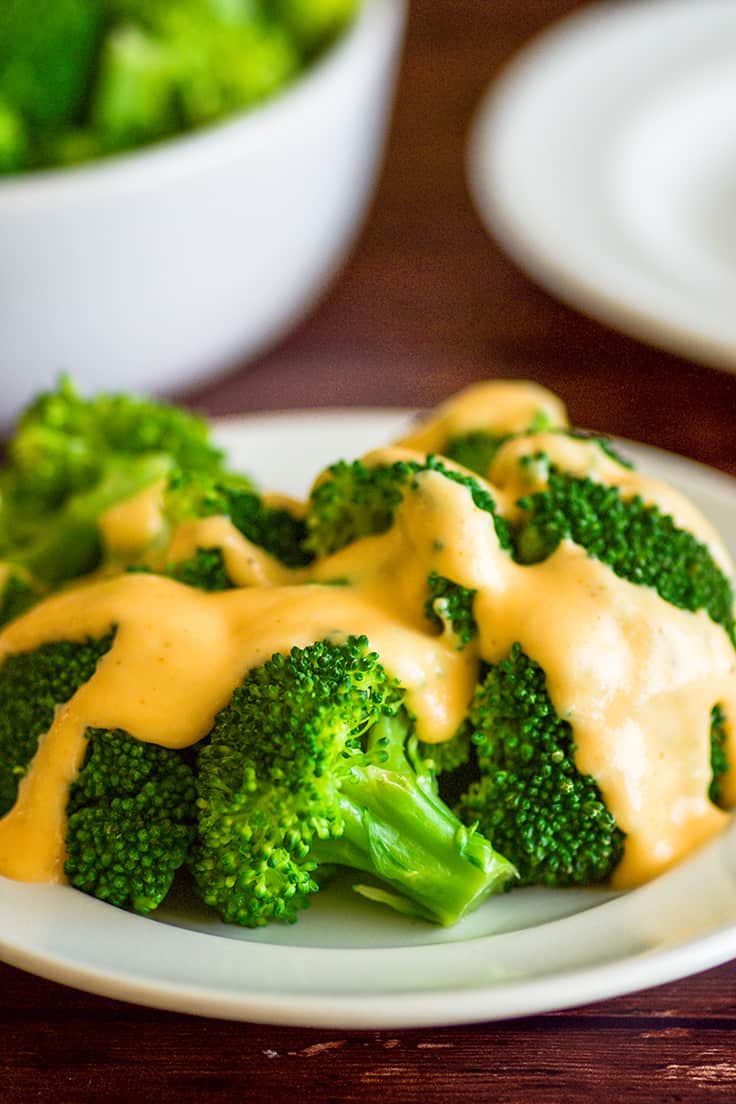 If you have a couple of minutes and some cheddar cheese, you could probably make this sauce right this second.
Ingredients
Butter: The base of this cheese sauce is a roux made with butter and flour. You can use salted or unsalted butter for this recipe.
All-purpose flour: Using equal parts (by volume) of flour to butter helps thicken the cheese sauce.
Milk: You can use any percentage milk you'd like in this recipe, but the higher fat the milk, the smoother and creamier your sauce will be.
Cheddar cheese: Be sure to use full-fat cheese and start with a block of cheese that you shred yourself. The anti-caking additives in bagged, pre-shredded cheese can make your sauce lumpy. I prefer to use sharp cheddar, but mild to extra sharp will all work.
How to Make Cheese Sauce
You start with a roux made by melting the butter in a small pot and whisking in the flour until you get a lightly golden paste. Cooking the flour with butter first cooks the raw flour taste out of the mixture.
Then slowly pour in the milk, being careful to whisk out any lumps as they form, and stir until you have a nice bubbly, creamy sauce.
Once the sauce is thickened, turn off the heat and stir in the cheese a handful at a time. Add salt, pepper, and optional cayenne to taste, and voilà. Perfect cheese sauce ready to tasty up whatever you're going to pour it over.

Sauce Variations
While I love a good cheddar cheese sauce, this recipe is endlessly customizable. Here are some recommendations:
Switch up the cheese: Any good melting cheese will work in this recipe. Give monterey jack, gouda, gruyere, or asiago cheese a try.
Make it spicy: Use pepper jack cheese and/or stir in extra cayenne pepper to taste for an extra spicy kick.
FAQ
What to serve with cheese sauce?
The answer to this is: whatever you want!! If you can dream of drizzling cheese sauce over it, you can do it. But here are my recommendations to get you started:
Vegetables, especially broccoli, cauliflower, and Brussels sprouts
Homemade pretzels
FRENCH FRIES!
(If you'd like to make this cheese sauce for fries, go check out my Cheese Fries post, which has instructions for making homemade fries to go along with the cheese sauce.)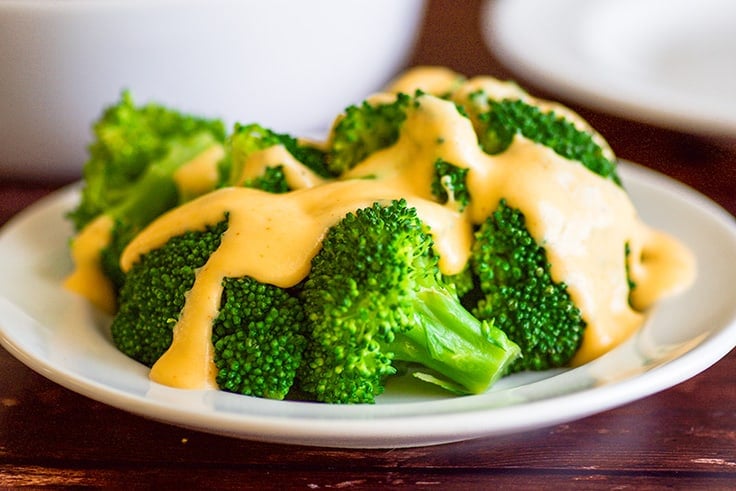 How do you make a smooth cheese sauce?
To get the smoothest cheese sauce possible, follow these golden rules:
Use full-fat cheese that you grate yourself as bagged cheese has additives that can prevent it from melting smoothly.
Let the shredded cheese sit at room temperature for a short time so you're not putting cold cheese into hot liquid.
Remove the sauce from heat before you stir in the cheese. Overheated cheese can clump.
Why does my sauce taste floury?
If your sauce tastes like flour, it's probably because the roux was not cooked long enough before adding the milk. Next time, cook the butter and flour mixture until it begins to turn golden. This cooks out that raw flour taste.
Can I store this?
Sauce can be stored in the refrigerator and reheated gently on the stove or in the microwave, but it is best eaten right after cooking. It won't be quite as smooth and creamy after refrigeration and reheating.
More Cheesy Recipes
A Note on Serving Size
As written, this recipe makes about 1 cup of cheese sauce, which generously serves 2. To change the recipe yield, in the recipe card below, hover over the number of servings (or click if you are on mobile) and slide the slider. Add a couple of minutes to the cooking time when doubling or tripling.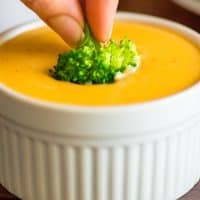 Easy Homemade Cheese Sauce
This fabulous creamy homemade cheese sauce is one of the quickest, easiest sauces to make and perfect for dipping broccoli and other veggies or drizzling over baked potatoes, nachos, or french fries.

Print
Pin
Servings (Hover or Click to Change Yield):
2
Ingredients
1

tablespoon

(

14g

) butter

1

tablespoon

(

8g

) all-purpose flour

3/4

cup

milk

any percentage

3/4

cup

(

3oz

) shredded Cheddar cheese

Pinch

of cayenne

to taste

Salt and pepper

to taste
Instructions
In a small pot, over medium heat, melt butter. Whisk in flour and cook, whisking continuously, until flour is lightly golden, about 1 minute.

Slowly pour in milk, whisking out any lumps as they form. Continue to whisk the mixture until it is thick and bubbly, 3 to 4 minutes.

Remove from heat, stir in the cheese a handful at a time until all the cheese has been used and sauce is smooth and creamy. Add cayenne, salt, and pepper to taste.

Serve immediately and enjoy!
Notes
Approximate nutritional information was calculated using 2% milk.
This post may contain affiliate links, which means I receive a small commission if you make a purchase using them. There is absolutely no additional cost to you.
This post was originally published on 1/24/18. It was updated on 10/4/20 with additional information and tips.