Chai sugar cookies with eggnog glaze might just be the perfect Christmas cookie.
(11/5/16 Update) Hey all, this post is one of the very earliest posts on Baking Mischief, so I gave it a little face lift. I updated the photos, cleaned up the text, and edited the recipe for clarity. I also upped the amount of eggnog glaze on the chai sugar cookies by 50 percent, because I always felt it got a little thin by the time you finished decorating. This means the calories have also been adjusted.
I did leave one older photo for posterity, so if you'd like a little blast from iPhone Christmas past, scroll all the way to the bottom of the post. 🙂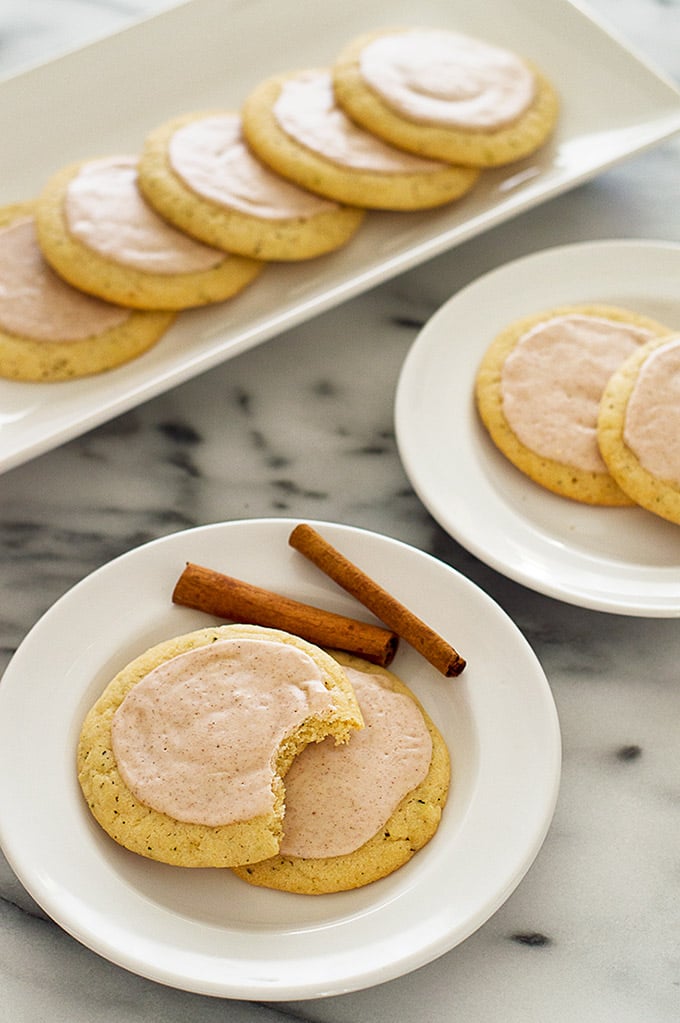 Do you have a favorite Christmas cookie, like Hot Chocolate Cookies maybe or Butterscotch Shortbread Thumbprints perhaps? To be honest, growing up, I never did. Then last year I was made aware of these chai sugar cookies by a certain someone, maybe you've heard of her, just my imaginary BFF, Taylor Swift.
T-Swifty (in my imagination, we have affectionate nicknames for each other) has given me many things over the years: some great music, a few really entertaining memes, the disturbingly strong desire to wear adorable, retro, belly-button-covering bikinis–some of those gifts were better than others.
But last year, with a single Tumblr post, Taylor gave me the greatest gift one could ever hope to receive from a pop star: the recipe for the perfect Christmas cookie.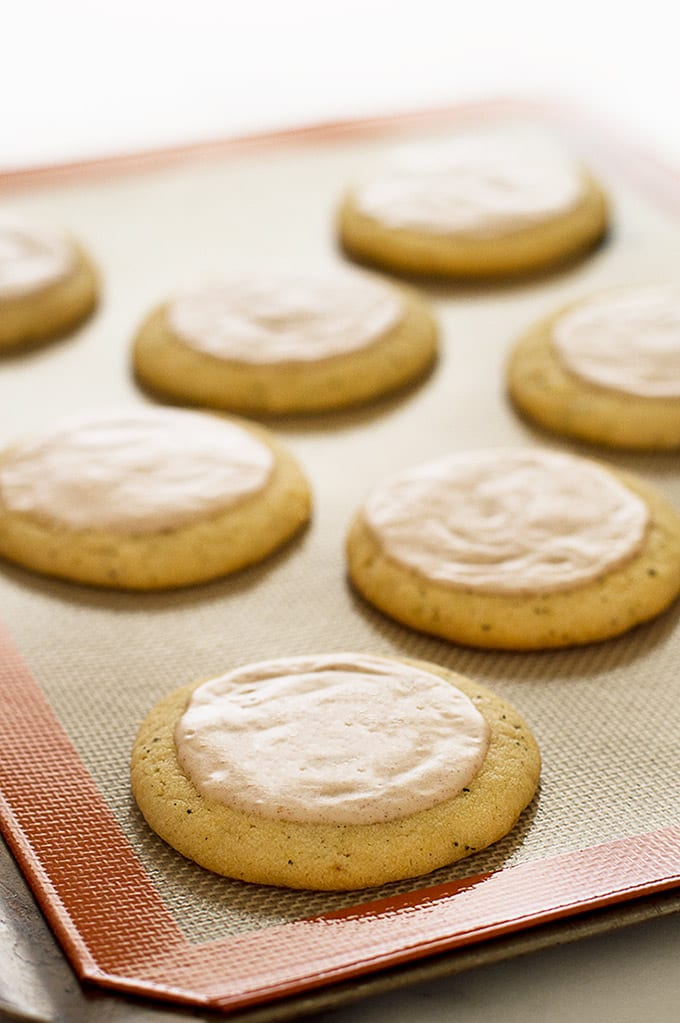 Guys, snickerdoodles are a classic (even better if you make them snickerdoodle sandwich cookies and throw in some eggnog buttercream), the store-bought sugar cookies we all decorated as kids are evergreen, but chai sugar cookies with eggnog icing? These things are a Christmas party in your mouth.
The cookies themselves are just a little bit crunchy and the chai is the perfect complement to the eggnog glaze that's just waiting there to remind you, hey, it's Christmas.
So thank you, Taylor. I may hate the way the lob you helped inspire me to cut my hair into this summer is growing out, but we will always have our perfect Christmas cookie.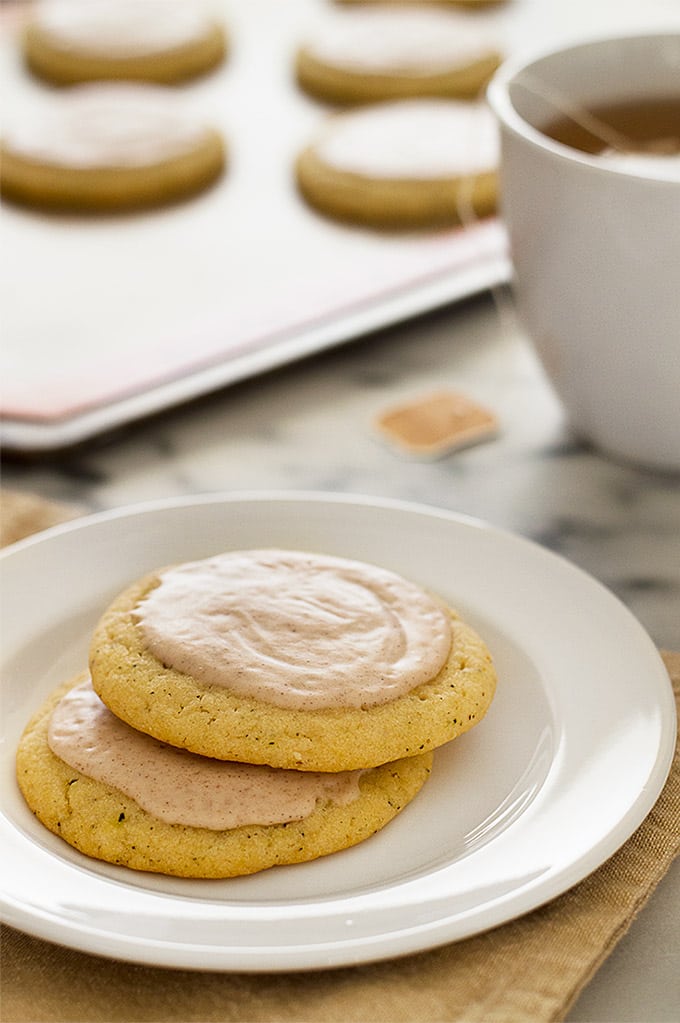 Chai Sugar Cookie Recipe Notes
This recipe calls for a chai tea packet to be added directly to your cookie batter. Make sure you are using one with fairly finely chopped fragments (you don't want giant crunchy bits in your cookies!). I've used both Tazo* and Twinings (their decaff is my chai of choice) brands with great success.
These cookies SPREAD when baked. You can fit them on two cookie sheets, but the edges will end up touching. If you want perfectly round cookies for gifting or serving to guests, bake them in 3 batches.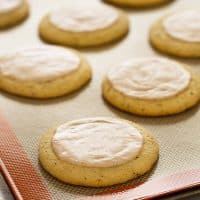 Chai Sugar Cookies with Eggnog Glaze
Chai sugar cookies with eggnog glaze might just be the perfect Christmas cookie.
Print
Servings (Hover or Click to Change Yield):
24
cookies
Ingredients
Cookies
1/2

cup

(

4

oz) unsalted butter

 room temperature

1/2

cup

vegetable oil

1/2

cup

(

100

g) granulated sugar

1/2

cup

(

60

g) powdered sugar

1

large egg

2

teaspoons

vanilla extract

1

chai tea packet cut open*

2

cups

(

280

g) all-purpose flour

1/2

teaspoon

baking soda

1/4

teaspoon

salt
Glaze
1 1/2

cup

(

180

g) powdered sugar

sifted

1/4

heaping teaspoon nutmeg

1/4

heaping teaspoon cinnamon

3 

tablespoons

eggnog

or milk
Instructions
Cookies
Using a stand mixer, beat butter until creamed. Add the oil and mix on medium for about thirty seconds. Scrape sides and bottom of the bowl and add the granulated sugar, powdered sugar, egg, vanilla, and the contents of the chai tea packet. Mix on medium until everything is incorporated.

On low, mix in flour, baking soda, and salt until just combined.

Refrigerate dough for about 1 hour until firm enough to handle.

Preheat your oven to 350 degrees F. Line 3 baking sheets with parchment paper or grease well.

Scoop heaping tablespoons of dough (just over 1 ounce) onto your cookie sheet, 8 to a sheet (these cookies spread!). With the palm of your hand, flatten dough until it is 1/4-inch thick. For more uniform-looking cookies, roll your dough into balls before you flatten them.

Bake for 8-10 minutes until the edges are just lightly golden. Cool completely before adding the glaze.
Glaze
In a small bowl, combine powdered sugar, nutmeg, cinnamon and eggnog, whisk together until well-combined. If glaze is too thick, continue to add liquid 1/4 teaspoon at a time until it reaches your desired consistency.

Spread 1 heaping teaspoon of glaze on each cooled cookie.
Chai Sugar Cookies Nutritional Information
Adapted from Taylor Swift, and The Pastry Queen* via Joy the Baker
*Links marked with an asterisk are affiliate links, which means I receive small commission if you make a purchase using them. There is absolutely no additional cost to you.
Original Post Photo, circa 2015 (iPhone 5)