Chicken Francaise is a French-inspired Italian-American dish that has been a restaurant classic for decades, but it's simple and easy to make at home with pantry staples and about 40 minutes.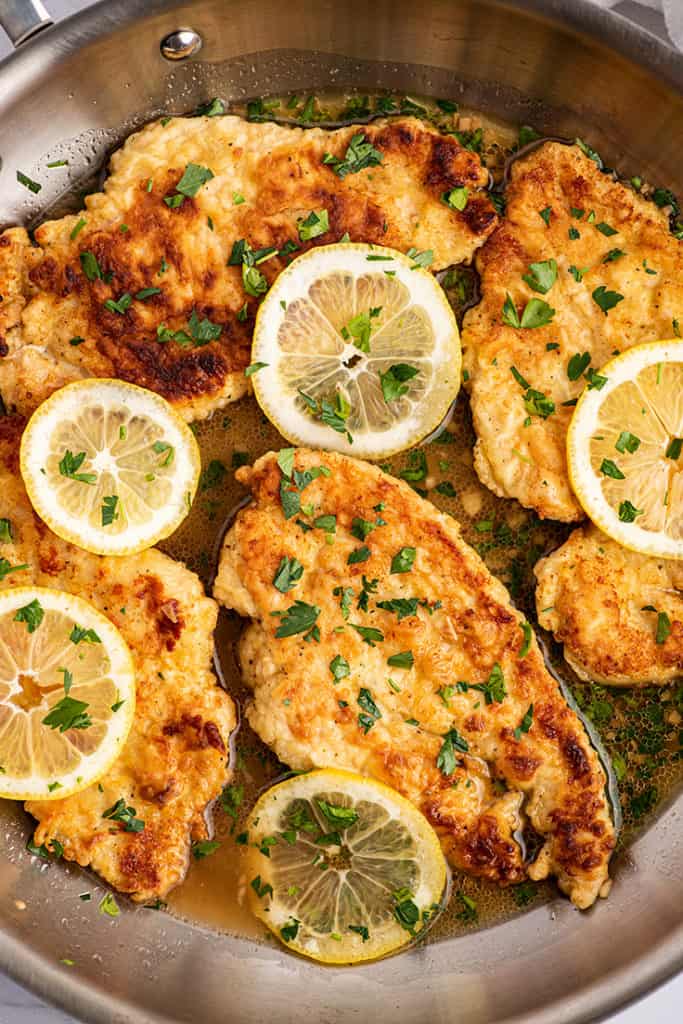 Today we're making one of my favorite stovetop chicken dinners: Chicken Francaise, AKA Chicken Francese, AKA Chicken French.
What is Chicken Francaise?
Chicken Francaise is thin chicken cutlets dredged in egg and flour, fried, and served with a simple (and delicious) lemon, butter, and white wine sauce. Typically it's paired with pasta, but rice lovers, feel free to swap out that pasta for rice.
A Little Chicken Francaise/Francese History for You: Though it has French/Italian names, Chicken Francaise is actually an Italian-American chicken dish that originated in Rochester, NY.
Italian immigrants in the area swapped the veal in the French-inspired Italian dish, Vitello alla Francese for the more economical and readily available chicken, and Chicken Francese was born.
How do you say Chicken Francaise?
And because I love this sort of thing, we have to have a quick chat about pronunciation. The French pronunciation of française is "frahn-sayze." For Chicken Francese, the Italian pronunciation is "fran-che-zeh."
In practice, it seems to be more like ¯\_(ツ)_/¯. Just as this recipe is a delightful melting pot of cultural influences, so too is the pronunciation.
I've heard everything from FRAN-sayze to frahn-say-zee from chefs. Most common seems to be fran-sayze (with an Italian start and French ending). And if you're too worried about saying it wrong, just remember, Chicken French is also correct.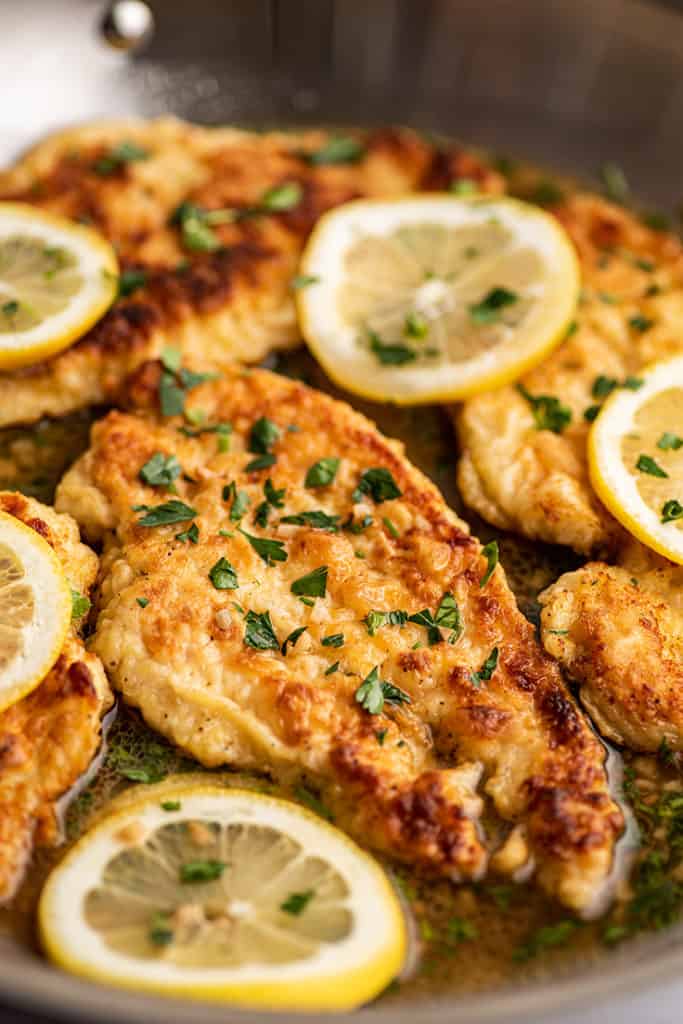 Lemon Lovers Only
Word of warning, while this dish incredibly good, if you don't love lemon, it's not for you.
Chicken Francaise is an intensely lemony experience. The first time I tried it, after bite one, I was pretty sure didn't care for the aggressively bright tartness of the sauce.
But, by bite three, when my tastebuds adjusted their expectations, I was like, this is all I want to eat for the rest of my life. 😉
So I highly recommend it, but know what you're getting in to.
Some Tips for Success
If you don't often cook breaded chicken on the stove or usually find doing so stressful, I have a few extra tips for you.
Make sure you're cooking with chicken that has been prepared correctly. This recipe calls for chicken breasts that have been butterflied and pounded to 1/4-inch thick. This is because the breading on thicker chicken will burn before the meat cooks through. 1/4-inch is thinner than you might think, so double check your first piece with a ruler if you are unsure.
Depending on the size of your chicken breasts and the size of your pan, you will probably have to cook your cutlets in batches. Between each batch, remove the pan from heat and wipe it out with paper towels so that leftover fond (the brown cooked-on bits left in the pan) does not burn and smoke. You'll also wipe out your pan before making your sauce so that the dark fond does not give you a cloudy, brownish lemon butter sauce.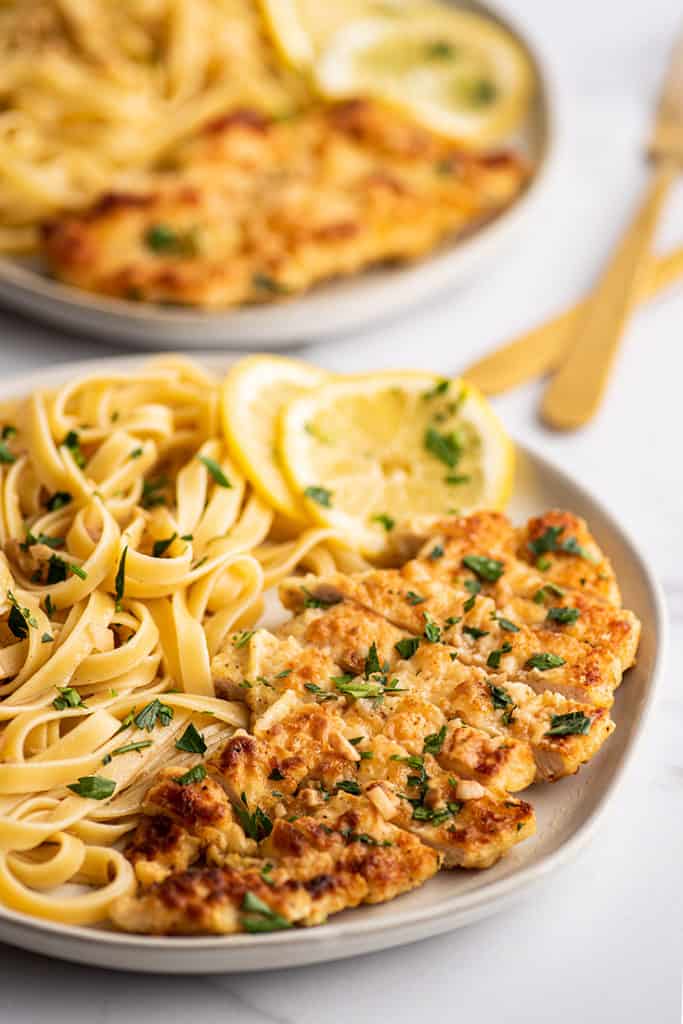 Recipe Notes
This recipe will make 2 to 4 servings. When serving with pasta/rice and a vegetable side (I recommend steamed broccoli or green beans) it makes a good weeknight meal for four, but if making for a big eater or for company, it will generously serve two. If you'd like to double the recipe, hover over the servings in the recipe card and slide the slider.
Add 1/4 cup of heavy cream to the sauce just before serving to make a creamy Chicken Francaise sauce.
If you want extra sauce for drizzling over your vegetables (which is delicious), double the sauce and simply extend the simmering time for a couple of minutes because it will take longer to reduce.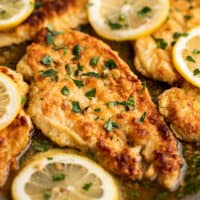 Chicken Francaise
Chicken Francaise is a French-inspired Italian-American dish that has been a restaurant classic for decades, but it's simple and easy to make at home with pantry staples and about 40 minutes. 
Print
Pin
Servings (Hover or Click to Change Yield):
2
to 4 servings
Equipment
Meat mallet or rolling pin
Ingredients
2

medium boneless skinless chicken breasts

1/4

teaspoon

salt

plus more for the chicken

1/4

teaspoon

pepper

plus more for the chicken

1

cup

(

120g

) all-purpose flour

2

large eggs

2

tablespoons

milk

any percentage

4

tablespoons

olive oil

divided
Sauce
1/4

cup

(55g) butter

salted or unsalted is fine

2

large garlic cloves

pressed or diced

3/4

cup

chicken broth

3/4

cup

dry white wine*

1/4

cup

fresh lemon juice

2

tablespoons

minced parsley

optional
Pasta
4 to 8

ounces

fettuccine or pasta of choice

make 2 ounces of pasta per serving
Instructions
Preheat oven to 200°F and line a baking sheet with parchment paper or foil for easy cleanup. Place a pot of lightly salted water on to boil for the pasta.
Chicken Cutlets
Cut chicken breasts in half horizontally by placing one hand on top of each chicken breast and slicing the top and bottom into two thin, even pieces.

Two at a time, cover chicken breast halves in plastic wrap or place them in a large plastic bag and use the flat side of a meat mallet or a rolling pin to pound each chicken piece to 1/4-inch thick*. Sprinkle both sides lightly with salt and pepper.

In pie tin or shallow dish large enough to fit a chicken breast, whisk together flour, salt, and pepper. In a second shallow dish, whisk together eggs and milk.

Dip first chicken piece in flour until completely covered. Then dip in egg mixture and then back into the flour mixture. Gently shake the chicken breast so that any extra flour falls off, and transfer the chicken to a plate. Repeat with remaining three pieces.

In a large skillet, heat 2 tablespoons of the oil over medium-high heat. Once oil is hot, add 2* of the chicken breasts and cook for 1 to 3 minutes per side, until golden and an instant-read thermometer inserted into the center of the breasts reads 165°F.

Transfer chicken to prepared baking sheet and place in the warm oven. Wipe out pan with a paper towel and repeat with remaining oil and the rest of the chicken.
Sauce
Add pasta to boiling water and cook according to pasta instructions. Drain and set aside.

While your pasta cooks, once again wipe out your skillet with paper towels and place it on medium heat. Add butter and once butter is melted, add garlic and cook until garlic is lightly golden and fragrant, about 1 minute.

Add broth, wine, and lemon juice. Bring to a simmer and cook for 8 to 10 minutes, until sauce is reduced by a little over 1/2, down to about 3/4 cup.

Add salt and pepper to taste and stir in optional parsley.

Plate pasta and chicken and spoon sauce over the top. Serve and enjoy!
Notes
*Sauvignon Blanc and Pinot Grigio are both good options. 
*1/4-inch is thinner than you might think. Check against a ruler if you're not sure they're thin enough.
*If your chicken breasts are small enough and your pan large enough, you can cook all 4 at once (in which case you will only need 2 tablespoons of olive oil total).
This recipe makes 2 to 4 servings. I typically serve it as 4 servings, but big eaters could easily eat 2 chicken cutlets a piece.
Approximate nutritional information is for 4 servings.
This post may contain affiliate links, which means I receive a small commission if you make a purchase using them. There is absolutely no additional cost to you.