How to make a vanilla milkshake, with tips and tricks for making the best shake possible.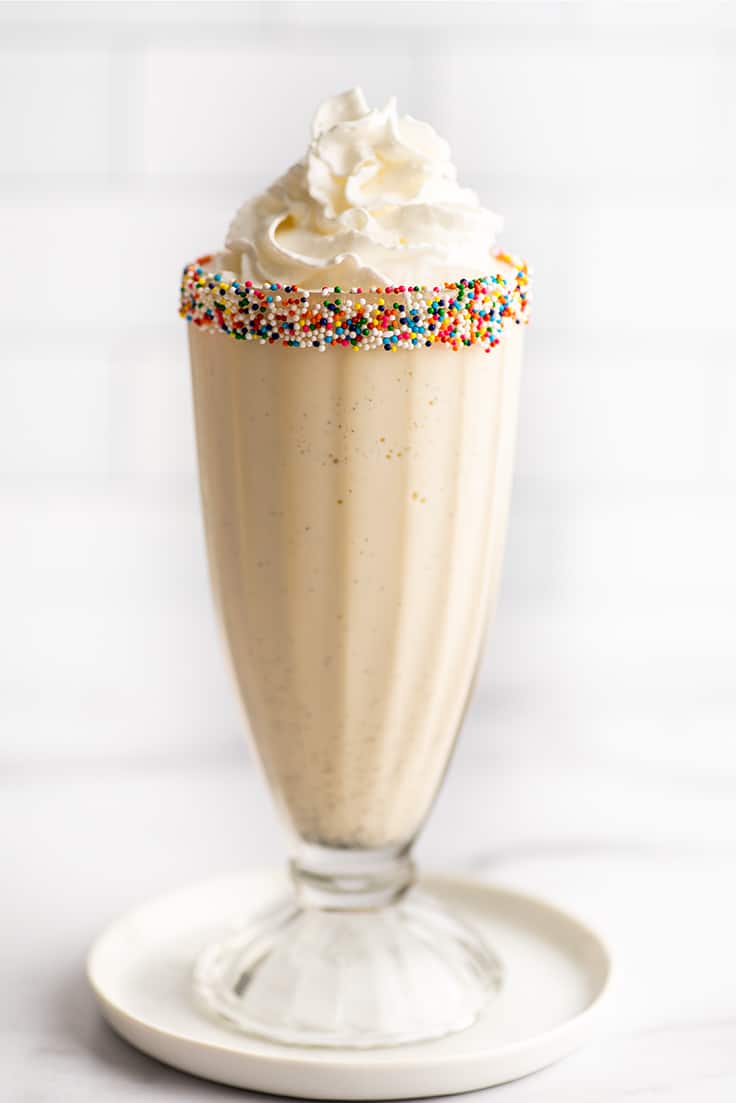 Vanilla milkshakes sometimes get a bad rap as being a little boring, a little, shall we say, vanilla. But you know what?
A good vanilla milkshake is a thing of beauty, and today we're going to make a really good vanilla milkshake.
A Really Good Vanilla Milkshake Recipe
There are three things we're going to do to make the best vanilla milkshake possible:
1. Start with good-quality ice cream. I'm usually team cheap ice cream for milkshakes, but since we're not adding other flavors here, you really want a good base.
That chemically artificial vanilla taste you get with some cheap vanilla ice creams is not the foundation we want to build our shake upon.
2. Ramp up the vanilla flavor. This is the secret for the best vanilla shake: adding the seeds scraped from half a vanilla bean or a couple drops of vanilla extract can really put that vanilla flavor over the top. If you don't have vanilla beans/extract, you can totally skip this step, but if you have them, use them!
3. Use the right ratio of milk to ice cream. I talk about this in every milkshake post, but this is how to make a milkshake 101. The right ice cream to milk ratio (which is 3 scoops ice cream to 1/2 to 3/4 cup milk) can make or break your shake.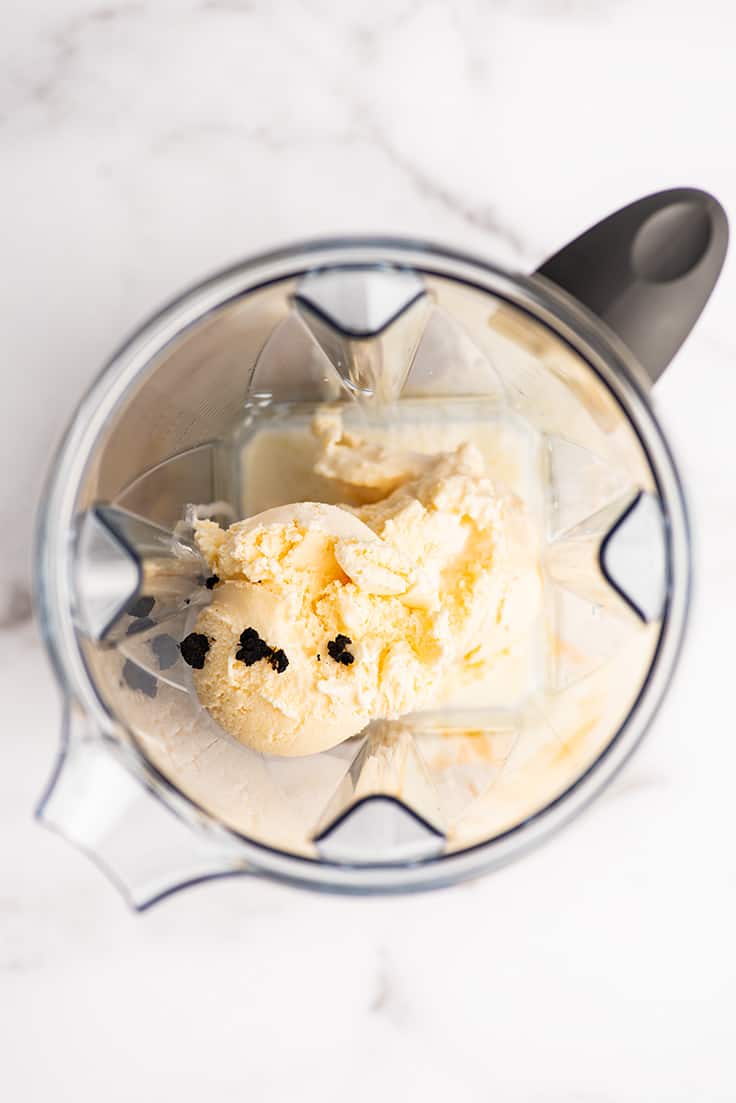 More Vanilla Shake Flavor Combos
Want something a little different? Try the following combos:
Banana Vanilla Bean Milkshake: Add 1/2 to 1 whole overripe banana before blending (check out this post on ripening bananas quickly if your bananas aren't quite brown enough). For a thicker shake, use a frozen banana.
Bourbon Vanilla Bean Shake: Replace 2 tablespoons of the milk in the recipe with 1 ounce (2 tablespoons) of bourbon.
More Milkshake Recipes

Recipe Notes
To make this milkshake without a blender, simply microwave ice cream in a quart-size mason jar for 15 to 30 seconds, until softened, but not completely melted. Then add milk and vanilla beans, screw the lid on tightly and shake until well-mixed. If there are any bits of ice cream that did not mix in, use a spoon to stir them against the sides of the jar so they mix. Then pour into a glass or two and enjoy!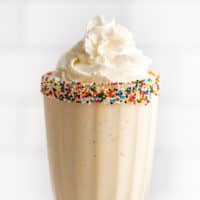 The Best Vanilla Milkshake
How to make a vanilla milkshake, with tips and tricks for making the best shake possible. 
Print
Pin
Servings (Hover or Click to Change Yield):
1
to 2 milkshakes
Ingredients
1 1/2

cups

good-quality vanilla ice cream

about

3

scoops, slightly softened
Scraped seeds from

1/2

vanilla bean or

1

teaspoon real vanilla extract

1/2 to 3/4

cup

milk

* any percentage

Whipped cream

optional for topping
Instructions
In a blender, combine ice cream, vanilla bean seeds (or extract), and milk, and blend until pourable.

Pour into a glass, top with whipped cream if desired, and enjoy!
Notes
*Use 1/2 cup milk for a thicker shake, 3/4 for a thinner one.
This will make approximately 1 1/2 to 1 3/4 cups, enough for one restaurant-sized shake or two smaller ones. 
Approximate nutritional information is for two milkshakes. 
This post may contain affiliate links, which means I receive a small commission if you make a purchase using them. There is absolutely no additional cost to you.