If you've had a long, tiring work week, a good movie, a glass of wine, and a bowl of this Cinnamon Bun Popcorn is the very best way to celebrate its end!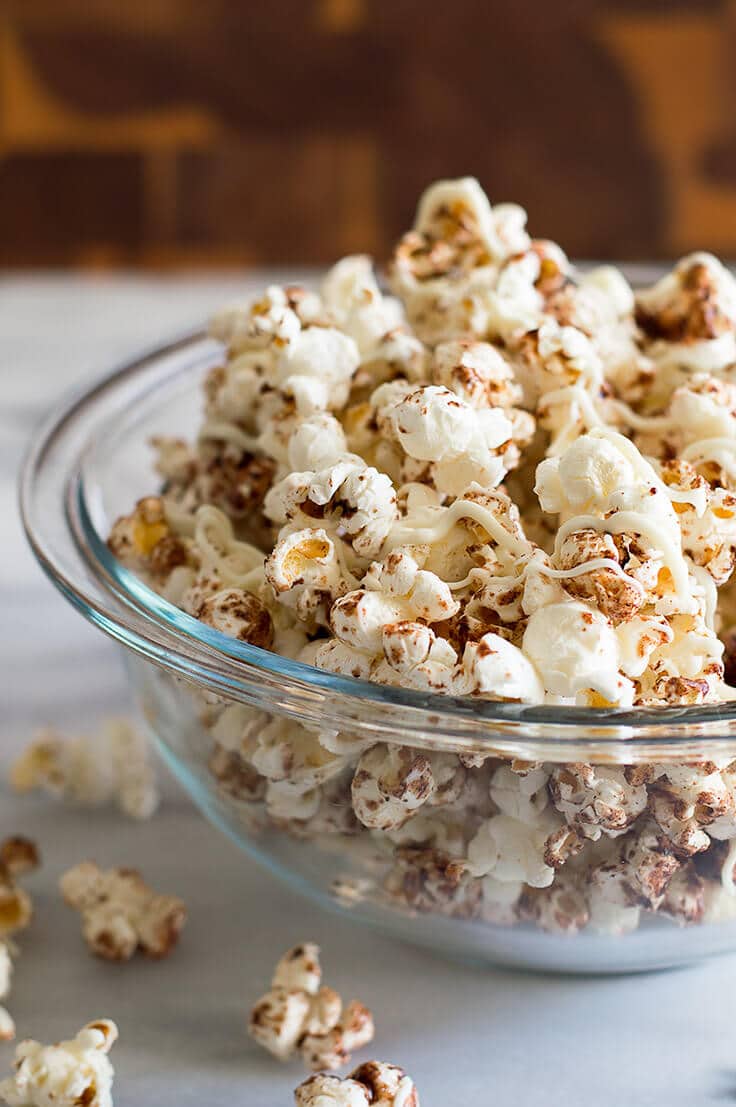 For Christmas this year, family on the East Coast sent a big box of gourmet popcorn. It was basically the best Christmas gift ever because I love popcorn, and I love choices, and this was just a giant box of different popcorn flavor choices.
There was everything from jalapeño-flavored kettle corn to chocolate-covered kettle corn with crushed potato chips (POTATO CHIPS!). But my favorite flavor of the bunch was some fabulous cinnamon bun popcorn, and since I love making kettle corn, obviously I was going to try and recreate it here on the blog.
How'd the homemade version turn out? A++. I actually kind of wish I didn't know how to make this now because I want to make it all the time…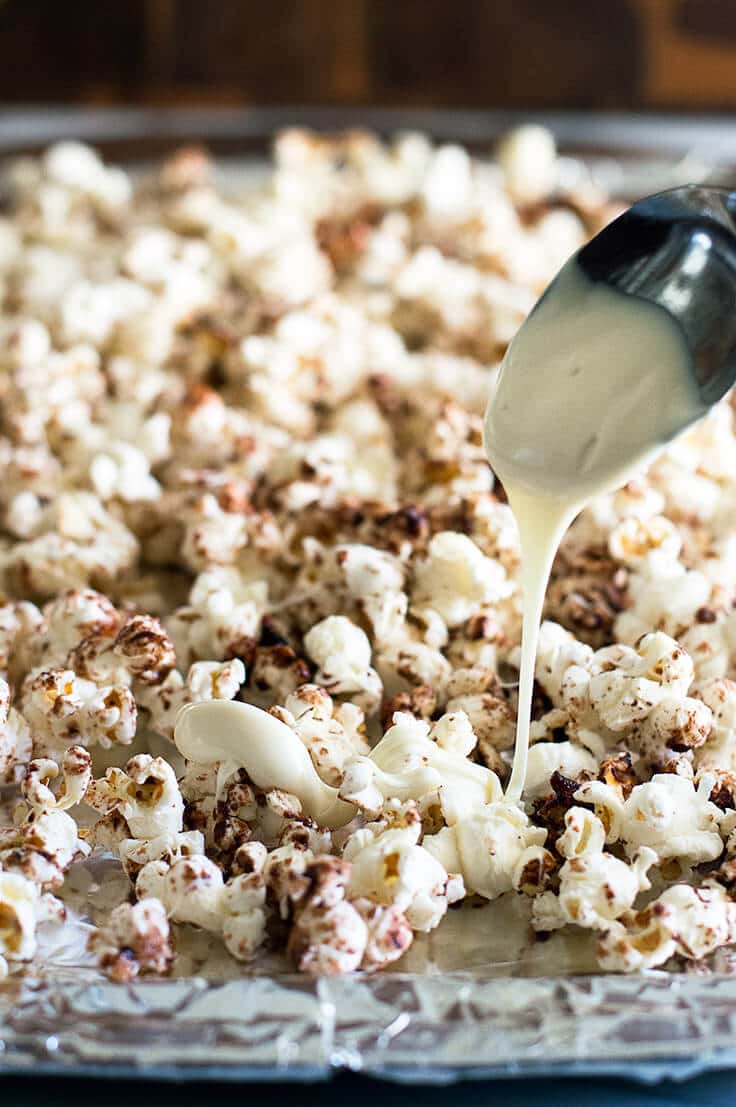 But since I do know, I'm sharing it with you so we can all eat over-the-top popcorn together. The recipe is really simple. It's just kettle corn made with cinnamon sugar instead of plain granulated sugar and then drizzled with white chocolate, but it's about a thousand times more decadent.
If you've had a long, tiring work week, a good movie, a glass of wine, and a bowl of this Cinnamon Bun Popcorn is the very best way to celebrate its end!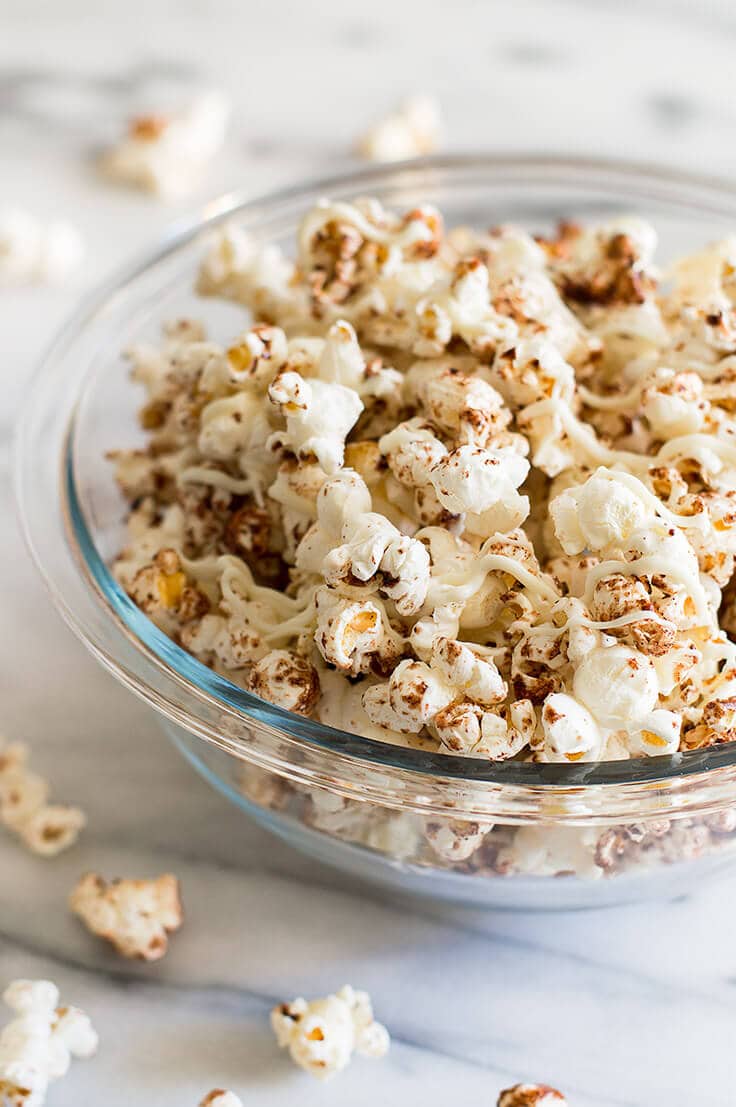 As with regular kettle corn, there are a couple of things to keep in mind while cooking to avoid ending up with burned sugar and a scorched pot.
Kettle corn is not hard, BUT it's easy to burn, so if you haven't made kettle corn before, read over the notes below before you start, follow the instructions carefully, and don't use a perfect pristine new pot to make your first batch in. 🙂
(If you are curious about the why behind some of these instructions, check out my post How to Make Homemade Kettle Corn Without Burning the Sugar for more details.)
Cinnamon Bun Popcorn Notes
Use a large pot, at least 3 quarts. It's going to seem much too big, but this gives the popcorn space to move as you shake the pot, so no sugar is trapped at the bottom burning.
If your pan has a very tightly fitting lid that doesn't allow steam to escape, pop the lid open just a fraction of an inch so steam can escape (I cover the lid handle with a towel and hold it on with my left hand while I shake the pan with my right). If you find your stove-top popcorn isn't as crunchy as you'd like, it's probably trapped steam making it soggy.
Finally, have a tray ready dump your popcorn onto before you start. The popcorn should be poured out of the pot as soon as it's done popping since the residual heat can still cause the sugar at the bottom of the pot to burn if left sitting.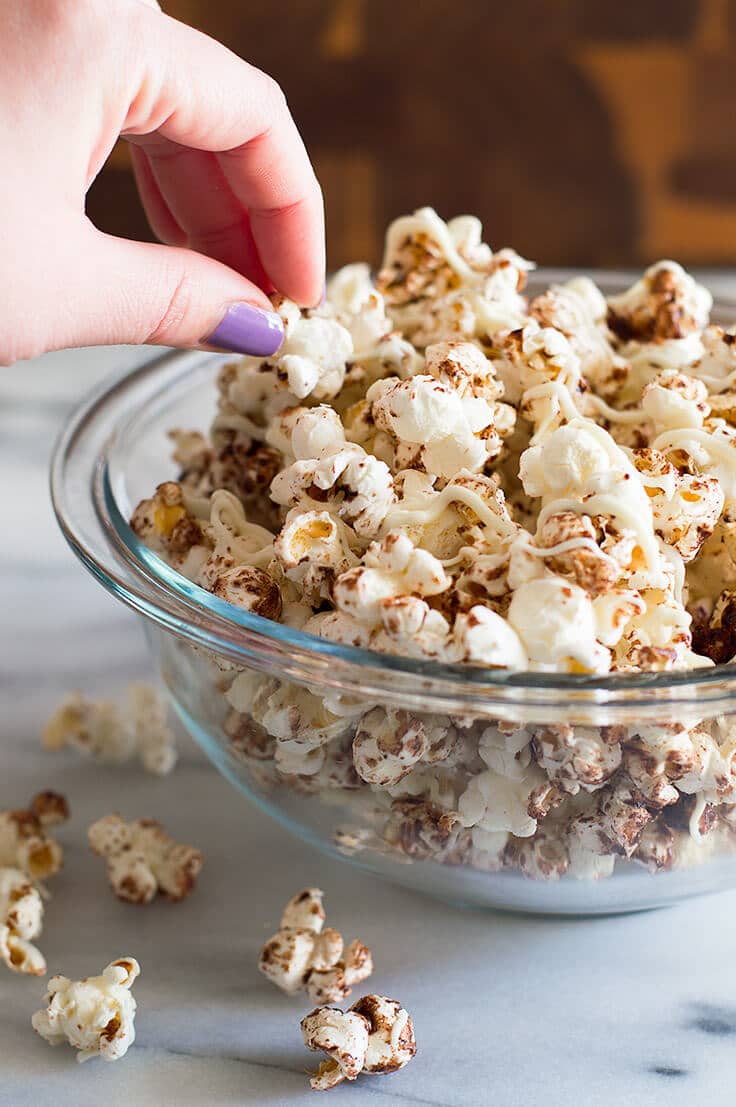 You might also enjoy Brown Sugar Kettle Corn, The Best Snickerdoodles, and Cinnamon Sugar.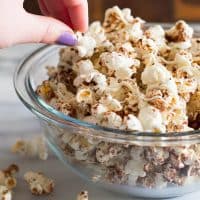 Cinnamon Bun Popcorn
If you've had a long, tiring work week, a good movie, a glass of wine, and a bowl of Cinnamon Bun Popcorn is the very best way to celebrate its end!
Print
Pin
Servings (Hover or Click to Change Yield):
1
Ingredients
1

tablespoon

coconut oil*

2

tablespoons

unpopped popcorn

1

heaping tablespoon

granulated sugar

1

teaspoon

cinnamon

1/8

teaspoon

salt

2

tablespoons

chopped white chocolate

high-quality chips are fine
Instructions
Line a large rimmed baking sheet with foil (for easy clean up) and place on the counter.

In a small bowl, stir together granulated sugar, cinnamon, and salt.

To a large heavy-bottomed pot with a lid, add oil (if oil is in its solid state, melt over medium heat before proceeding) and 3 kernels of popcorn. Cover and heat over medium-high heat (medium if your stove runs hot) until you hear all 3 kernels pop.

Add the rest of your popcorn and shake pan for about 5 seconds to coat the kernels. Sprinkle sugar mixture over the popcorn as evenly as you can. Cover and shake for 3 seconds, rest for 3 seconds, repeat, until popcorn begins to pop steadily.

Once that starts, shake pan mostly continuously, pausing occasionally to listen for breaks in popping. Once there is about a 2-second break between pops, pull from heat. Transfer popcorn immediately to your prepared baking sheet.

In a small bowl in your microwave, heat white chocolate for 30 seconds and stir until smooth. If necessary, continue to heat in 15-second bursts and stir, until smooth.

Drizzle over popcorn--for the most even distribution, you can transfer the mixture to a plastic bag, snip off an edge and "pipe" the chocolate on. Allow chocolate 10 to 15 minutes to set, transfer to a bowl and enjoy. (Keep an eye out for unpopped kernels as you eat!)
Notes
*Vegetable or canola oil is also fine.
This post may contain affiliate links, which means I receive a small commission if you make a purchase using them. There is absolutely no additional cost to you.