Brown Sugar Kettle Corn is kettle corn's slightly more fun and mature sibling. Salty, sweet, and just a bit caramelly, it's perfect for movie night or an afternoon snack.
Hey, I have a quick and easy dessert/snack for you today: Brown Sugar Kettle Corn. If you have a cozy movie night planned (tell me what you're watching in the comments!) OR you need a little sugar boost this afternoon that you can snack on while you work, this is the sweet, salty, slightly caramelly treat you've been looking for.
I shared my white sugar Kettle Corn Recipe with you last year, and I LOVE that recipe, but Brown Sugar Kettle Corn is like its slightly more mature sibling. When the brown sugar caramelizes and coats the popcorn kernels, the molasses in the sugar gives everything a deeper, richer flavor that you just can't get with plain white sugar. It makes for killer kettle corn you definitely won't want to share (seriously, this recipe is meant for one; don't try to share unless you are an advanced Food Sharer 😉 ).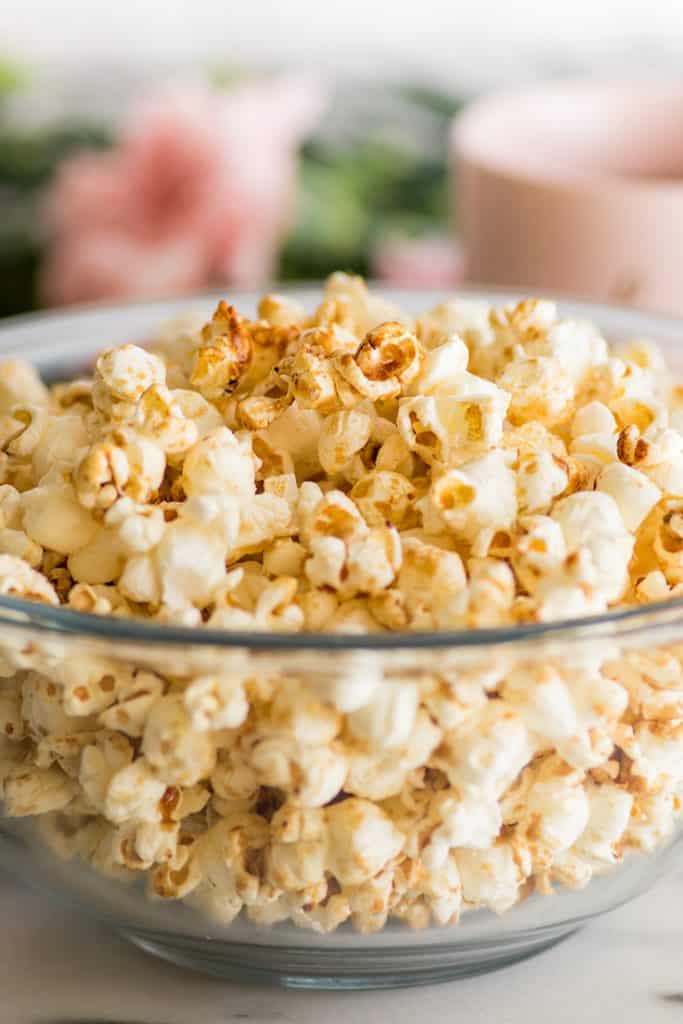 Homemade kettle corn is simple to make but a little tricky to get right because it's so easy to burn the sugar before all your popcorn pops. And in my experience, brown sugar is even more prone to burning than white. So if you've never made kettle corn before, go read all the tips in my post, Easy Homemade Kettle Corn before starting here.
And just because I really want you to have a good experience making this, even if you have made kettle corn before, here's a little reminder of what we're going to do to keep the sugar from burning:
Start with at leas

t a 3-quart pot.

We want the popcorn to have room to move once it starts popping because if it's all jammed at the bottom of a small pot, it's probably burning.
Start with hot oil. Starting with hot oil means it's going to take less time for your popcorn kernels to start popping which means less time for the sugar to start burning. You can make sure your oil is hot enough by placing three kernels of popcorn in with the heating oil. Once you hear all three pop, you know the oil's ready.
Crack the lid to let steam escape. Okay, not burning-related, but still important. If you've ever made homemade popcorn and it came at a little chewy rather than crunchy, it's probably because there was too much steam trapped in the pot. To safely crack the lid on your pot, hold the handle of the pot in your left hand and with your right, use a small kitchen towel wrapped around the lid handle to protect your wrist and offset the lid (with the crack facing away from you) just enough to let steam escape but not stray popcorn kernels.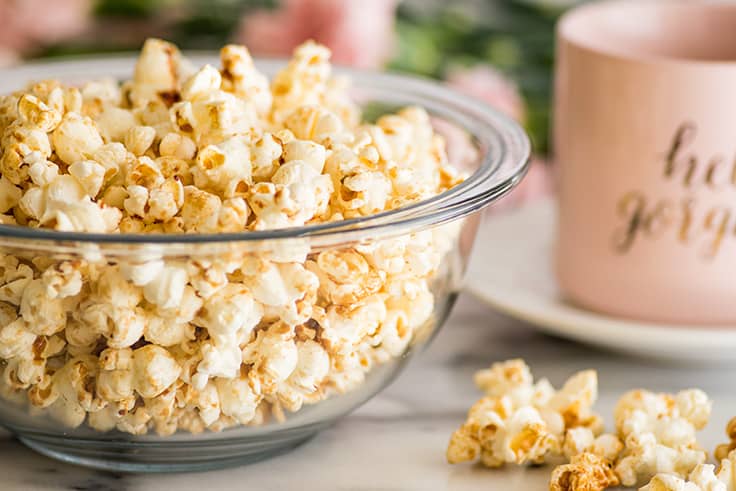 Looking for more easy snacks? Try my Cinnamon Bun Popcorn, Homemade Chocolate Milk, and One Banana Banana Muffins!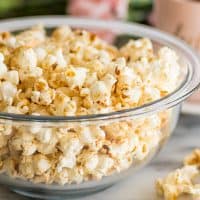 Brown Sugar Kettle Corn
Brown Sugar Kettle Corn is kettle corn's slightly more fun and mature sibling. Salty, sweet, and just a bit caramelly, it's perfect for movie night or an afternoon snack.

Print
Servings (Hover or Click to Change Yield):
1
serving
Ingredients
2

tablespoons

vegetable oil or cooking oil of your choice

1/4

cup

popcorn kernels

2

tablespoons

(

25g

) brown sugar

not packed

1/4

teaspoon

salt
Instructions
Place a large bowl on the counter to pour your finished kettle corn into.

To a large, heavy-bottomed pot, add oil and 3 kernels of popcorn. Cover and heat over medium-high heat (medium if your stove runs hot). When you hear all three kernels pop, add remaining popcorn and salt. Shake pan for a few seconds to coat the kernels in oil and then pour sugar and salt over the top. Return lid to the pot, leaving a small crack to allow steam to escape.

Shake every few seconds until popcorn starts popping, and then shake continuously. Pull the pan from heat when there are between 1 and 2 seconds between pops. Immediately transfer popcorn to your prepared bowl, shaking the pan as you go.

Pick out any unpopped or burnt kernels and enjoy!