A delicious sweet and salty Easy Homemade Kettle Corn recipe plus tips on how to make kettle corn without burning the sugar.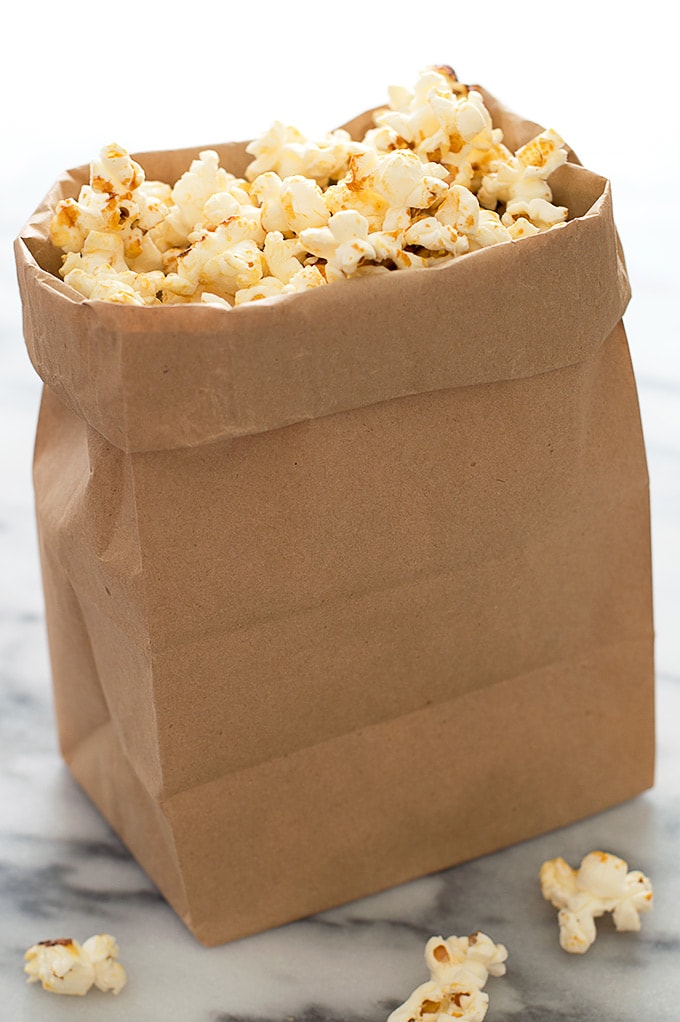 Is it fair time in your county yet? We are just kicking off our county fair here in my part of the world, and I thought it would be a good time to do a fair food post in the form of homemade kettle corn, because, guys, I LOVE fair time.
My very first job was working in the office of a fairgrounds in my college town, and for a 19-year-old who loved animals, shouting over walkie talkies, and lovable weirdos, working a fair was just about the best job in the world.
I was with that job for thee crazy, wonderful years, and to this day, I still get sensory flashbacks the minute I step onto a fairgrounds and smell that familiar mix of animals and deep fried everything. I love it.
My main job was handling vendors and contracts during the fair, and one of the perks of that job was SO MUCH free fair food. By the end of the fair, my stomach would turn any time I walked too close to someone carrying an elephant ear or particularly pungent batch of onion rings, but the one thing I always had room for was kettle corn.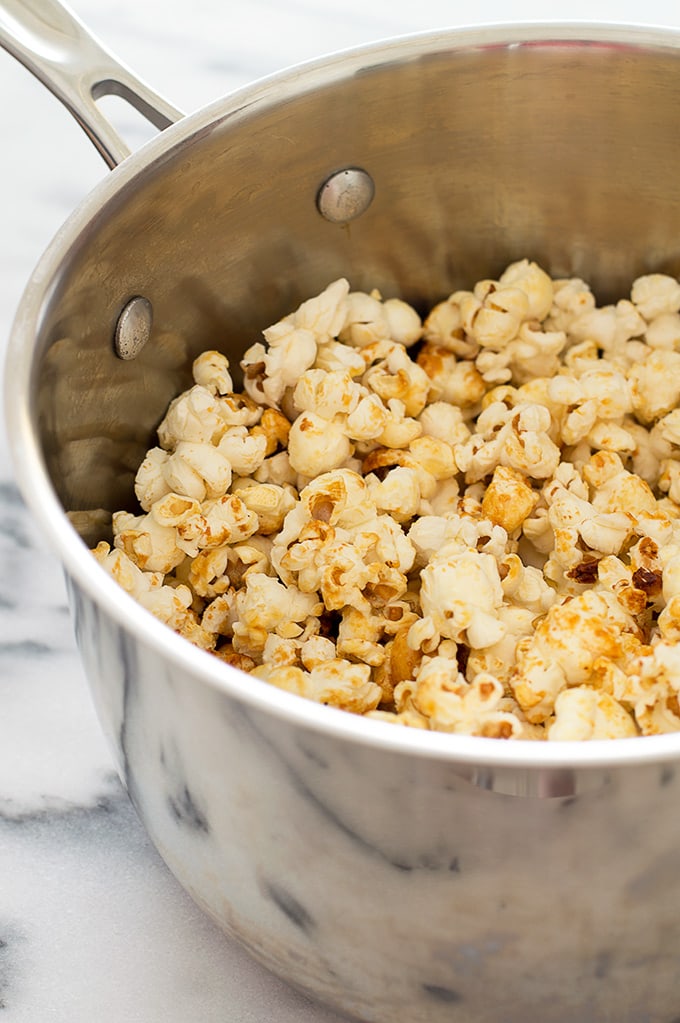 And, as luck would have it, kettle corn is one of the few fair-time foods you can easily recreate at home without having to heat up large quantities of oil (maybe we'll do that some day, but not today).
After I moved away and left that job, I attempted to make homemade kettle corn many times, and burned the heck out of so much sugar. Turns out homemade kettle corn is a little trickier than you might think, and there a couple of tricks you need to know to make a fool-proof batch of kettle corn that doesn't involve a mass of burned sugar.
I'm about to drop some tips on you.
Tips for how to make homemade kettle corn without burning the sugar:
Accept that you are probably going to burn a little sugar at first. I know, I know, I just said we weren't going to be burning our sugar, but the first time or two you make kettle corn with a new pot/range/type of popcorn, you're probably going to get a burnt kernel or two until you know how everything handles heat. Just pick them out and move on.
Start with hot oil. Starting with hot oil means that your sugar will spend less time in the pan while the oil heats up, so it won't have as long to start burning. To make sure you start with oil that is the right temperature, put three unpopped kernels in with your oil and once you hear all three pop, it's time to add the rest of your popcorn!
Use more pot than you think you need. Using a large pot gives everything room to move so your sugar isn't just sitting on the heat, burning. I always use at least a 3-quart pot for 1/4-cup unpopped popcorn.
Pull homemade kettle corn from heat before your corn stops popping. Standard popcorn wisdom says to pull your popcorn when you have 3 seconds between pops. For kettle corn you want to pull it at around 1 to 2. As you get to know your pan and stove better, you might be able to extend this time, but it's best to start here.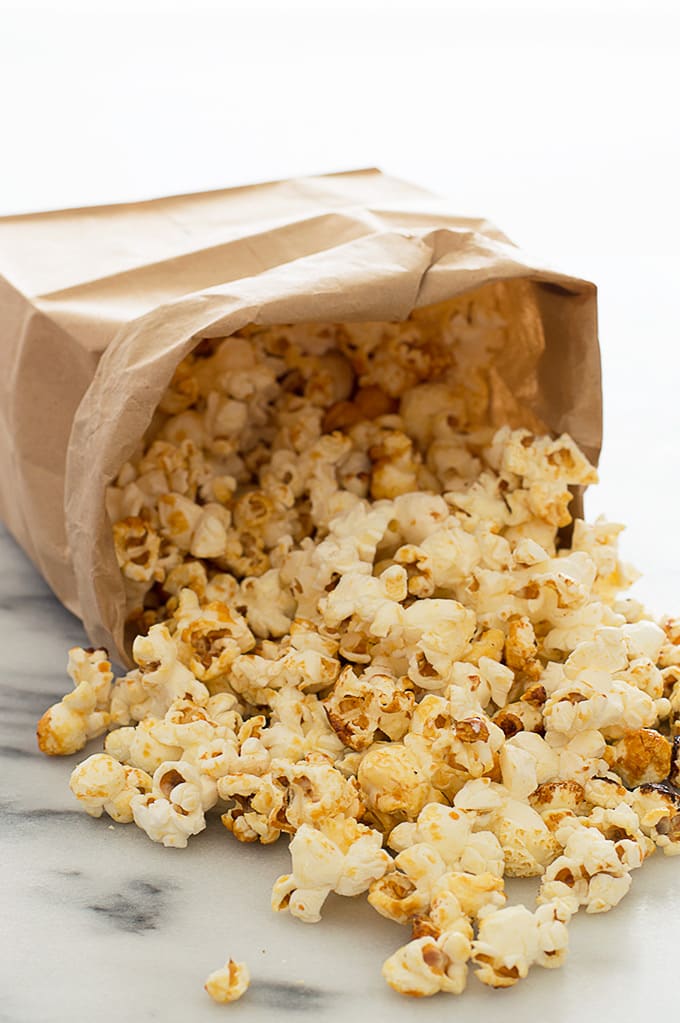 Kettle Corn Recipe Notes
If your kettle corn is coming out a little chewy rather than crunchy, it's probably because your pot has a tightly fitting lid and there was too much steam trapped inside while the popcorn popped. Next time, crack the lid just slightly while cooking. To do this safely, hold the handle of the pot in your left hand and with your right, use a small kitchen towel wrapped around the lid handle to protect your wrist, and offset the lid (with the crack facing away from you) just enough to let steam escape but keep the popcorn kernels in.
If you have any of your own tips, I'd love to hear them! Do you enjoy fair time? What's your favorite fair food?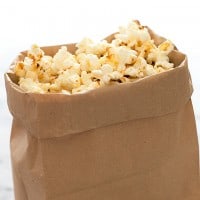 Easy Homemade Kettle Corn
A delicious sweet and salty Easy Homemade Kettle Corn recipe plus tips on how to make kettle corn without burning the sugar.
Print
Servings (Hover or Click to Change Yield):
1
Ingredients
2

tablespoons

vegetable oil

or cooking oil of your choice

1/4

cup

popcorn kernels

2

tablespoons

granulated sugar

1/4

teaspoon

salt
Instructions
Set a large bowl on the counter to pour your popped kettle corn into.

To a large heavy-bottomed pot (with a lid) add oil and 3 kernels of popcorn. Cover and heat over medium-high heat (medium if your stove runs hot) until you hear all 3 kernels pop.

Add the rest of your popcorn and shake pan for about 10 seconds to coat the kernels. Pour sugar and salt directly over the popcorn. Cover and shake for 3 seconds, rest for 3 seconds, repeat, until popcorn begins to pop steadily.

Once that starts, shake pan mostly continuously, pausing occasionally to listen for breaks in popping. Once there is about a 2 second break between pops, pull from heat. Transfer popcorn immediately to your bowl.

Allow to cool for a couple of minutes (sugar will be VERY hobefore eating. Keep an eye out for unpopped kernels as you eat, and enjoy.