This Easy Tomato Soup for Two is the perfect quick and easy lunch or dinner. To make it, you just need one can of tomatoes, a handful of pantry staples, and less than half an hour.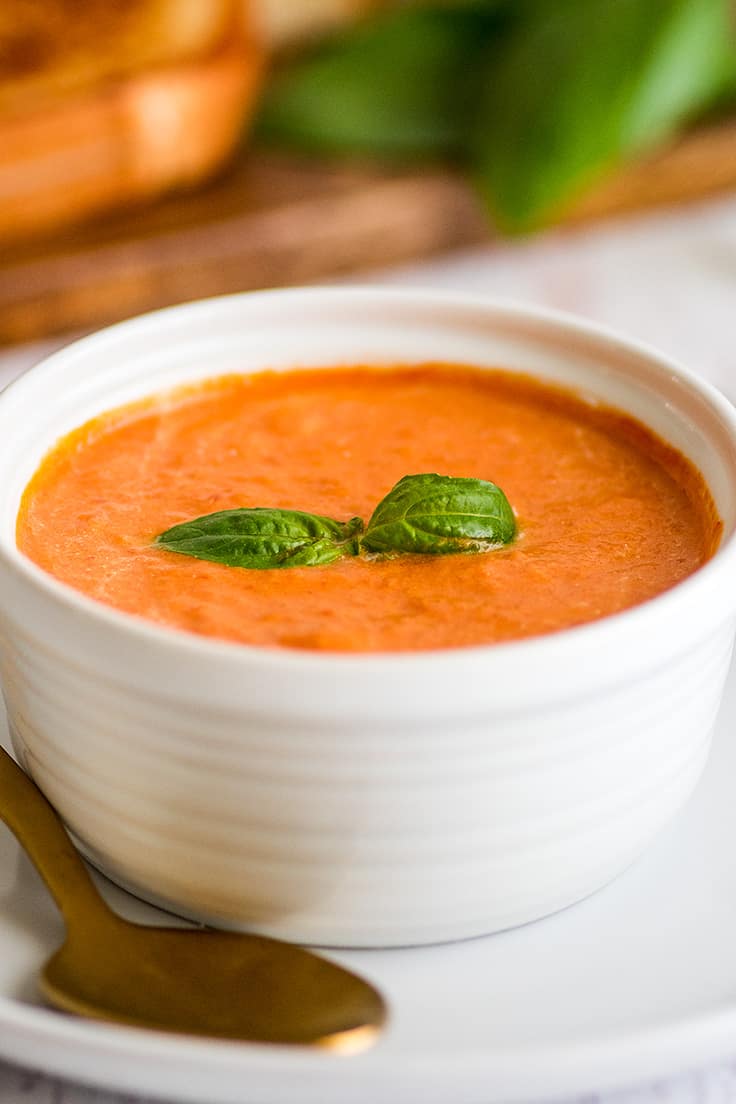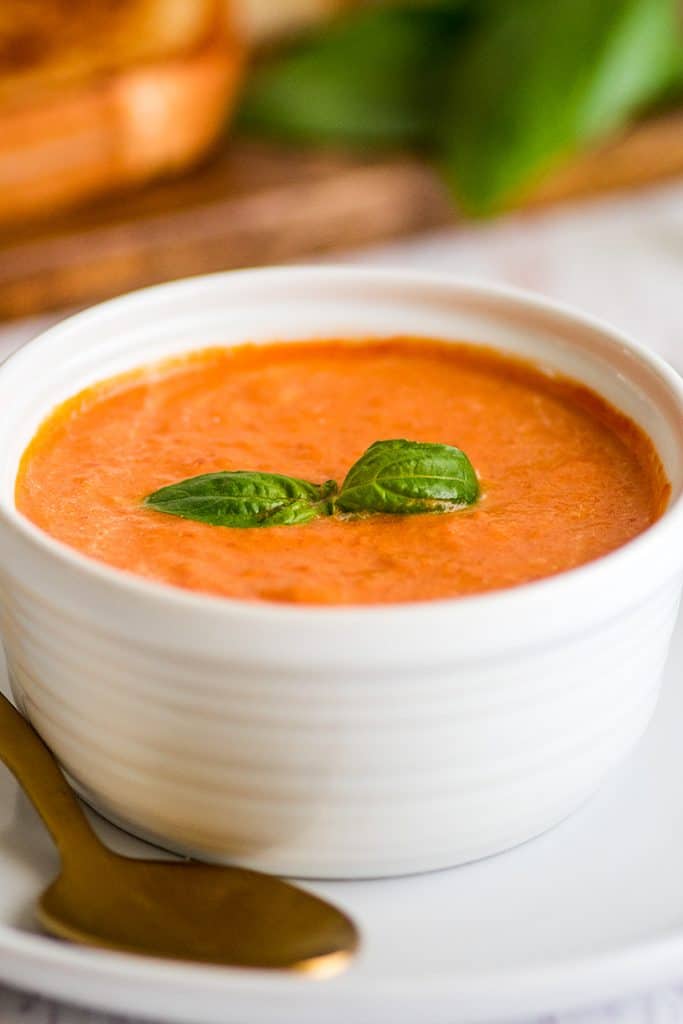 Hey, friends, I'm starting today's post off with an apology: I'm sorry I'm sharing this Tomato Soup today.
At the end of April.
As the temperature here is SoCal creeps up into the 90's.
I'm sorry I didn't share this recipe with you sooner when there was snow on the ground and a chill in the air.
I'm sorry I cozied up with it all winter, having rainy-day tomato soup lunches and fireside tomato soup dinners while you had to spend a long, cold dark winter without this most excellent Tomato Soup to warm your bones.
Forgive me.
It won't happen again.
It won't happen again because now you'll have the recipe and now we can all be cozy and enjoy soup together!!! …in shorts and tank tops… in April…yaaaaaaaaay….
I kid, I kid. While I especially love soup during the winter months (give me all the Ham and Potato Soup and Beef Stew I can eat), I happily enjoy it all year round, and I really didn't want to wait until next fall to share this soup with you, so you're getting it mid-spring.
And hey, if you're the sort of person who only soups during sweater weather, pin this recipe and come back in September, because you're missing out if you don't.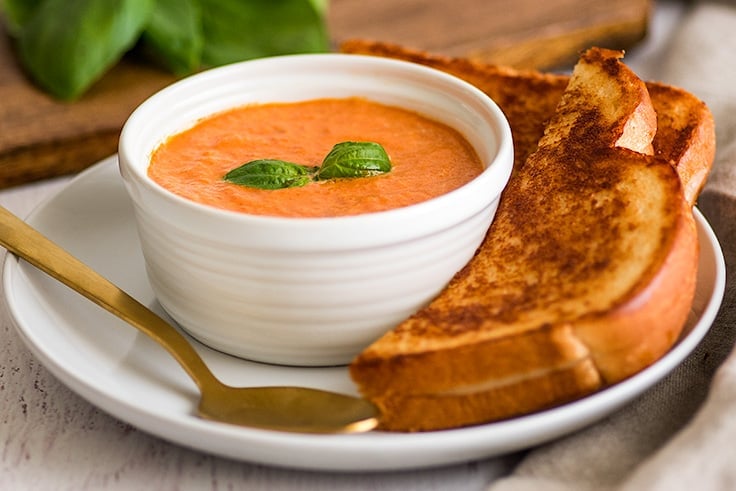 Really Good Tomato Soup (for Two)
Guys, this is some really good Tomato Soup.
It's sharp and tangy with just enough cream to take the edge off and add a really satisfying richness. It tastes like something whipped up in a charming bistro kitchen, but is so, so easy to make in yours.
You just need one can of tomatoes (crushed, cubed or whole all work fine), a few pantry staples, an immersion or countertop blender, and you're 25-ish minutes away from some marvelous soup.
The recipe makes a little over 1 1/2 cups of soup, which makes one very large serving or is the perfect amount to split with someone when served alongside a grilled cheese sandwich or homemade panini.
I say go with option two, because there's nothing like dipping toasty bread and cheese in homemade soup no matter what the weather is like outside.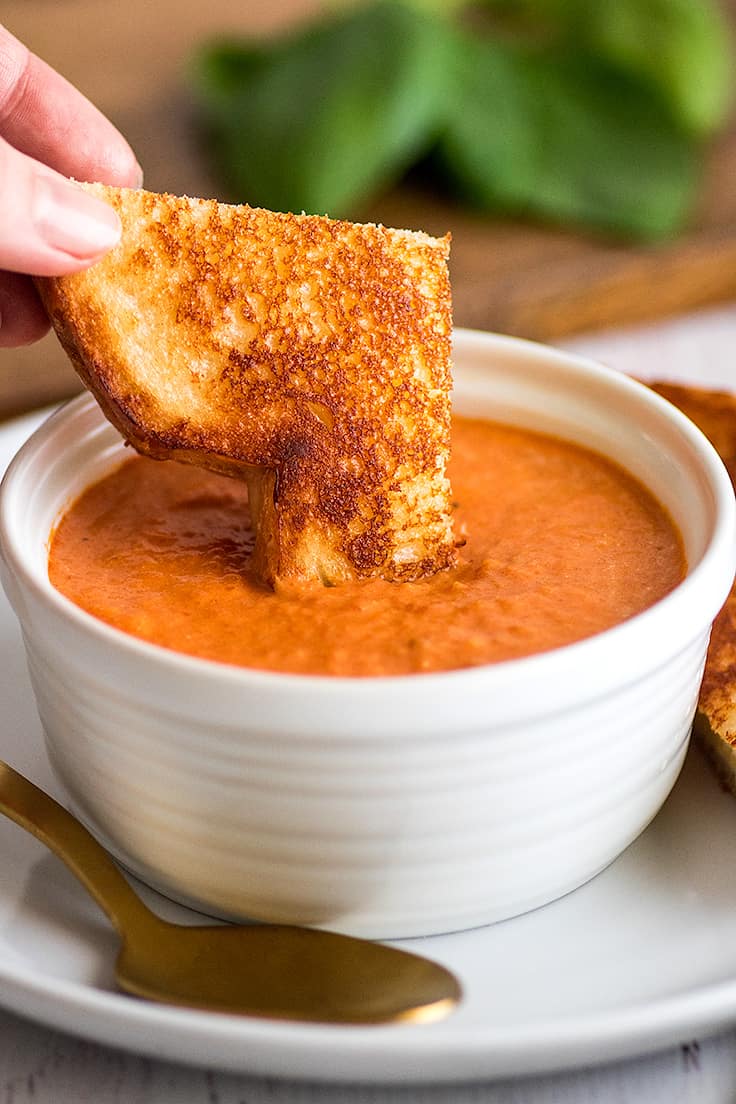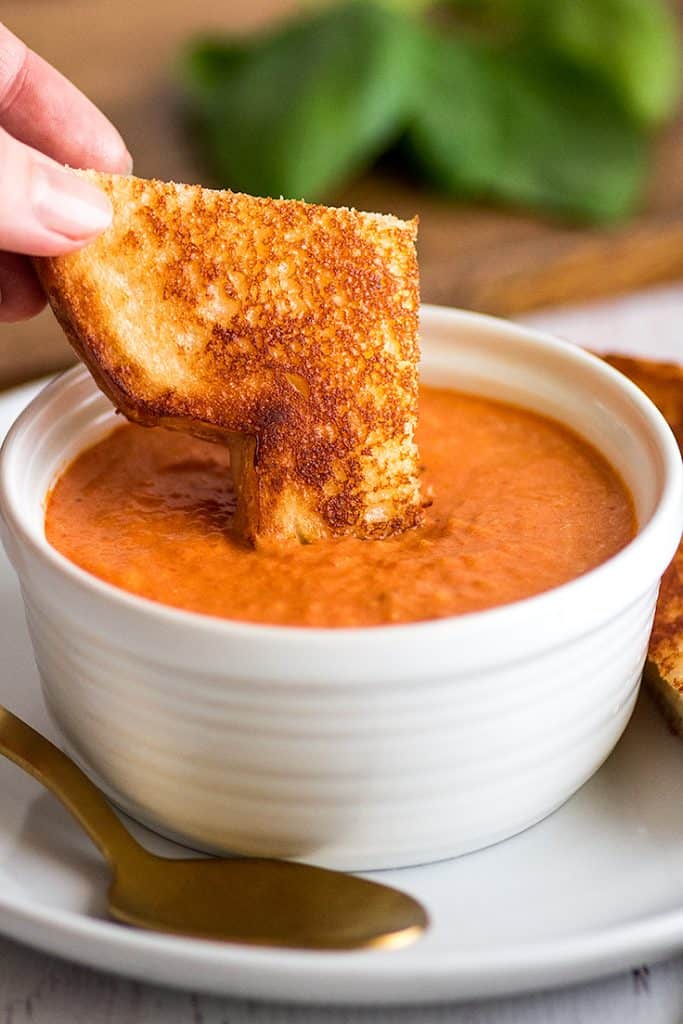 Easy Tomato Soup Recipe Notes
I always use an immersion blender for this soup, it purees the tomatoes and onions but still leaves you with a bit of texture, which I like. If you prefer a perfectly smooth tomato soup, use a regular high-powered blender.
If you don't have heavy cream at home, you can use a couple tablespoons of sour cream instead.
Diced and whole tomatoes require a slightly longer cooking time, please take note of that in the recipe.
Have extra heavy cream? Try one of these heavy cream recipes to use up the leftovers.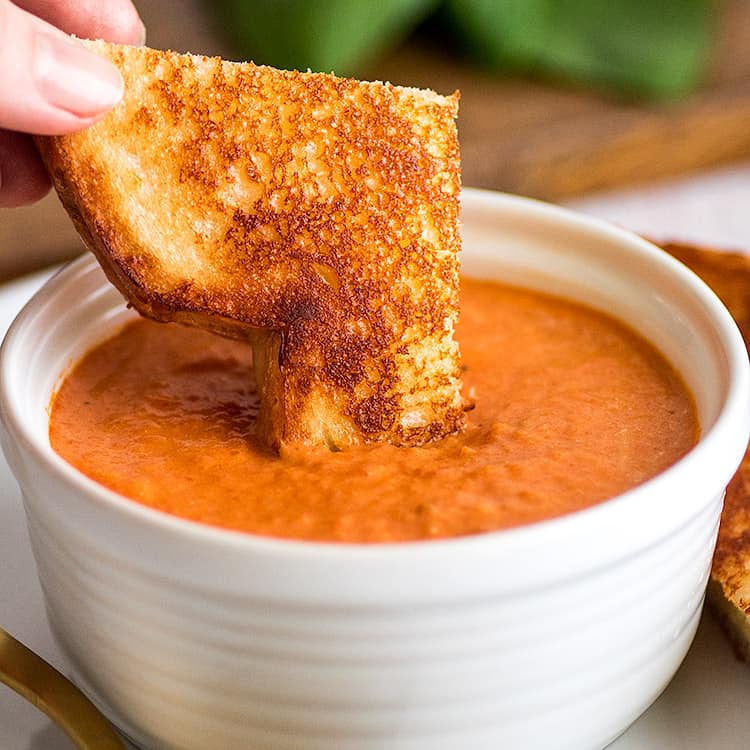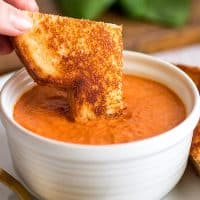 Easy Tomato Soup Recipe for Two
This Easy Tomato Soup for Two is the perfect quick and easy lunch or dinner. To make it, you just need one can of tomatoes, a handful of pantry staples, and less than half an hour.

Print
Pin
Servings (Hover or Click to Change Yield):
1
to 2 servings
Ingredients
Special Equipment
Tomato Soup for Two
1

tablespoon

(

14g

) butter

1/2

cup

diced onion

2

cloves

garlic

minced

Pinch

of red pepper flakes

optional

1

14-ounce can tomatoes

whole, cubed, or crushed

3/4

cup

chicken broth or water

3

tablespoons

heavy cream

Salt and pepper
Instructions
In a medium saucepan, melt butter over medium heat. Add onions and cook until softened, 5 to 7 minutes.

Add garlic and red pepper and cook for 30 seconds.

Add tomatoes.

If using whole tomatoes, crush with a spoon and simmer for 10 minutes to soften. If using diced tomatoes, simmer for 5 minutes. If using crushed tomatoes, continue to next step.

Add broth. Bring to a simmer, and cook for 15 minutes. Remove from heat.

If using an immersion blender, blend soup until mostly smooth. You may need to tilt the pot for the blender to work effectively. If using a countertop blender, cool the soup for 10 minutes before transferring it to the blender and blend until smooth or mostly smooth. If soup is too thick, you can blend in a little more broth or water. Return to saucepan.

Stir in cream and salt and pepper to taste. Reheat over medium heat if necessary and enjoy!
Notes
Approximate nutritional information is for two servings.
Recipe Adapted From Chow Hound
This post may contain affiliate links, which means I receive a small commission if you make a purchase using them. There is absolutely no additional cost to you.