Roasted green beans are simple, delicious, and one of the easiest vegetable sides to make.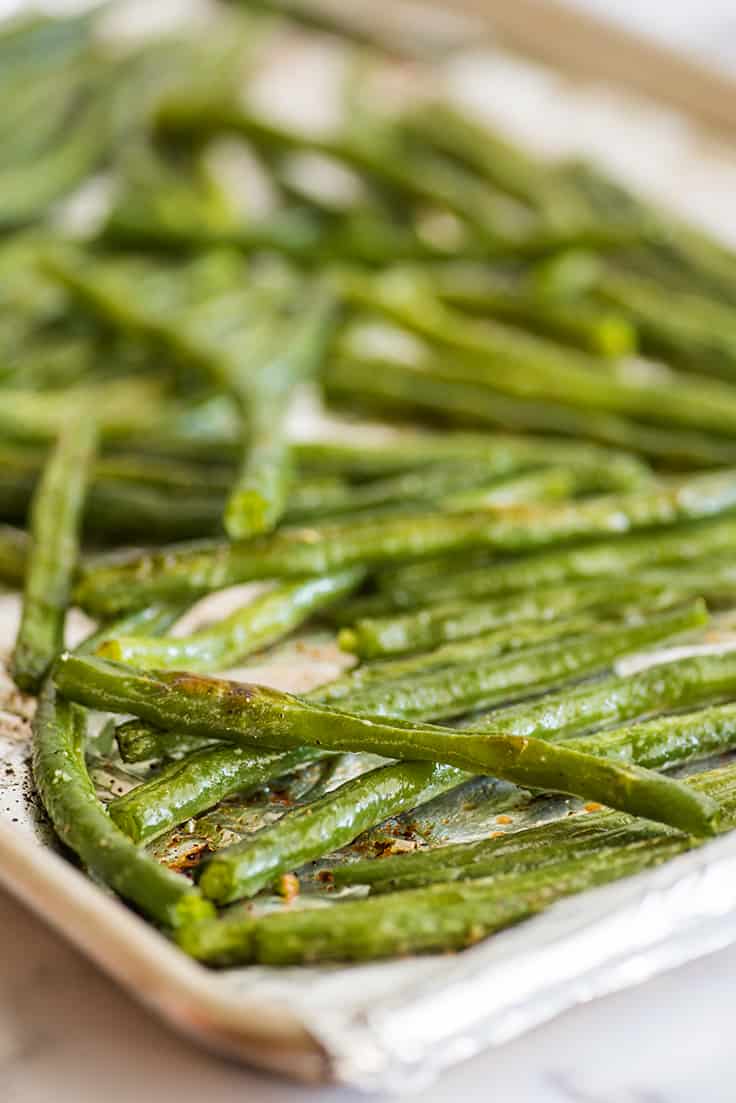 One of the early popular recipes on this site was my Butter and Garlic Green Beans, and for the longest time, that has been my go-to green bean recipe. I love it. It's so easy. And I make it constantly.
But over the last few months, another even easier green been recipe has been creeping up my green bean rankings and just might unseat that recipe as number one in my heart: Roasted Green Beans.
The Best Roasted Green Beans
Green beans roasted in the oven are *so good.* Roasting really brings out their flavor, and while green beans don't get burnt and crunchy in the oven the way something like roasted broccoli does, they do come out slightly blistered, perfectly tender-crisp, and amazing.
Whenever I make these with family around, people are constantly stealing beans off the hot baking sheet and eating them like fries before I can dish them up.
See Also: Roasted Zucchini
But the number one reason why I love making green beans in the oven is that it is so, so, so easy and simple. The only measurements you need to remember are 1 pound of green beans, 1 tablespoon of olive oil, so after you've made them once, you'll never have to look at a recipe again.
How to Make Roasted Green Beans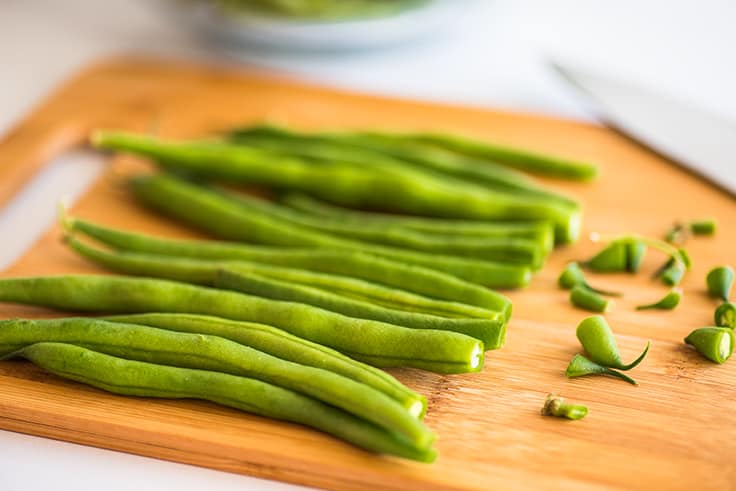 1. To start, wash your green beans and dry them with a salad spinner or spread them out on a kitchen towel and pat dry.
2. Then snap or trim off the ends. If you want bite-size green beans, you can cut them into smaller pieces, but I think the long ones are kind of fun, so I usually leave them as is.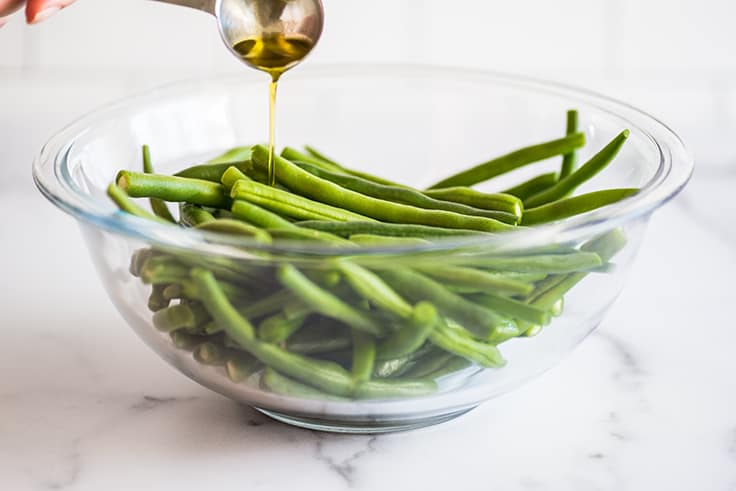 3. Next, drizzle and toss with olive oil. I usually do this step in a bowl because you get better coverage, but you can also do it right on a baking sheet if you don't want to dirty an extra dish.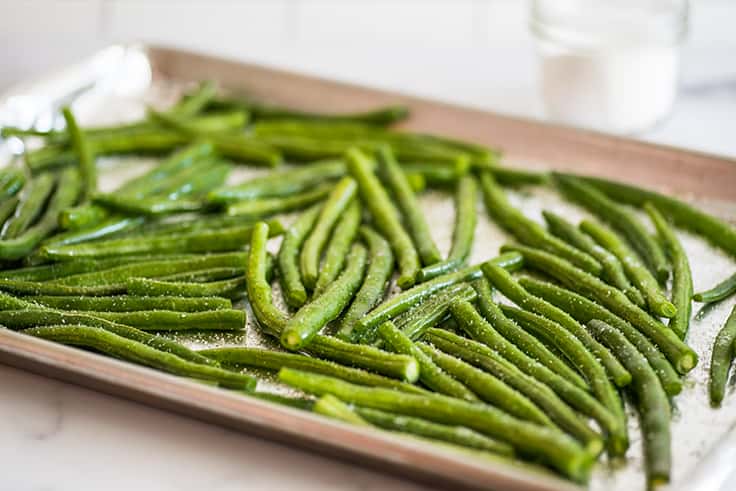 4. Spread beans in a single layer on a baking sheet and sprinkle with salt (kosher if you have it), pepper, and garlic powder. Don't waste time measuring. Just sprinkle generously.
5. Finally, bake for 8 minutes, give the pan a shake and continue to bake until green beans are fork tender. And that's it. They're ready to eat.
Baked Green Bean Variations (Switch things up!)
Green beans cooked in the oven can be made with endless variations so you never get bored. Here are some of my favorites:
Lemon Green Beans: Add the juice and zest of 1/2 of a lemon before baking.
Parmesan Green Beans: Add 1/2 to 1 cup of finely grated parmesan cheese over the top before baking.
Mushroom Green Beans: Add 1/2 pound of thinly sliced mushrooms before tossing with olive oil and baking.
What to Serve With Oven-roasted Green Beans
Roasted green beans complement almost any meal but go particularly well with Marinated Ribeyes, Tri-tip Sandwiches, Slow Cooker Beef Ribs, and Chicken in Cream Sauce.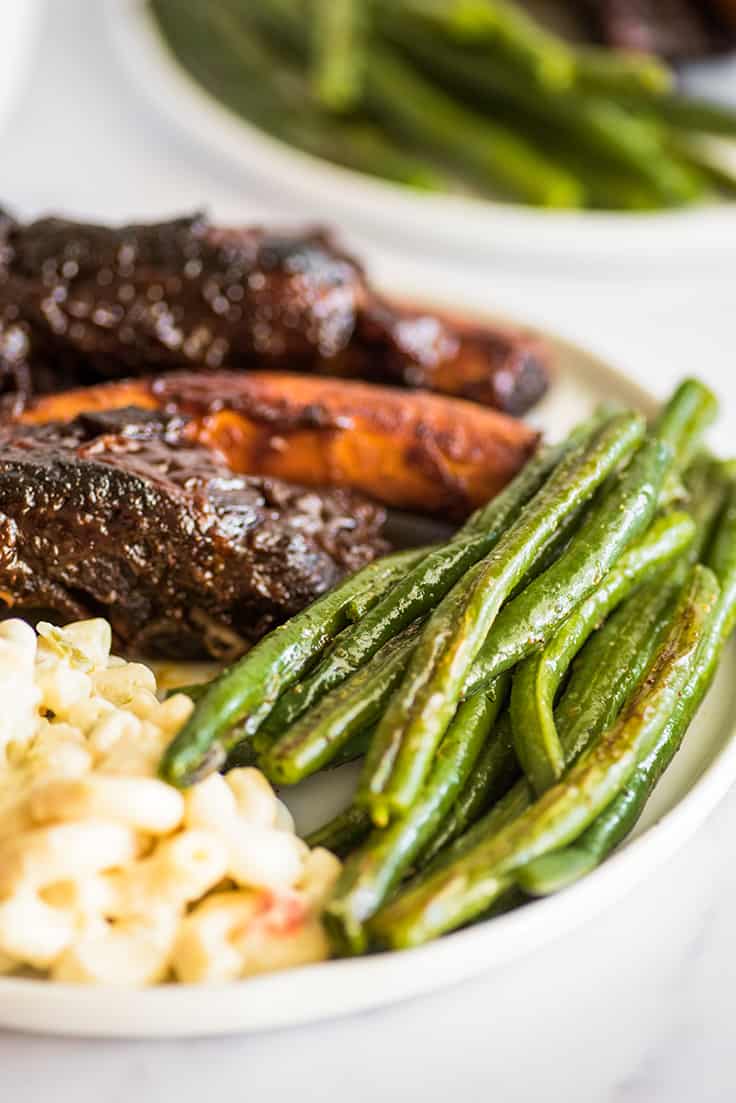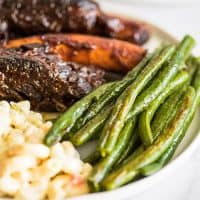 Easy Roasted Green Beans
Roasted green beans are simple, delicious, and one of the easiest vegetable sides to make.
Print
Pin
Servings (Hover or Click to Change Yield):
4
to 5 servings
Ingredients
1

pound

fresh green beans

washed, dried, and trimmed

1

tablespoon

olive oil

Salt and pepper

1/4

teaspoon

garlic powder

(approximately)
Instructions
Preheat your oven to 425°F.

In a bowl or on a baking sheet, toss green beans with olive oil. Spread beans in a single layer on baking sheet.

Sprinkle generously with salt, pepper, and garlic powder. Bake for 8 minutes and shake pan a couple of times.

Bake for an additional 4 to 6 minutes, until green beans are tender-crisp or reach your desired level of doneness.
This post may contain affiliate links, which means I receive a small commission if you make a purchase using them. There is absolutely no additional cost to you.