This Strawberry Milkshake is beautifully pink, rich and frosty, and bursting with sweet-tart strawberry flavor.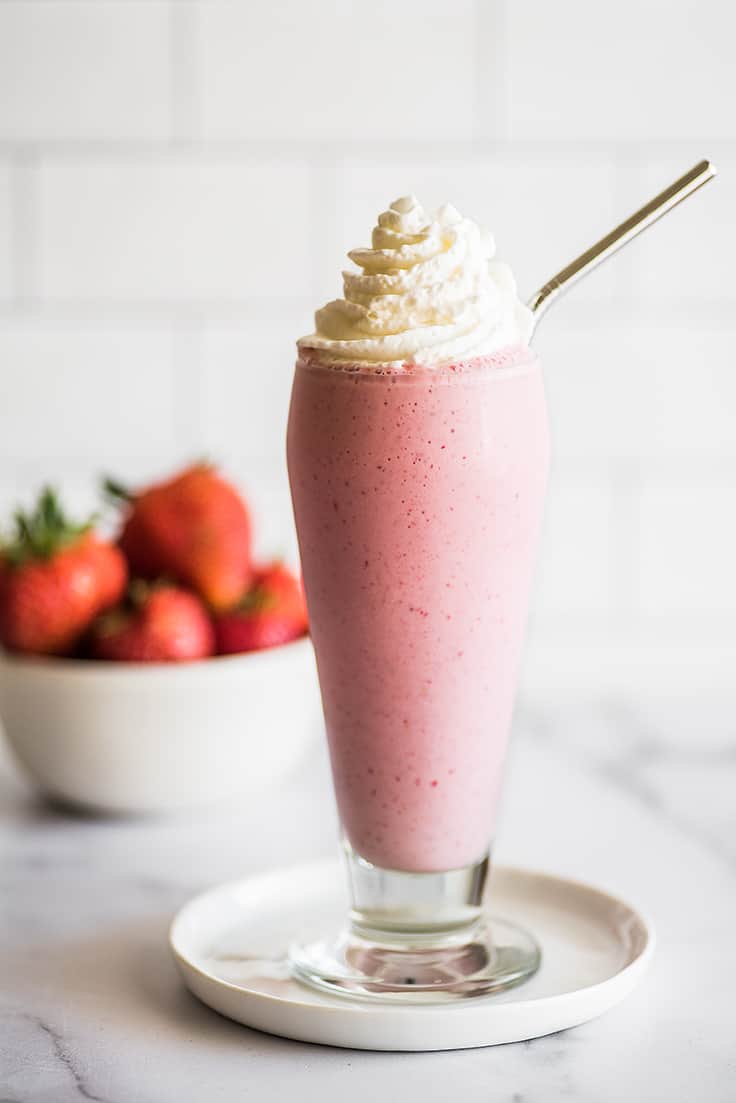 What is your go-to milkshake flavor? I'm usually an Oreo Shake or Chocolate Milkshake fan, but there are days where it feels like nothing in the world would be better than a strawberry milkshake.
Is today one of those days? If so, let's make the very best strawberry milkshake.
The Very Best Strawberry Milkshake with Strawberries
IMHO, the best strawberry shake is made with vanilla ice cream and real strawberries. If you have strawberry ice cream in your freezer, you can totally make a milkshake with just ice cream and milk (follow the classic milkshake ratio of 3 scoops ice cream to 1/2-3/4 cup milk), but starting with vanilla ice cream and strawberries gives you a ton of real fruit flavor that just can't be beat.

How to Make a Strawberry Milkshake
In your blender, you'll combine ice cream, strawberries, a little sugar, and milk, and blend until smooth.
Pour into a chilled glass, top with whipped cream, and enjoy!
Fresh or Frozen Strawberries for a Strawberry Milkshake?
Either fresh or frozen berries work just fine in a milkshake. You'll get a thicker, frostier shake with frozen berries, but your blender might also struggle a little more blending them.
To help things blend more easily, if using frozen berries, scoop your ice cream into the blender and let it sit at room temperature for 5 to 10 minutes, until it just starts to melt, before adding the rest of your ingredients and blending.
If your blender is still struggling, give it another few minutes or add just a bit more milk until it blends without trouble.
More Strawberry Milkshake Flavors
This strawberry shake is a great base recipe for experimenting with more strawberry combos. If you're looking for something new, try adding some of these mix-ins:
Strawberry Cheesecake Milkshake: Add 1 1/2 to 2 ounces cream cheese to the shake before blending. (This one is SOOOOO good!!)
Chocolate-covered Strawberry Milkshake: Swirl 1 tablespoon of fudge sauce around the glass before pouring the shake in and add 1 tablespoon sauce over the top (do not stir or your shake will turn brown).
Strawberry Banana Milkshake: Add 1 ripe banana (fresh or frozen) to the shake before blending.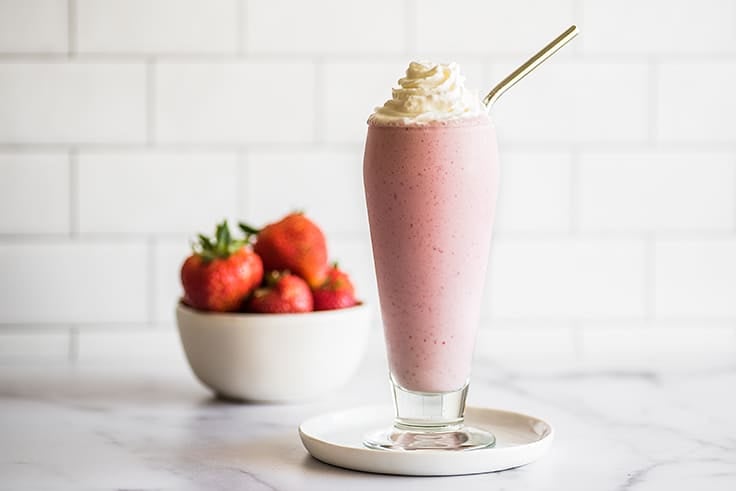 Strawberry Milkshake Recipe Notes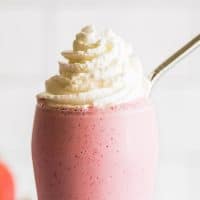 Strawberry Milkshake
This Strawberry Milkshake is beautifully pink, rich and frosty, and bursting with sweet-tart strawberry flavor.
Print
Pin
Servings (Hover or Click to Change Yield):
1
to 2
Ingredients
1 1/2

cups

vanilla ice cream*

about

3

scoops

1/2 to 3/4

cup

milk*

any percentage

3/4

cup

chopped hulled strawberries

fresh or frozen is fine

1

tablespoon (

13g

) granulated sugar

optional but recommended*

Whipped cream

optional for topping
Instructions
In a blender, combine ice cream, milk, strawberries, and sugar, and blend until well-combined and pourable.

Pour into a glass, top with whipped cream, and enjoy.
Notes
*If using frozen strawberries, allow your ice cream to sit at room temperature for 5 to 10 minutes before using, until it just begins to melt. Otherwise, you might have trouble getting everything to blend.
*Use 1/2 cup milk for a thicker shake, up to 3/4 cup for a thinner, more sippable one.
*If you prefer a less-sweet shake or are using extremely ripe berries, you can omit the sugar, but I recommend using it since cold ingredients mute sweetness.
Approximate nutritional information is for 2 servings without optional whipped cream.
This post may contain affiliate links, which means I receive a small commission if you make a purchase using them. There is absolutely no additional cost to you.