Incredibly easy, incredibly good Roasted Zucchini can be prepped in about 5 minutes and makes a perfect weeknight side dish.
I have a handful of easy, go-to side dishes. Most of them are already on the site (like my Butter and Garlic Green Beans, Roasted Broccoli, and Roasted Green Beans).
And today I'm adding another: incredibly easy, incredibly good Roasted Zucchini.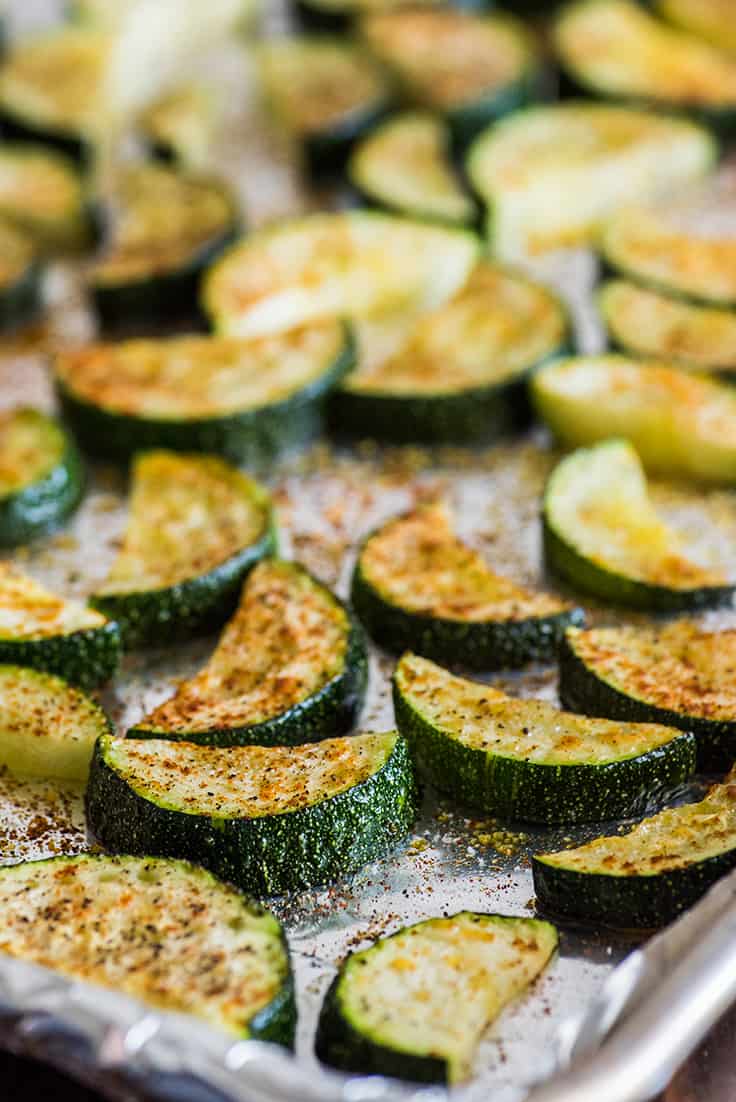 Roasted Zucchini is one of those side dish recipes you'll be glad to have in your back pocket for busy weeknights because it's easy to prep, tastes great, and is pretty much foolproof.
Zucchini has a more mild flavor than a lot of vegetables, but roasting really helps to bring it out and drizzling it with high-quality olive oil, coarse salt, and freshly ground pepper certainly doesn't hurt anything.
Even if you're not typically a huge zucchini fan (I'm not), give roasting it a try. You might be surprised at how much you like it, and it's a great way to bulk up a plate if you're keeping an eye on your intake.
How to Prepare Zucchini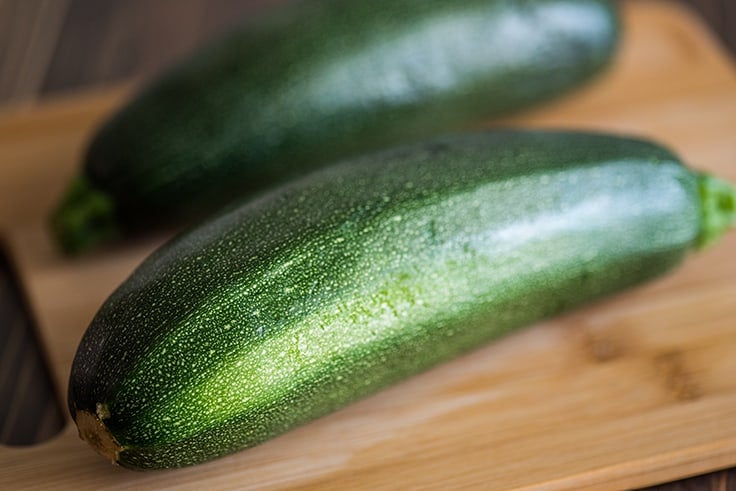 Start with clean, dry zucchini. Zucchini skins are very thin and mild so you don't need to peel them.
Cut off and discard the woody stem at the top of the zucchini.
For smaller zucchinis, you can slice them into rounds. For larger zucchinis, cut them in half lengthwise before slicing for half-moon pieces.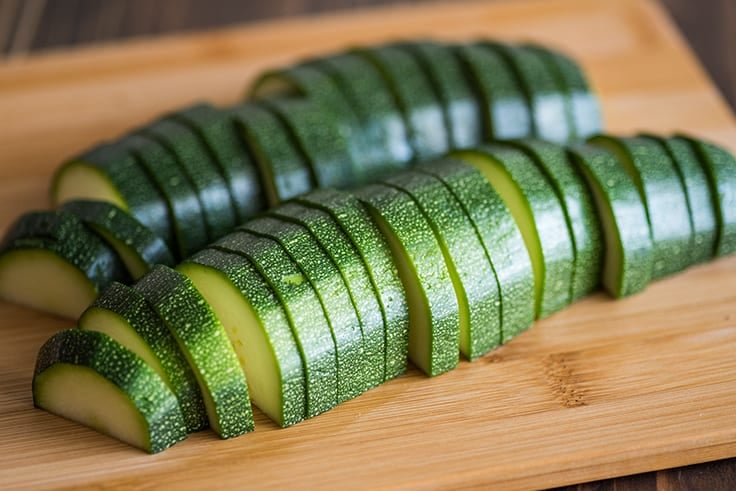 How to Make Roasted Zucchini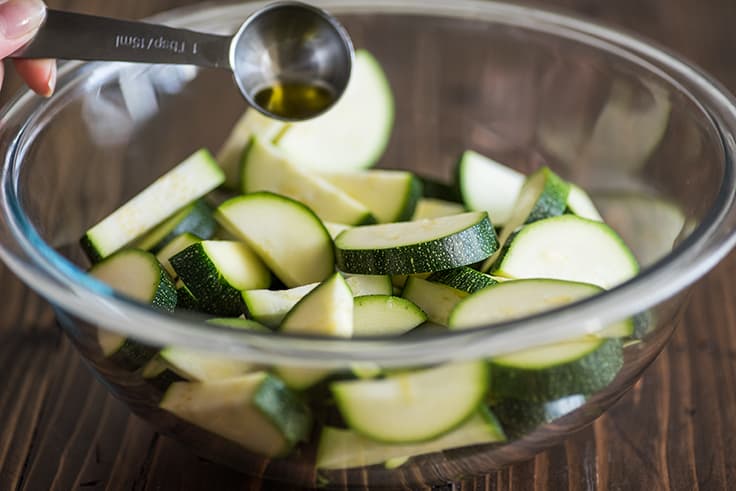 Toss the sliced zucchini with olive oil–you can either do this in a bowl or on a baking sheet, but I feel like a bowl gives slightly more even coverage. And then spread on a baking sheet in a single layer.
Sprinkle with salt, pepper, and, if it sounds good, a bit of paprika to give things a little kick. Then bake until fork tender and serve.
Roasting Zucchini at the Same Time As Your Main Dish
For those of us not blessed with a double oven, roasted side dishes can be a pain to make alongside roasted or baked mains because they often take too long to cook after the main dish is finished but don't cook as well when cooked in the oven with something else.
That's really not a problem with roasted zucchini. Since we're not trying to use high heat to get roasted zucchini super crispy, and it isn't very prone to burning, you can cook it at a range of temperatures, on a lower rack without too many issues.
To roast zucchini at the same time as your main dish: simply cook it at the temperature your main dish requires (don't try roasting at the same time as something using the broiler). If possible, move your bottom rack up so it is closer to the center of your oven and roast the zucchini there. Check on the zucchini once or twice during baking to make sure it's not burning on the lower rack, and simply roast until it's fork tender.
If your main finishes and the zucchini's not done, crank the heat up to 450°F, move the pan to the center rack, and cook it for a couple minutes more while your main dish rests.
FAQ
Can I make these in advance?
Yes. Roasted zucchini is one of my favorite veggie sides for meal prepping because its quality stays pretty consistent even after refrigerating and reheating. They will soften slightly with reheating, so if you prefer your zucchini with some bite to it, undercook it just slightly during the initial roasting period.
Once roasted, store the zucchini in an airtight container in your refrigerator, and it will keep for 3 to 4 days. Reheat in the microwave for 30 seconds to 1 minute.
Can I freeze this?
I don't recommend freezing roasted zucchini. Zucchini is mostly water, and when frozen, it becomes quite soft and mushy.
What to serve with roasted zucchini?
Roasted zucchini goes well with almost anything, but some of my favorite meals to serve with it are: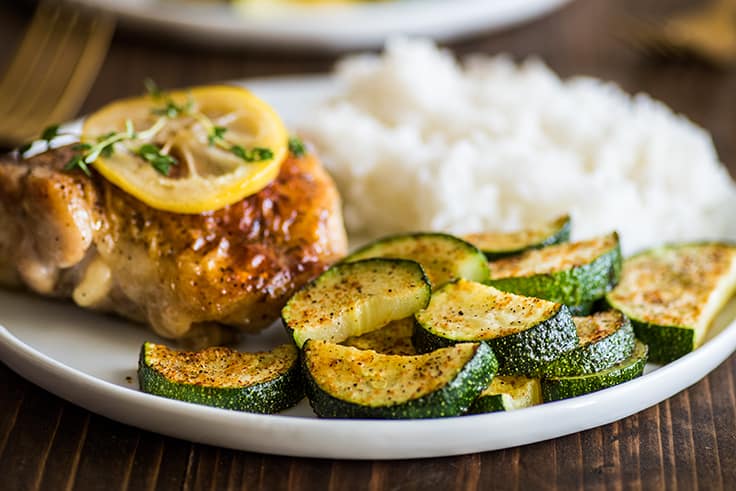 More Favorite Side Dishes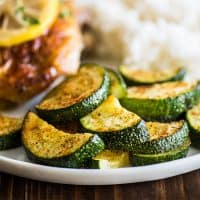 Easy Roasted Zucchini
Incredibly easy, incredibly good Roasted Zucchini can be prepped in about 5 minutes and makes a perfect weeknight side dish.
Print
Pin
Servings (Hover or Click to Change Yield):
4
to 5 servings
Ingredients
1 ½

pounds

zucchini

chopped ½ inch

1

tablespoon

olive oil

Salt and pepper

Paprika (about

¼

teaspoon)

optional
Instructions
Preheat oven to 450°F and line a baking sheet with foil.

In a large bowl, toss zucchini with olive oil. Pour oil-coated zucchini slices onto prepared baking sheet and arrange in a single layer.

Sprinkle generously with salt and pepper and optional paprika.

Bake for 10 to 15 minutes, until zucchini is fork-tender.
This post may contain affiliate links, which means I receive a small commission if you make a purchase using them. There is absolutely no additional cost to you.