Freezer Meatballs are easy to make, SO good, and extra convenient for busy weeknights! 
Looking for more freezer-friendly meals? Try these Easy Beef Pasties and Slow Cooker Tri-tip Sandwiches!
I've said it before, and I'll say it again, I love every recipe I post here (well, except these Samoa Cupcakes–shredded coconut is gross, y'all 😉 ), but sometimes I work on a recipe, and I get a little extra obsessed with it. These Freezer Meatballs are one of those.
They are sooooooo good!!!
Meatballs are kind of the perfect food for freezing because making them is just time-consuming enough that it makes sense to make a big batch of them at once rather than lots of little batches, and because since they are nice and moist, they freeze and reheat beautifully. Plus they are incredibly versatile so you can use them in tons of different meals and not get sick of them.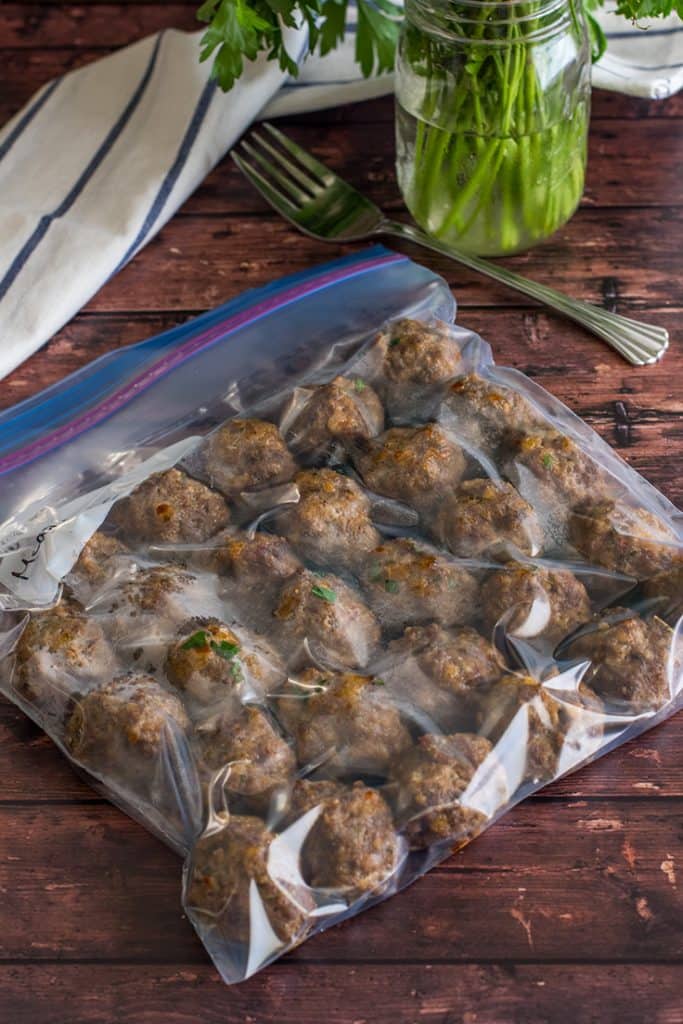 I don't eat a ton of red meat, especially ground beef, but the last couple weeks, while I've been testing this recipe, it has been meatball central around here, and I couldn't have been happier.
This recipe will make about 32 meatballs. You fully cook them, freeze them, and then any time you feel like spaghetti and meatballs, instead of having to make an entire meatball batch, you just pull a handful of these out of the freezer, reheat, and enjoy.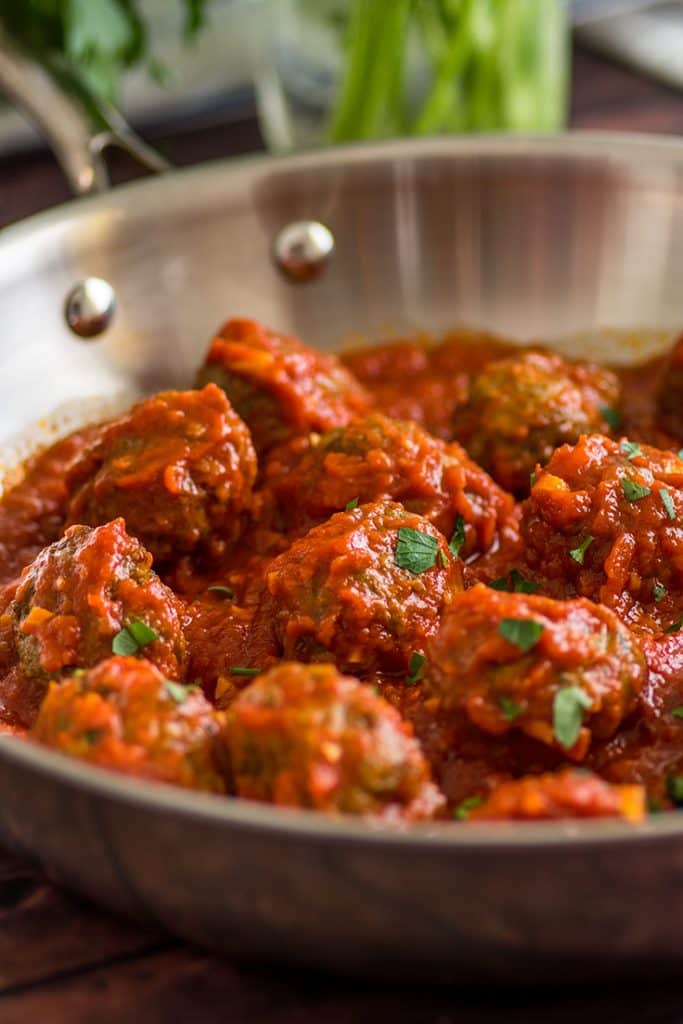 Aside from being super convenient, my favorite thing about these freezer meatballs is that they taste AMAZING. My recipe uses half ground beef and half sausage, so they are extra flavorful. They're fabulous with spaghetti and red sauce, in meatball sandwiches (recipe coming soon!), or just as a snack when you need a little protein.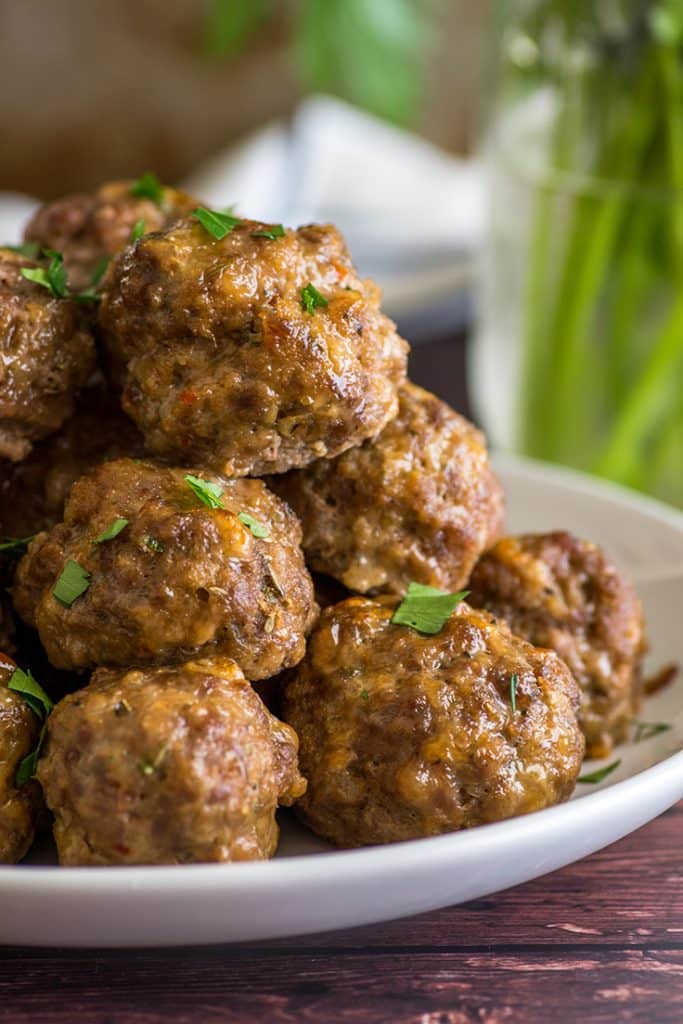 What's your favorite way to eat meatballs?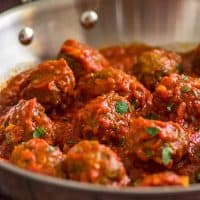 Freezer Meatballs
Freezer Meatballs are easy to make, SO good, and extra convenient for busy weeknights!
Print
Servings (Hover or Click to Change Yield):
32
meatballs
Ingredients
1/2

large onion

grated

1/3

cup

skim milk

1

egg

3

tablespoons

Worcestershire sauce

3/4

cup

bread crumbs

1/2

cup

(

2oz

) shredded Parmesan cheese

1

tablespoon

Italian seasoning

*

1 1/2

teaspoon

dried oregano

1/2

teaspoon

salt

1/2

teaspoon

garlic powder

1/4

teaspoon

crushed red pepper flakes

omit for less heat

1

pound

lean ground beef

1

pound

Italian sausage

* hot or mild, casings removed
Instructions
Preheat your oven to 400°F. Line

2

rimmed baking sheets with foil and lightly grease.

In a large bowl, combine first 11 ingredients (everything except the meats) and stir until well combined. Allow to sit for 10 to 15 minutes.

Add ground beef and sausage and use your hands to mix well. Form 1 1/2-inch/ 1.5-ounce meatballs and place on baking sheets, 16 to a sheet for

32

total. Bake meatballs for 10 minutes, swap top and bottom trays (if baking both at the same time) and bake for an additional 10 minutes, or until meatballs are no longer pink inside/have an internal temperature of 165°. Serve and enjoy or freeze.
Notes
*If you don't have Italian seasoning, you can use 1 additional teaspoon oregano, 1 teaspoon basil, and 1/2 teaspoon crushed rosemary. 
*If you don't usually cook with/buy Italian sausage, you can generally find packages of it near the hamburger in the butcher department. To remove the casings, you can make a shallow slice down the sausage lengthwise and peel it off, or just squeeze the sausage until it bursts out the top or bottom and squeeze the meat into the bowl. 
To Freeze: Cool meatballs completely and transfer to a freezer bag. Remove as much air as possible and freeze. Use within two months.
To Reheat (from frozen): 
In Sauce Simmer in sauce for 15 to 25 minutes until heated through.
Microwave (best for just a few meatballs) Place meatballs in a single layer in a microwave-safe dish and cover with a couple layers of damp paper towels. Microwave for 2 to 3 minutes, flipping the meatballs every minute or so.
In the Oven Preheat oven to 350°F. Place meatballs in a single layer, 1/2-inch apart on a lightly greased baking sheet and cover with foil. Bake for 15 to 20 minutes or until heated through.
This post may contain affiliate links, which means I receive a small commission if you make a purchase using them. There is absolutely no additional cost to you.