Miniature mocha and Kahlua cheesecakes with a crunchy Oreo cookie base, cool sour cream topping, and fudge sauce.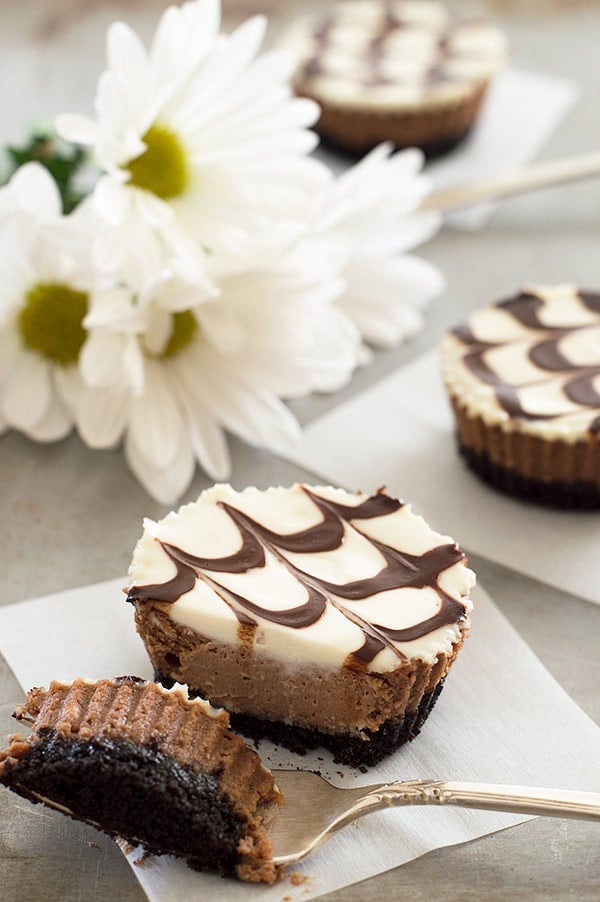 Nerd Month week two, Bryan Fuller Week day two. Today's recipe inspiration is Pushing Daisies!
Those who follow my Weekend Posts, might have seen me mention that I rewatched Pushing Daisies recently. If you were a fan of the show, one, we should be friends because you are clearly Good People, and two, then I'm sure you can imagine what a bittersweet delight that's been.
This was my first time rewatching the show in years, certainly my first time since Fuller's most recent show, Hannibal, and I was struck with the sweet and gentle delight of it all. Then suddenly I was sad that it had been prematurely cancelled all over again.
For those who haven't seen Pushing Daisies, it's a "forensic fairy tale" about Ned, a pie maker who can bring people back from the dead with a touch, but only for a minute. Using his gift, he, along with his childhood sweetheart, Chuck, his private detective partner, Emerson, and Olive, a ray of sunshine made human, investigates murders. It's a twisty, bright and beautiful show, and the whole thing is available on CW Seed for free.
Today we are going to bring a little Pushing Daisies back to life (if only for a minute har har) and make one of the Pie Maker's recipes for the blog.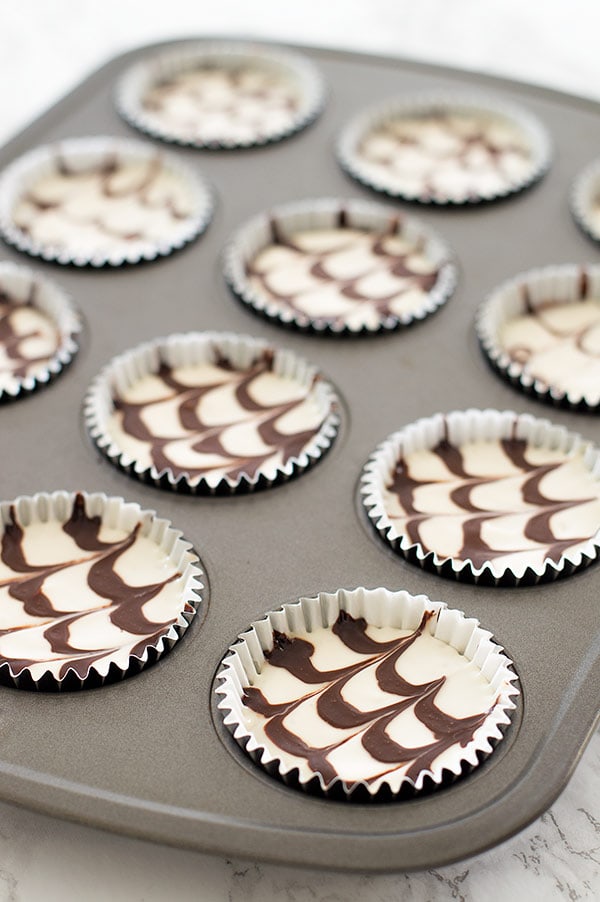 I took Ned's Kahlua Cream Cheese Pie, about which a Pushing Daisies prop menu says: "Try the special taste of Kahlua mocha throughout our velvety cream cheese pie in a chocolate cookie crust," and turned it into one of Chuck's cup pies, because full pies are great, but these are a much more manageable size.
This was a fun dessert to put together. I adapted and combined a few different recipes to make it, including my mom's famous cheesecake, and I love the end result.
The cup pies are a lovely little punch of mocha and kahlua goodness. The chocolate cookie (Oreo) base gives it a crunchy sweetness boost while the sour cream topping and fudge sauce top help mellow out the tangy mocha cheesecake underneath.
And bonus, each one is under 300 calories. That's a decadent dessert you can feel good about.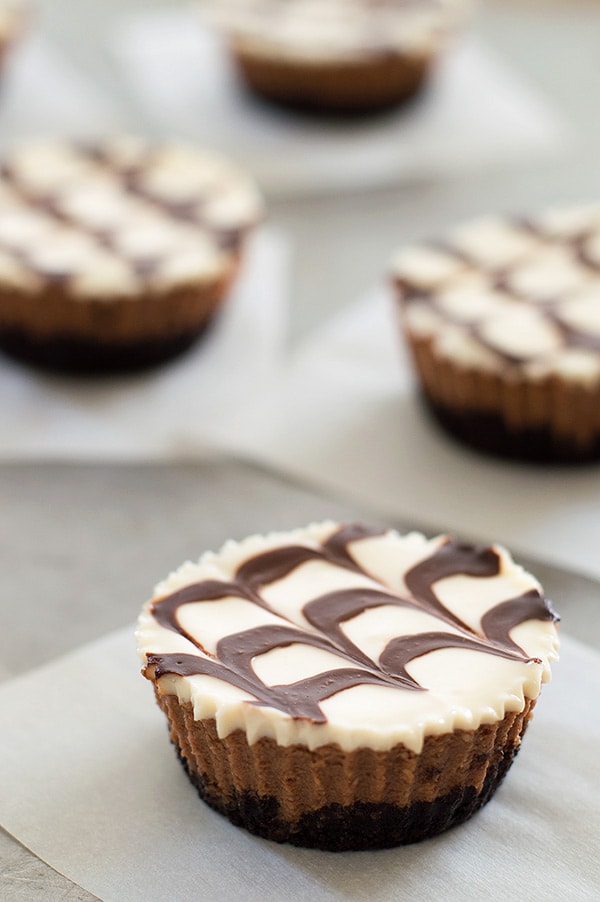 Did you watch Pushing Daisies when it was on? Have any cancelled shows you're still mourning? Tell me about them in the comments!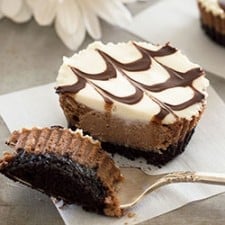 Kahlua Cream Cheese Cup Pies
Miniature mocha and Kahlua cheesecakes with a crunchy Oreo cookie base, cool sour cream topping, and fudge sauce.

Print
Servings (Hover or Click to Change Yield):
12
Ingredients
Crust
12

Oreo cookies

2

tablespoons

(

1

oz) butter

melted
Kahlua Cheesecake
1

8-ounce package cream cheese

room temperature

1/3

cup

(

66

g) granulated sugar

1

large egg

1/2

cup

(

3

oz) semisweet chocolate, chopped

(high-quality chips are fine)

1

tablespoon

heavy cream

1/3

cup

(

80

g) sour cream

2

tablespoons

Kahlua

1/2

teaspoon

instant espresso granules dissolved in

1

tablespoon hot water

1/2

teaspoon

vanilla extract

1/8

teaspoon

salt
Fudge Sauce
2

tablespoons

water

2

tablespoons

(

25

g) granulated sugar

1

tablespoon

1

teaspoon (

7

g) cocoa powder
Sour Cream Topping
1

cup

sour cream

1

tablespoon

1

teaspoon (

17

g) granulated sugar

1/2

teaspoon

vanilla

1/8

teaspoon

salt
Instructions
Crust
Line your cupcake pan with cupcake liners. Preheat oven to 350°F.

In a food processor, pulse cookies until they are crushed into fine crumbs. Add melted butter and pulse until butter is incorporated.

Divide the mixture between the cupcake cups, about a tablespoon of crumbs each. Use your fingers or a shot glass to press the crumbs down firmly so they cover the entire bottom of each cup. Set aside.

Lazy person/no food processor instructions: Skip the butter and the food processor and stick an Oreo at the bottom of each cup. Done.
Kahlua Cheesecake
Using a stand mixer with the paddle attachment or a handheld electric mixer, beat cream cheese on medium until smooth. Scrape down the sides and bottom of the bowl. Add the sugar and beat at medium speed until sugar is incorporated.

Add egg and beat on medium until completely smooth.

In a microwave-safe bowl, combine chocolate and heavy cream. With your microwave on medium power, heat for 30 seconds and stir. Repeat until mixture is smooth. Test your chocolate to make sure it is not too hot before you add it to the cream cheese mixture. If it is too warm to comfortably touch, set aside for a minute or two until it cools slightly.

Add slightly cooled chocolate to cream cheese mixture and beat until incorporated. Add sour cream, Kahlua, espresso, vanilla, and salt. Mix well, scraping the sides and bottom so no white streaks remain.

Divide mixture evenly between cupcake cups, filling just under 3/4 full. It should make exactly

12

cup pies.

Bake for 12-15 minutes until edges look set. Middles will still be a little jiggly, but will finish cooking as they cool.

Cool on the counter for 20 minutes before transferring to the refrigerator. Chill for at least an hour.
Fudge Sauce
Once your cheesecakes have chilled, in a small pot, combine water, sugar, and cocoa powder. Whisk together over medium heat. Bring to a boil, turn down and simmer for 1 to 2 minutes, until mixture thickens (if you run a spoon down the center of the pot it should take a couple of seconds to fill back in).

Remove from heat. Mixture will thicken as it cools and should be the consistency of thick syrup. If it is too runny, you can return it to heat and simmer for another 30 seconds to a minute. Allow to cool slightly before using.
Sour Cream Top
While your sauce cools, preheat oven to 425°F.

In a small bowl, stir together sour cream, sugar, vanilla and salt. Spoon evenly over cheesecakes, about a tablespoon each. Smooth tops so no cheesecake shows through.

Scrape all of the cooled fudge sauce into a disposable plastic bag (spread bag open over a cup to make transfer easier) and snip a very small piece off of the corner. Draw three straight lines across each of the cheesecakes and drag a butter knife across them to make the design. Wipe knife off between each stroke.

Bake for 4 minutes, until tops look slightly shiny and glazed. Allow to cool and refrigerate for at least 2 hours before serving.
Notes
Cheesecakes should keep in the refrigerator, in an air-tight container for up to 4 days.
Small-batch Instructions: For the sugar and sour cream in the cheesecake, 1/2 of 1/3 cup is 2 tablespoons, 2 teaspoons. You will have to split an egg. The best way to do that is to whisk a whole egg in a very small bowl and use half of it (about 1 tablespoon and 1 teaspoon/1oz/28g). For the sour cream layer, half of 3/4 cup is 1/4 cup and 2 tablespoons and half of 1 tablespoon is 1 teaspoon, 1/2 teaspoon. Make the full amount of fudge sauce as it's easier to pipe and cook with the full amount.
Freezer Instructions: For short-term freezing (a week or two), these can just be popped in a freezer bag and go straight into the freezer. For longer term, freeze cheesecakes on a plate or tray. When solid, wrap individually in plastic wrap or foil and transfer to an air-tight container or plastic bag. Cheesecakes should keep for up to 3 months. Eat straight out of the freezer on a hot day or defrost on the counter for about 20 minutes.
Nutritional Information
Fudge Sauce Adapted From: The ABC Chef
Kahlua Cheesecake Base Adapted From: My Baking Addiction
This post may contain affiliate links, which means I receive a small commission if you make a purchase using them. There is absolutely no additional cost to you.