Lomo Saltado is tender stir-fried beef sirloin, red onions, and tomatoes served with baked french fries and white rice. Carb lovers, you have to try this one!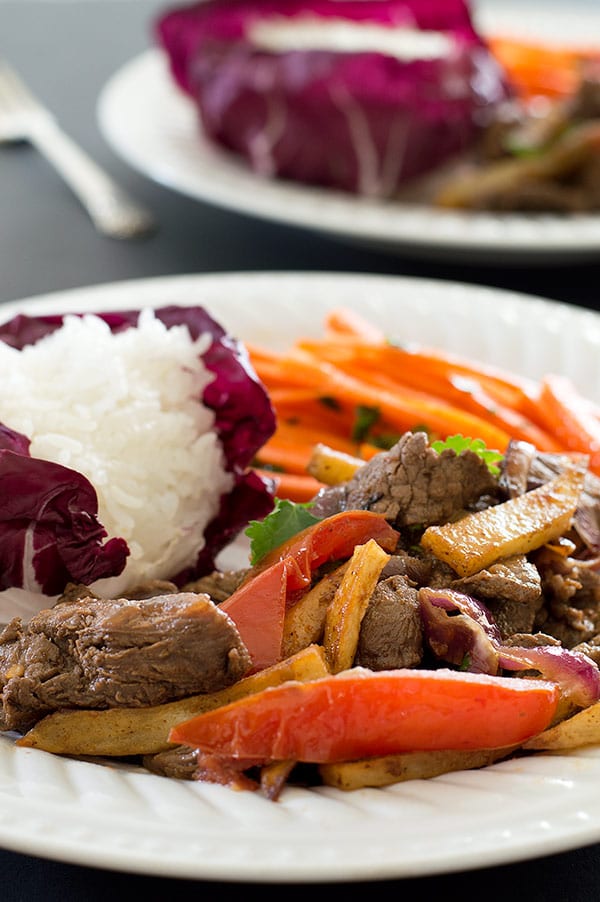 Hold on to your butts, guys, because we've reached my most anticipated Nerd Month and Bryan Fuller Week post. It's Hannibal day!
Hannibal is a show I adore and still can't believe existed. It was rare and lovely and horrifying and beautiful. It definitely wasn't for everyone, but for those of us who loved it, the show was a treasure. So I'm pretty excited to finish out Fuller Week with a Hannibal recipe.
If you watched the show, you know that there is an almost endless supply of dishes to choose from, but I went with Lomo Saltado from the second-season episode "Naka-Choko," because it's such a perfect, weird episode full of emotional climaxes and most importantly, contains one of my very favorite cannibal puns of the series.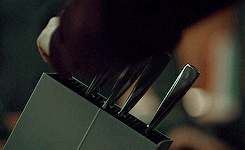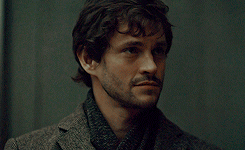 NBC via Psychoanalyzeme
This recipe is adapted from one by Janice Poon, the food stylist on Hannibal. If you have any interest at all in food styling, you should check out her blog, because it's amazing and you don't have to be a Hannibal fan to appreciate the works of art she made for that show.
And also, Hannibal fans should go pre-order her book, Feeding Hannibal: A Connoisseur's Cookbook!* I can't wait to get my hands on a copy.
Okay, enough fangirling, on to the food.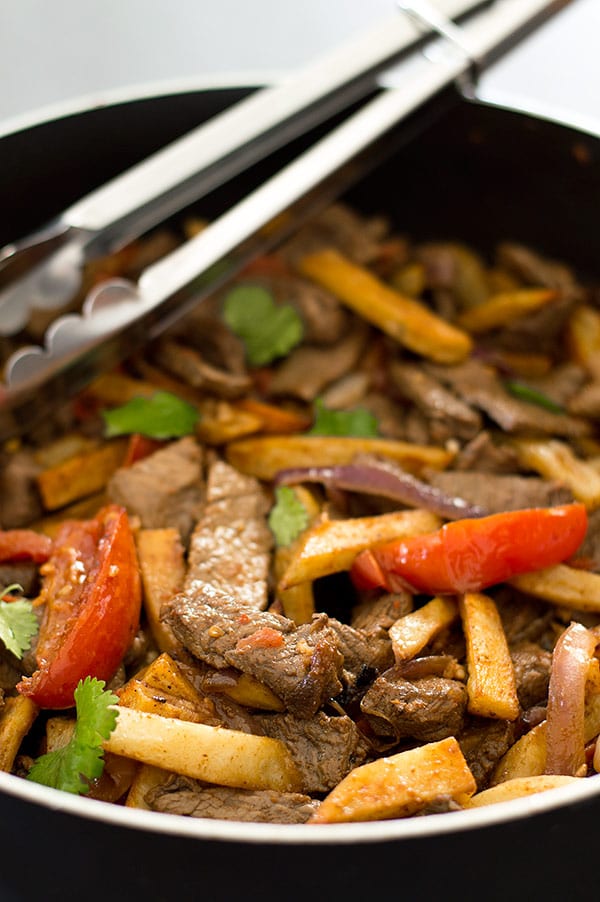 Guys, Lomo Saltado is amazing. It's a traditional Peruvian/Chinese fusion dish of stir-fried steak, onions, and tomatoes served with rice and french fries.
Yes. French fries. I mean don't you look at your boring old stir-fries and think, You know what this needs? French fries.
No? Okay, me neither, but I should have been, because It. Is. Spectacular. The fries soak up all the vegetable and meat juices and turn into these amazing starchy flavor bombs when you bite into them. I would never have thought to pair potatoes and rice, but it works incredibly well.
For this recipe, I baked the fries because it's a little healthier and deep frying at home is a pain. And by baking them, you can just pop the fries in the oven and basically forget about them while you stir-fry the meat and veggies.
The stir-frying process is super simple and done in batches so you don't have to worry about some ingredients ending up under/overcooked. What you get is perfect, slightly blackened onions, incredibly tender meat, and beautifully cooked tomatoes. Then you give the fries a quick toss with the meat and veggies and serve everything over rice.
It's colorful, beautiful, and a perfect dish for date night.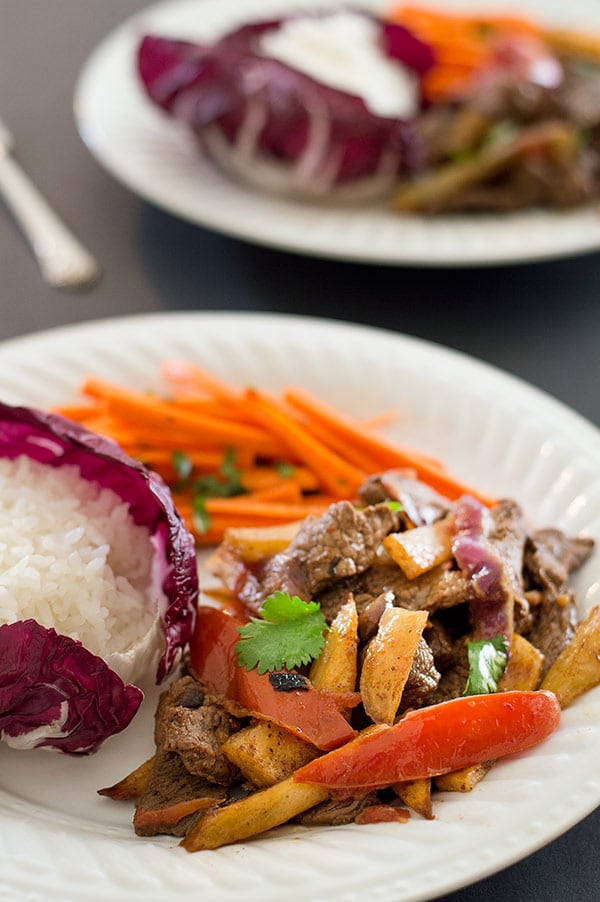 Some food styling notes: If you are looking to recreate the entire Hannibal plate, I used this carrot slaw recipe from Epicurious. I don't actually like carrot slaw, but the people to whom it was served, loved it. And in the show, it looks like Hannibal uses Treviso radicchio as a garnish. I couldn't find any locally, so I used Chioggia radicchio and served the rice wrapped inside of it rather than in cucumber slices.
And if you need a dessert, might I recommend Sanguinaccio Dolce (Senza Sangue)?
Tell me, were you a "Hannibal" fan? What's your favorite show in recent years?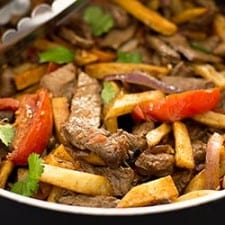 Lomo Saltado With Oven-baked Fries
Lomo Saltado is tender stir-fried beef sirloin, red onions, and tomatoes served with baked french fries and white rice. Carb lovers, you have to try this one!
Print
Servings (Hover or Click to Change Yield):
4
Ingredients
Oven-baked Fries
2

medium potatoes

about 24 ounces, cut into 1/2-inch thick fries

1

tablespoon

olive oil

1/2

teaspoon

chili powder

1/2

teaspoon

paprika

1/2

teaspoon

salt

1/4

teaspoon

pepper

1/8

teaspoon

cayenne powder
Marinade
3

tablespoons

white wine vinegar*

1

tablespoon

soy sauce

1

tablespoon

Worcestershire sauce

2

large garlic cloves

pressed

1

teaspoon

grated fresh ginger*

1/2

teaspoon

cumin
Meat and Veggies
1

pound

top sirloin

sliced into 1/4-inch thick strips

1/4

cup

olive oil

divided

1/2

red onion

sliced

2

plum (Roma) tomatoes

sliced into thin wedges

1

teaspoon

to

1

tablespoon hot sauce

I used Sriracha

Salt and pepper to taste

Cilantro

optional, chopped

Cooked rice
Instructions
Marinate the Meat
In a large bowl or plastic bag, combine marinade ingredients. Add meat and shake to coat. Allow to marinate for at least 30 minutes, up to 2 hours.
Prepare the Fries
Once your meat is done marinating, preheat oven to 400°F. Cover a cookie sheet with foil and spray generously with cooking spray.

Toss cut potatoes in oil and spices (I like to dump everything in a plastic bag and give it a good shake) and spread in lines over your tray. Bake for 20 minutes, until bottoms are browned. Flip and cook until just done, about 5 to 10 minutes, depending on the thickness of your fries.
Stir Fry the Meat and Veggies
While your fries cook, in a large skillet, over medium-high heat, heat 1 tablespoon of the oil. Once oil is hot, add sliced onions and cook until they begin to brown and the edges turn dark. Flip and brown the other side. Cook until they reach your preferred level of doneness--this is all the cooking they will receive.

Pour onions into a large bowl and return pan to heat. Add 1 tablespoon of the oil and half of the meat. Cook 2-3 minutes per side until meat is cooked to your preferred level of doneness (I like medium rare). Add the meat and its cooking juices to the bowl with the onions.

Repeat with another tablespoon of oil and the second half of the meat. Discard the marinade.

Wipe out pan and add the final tablespoon of oil, tomatoes and hot sauce. Cook until the skin begins to separate from the tomatoes and they are slightly softened.

Add the onions and meat back to the pan and stir to reheat. Add in the fries and stir until everything is coated in the juices.

Serve over rice.
Notes
*You can substitute apple cider vinegar or rice vinegar.
*In a pinch, you can substitute 1/8 teaspoon ground ginger for the fresh, but but the taste of fresh ginger in this dish is great, so if at all possible, use fresh!
To lighten this dish up and make it quicker for weeknight meals, I would omit the fries (the meat is still SO good without them), up the number of tomatoes to three or four, and use cooking spray instead of a tablespoon of oil for each cooking step.
Recipe For Two Instructions: 1/2 tablespoon is equal to 1 1/2 teaspoon. No prep or cooking changes are needed.
Make-ahead Instructions: Meat and onions can be cut up to two days in advance and stored in separate air-tight containers. Potatoes and tomatoes should be cut just before cooking.
Freezer Notes: Because of the potatoes and tomatoes in the recipe, this dish is not a great candidate for freezing.
Lomo Saltado Nutritional Information (Does not include rice)
Recipe Adapted From: Janice Poon
*This post contains affiliate links, which means I receive small commission if you make a purchase using one of the links. There is absolutely no additional cost to you.