Make a rich and warming Snickerdoodle Hot Chocolate at home with just 3 ingredients in less than 15 minutes. No store-bought syrups or sauces needed!
Craving some hot chocolate today but want something a little spicy and special feeling?
Make yourself a creamy and dreamy snickerdoodle hot chocolate. Pair it with a good book, some fluffy socks, and maybe a real snickerdoodle or two, and have yourself a perfectly cozy night in.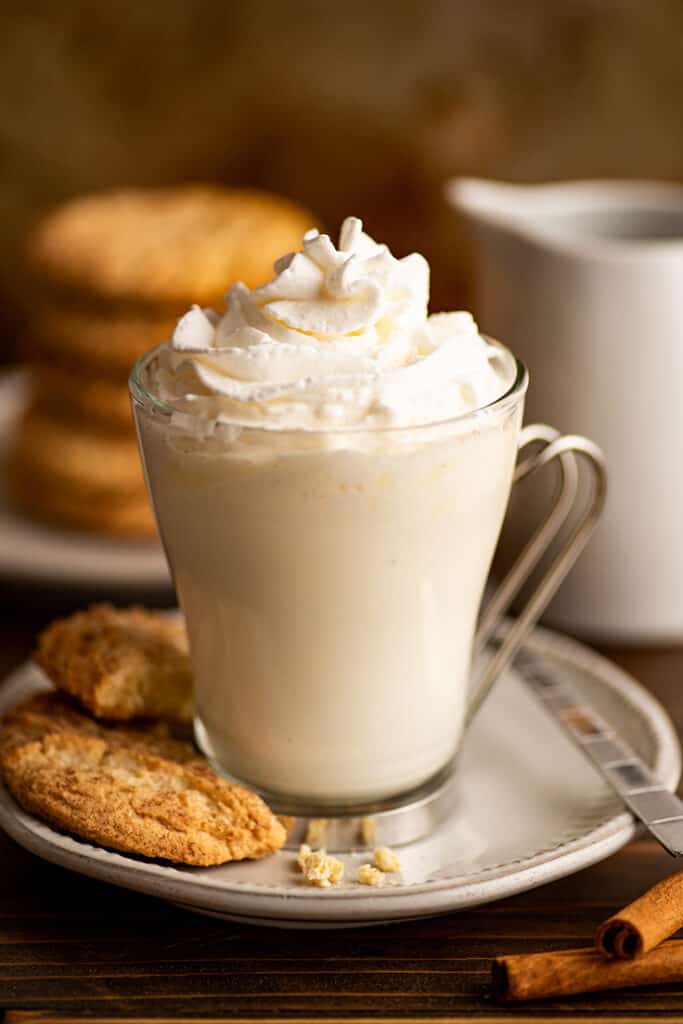 What is a Snickerdoodle Hot Chocolate?
Snickerdoodle Hot Chocolate is a seasonal Starbucks drink with a white chocolate base flavored with cinnamon syrup. It's only a menu item around the holidays, but according to the baristas of Reddit (and the Starbucks website), you can order it year round by asking for a white hot chocolate with 2 pumps Cinnamon Dolce Syrup and 2 pumps White Chocolate Mocha Sauce.
OR (and even better) you can make it at home with just a couple of ingredients in less than 15 minutes.
Ingredients
Milk: Starbucks uses 2% milk by default in their drinks, but you can use whatever milk you have. Plant-based is good too. The higher fat the milk, the creamier your hot chocolate will be. For an extra creamy drink, add a splash of half and half or heavy cream to your measuring cup when measuring out the milk.
Good-quality white chocolate: All the sweetness and chocolate flavor here comes from white chocolate so be sure you're using good-quality white chocolate that you enjoy the flavor of. High-quality chips are fine, but I don't recommend cheap white chocolate chips as their flavor isn't great in drinking chocolate. I typically use a chopped up Lindt bar because I like the taste of the chocolate and it's always available at my local grocery stores (sometimes you have to go to the candy aisle to find them instead of the baking aisle.)
Cinnamon sticks: Instead of using ground cinnamon, which doesn't blend completely in milk, I prefer to use cinnamon sticks and steep them in warm milk to infuse it with their flavor.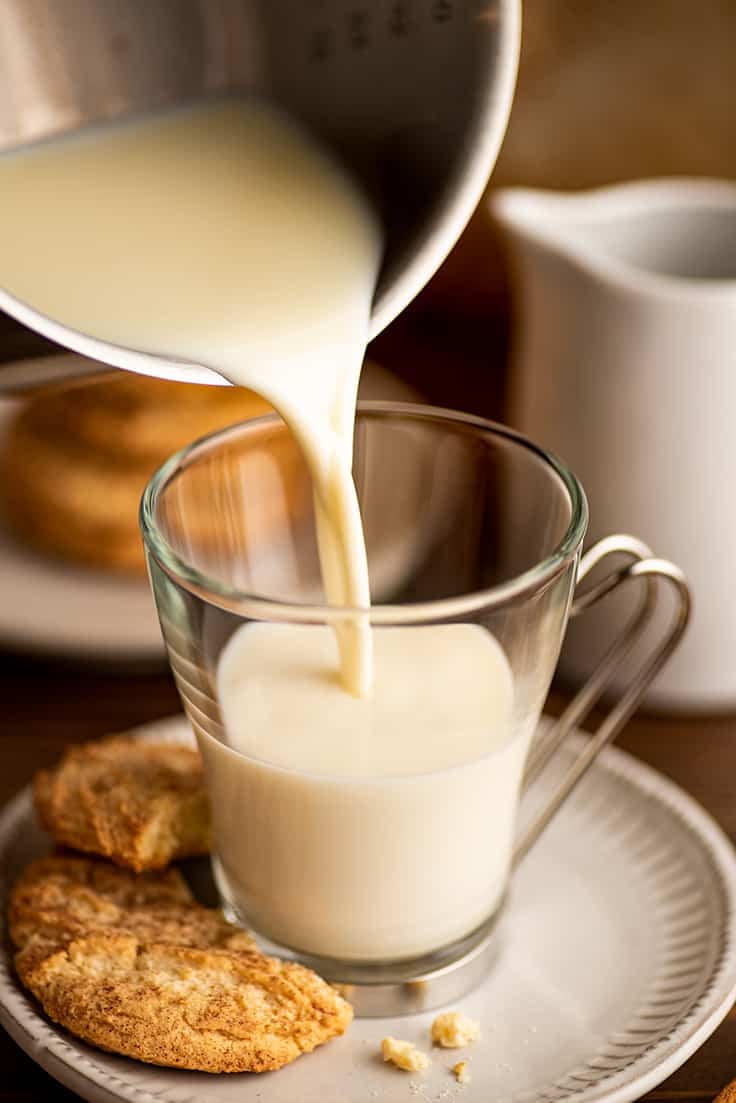 How to Make a Snickerdoodle Hot Chocolate
Steep: Break your cinnamon sticks into pieces and let them steep in milk that is *almost* simmering hot for 5 minutes. Don't let your milk come to a full boil as it can scald.
Melt: Remove the cinnamon pieces with a slotted spoon and add white chocolate. Reheat over medium heat until chocolate is melted and your milk is steaming.
Drink: Transfer to a mug, top with toppings (I like whipped cream and cinnamon or cinnamon sugar), and enjoy!
FAQ
Does this taste like Starbucks' snickerdoodle hot chocolate recipe?
Like my white hot chocolate, this recipe incorporates all the flavors of the Starbucks version but is quite a bit richer. Since this recipe is flavored with real white chocolate instead of white chocolate syrup, it creates a thicker, creamier drink.
Can I make this in the microwave?
Sure. Just heat your milk in the microwave until steaming and follow the recipe as written. Before you add your white chocolate, reheat the milk for about 30 seconds until it is steaming hot again and stir in the chocolate. If using a bar, chop your chocolate extra fine so it melts more easily.
Can I use ground cinnamon instead of cinnamon sticks?
I don't love using ground cinnamon in hot chocolate recipes as it doesn't fully dissolve into the liquid and you can't strain it out easily. That being said, if you're really craving this and want to do it, you absolutely can.
Replace the cinnamon sticks with 3/4 teaspoon of ground cinnamon. The last sip or two of hot chocolate at the bottom of your cup will have quite a bit of cinnamon in it, but it will be a good time along the way. 😉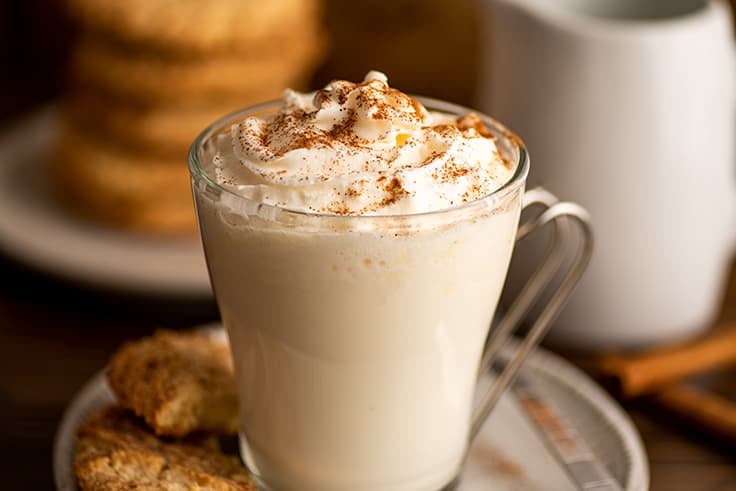 Can I double this recipe?
Yes! BUT if doubling the recipe, you don't need to double the cinnamon sticks. For each extra cup of hot chocolate you're making, add 1 extra cinnamon stick. So for 2 cups use 3 sticks total, for 3 cups use 4 sticks total, etc,.
To double the recipe ingredients, hover over the serving size in the recipe card below or click if you're on mobile, and slide the slider. Because of the way the recipe card works, this will double/triple the number of cinnamon sticks too, but ignore that and use the measurements above. No other cooking changes are needed.
More Starbucks Copycat Recipes
More Hot Chocolate Recipes
A Note on Serving Size: This recipe makes one cup of hot chocolate, enough to fill an 8-ounce mug. It's quite rich, so I find one cup to be plenty, but if you'd like to fill an oversized mug, 1 1/2 or double the recipe.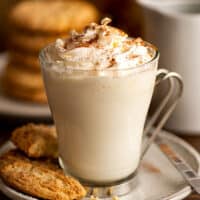 Snickerdoodle Hot Chocolate
Make a rich and warming Snickerdoodle Hot Chocolate at home with just 3 ingredients in less than 15 minutes. No store-bought syrups or sauces needed!
Print
Pin
Servings (Hover or Click to Change Yield):
1
cup
Ingredients
Hot Chocolate
1

cup

milk

any percentage

2

cinnamon sticks

broken into 3 or 4 pieces each*

2

ounces

(

about ⅓ cup

) chopped good-quality white chocolate

high-quality chips are fine

Pinch of salt

optional
Optional Toppings
Marshmallows

Ground cinnamon or cinnamon sugar
Instructions
In a small saucepan, heat milk until steaming. Remove from heat and stir in cinnamon stick pieces. Allow them to steep for at least 5 minutes.

Use a fork or slotted spoon to remove cinnamon stick pieces. Return pot to medium heat and add white chocolate and a pinch of salt. Stir until chocolate is melted and mixture is steaming hot.

Pour into an 8-ounce mug, top with optional toppings, and enjoy!
Notes
*If your sticks were brittle and broke into smaller pieces, that's fine. Just strain the milk through a fine mesh strainer before adding the chocolate.
This post may contain affiliate links, which means I receive a small commission if you make a purchase using them. There is absolutely no additional cost to you.