12 nerdy mugs perfect for gifting and drinking holiday cheer from.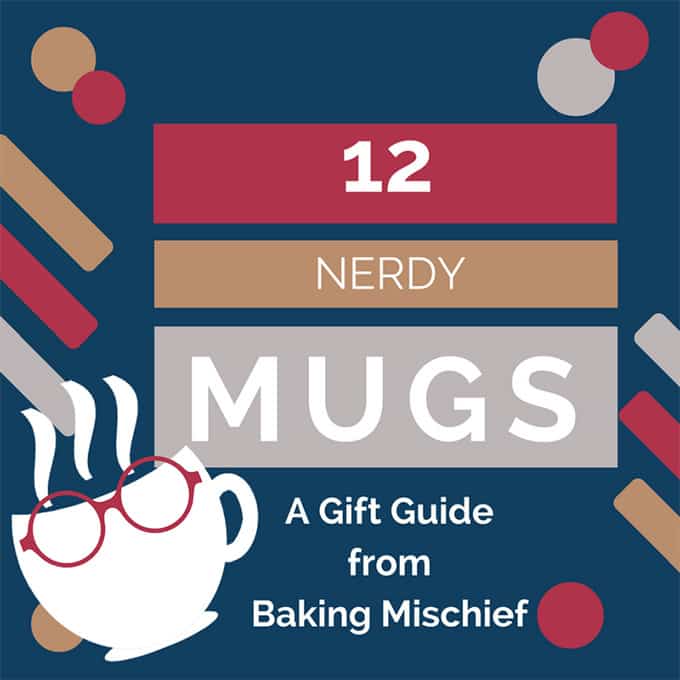 Is it weird that one of my favorite things about being on the internet at Christmas is seeing people's gift guides? It's like window shopping without having to put on shoes and leave the house.
With all the (exciting) stress of Baking for Two coming out last month and general holiday craziness, I didn't think I'd have time to write a gift guide this year, but then I remembered that I accidentally did the homework for this post a couple of months ago when I went down a rabbit hole of nerdy mugs and bookmarked approximately half of Etsy.
So here's my uber-specific 2016 Gift Guide, 12 Nerdy Mugs (from my favorite fandoms) for the fan in your life. (Links with an * are affiliate links.)
And if you are looking for some more nerdy gifts, check out my fellow fandom foodies, The Gingered Whisk, Wonderland Recipes, and The Cupcakedex for their guides!
Pins are disabled on this page. If you'd like to pin one of the mugs, please support the creator and click through to pin directly from the place these mugs can be purchased. If you'd like to pin the entire post, you can click here. Thanks!
For the Reader
The Book Was BetterA mug that speaks an eternal truth.
Marauders Mug*To drink from whilst managing your mischief. Plus it changes colors!
Good Omens MugPerfect to let some hot cocoa solidify and grow green fur in. 😉
The Film Buff
Howl's Moving Castle MugMay all your bacon buuuuurn…
BB-8 Mug*A mug that's almost as cute as what's on it.
Captain America End of the Line MugFor you and your bionic bestie…
The Television Fangirl
And Some Things to Put in the Mugs
Candy Cane White Chocolate Peppermint Mocha
Leftover Eggnog Latte
Pumpkin Spice Latte
Better Than Starbucks Macchiato
Adagio Fandom Teas (Not an affiliate link. I just really love their teas.) I was given the Sherlock Sampler for my birthday a couple of years ago, and it was genuinely one of the best, most delightful gifts I've ever received (the Mycroft blend is my FAV).
*Links marked with an asterisk are affiliate links, which means I receive a small commission if you make a purchase using them. There is absolutely no additional cost to you.