You'll love this quick and easy eggnog latte recipe, perfect for using up leftover eggnog. It will make every morning feel like Christmas morning!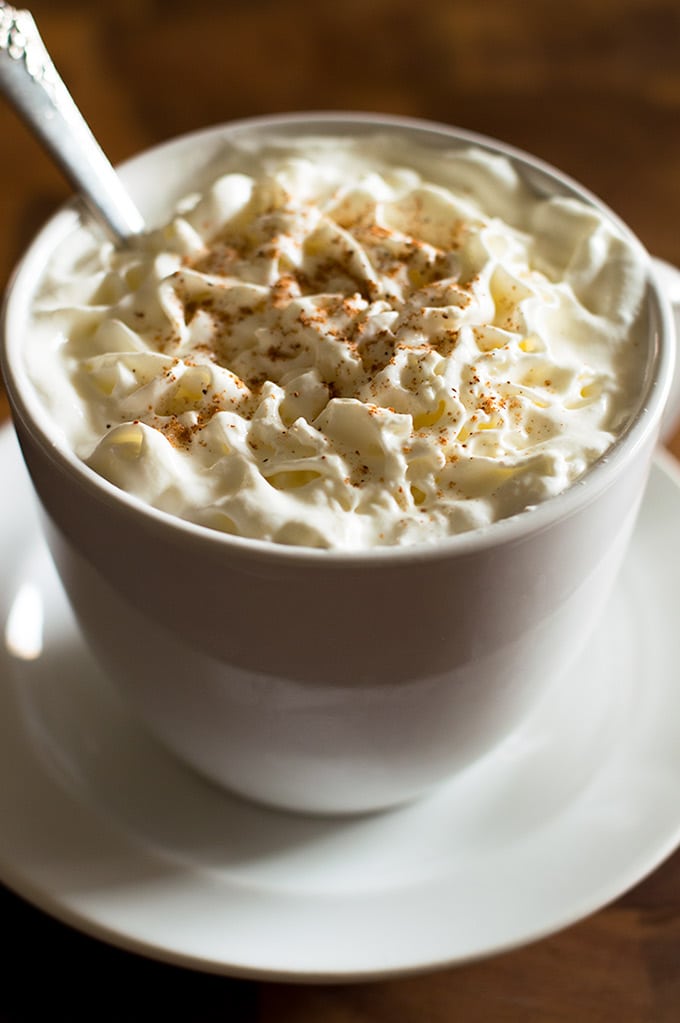 Eggnog and I have always had a love/hate relationship. I love it, but I can only drink about two or three sips before all that thick, sweet creaminess starts to be way too much.
Still, I love using it in recipes (like my favorite Christmas cookies, Chai Sugar Cookies With Eggnog Glaze) so in December, I always have multiple bottles go to waste where I've only used like a third of a cup.
Well, you know how I feel about food waste, so this year I decided to find some more ways to use up leftover eggnog, and I think I just found my favorite: make Eggnog Lattes!!
There are a couple other coffee recipes on the site, my Better Than Starbucks Caramel Macchiato and Pumpkin Spice Latte recipes, but this Eggnog Latte is the easiest homemade Starbucks copycat yet.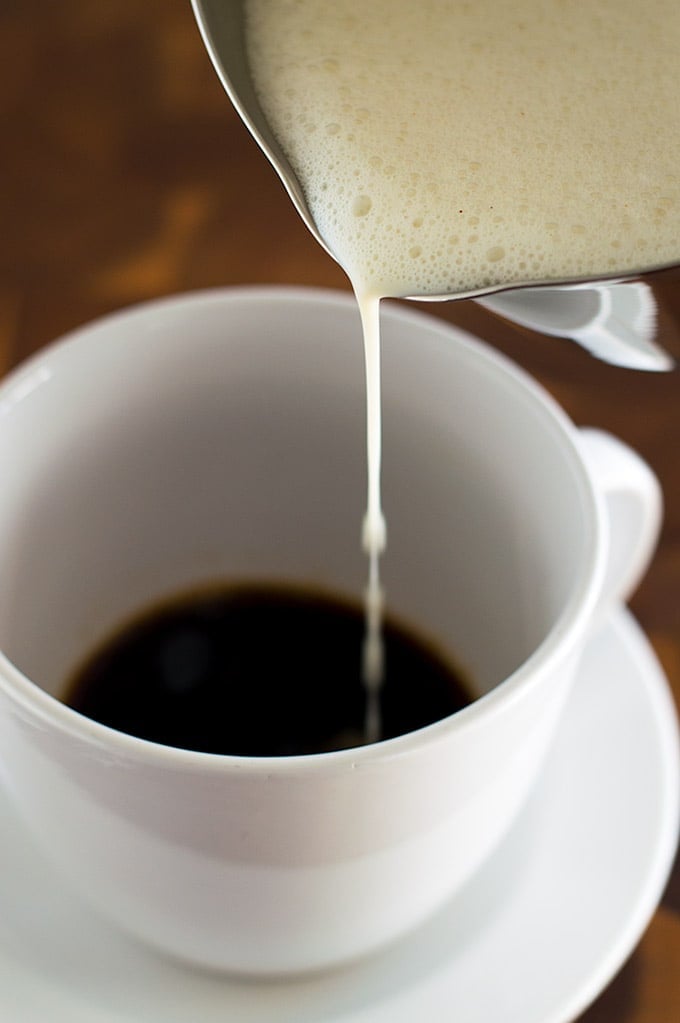 Four ingredients, three minutes, so good. You just mix eggnog and milk together, heat on the stove (or in the microwave if it's a really lazy morning 😉 ), whisk until foamy and pour over strong coffee or espresso (preferably in an awesome nerdy mug), and you have a cup of winter cheer sitting in your kitchen.
This latte is the best of all worlds. You have a strong, delicious eggnog flavor, but the milk and coffee keep it from being thick and overwhelming. Plus it's caffeinated so you'll have energy for all that Christmas prep I'm sure you already have a head start on…
In my perfect world, all December mornings would start with a perfect eggnog latte (and maybe a Giant Christmas Cookie and handful of Gingerbread Cookies…)!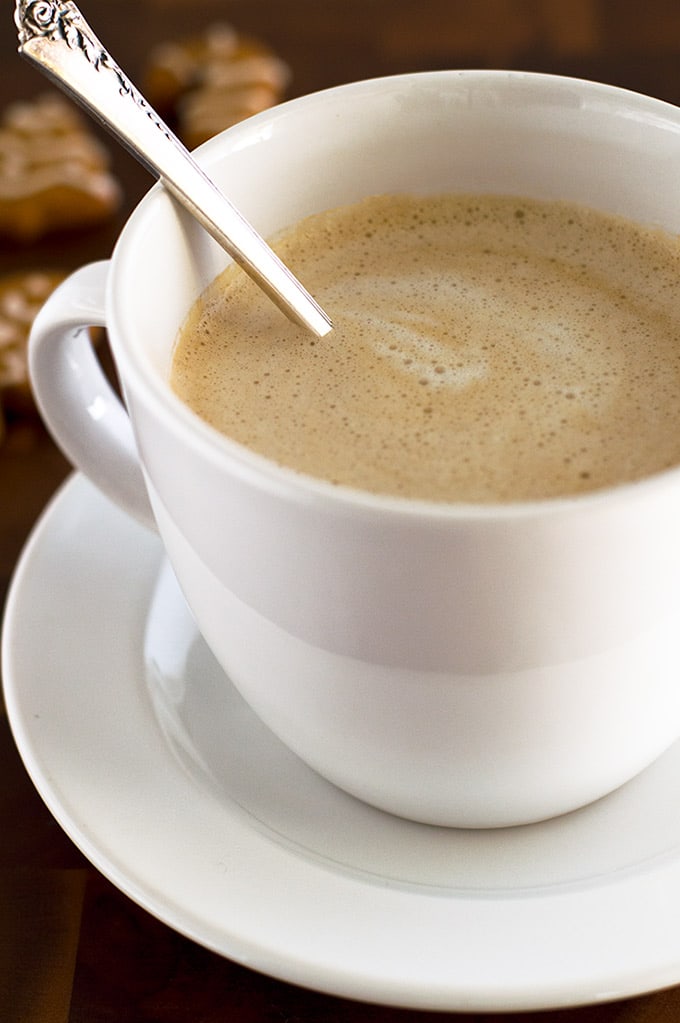 More Warming Christmas Drinks
Eggnog Latte Recipe Notes
You can use espresso or coffee brewed at double strength in this recipe (or just regular old coffee for a more mild latte–it's still delicious). Instant espresso powder* is a handy thing to keep stocked in your pantry for coffee and for baking in general (it will give your chocolate desserts a nice kick). You can order it online and also find it in a little jar in the coffee aisle at most grocery stores.
For really foamy milk, an immersion blender works well to really whip up your heated milk if a lot of foam is important to you. I used one for milk in these photos, but usually don't bother the rest of the time. 🙂
As written, this recipe makes 1 12-ounce latte. To change the recipe yield, hover over the number of servings (or click if you are on mobile) and slide the slider.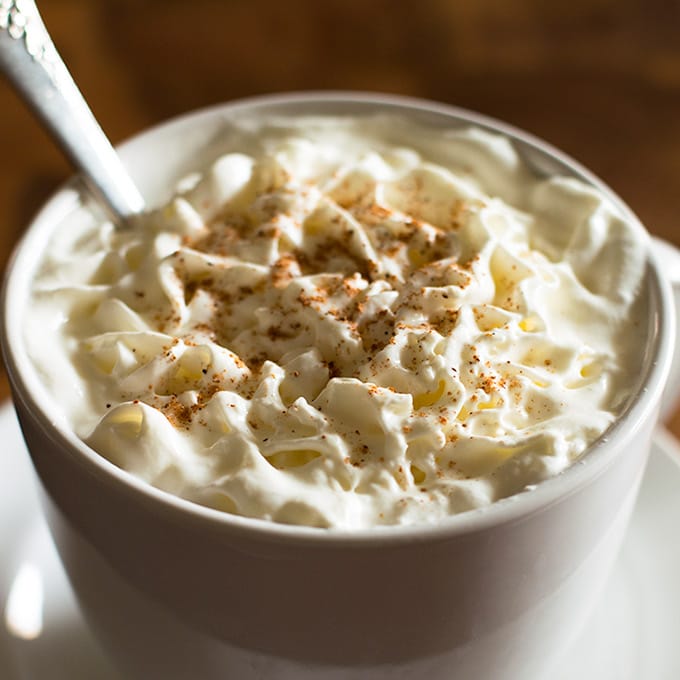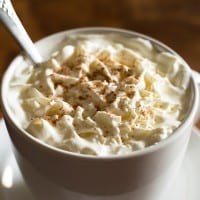 Leftover Eggnog Latte
A quick and easy eggnog latte recipe perfect for using up leftover eggnog. It will make every morning feel like Christmas morning!
Print
Servings (Hover or Click to Change Yield):
1
Ingredients
2/3

cup

eggnog

1/2

 cup

milk

(any percentage)

1/3

cup

strong coffee or espresso

1

teaspoon

sugar

(optional)
Optional Toppings
Ground nutmeg

for sprinkling
Instructions
On the stove (or in the microwave) heat eggnog and milk together, stirring frequently until it begins to steam (don't let it begin to boil). Remove from heat and use a whisk or immersion blender to whisk the milk until foamy.

Add hot coffee or espresso to your 12-ounce coffee cup. Pour eggnog mixture over the top. Taste, add sugar if you like a sweeter latte before adding optional toppings if desired.

Enjoy!
Notes
Approximate nutritional information does not include optional whipped cream and was calculated using 2% milk.
*Links marked with an asterisk are affiliate links, which means I receive a small commission if you make a purchase using them. There is absolutely no additional cost to you.