A completely homemade copycat Starbucks Caramel Macchiato recipe. Easy to make from scratch and absolutely delicious!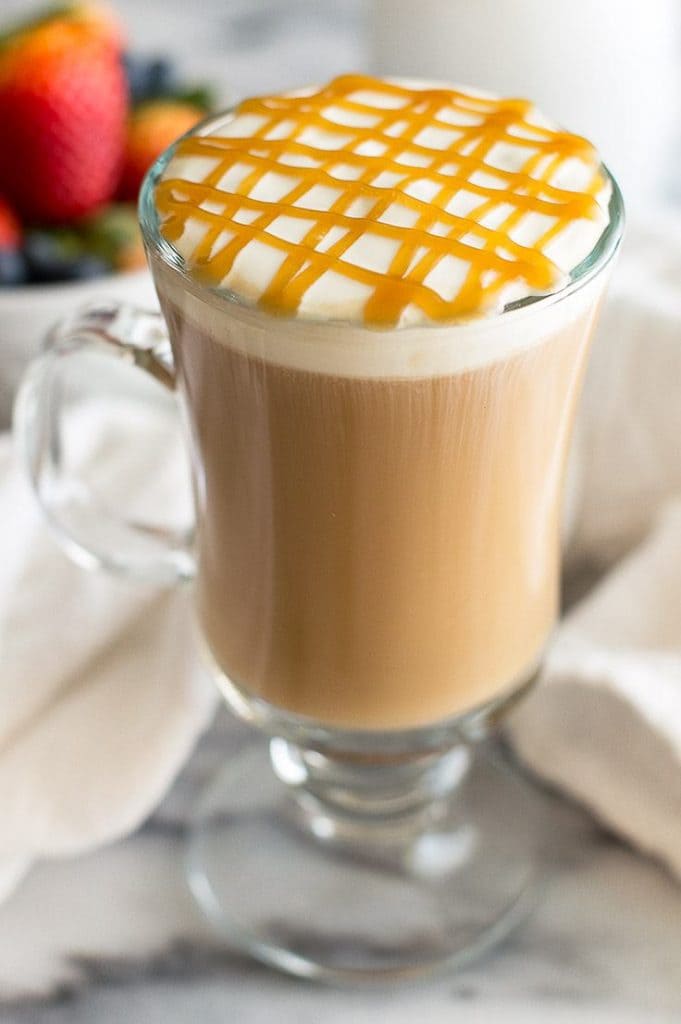 The photos in this post have been updated. Don't worry. You're in the right place. 😉
Some of the recipes I post go through careful planning and consideration before they come forth into the world. Some are complete accidents. This is one of the latter.
While the family was all together for the holidays, I made caramel sauce for one of our pies and had a ton left over. I hate wasting food, so I started putting it on everything, including my mom's morning coffee.
My mother, being a huge Starbucks fan took one sip and said, "Hey, this is better than Starbucks!" And thus, this post was born.
To be 100% honest, my Starbucks drink of choice is their white chocolate mocha, but I did try one of their caramel macchiatos just so I could compare the two, and I definitely prefer this one. I find the homemade flavors a little brighter, a little stronger.
Plus, YOU can control the level of sweetness which is always my biggest beef with Starbucks drinks.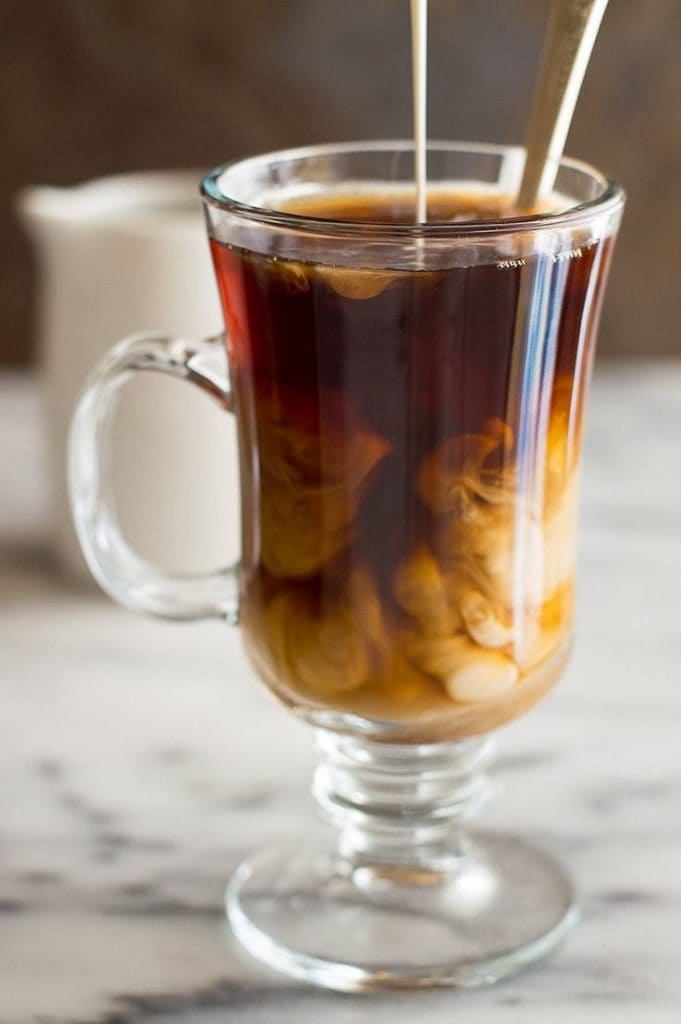 And I know this doesn't technically qualify as an authentic macchiato because it simply uses cream instead of foamed milk and strong black coffee rather than espresso, but Starbucks plurals their panini "paninis," so they're not exactly a paragon of Italian authenticity either. 😉
This recipe is both wonderful and terrible because you are not limited by whether or not you have caramel sauce at home to make it. You whip up the caramel yourself in five minutes flat. So if you keep heavy cream on hand (which I do), you can make these any time you feel like it (which I definitely shouldn't).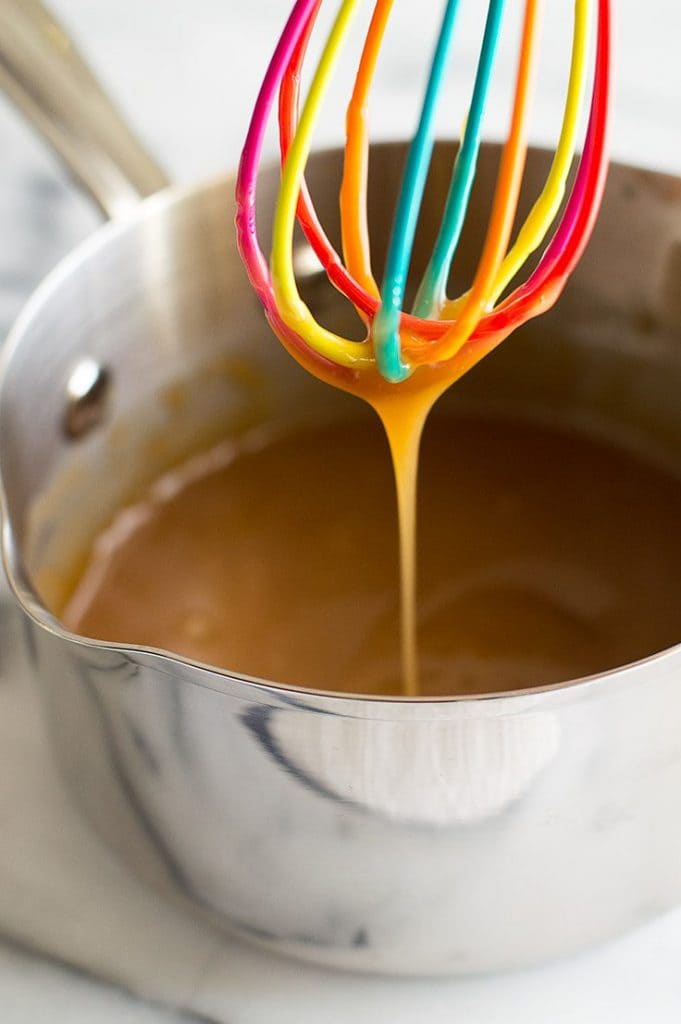 The finished product has a robust caramel flavor but isn't too artificially sweet the way so many caramel creamers are. It's delicious. It's amazing. It's better than Starbucks.
And if you are looking for more tasty coffee drinks, try my Pumpkin Spice Latte (Two Ways!), Eggnog Latte, Easy Homemade Mocha, and White Chocolate Peppermint Mocha.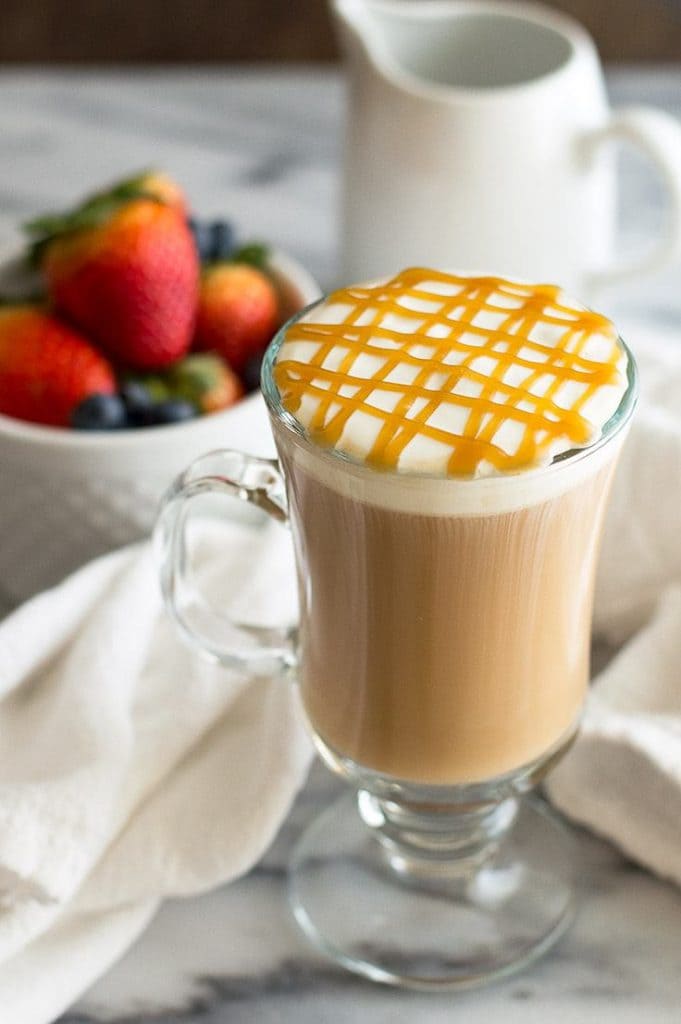 Like this post? Want to get recipes delivered to your inbox weekly? Subscribe to my newsletter and get a free mini e-cookbook, "A Week of Easy Meals for Two!"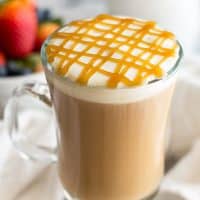 Better Than Starbucks Caramel Macchiato
A completely homemade copycat Starbucks Caramel Macchiato recipe. Easy to make from scratch and absolutely delicious!
Print
Servings (Hover or Click to Change Yield):
1
Ingredients
Caramel Sauce
2

tablespoons

(

1

oz) unsalted butter

1/4

cup

heavy cream

1/4

cup

(

50

g) packed brown sugar

1/4

teaspoon

salt

1/2

teaspoon

vanilla
Coffee
1

cup

of your favorite strong black coffee

very hot

1-3

teaspoons

sugar*

1

tablespoon

heavy cream

Whipped cream

optional
Instructions
Caramel Sauce
Melt butter in a small saucepan over medium heat.

Add heavy cream, brown sugar, and salt. Stir well.

Bring to a gentle simmer and allow to cook for 4 minutes, until thickened, stirring occasionally.

Remove from heat and mix in vanilla. Transfer to a mason jar with a lid for storage.
Mix
Stir coffee,

1

tablespoon of the caramel, sugar, and cream together. Taste and add more sugar if needed.

Top with whipped cream and another drizzle of caramel if desired.

Drink and enjoy that $4.50 you just saved yourself.
Notes
This makes enough caramel for about 4 drinks. You can store the extra in a mason jar in the fridge for up to 2 weeks. To use, microwave for a couple of seconds to soften it and serve over ice cream, in another coffee, or use for dipping apples!
Nutritional Information (1 tablespoon sugar, no whipped cream)
Caramel adapted from Smitten Kitchen
Small-batch Information: This sauce can be a little tricky to cook in a small batch because it very easily overcooks and becomes hard candy. But if you watch it like a hawk, you can halve it and cook for 3-4 minutes. I wouldn't try quartering.
This post may contain affiliate links, which means I receive a small commission if you make a purchase using them. There is absolutely no additional cost to you.
Original photography, circa 2016.