These Heart Cookies with Cinnamon Icing are a copycat recipe inspired by my favorite California bakery. Dense and delicious heart-shaped sugar cookies covered with sweet cinnamon icing for Valentine's Day and everyday.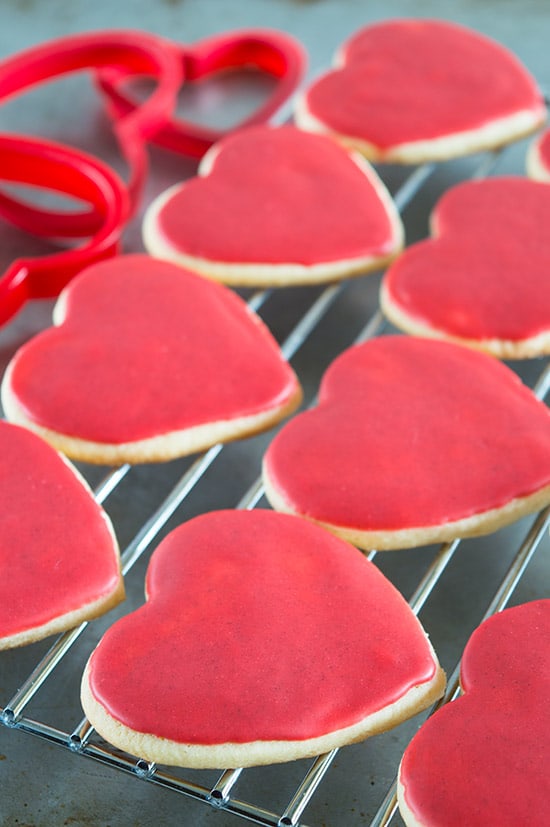 There's a very famous bakery in my home town of Bakersfield known for their amazing cookies and donuts. To be completely honest, they might just be the best thing about the city. Every kid growing up there knows the distinct pleasure of seeing their teacher or a room parent walk into the classroom with one of their white bakery boxes with red lettering on the top and knowing that they are in for a treat. When I went away to college, the two things I most often asked my parents to send me were money (because obvs) and their cookies.
The best time of year to visit the bakery is around Valentine's day because it is the only time they sell their signature heart cookies. These things are so good, dense sugar cookies covered in bright red icing with the most amazing bite of cinnamon to them. I'm not usually one to make copycat recipes (unless they fall into my lap like the Better Than Starbucks Caramel Macchiato) but since these are only available seasonally and I am not always in Bakersfield, I decided I was going to figure these babies out.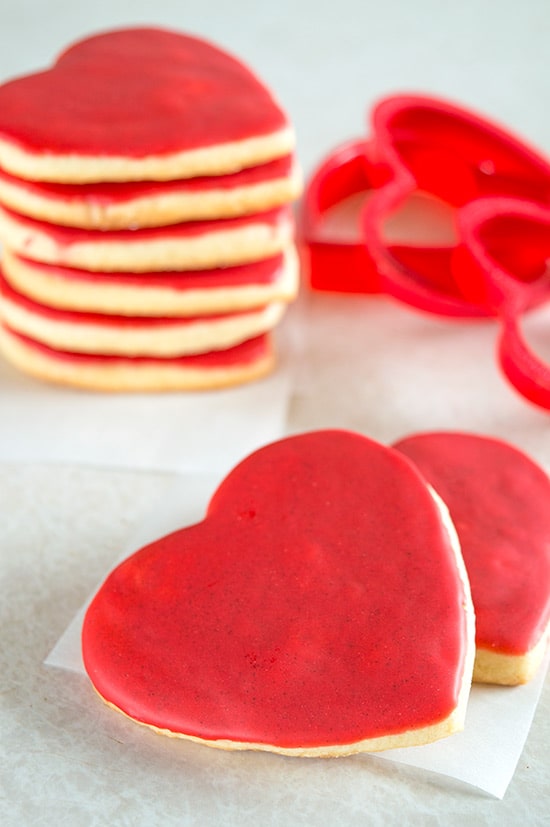 And I did…mostly. The cookies here are even more delicious than I though possible. The base is dense but slightly crumbly, not crunchy, but not overly soft (you should have seen the keywords I put into google trying to describe the type of dough I was looking for).
The icing is where the recipe differs a little. I'm almost 100% sure the original uses cinnamon extract because they have a spicier and more exaggerated cinnamon flavor than these, but I couldn't easily find cinnamon extract at the stores around town and I hate posting recipes that require people to order ingredients they will only use once, so my icing is made with ground cinnamon. And you know what? I might even like this stuff more.
I cannot recommend these cookies enough. Beyond being delicious, the dough is simple to make and the icing (after an overnight rest) dries hard, so they are perfect for gifting as valentines.
I'm not saying that these are going to replace the originals in my life, because nothing ever will, but they are perfect substitutions for when you are living far away and your terrible, horrible, no-good parents won't send you any because they just sent you a care package the week before, and they're saying things like, "God, Tracy, no one needs this many cinnamon sugar cookies. We don't care if you are sharing them. It's an obsession and we worry about you…"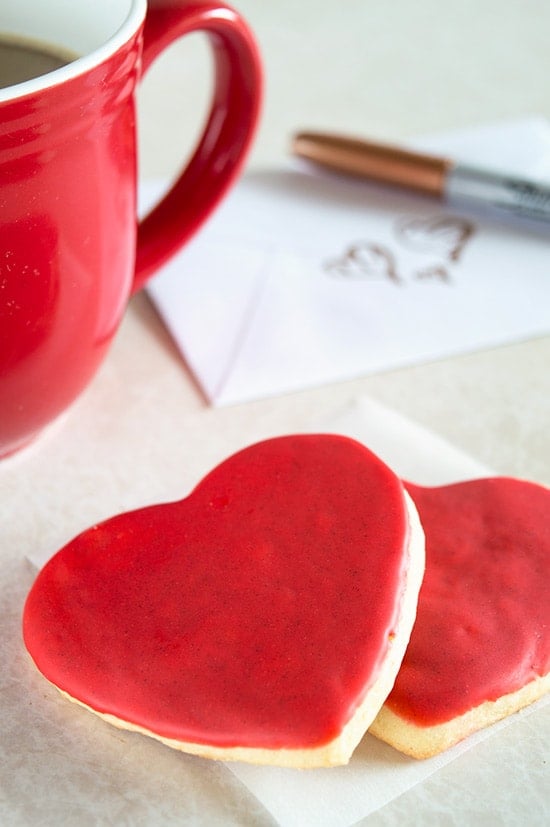 Looking for more of my favorite sweet treats? Try these Small-batch Chocolate Chip Cookies, Perfect Lemon Bars, and Small-batch Vanilla Cupcakes.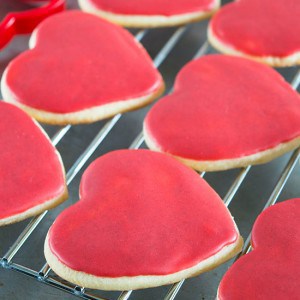 Copycat Heart Cookies with Cinnamon Icing
A copycat recipe for a California bakery favorite. Dense and delicious heart-shaped sugar cookies covered with sweet cinnamon icing.
Print
Servings (Hover or Click to Change Yield):
30
Ingredients
Cookies
1

cup

(

8

oz) unsalted butter

softened

1

cup

(

200

g) superfine sugar*

1/2

teaspoon

salt

1

large egg plus

1

yolk

2

teaspoons

vanilla extract

2 1/2

cups

(

350

g) all-purpose flour
Cinnamon Icing
2

cups

(

240

g) powdered sugar

1

teaspoon

cinnamon

2

tablespoons

milk

1/2

teaspoon

vanilla extract

2

teaspoons

light corn syrup

20-30

drops red food coloring
Instructions
Cookies
Using a stand mixer on medium speed, cream butter, sugar, and salt until light and fluffy, scraping down the sides and bottom of the bowl as necessary. This should take about 3 minutes and you will see the mixture noticeably lighten in color. Since this recipe contains no baking soda or powder, you want to make sure not to skimp on this step.

Add the whole egg, mix and then the yolk and vanilla, beating until fully incorporated.

Add flour, mixing on low until just combined. Don't over mix!

Divide dough into two parts and wrap tightly in plastic wrap. (I lay the wrap on the counter, scoop the dough on to it and wrap.) Refrigerate for AT LEAST an hour, up to 48 hours in order to firm up the dough. This step cannot be skipped or short cut. Your dough should feel firm and not sticky when it's ready to be rolled. If you try to work with it before it is chilled properly, your cookies will stick. If it is very warm outside, or your butter very soft when you started, chilling may take more than an hour.

Cover two baking sheets with parchment paper or a silicone baking mat.

Dust work station and rolling pin with with flour and roll dough out to 3/8-inch thick. Don't be afraid to use more flour as you go if things start to stick. Cut into hearts using a 3-inch cookie cutter and transfer to prepared baking sheets with a spatula.

Refrigerate for 15 minutes to re-firm up cookies. This will stop them from spreading in the oven. Preheat oven to 375 degrees F.

Bake until cookies are just golden on the bottom edges, 9-12 minutes (more if you used larger cookie cutters). Allow to cool completely before icing.
Icing
In a medium bowl, wide enough to easily fit your cookies, stir together powdered sugar, cinnamon, milk, and vanilla until smooth. It might seem like it's not going to mix, but it will. Just keep stirring. Do not add more liquid!

Add corn syrup and food coloring and mix well. Your icing should be thin enough that if you run a knife through it, the liquid fills back in the gap in 8-10 seconds. Depending on how much food coloring you use, you may need to add a bit more milk, 1/2 teaspoon at a time. Be careful with this step! If you use too much milk, your icing will not set.

Dip the cookies to ice and scrape the excess off with a knife or the side of the bowl. If you have any air bubbles, you can pop them with a tooth pick.

Icing will dry enough to eat in under an hour, but allow to dry for at least four hours before stacking or packing.
Notes
Superfine sugar, AKA caster sugar is NOT powdered sugar. It is sugar with finer granules than regular granulated sugar and can usually be found in your grocery store's baking aisle in a box or can be ordered from Amazon. If you don't have superfine sugar, you can easily make your own by running regular granulated sugar through your blender or food processor for about 30 seconds.
Small-batch Instructions: To cut this recipe in half, just use one whole egg. The cookies won't be quite as tender, but this way you don't have to cut an egg in half.
Make-ahead Instructions: Dough can be made and kept in the refrigerator for up to 48 hours before rolling and baking.
Freezer Instructions: These cookies freeze well in an air-tight container and will keep for up to 2 months.
Nutritional Information (30 cookies)
Cookies adapted from: Karen's Cookies
Cinnamon icing adapted from: AllRecipes