These Pumpkin Shortbread Cookies made with browned butter and pumpkin puree are lightly spiced, the perfect combo of crunchy and crumbly, and full of pumpkin flavor.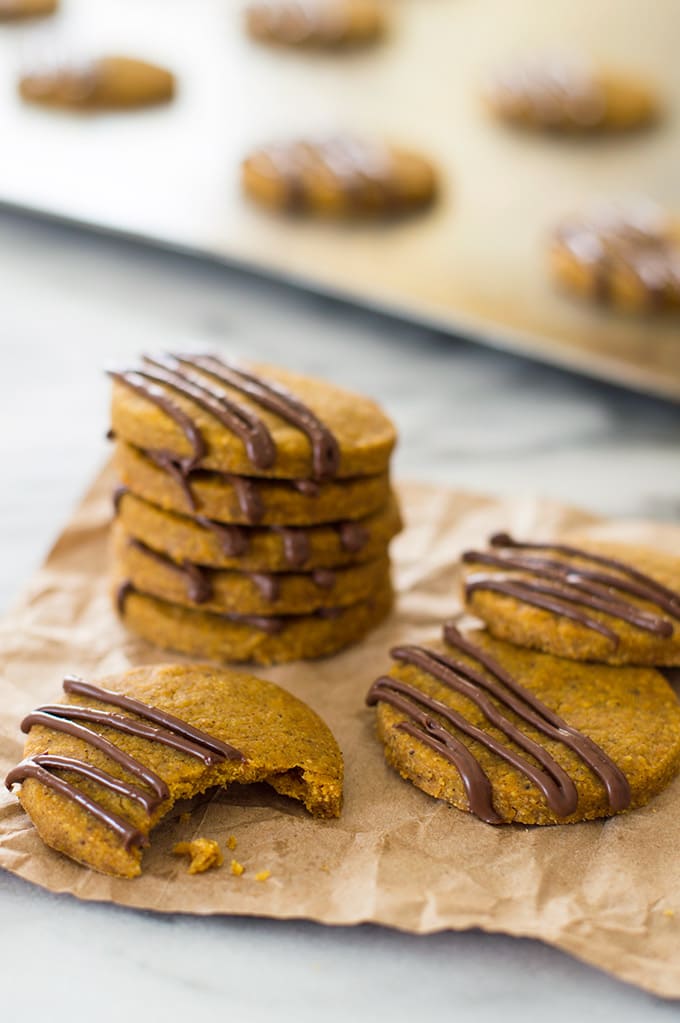 When I started planing recipes to share this fall, one of the first things I wanted to make was pumpkin shortbread cookies, because I love pumpkin; I love shortbread; of course I was going to combine two of my favorite things into one cookie come fall.
But when I went looking for pumpkin shortbread cookie recipes, I realized a pumpkin/shortbread hybrid was easier said than created.
Here's the thing about cooking with pumpkin: pumpkin holds a ton of moisture. That's why cooking with it gives you the softest, moistest breads, cakes, cookies in the world.
Here's the thing about shortbread: It's exactly the opposite. The only liquid in classic shortbread is the water content of the butter because your end goal is a cookie that falls somewhere between crunchy and crumbly NOT soft and fluffy.
So adding pumpkin to shortbread gives you a bit of a problem.
To get the correct shortbread texture and use pumpkin, you have to remove some of the moisture from the ingredients. I initially thought about cooking the pumpkin until it was reduced, but that meant a fairly long cooking time that I didn't want to build into the recipe. But, by a stroke of luck, while researching a different recipe, I discovered that you can actually just literally squeeze the moisture out of canned pumpkin.
Seriously. It's easy. And only takes a few paper towels and about 30 seconds. Win!
The second thing I knew I was going to have to do was cook some of the water out of the butter. This means browning it over medium heat for 4 to 5 minutes while some of the water evaporates, and you are left with butter that is dark, aromatic, and beautiful. Plus, the browned butter gives these cookies a rich, nutty base flavor. Double win!
If you've never browned butter before, I've embedded a how-to video from America's Test Kitchen below the recipe. The process isn't hard, but sometimes it's nice to have a visual reference.
Once you have your pumpkin and butter prepared, these cookies come together in a flash and are so worth the little extra trouble at the start.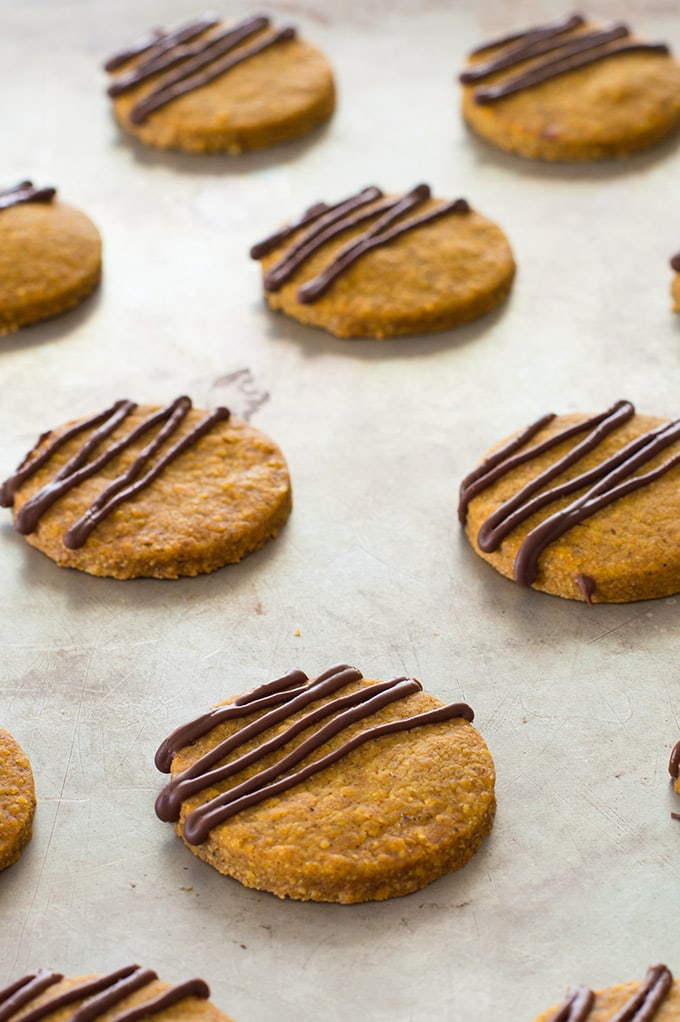 I'm a huge fan of these pumpkin shortbread cookies. They are full of pumpkin flavor and have just the right balance between crunchy and crumbly, sweet but not too sweet, and spiced but not overwhelmingly so. I drizzled the cookies with a bit of melted chocolate for added visual interest in the photos (and I put instructions for it in the recipe) but they don't really need it.
These cookies are just as tasty naked. 😉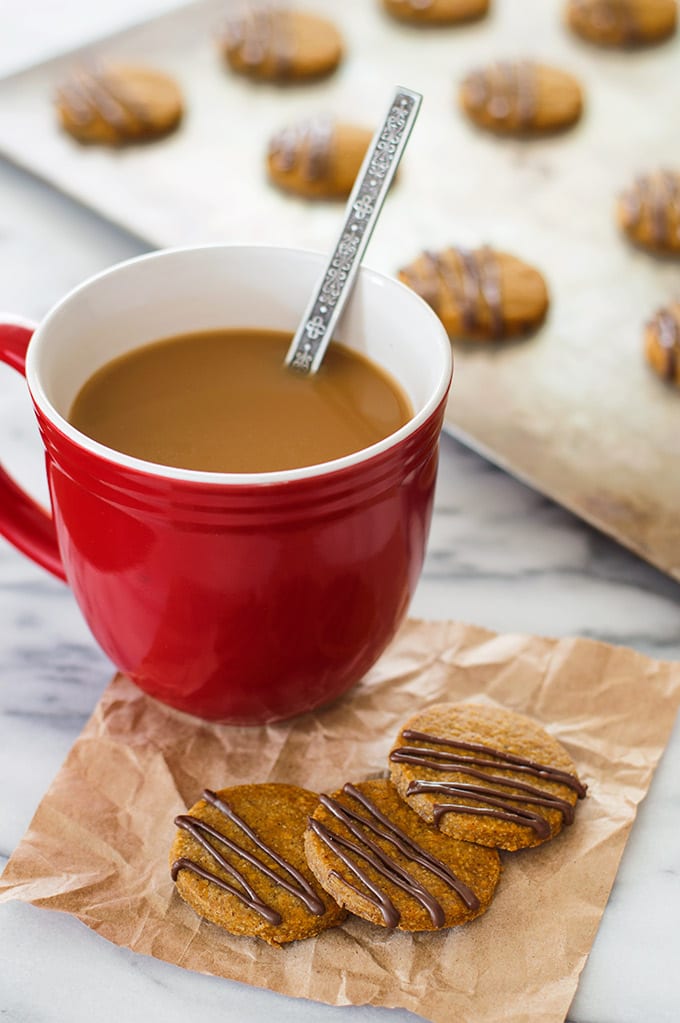 This recipes uses 1/4 cup of pumpkin puree, which about 1/7 of a standard 15-ounce can. You can check out my post What to Do With Leftover Pumpkin Puree for some ideas on what to do with the other 6/7s.
For more pumpkin recipes, try Pumpkin Donuts With Maple Glaze, Small-batch Pumpkin Cupcakes, and this Small Pumpkin Cake.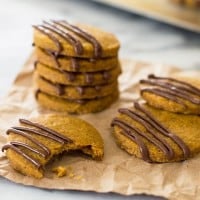 Pumpkin Shortbread Cookies
These Pumpkin Shortbread Cookies made with browned butter and pumpkin puree are lightly spiced, the perfect combo of crunchy and crumbly, and full of pumpkin flavor.
Print
Pin
Servings (Hover or Click to Change Yield):
40
small cookies
Ingredients
Pumpkin Shortbread Cookies
1/4

cup

(

61

g) pumpkin puree

1/2

cup

(

4

oz) salted butter

cubed

1

cup

(

120

g) all-purpose flour

1/4

cup

and

2

tablespoons (

45

g) powdered sugar

1

teaspoon

cinnamon

1/8

teaspoon

ground cloves

1/8

teaspoon

nutmeg

1/8

teaspoon

ginger
Chocolate Drizzle
1/3

cup

semi-sweet chocolate

chopped (high-quality chips are fine)

1

teaspoon

vegetable oil
Instructions
Pumpkin Shortbread Cookies
Preheat your oven to 350°F and line baking sheet with parchment paper or a baking mat.

Scoop pumpkin puree onto a very clean dish towel or a couple layers of paper towels, fold towel over the puree, and press down firmly, squeezing moisture out of. Flip the puree onto a dry spot and repeat once or twice more until most of the moisture has been removed and you can pick the puree up in a ball.

Melt butter in a medium, heavy-bottomed, light-colored saucepan over medium heat. Bring to a simmer and cook, swirling the pan frequently, until butter becomes a medium nutty brown color. Do not leave the butter unattended as the milk solids will burn easily. Remove from heat.

Add prepared pumpkin puree to the butter and whisk vigorously until well-combined (it will bubble and pop, so be careful).

In a large bowl, whisk together all of the dry ingredients. Pour pumpkin and butter mixture over the top and use a rubber spatula to stir the ingredients until well-combined.

Place the dough between 2 sheets of parchment paper and roll out to about 1/4-inch thick. Place in the refrigerator while you clean up, about 5 minutes.

Remove dough from the refrigerator and cut out

30

to

40

1 1/2-inch rounds. Use a metal spatula to transfer rounds to prepared baking sheet. Gathering scraps and re-rolling (between your sheets of parchment paper) as necessary.

Bake for 10 to 12 minutes, until the tops of the cookies lose their shiny, under-cooked look.

Cool completely on the tray, at least 20 min.
Chocolate Drizzle
In a small, microwave-safe bowl, combine chopped chocolate and oil. Microwave on medium for 30 seconds. Stir. Continue to microwave in 15-second increments if necessary, until your chocolate is smooth. Use a spoon to drizzle chocolate or transfer chocolate to a small plastic bag and snip a very small piece of the corner so you can "pipe" lines.

Chocolate will set in about 1 hour, or transfer cookies to the refrigerator and it will set almost immediately.
This post may contain affiliate links, which means I receive a small commission if you make a purchase using them. There is absolutely no additional cost to you.
How to Brown Butter