This Dutch Apple Galette for Two is an easy and beautiful rustic dessert for those days when you feel like pie without all the hassle.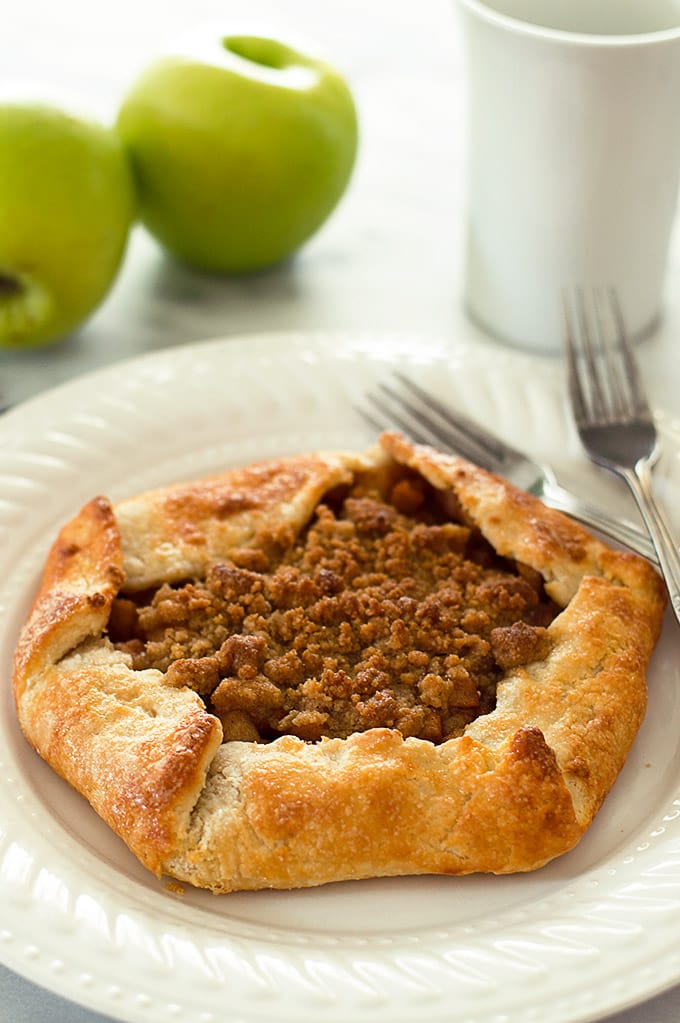 Sometimes you feel like pie, but you don't feel like actually making pie.
Sometimes you feel like eating a slice of pie, but you don't feel like eating pie leftovers for a week.
Sometimes a galette for two might be just the thing you are looking for.
Guys, I love galettes. They have all the trappings of pie without the all the fussy bits. No one's spending 45 minutes creating a perfectly braided lattice top for a galette. You roll some pie dough out to something vaguely resembling a circle, fill it with fruit, fold it, and bake. It's perfectly perfect in its imperfection.
See Also: Easy Dutch Apple Pie
You can turn most fruit pies into a galette, but given that this is September and apple season is just getting started, I thought we'd kick off this galette train with a Dutch Apple Galette for Two.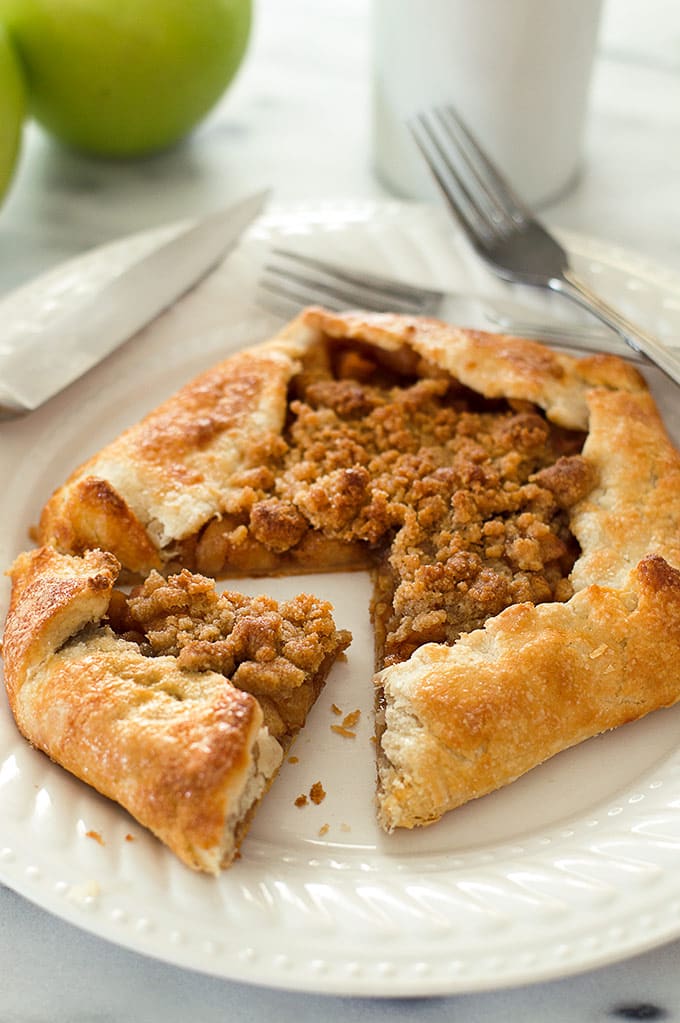 This dessert is good-looking enough to serve for a special occasion, but simple enough to make on a random Saturday afternoon when you feel like bumming around the kitchen for a while. (This recipe was born in my kitchen on just such a Saturday. ;))
And if making a pie from scratch is something you've never gotten around to, a galette is a great place to start building your pie-making muscles.
It takes half the effort and less than half the skill since there's no fussy top to work with. Plus, since we are using my favorite–and after being pinned 16,000+ times on Pinterest, I'm going to say, Famous–buttermilk pie crust, you know this dough is going to be easy to make and easy to work with. I LOVE IT.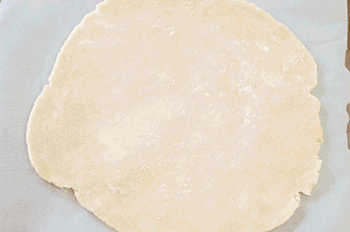 Okay, I've been singing the praises of galettes in general, but why should you make a Dutch Apple Galette specifically? Because it's knock-you-down fantastic. The crust is flakey and dusted with sugar. The apples are cooked to sweet cinnamon perfection. And hey, do you like streusel topping?
Because I'll give you streusel topping. This thing is piled high (some might say too high (NOT ME!)) with streusel, which offers a fantastic sweet and slightly crunchy contrast with the apples and buttery pie crust.
Serve it hot, straight out of the oven. Serve it drizzled in caramel sauce. Serve it with a comically large scoop of ice cream and take hasty pictures of it before devouring it at 9 in the morning.
The only bad option is not serving it at all.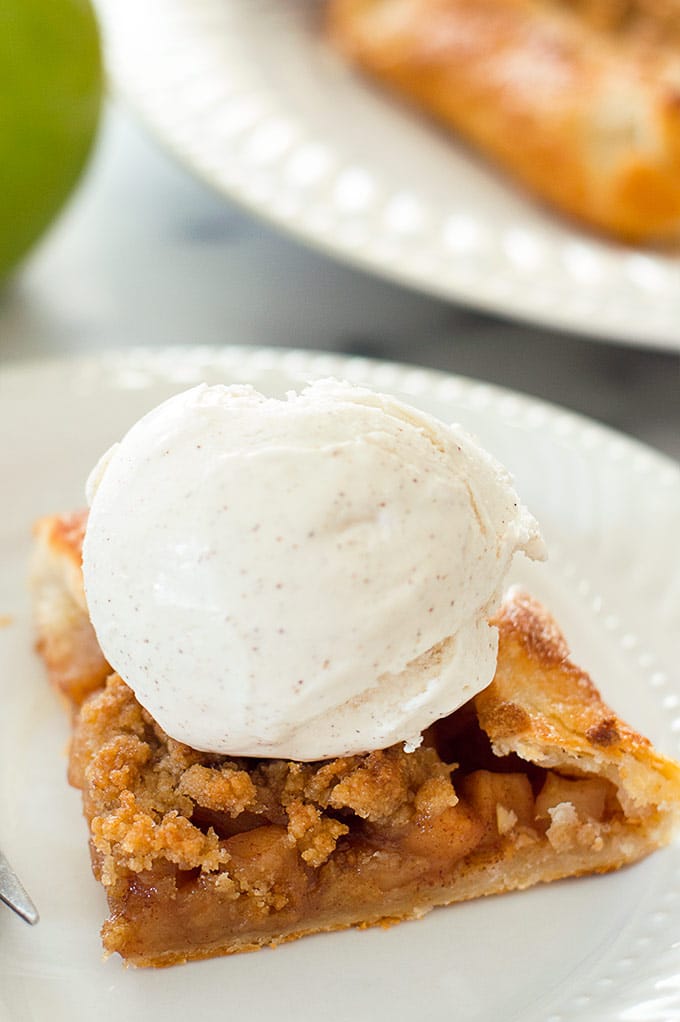 More Perfect Fall Desserts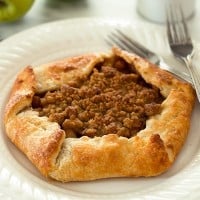 Dutch Apple Galette for Two
This Dutch Apple Galette for Two is an easy and beautiful rustic dessert for those days when you feel like pie without all the hassle.
Print
Pin
Servings (Hover or Click to Change Yield):
2
Ingredients
Apple Filling
1 1/2

cups

diced granny smith apples

about 2 small apples

1

tablespoon

(

14

g) unsalted butter

1

tablespoon

(

12

g) granulated sugar

1

tablespoon

(

12

g) brown sugar

1/4

teaspoon

cinnamon

1/8

teaspoon

nutmeg

1/8

teaspoon

salt

1/4

teaspoon

vanilla
Streusel
1

tablespoon

(

14

g) unsalted butter

softened

2

tablespoons

(

15g

) all-purpose flour

1

tablespoon

and

1 1/2

teaspoon (

19

g) brown sugar
Egg Wash
1

egg

1

tablespoon

milk

1

teaspoon

(

4

g) granulated sugar
Instructions
Preheat oven to 400°F. Line a baking sheet with parchment paper.
Apple Filling
Combine apples, butter, granulated sugar, brown sugar, cinnamon, nutmeg, and salt in a small sauce pan. Bring to a simmer over medium heat and cook, stirring occasionally for 4 to 6 minutes, until apples are slightly softened. Remove from heat and stir in vanilla.
Roll Dough and Assemble
Take your dough out of the fridge and allow it to sit out for about 5 to 10 minutes, depending on how warm your kitchen is. You want it pliable enough to roll without cracking, but not so warm that the chunks of butter in the dough become melty.

On a well-floured surface, roll the dough ball out to a circle 1/8-inch thick (This is the best thickness for folding. Don't be afraid to check it with a ruler!). When rolling, start from the middle of your dough and work your way out first in one direction, then the other. After every other roll, pick up your dough and rotate it 1/4 turn. If anything begins to stick, add more flour under or over your dough.

Once your dough reaches the proper thickness, dust off the excess flour and transfer it to the center of your prepared baking sheet. Pour the apple mixture into the center of the dough, stopping at least 1 1/2-inch from the edge.

Fold the edges over the apples in 5 or 6 folds (or as many as you need!). Edges will be ragged and if they rip, you can "glue" pieces back together with a tiny bit of water rubbed on with your finger tip.
Streusel
In a small bowl, stir together flour and sugar. Add softened butter and use your fingers to mix until everything is well-incorporated, thick, and crumbly. Drop in crumbles over the apples.
Egg Wash
In a small bowl, whisk together egg and milk. Brush over the edges of your galette. Sprinkle crust with sugar.

Bake for 20 to 25 minutes until fruit is bubbly and crust browned. Cool for at least 10 minutes before slicing and serving.
Notes
This makes 2 very generous or 3 to 4 smaller servings.
This post may contain affiliate links, which means I receive a small commission if you make a purchase using them. There is absolutely no additional cost to you.