Basil Chicken Pasta is one of my favorite quick and easy meals. Just simmer basil, chicken, and tomatoes together, serve over the pasta of your choice, sprinkle with Parmesan, and enjoy!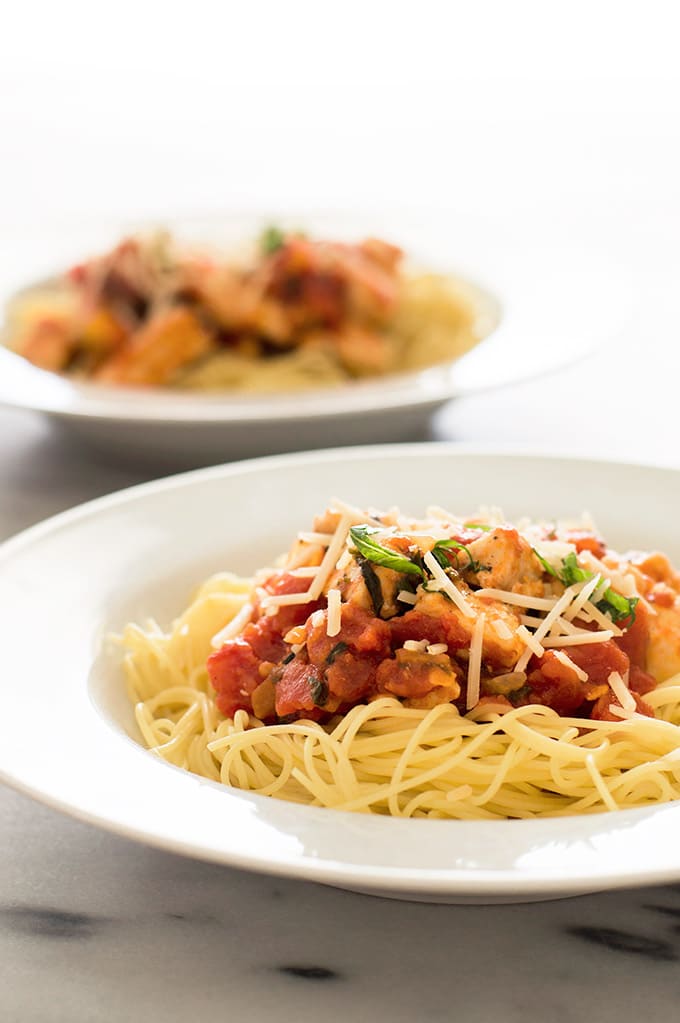 This month on the blog, we are making super simple dinners that are healthy, easy, and quick. Last week we made Teriyaki Chicken with Homemade Teriyaki sauce, a dinner that comes together in all of 15 minutes.
Today I'm sharing a recipe that takes a few minutes longer, but is just as simple, Basil Chicken Pasta.
Do you have days where you just do. not. want. to. cook. anything? I have those days all the time, and rather than dig out a take out menu, this is the dish I turn to. Basil Chicken Pasta is low-maintenance food at its best.
To make this dish, you just cube a chicken breast, roughly (sometimes angrily–I don't know what your day was like) chop some onion and garlic, open a can of tomatoes, add some basil, and simmer away.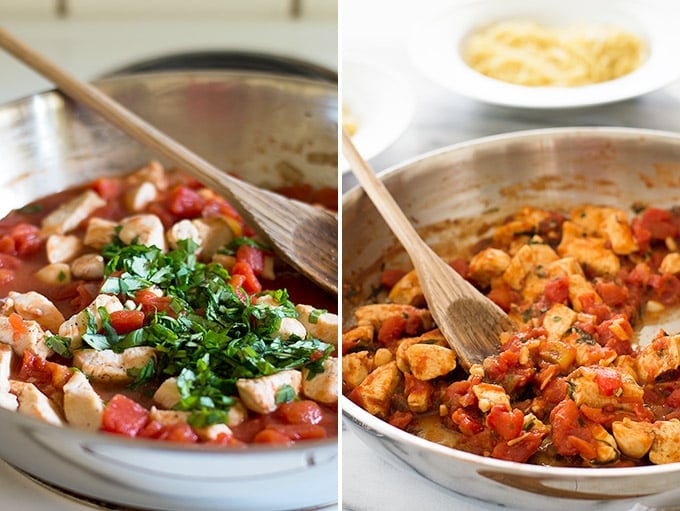 You can make your basil chicken pasta with fresh basil or dried, whatever you have on hand. I am a horrible murderer of windowsill herbs, so usually I use dried, but my most recent victim kitchen basil plant is somehow still kicking, so I used fresh basil in the photos.
In about 20 minutes, you wind up with a dish that is light and simple but completely satisfying. I love the flavor the basil gives to the chicken and tomatoes, and since you are serving this over pasta–I usually choose angel hair, but use whatever you want– it's basically law that you sprinkle it with plenty of Parmesan just before serving.
Plate it up with a side of Butter and Garlic Green Beans or the side of your choice, and your dinner's going to be a good one!
More Easy Chicken Dinners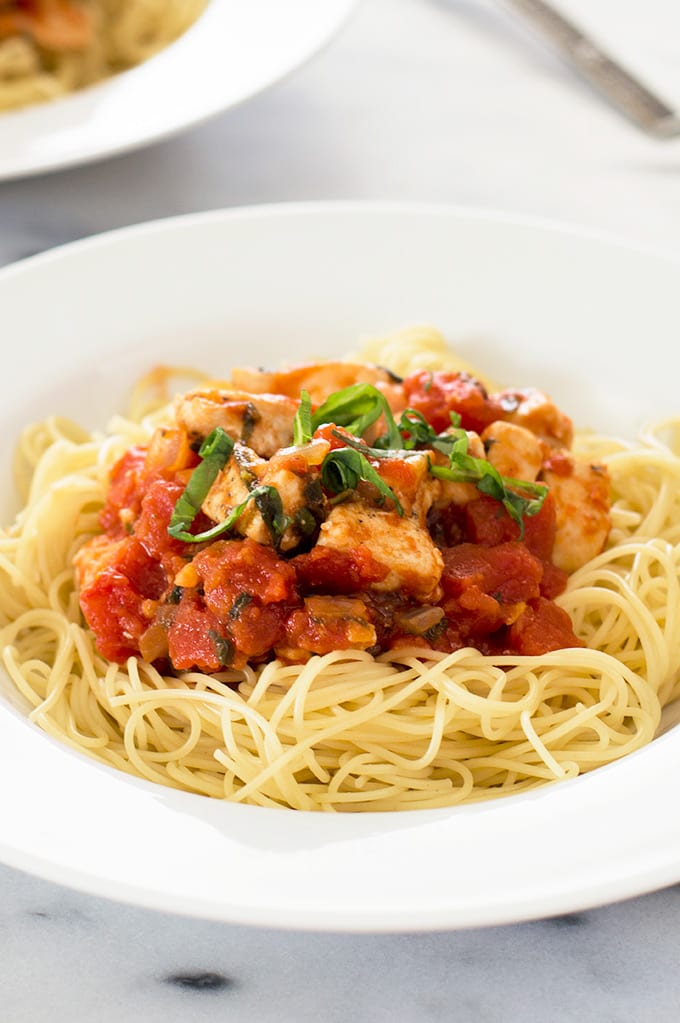 This recipe serves two, but doubles (or triples–go nuts!) with no major changes to cooking time or method. See recipe notes for details.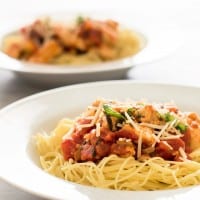 Basil Chicken Pasta
Basil Chicken Pasta is one of my favorite quick and easy meals. Just simmer basil, chicken, and tomatoes together, serve over the pasta of your choice, sprinkle with Parmesan, and enjoy!
Print
Pin
Servings (Hover or Click to Change Yield):
2
Ingredients
Basil Chicken Pasta
4

ounces

angel hair pasta

or pasta of choice*

1

small (about

8

oz) boneless chicken breast

cubed 1 inch

1/4

cup

diced onion

about

1/4

medium onion

2

cloves

garlic

pressed or diced

1

14-ounce can diced tomatoes

1 1/2

teaspoons

dried basil

or 1/4 cup chopped fresh basil

1/4

teaspoon

salt

plus more to taste

1/4

teaspoon

hot sauce
For Topping
1/2

cup

Parmesan cheese

Fresh basil

optional, thinly sliced
Instructions
Put a pot of lightly salted water on to boil for your pasta.

Spray a medium skillet, with cooking spray, or drizzle with a bit of olive oil. Brown cubed chicken over medium heat, 3 to 5 minutes. Lightly salt and pepper the chicken while it is cooking.

Add onions and garlic, and cook until chicken is cooked through and onions begin to turn translucent at the edges, another 3 to 5 minutes.

Stir in canned tomatoes (and their juices), basil, and salt. Bring to a simmer and cook, stirring occasionally, until thick and saucy, about 6 minutes.

Start your pasta, and cook according to package instructions until al dente.* Drain and divide into two bowls.

Stir hot sauce into the tomatoes and check the salt level. Add more if needed. Divide the sauce between your two bowls. Top with Parmesan and optional fresh basil.

Enjoy!
Notes
*If using pasta other than angel hair, you will need to start your pasta earlier in the cooking process if you want everything to finish at the same time. (Or the sauce can sit covered while your pasta finishes cooking. It won't hurt anything.)
Doubling Instructions: If doubling, you may need to add up to 1 to 3 minutes to all cooking times (except pasta) since your pan will be more crowded and food will cook more slowly.
This post may contain affiliate links, which means I receive a small commission if you make a purchase using them. There is absolutely no additional cost to you.