You can throw these Easy Chicken Fajitas together in about half an hour, no marinating or planning ahead needed.
A couple of months ago, I shared my favorite Steak Fajitas with you, and as much as I love (LOVE) that recipe, it requires a pretty long marinating time, so it's not exactly something you can whip up after work on a busy weeknight without planning ahead.
Today's recipe, on the other hand, is perfect for no-plan weeknights. This is a fajita recipe that you can throw together in about half an hour, no marinating, no planning ahead. If you have some chicken thighs, bell peppers, and an onion, you can make these easy chicken fajitas right now.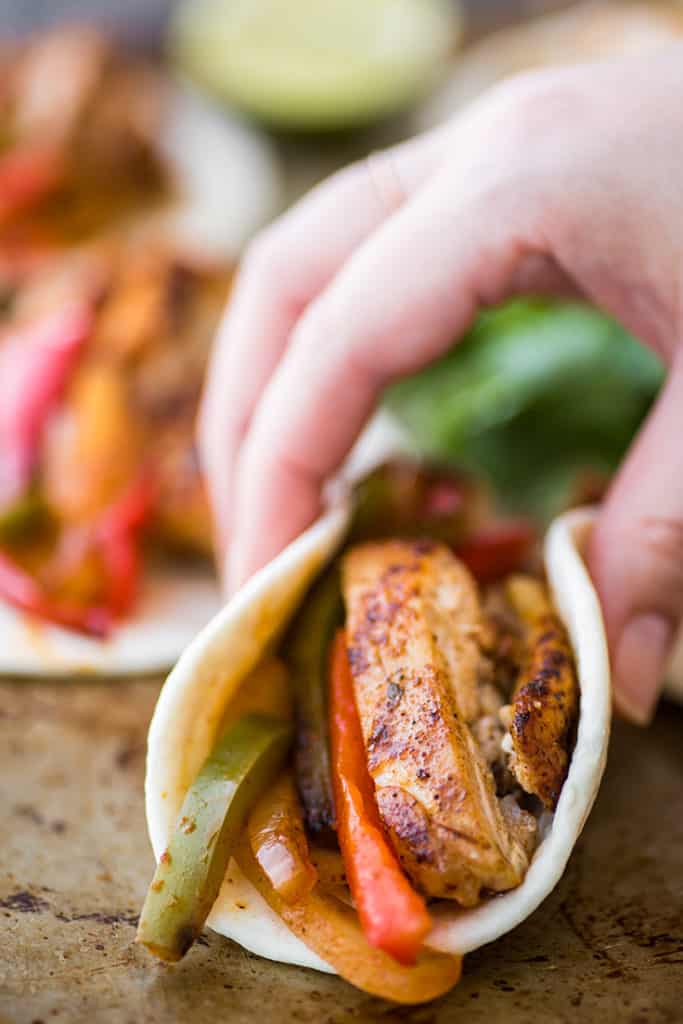 Ingredient Notes
Boneless, skinless chicken thighs: I love using chicken thighs for fajitas because they cook up golden and beautiful on the stovetop with little fuss or trouble, and unlike chicken breasts, you have to work pretty hard to overcook them. But if you prefer cooking with chicken breasts, they'll work just fine here as well.
Taco or fajita seasoning: Instead of a marinade, this recipe uses taco seasoning or fajita seasoning on the meat so you still get tons of great flavor without the wait time. If you don't have any taco seasoning in your spice drawer, not a problem. A little chili powder, cumin, salt, and pepper will get the job done.
How to Make Easy Chicken Fajitas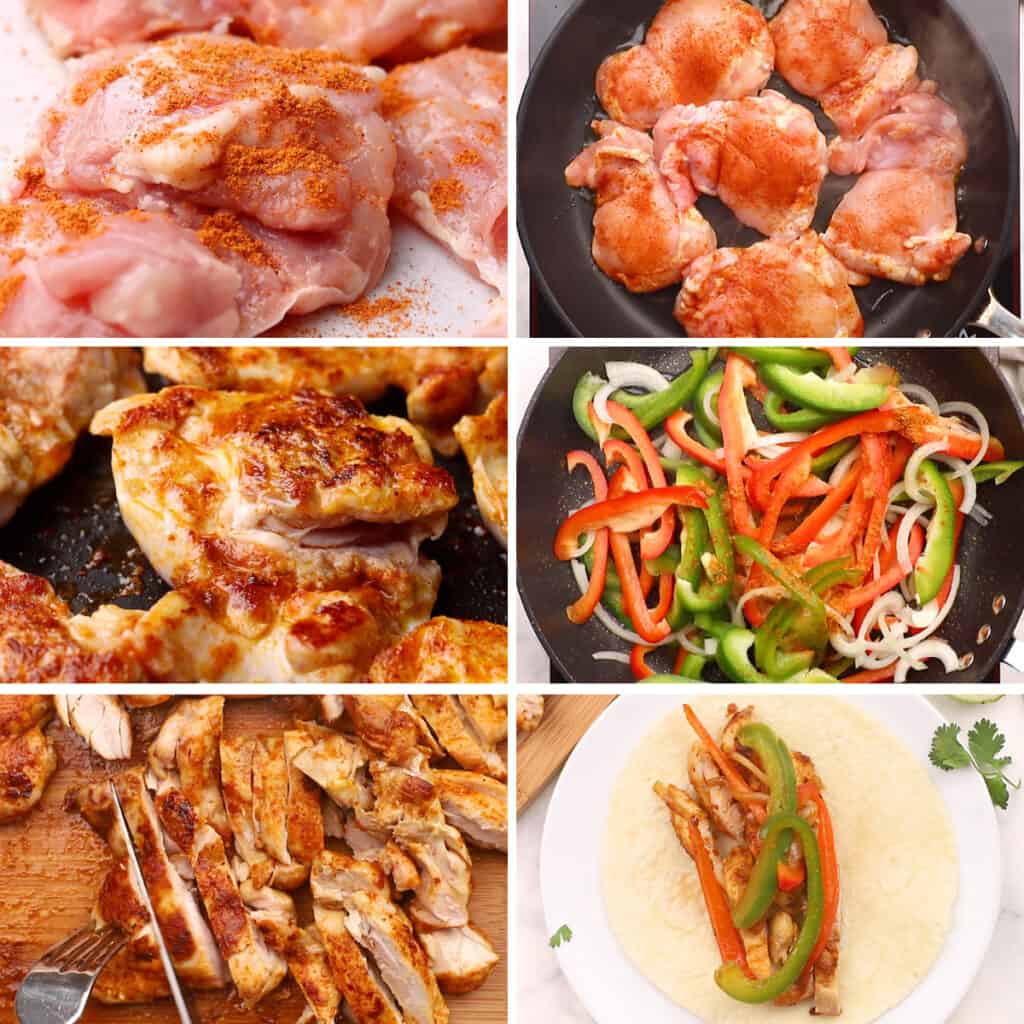 1. Generously sprinkle the thighs with taco or fajita seasoning or a bit of chili powder, cumin, salt, and pepper. You really don't need to waste time measuring, just make sure all of the meat is lightly coated and you're good to go.
2. Cook the thighs on the stove over medium-high heat until an instant-read thermometer inserted into the center of the meat reads 165°F, about 3-5 minutes per side depending on their size.
Thighs cooked on the stove will pop and sizzle more than chicken breasts, so if they're making too much of a mess, you can turn down the heat a bit or cover your pan with a splatter screen.
3. While your thighs cook, in another pan, you'll throw together the fajita veggies, a couple bell peppers and an onion. These get sprinkled with a little taco seasoning of their own or that mix of chili powder, cumin, salt, and pepper and cooked until the vegetables are tender-crisp.
4. Once everything's done, slice the chicken thighs, and serve with the fajita veggies on warmed tortillas with a squeeze of lime and your favorite fajita toppings.

FAQ
What should I serve with chicken fajitas?
Cilantro rice and beans are always a good option. If you want to really make a night of it, I love tortilla chips and nacho cheese, but if you're looking for something a little lighter, go with a batch of easy oven-roasted broccoli or roasted zucchini.
Then maybe add a small batch of Chocolate Chip Cookies for dessert.
Can I make chicken fajitas with chicken breasts?
Sure. If you would like to use chicken breasts rather than thighs, go for it, but the cooking method will vary a tiny bit. Season the chicken as described in this recipe, and then go follow my Cooking Chicken Breast for Salads and Sandwiches tutorial.
Can I make this dish in advance?
Absolutely. You can cook your chicken and veggies up to 24 hours ahead of time. Store them tightly covered in the refrigerator, and when you're ready to serve the fajitas, reheat the meat and veggies, warm the tortillas, and serve.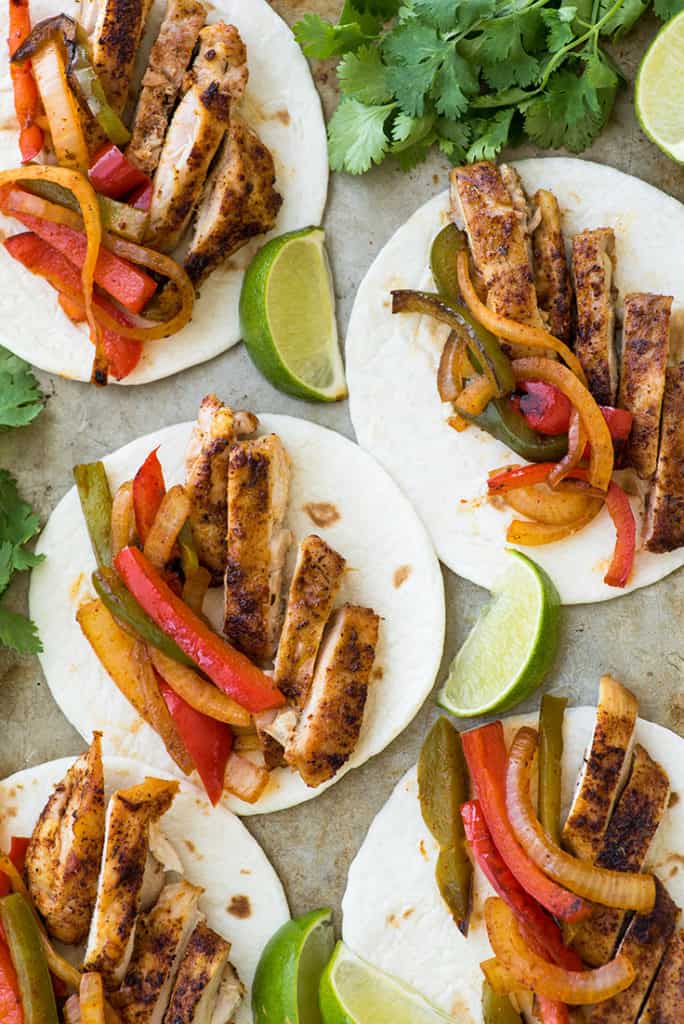 Recipes Notes
You Might Also Love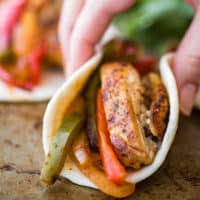 Quick and Easy Chicken Fajitas
You can throw these Easy Chicken Fajitas together in about half an hour, no marinating or planning ahead needed.
Print
Pin
Servings (Hover or Click to Change Yield):
4
servings
Ingredients
Chicken and Veggies
4 to 8

boneless skinless chicken thighs

*

Taco or fajita seasoning

2

tablespoons

vegetable oil

divided

2

bell peppers (any color)

sliced

1/2

large onion

sliced
Fajita Toppings
8

fajita-size tortillas

2

limes

quartered

Sour cream

optional for topping

Guacamole

optional for topping
Instructions
Sprinkle chicken thighs with taco/fajita seasoning until coated on all sides.

On the stove, heat 1 tablespoon of oil in a large skillet over medium-high heat. Once hot, add chicken thighs and cook for 3 to 5 minutes per side, until the internal temperature reaches 165°F. If at any time the outside of the chicken begins to cook too quickly and burn, turn the heat down.

While your meat cooks, in another large skillet, heat remaining 1 tablespoon of oil over medium-high heat. Once oil is hot, add bell pepper and onion slices. Sprinkle 1/2 teaspoon of taco seasoning or 1/4 teaspoon each of cumin and chili powder over the top. Cook, stirring occasionally, for 4 to 8 minutes, until edges are lightly browned and vegetables are tender-crisp. Salt and pepper to taste.

For softer vegetables, turn heat down to medium once the vegetables begin to brown so they don't burn, and continue to cook until vegetables reach your desired level of doneness. For very soft vegetables, add 1/4 cup of water to the pan at this point, and cook until veggies are soft and water has evaporated, adding more water as necessary.

Slice cooked chicken thighs and serve over warmed tortillas with the vegetables, a squeeze of lime juice, and your favorite fajita toppings.
Notes
*Use 4 large or 8 small thighs. 
*If you don't have taco or fajita seasoning on hand, sprinkle your chicken thighs with chili powder, cumin, salt, and black pepper.
This post may contain affiliate links, which means I receive a small commission if you make a purchase using them. There is absolutely no additional cost to you.