A quicker way to make creamy and delicious homemade Dulce de Leche.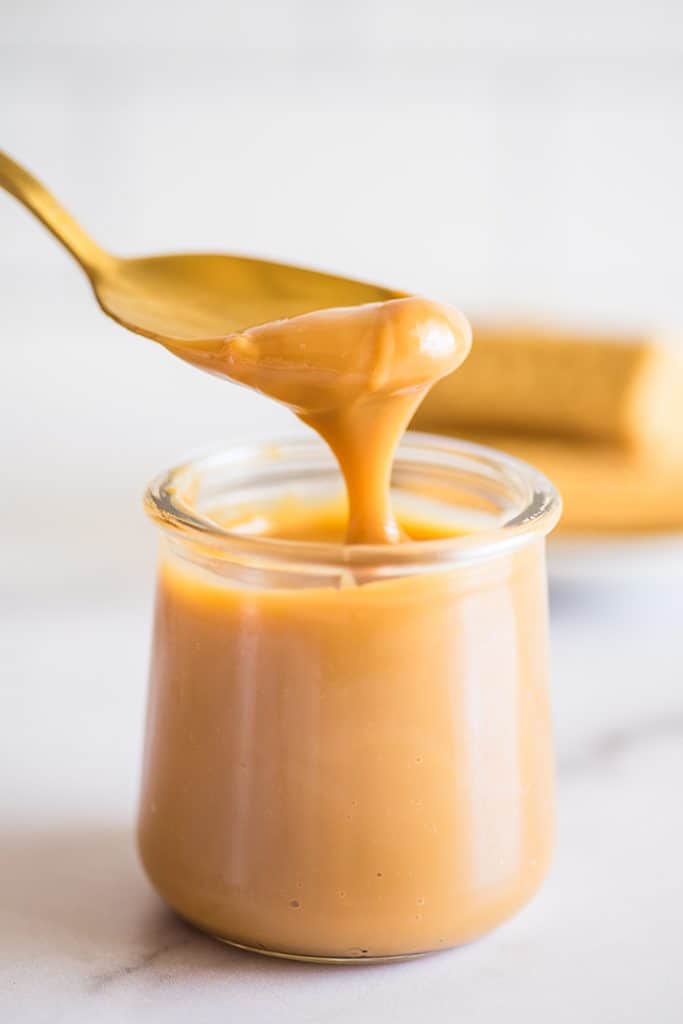 Hey, friends, I have a useful little recipe for you today, a quicker Dulce de Leche.
If you've ever made dulce de leche at home, you know that while it's super easy (just heat a can of sweetened condensed milk), unless you have a pressure cooker, it takes a full 3 to 8 hours depending on the cooking method for that can of milk to caramelize.
A Quicker, Easier Dulce de Leche
I first found this method in a recipe for Banoffee Pie, and it's kind of a game changer. Instead of cooking a whole unopened can of sweetened condensed milk, you pour the contents into a pan and bake it in a water bath.
Not only do you not have to worry about exploding cans, you can actually check on your sauce to see if it's caramelized enough instead of guessing what's happening inside of the can.
And the best part, since the sauce cooking over a larger surface area, the cooking time is cut by an hour or more.
What is Dulce de Leche?
If you've never tried dulce de leche, it's is a dessert/sauce probably originating in Argentina (some people claim otherwise). Traditionally, it's made by cooking milk and sugar until the mixture caramelizes and reduces down to produce a thick, creamy sauce, but most modern recipes start with a can of sweetened condensed milk to cut down on the cooking time.
It can be eaten on its own as a pudding, as a topping for ice cream, or filling for pastries.
What does dulce de leche taste like? Dulce de leche is similar to but different from caramel (the way butterscotch is similar to but different from caramel). It has a milkier sweetness that seems mild at first but is actually quite strong once it really hits you.
You can use it almost anywhere you'd use caramel sauce, and unlike caramel sauce, you don't have to worry about melting or burning any sugar when making it, so it is about 10x's easier and less stressful to make.
How to Make Dulce de Leche in the Oven
1. Preheat your oven to 425°F and start with a medium oven-safe pan. I'm using a six-inch cake pan here, but a loaf pan or pie dish are also great options. Open a can of sweetened condensed milk, pour that in, and cover the pan tightly with foil.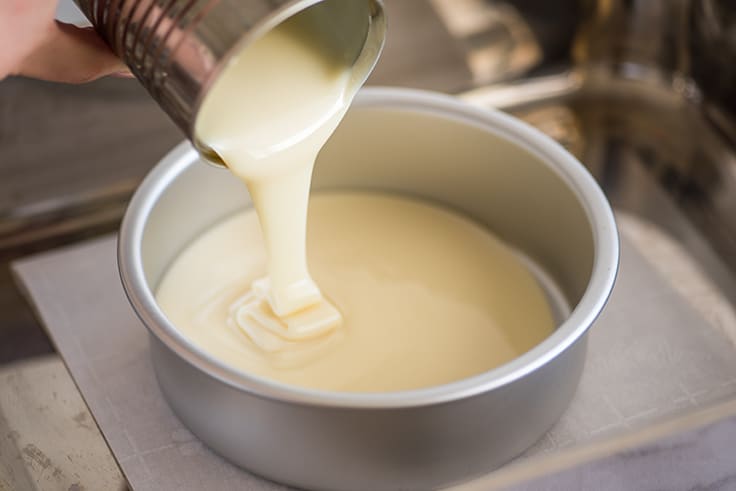 2. Next, take a larger oven-safe dish like a broiler pan or casserole dish (not pyrex, see recipe notes) and place a sheet of parchment paper over the bottom. The parchment paper is optional, but sometimes different metals react and leave marks when cooked against each other, so this should help protect your pans.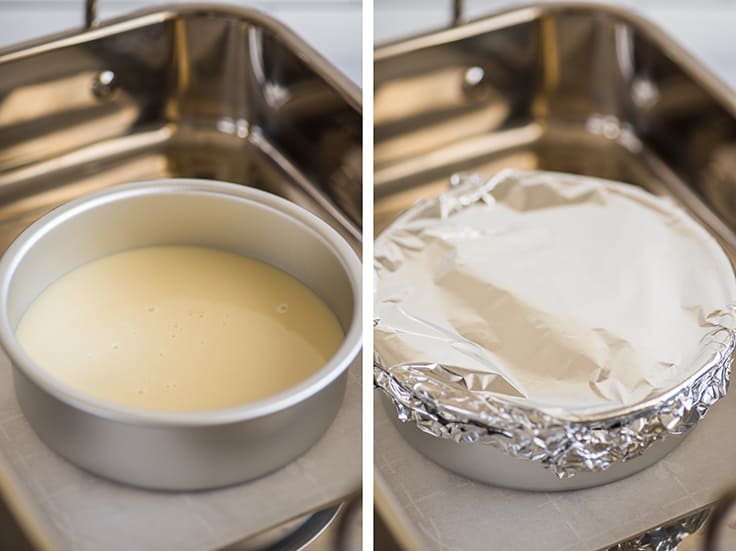 3. Place the foil-covered dish inside of the larger one and fill the larger dish with boiling water until it comes halfway up the side of the smaller dish (or at least an inch or two if you are using a very tall dish).
4. Bake for 1 1/2 to 2 1/2 hours, checking every 45 minutes or so to add more boiling water if too much has evaporated. Open your oven just long enough to check/add water, because you are cooling it down every time you open the door.
5. Begin checking under the foil after 1 1/2 hours. The larger your smaller pan, the faster your dulce de leche will cook. It's done when the condensed sweetened milk has turned golden brown.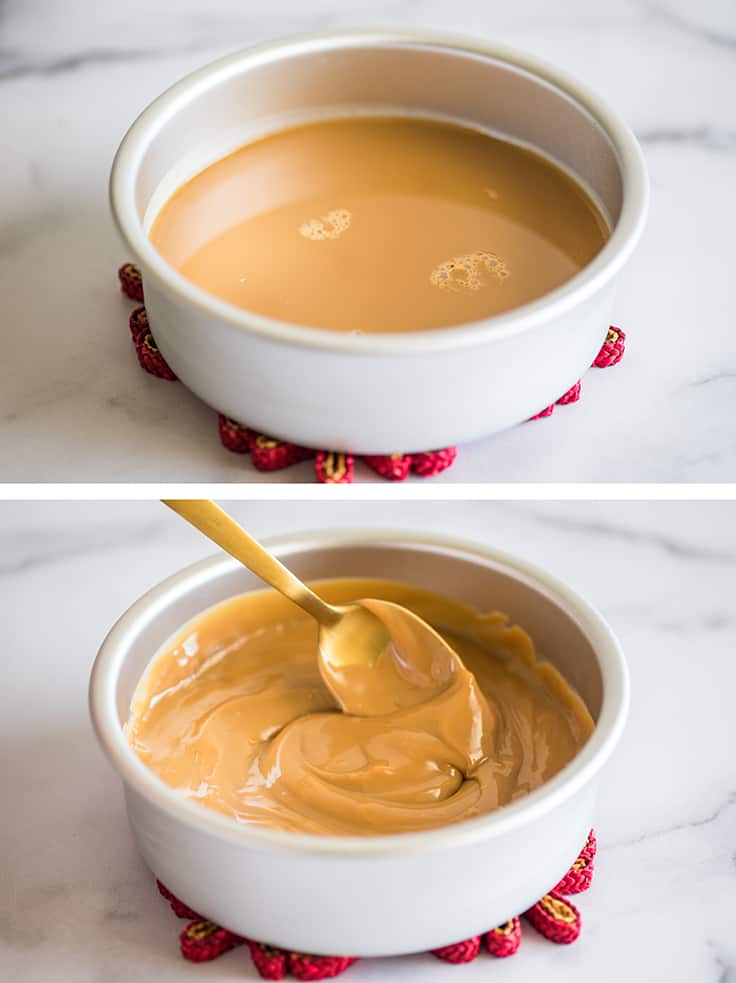 Recipe Trouble Shooting
Dulce de leche is pretty simple to make, so you shouldn't run into many problems, but these were some of the issues I had when I first started making it at home.
Dulce de leche not getting dark: Keep cooking it. Your oven may run cooler than the temperature reads (I recommend investing in a cheap oven thermometer to check) or the oven temp may have been cooled down too much when you opened the door to add water. Just keep going. It'll turn eventually.
Dulce de leche is lumpy: I believe this happens when some of the edges get overcooked. It's not going to hurt anything, especially if you're just going to pour it over some ice cream, but if you want perfectly smooth sauce, it's easy to fix.
Just scrape the sauce into a food processor or the chopper attachment of an immersion blender (you guys know how much I love these things) and pulse until smooth.
Dulce de leche is too thick: If it's too thick while warm, this also happens when the sauce is overcooked and too much liquid has evaporated.  Pulse in the food processor/blender with a tiny bit of cream or milk (start with 1/2 teaspoon; a little goes a long way) until it reaches your desired consistency.
If it's too thick once it cools, that's totally normal. You can microwave the sauce for a few seconds, give it a stir, and it will return to its pourable consistency.
How to Store Dulce de Leche
Store your dulce de leche in an airtight container, like a mason jar, in the refrigerator. It will keep for up to about a month.
What to do With Dulce de Leche
As mentioned above, this sauce is fabulous over ice cream. You can also stir it into coffee to make a Dulce de Leche Latte, spread it on toast, or drizzle it over fruit or pancakes. My personal favorite is to eat it with shortbread and a sprinkle of flaky sea salt.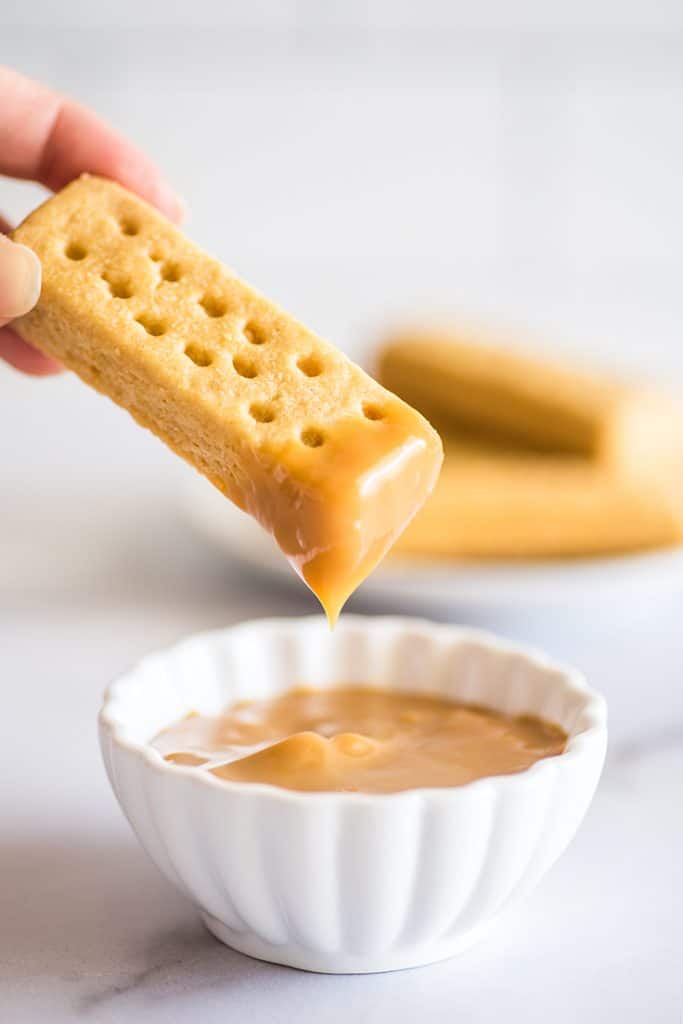 Recipe Notes
I don't recommend using Pyrex for your water bath container. I love and use Pyrex for lots of other things, but after having a Pyrex pie plate spontaneously shatter on me this year, I don't feel comfortable telling you to pour boiling water into one.
If you don't usually buy sweetened condensed milk, you can typically find it in the baking aisle next to the evaporated milk. Make sure to double check your can though, as it's easy to mix up the two!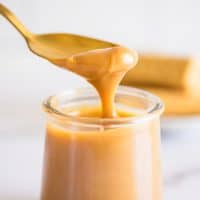 Quicker Dulce de Leche
A quicker way to make creamy and delicious homemade Dulce de Leche.
Print
Pin
Servings (Hover or Click to Change Yield):
1
cup
Ingredients
Dulce de Leche
1

(14-ounce can) sweetened condensed milk
Instructions
Preheat your oven to 425°F. Bring a kettle or medium pot of water to boil.

Pour condensed milk into a small to medium baking dish like a 6-inch cake pan, loaf pan, or pie tin. Cover tightly with foil, making sure the foil is not touching the milk.

Place a sheet of parchment paper in a second, larger pan like a roasting pan or 9x13-inch baking dish, and set your smaller baking dish on top.

Place pans in the oven and pour boiling water into the larger baking dish until it comes halfway up the side of the smaller one or at least an inch.

Cook for 1 1/2 to 2 1/2 hours, checking every 45 minutes and adding more boiling water as necessary if the water level has dropped too much.

Your dulce de leche is done when it is caramel-colored. Very carefully remove pans from the oven and cool until cool enough to handle or use tongs or a couple of spatulas to remove the smaller dish from the water so it cools more quickly.

Once cool enough to handle, stir dulce de leche until smooth*.

Serve and enjoy!
Notes
Nutritional information is for 1 tablespoon of sauce.
*If your sauce is a little lumpy after stirring and you prefer a completely smooth sauce, transfer it to a food processor and pulse it a couple of times until smooth.
This post may contain affiliate links, which means I receive a small commission if you make a purchase using them. There is absolutely no additional cost to you.