These incredibly easy Small-batch Shortbread Cookies are buttery, crumbly, and perfect when paired with a cup of hot tea or coffee.
Shortbread cookies are something you can enjoy all year long, but they're particularly perfect this as the weather turns colder because they go so well with a hot cup of tea or coffee.
A warm drink and classic shortbread is the ideal pairing for those dark, gloomy winter afternoons when you need a little pick-me-up to get you through the last bit of the day.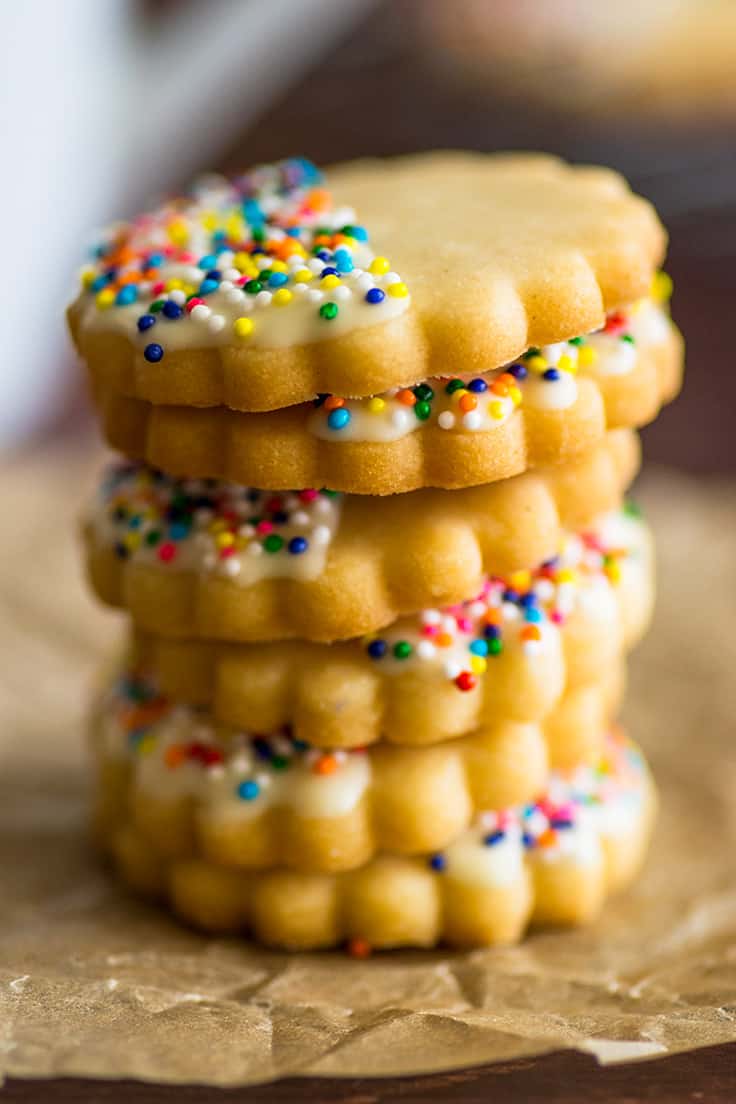 A Small-batch Shortbread Recipe
As per usual, this is a small-batch recipe. It will make about 18 two-bite cookies so you can enjoy them over the course of a couple of days or share with a couple friends.
18 might sound like a lot, but these cookies are quite small, and with little cookies this good, they go quick. 😉
Ingredient Notes
Classic shortbread is typically made with just three ingredients, flour, butter, and sugar, but different variations of those ingredients can create vastly different cookies.
All-purpose flour: Using AP flour gives you a light but not too delicate cookie. Be sure to use the spoon and sweep method to measure your flour (stir the flour in your container to fluff it up and then spoon it into your measuring cup, sweep excess off with the flat of a knife) as too much flour can make your dough dry and crumbly.
Softened salted butter: Salted butter gives the cookies a nice even distribution of salt. If you're not sure if your butter is the right temperature, press a finger into it. It should be easy to leave an indentation, but the butter around it should hold its shape.
Powdered sugar: Powdered sugar makes a delicate, slightly crumbly cookie that snaps just a little when you bite into it and then practically melts in your mouth..
How to Make Shortbread Cookies
Cream together softened butter, powdered sugar, and vanilla.
Mix in flour until no streaks of flour remain.
Chill for 20 to 30 minutes until the dough is firm enough to handle.
Roll and cut into cookies.
Bake until golden.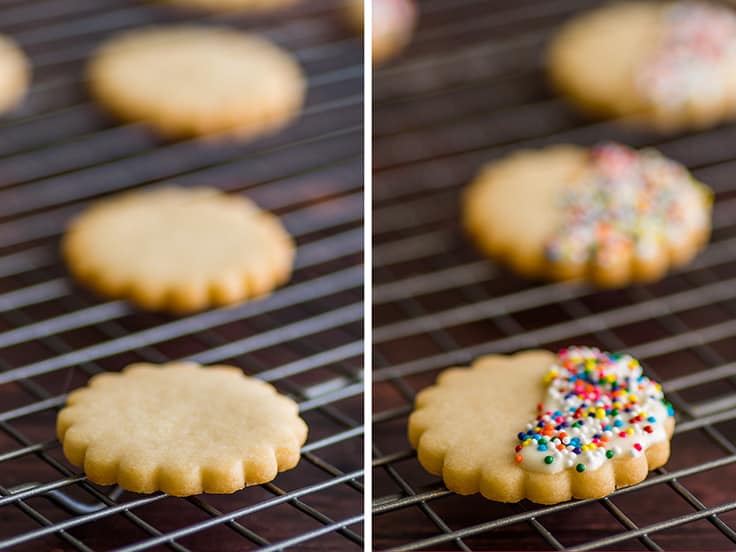 How to Serve Shortbread
Another of the many fabulous things about shortbread is that the serving options are endless.
Because I like to be a little extra in all things, I added white chocolate and sprinkles to this batch. It's totally optional but very good. Kind of like a grown-up version of Circus Animal Cookies.
If you don't want to eat your shortbread plain and white chocolate and sprinkles aren't your thing, here are a few more ideas.
FAQ
I'm in a hurry. Do I have to chill the dough?
Yes. Chilling the dough allows it to firm up enough to be able to roll it out and cut your cookies.
Can I freeze shortbread cookies?
Yes! Shortbread cookies freeze extremely well. Store them in the freezer in an airtight container or freezer bag for up two months. They can be eaten frozen right out of the freezer or set them on a plate at room temperature for 15 to 20 minutes before eating.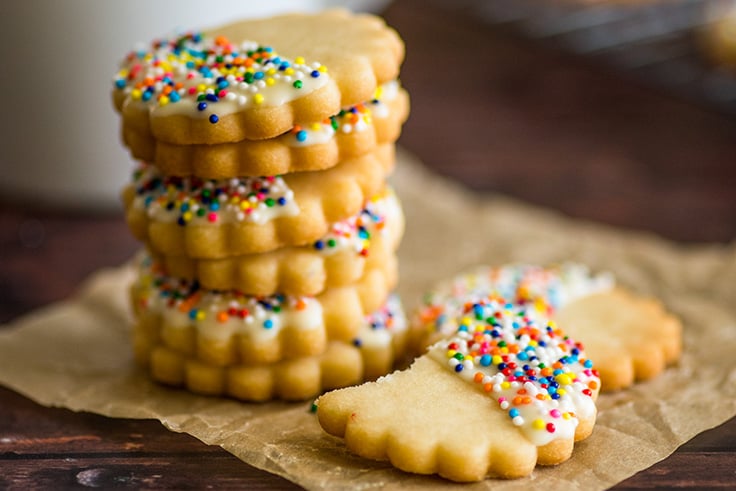 Can I make these into larger cookies?
Sure! Sometimes I like to shape these into 5 or 6 larger cookies and them top them with vanilla frosting once they've cooled. To make them larger, just extend the baking time slightly until the edges are golden and the tops look set.
What is the difference between a sugar cookie and a shortbread cookie?
The difference between a sugar cookie and shortbread cookie is the ingredients. Shortbread cookies are traditionally made with just butter, sugar, and flour. Sugar cookies use these plus egg and leveners like baking powder or soda.
These ingredients change the texture of the finished cookie so where shortbread cookies are generally always dense and a little crumbly, sugar cookies can be fluffy, chewy, bendy, crispy or soft depending on the ratio of ingredients used.
Can I double the recipe?
Absolutely. This recipe can be scaled up with no preparation changes needed. To change the recipe yield, hover over the serving size in the recipe card below or click if you're on mobile, and slide the slider.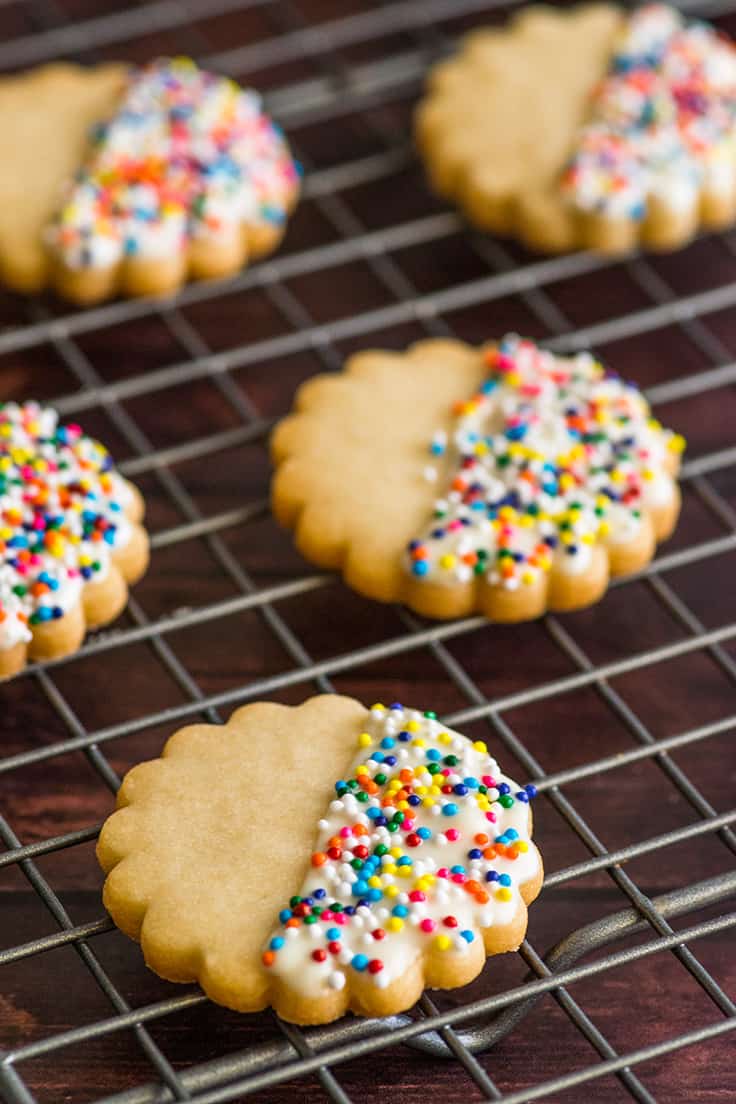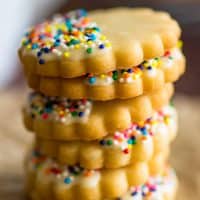 Small-batch Shortbread Cookies
These Small-batch Shortbread Cookies are buttery, crumbly, and perfect when paired with a cup of hot tea or coffee.
Print
Pin
Servings (Hover or Click to Change Yield):
18
small cookies
Ingredients
Shortbread Cookies
4

tablespoons

(

2oz

) salted butter

softened

2

tablespoons

(

15g

) powdered sugar

1/4

teaspoon

vanilla extract

optional

1/2

cup

(

60g

) all-purpose flour

measured by weight or using the spoon and sweep method*
Toppings (optional)
1 1/2

ounces

good quality white chocolate

chopped

Sprinkles
Instructions
Shortbread Cookies
In a medium bowl, combine softened butter, powdered sugar, and vanilla, and beat until well-combined and fluffy.

Add flour and beat until dough comes together. Scrape the bottom and sides of the bowl, making sure that no streaks of flour remain, and form the dough into a ball. Cover bowl and chill for 20 to 30 minutes.

Line a baking sheet with parchment paper or silicone baking mat. Set aside.

Lightly flour your work surface and rolling pin and roll out chilled dough to between 1/8 and 1/4-inch thick. Use a 1 1/2-inch cookie cutter or shot glass to cut out 18 to 20 small cookies, gathering and re-rolling dough as necessary. If at any time your dough becomes difficult to work with, place it back in the refrigerator for a couple minutes. Transfer cookies to prepared baking sheet and refrigerate dough for 15 minutes.

While your dough is chilling, preheat your oven to 350°F. Bake cookies for 9 to 12 minutes, until they begin to lightly brown around the edges.
Toppings
Place white chocolate in a microwave-safe bowl and microwave on medium heat for 30 seconds. Stir. If necessary, microwave for an additional 15 seconds and stir, repeating until chocolate is smooth.

Transfer chocolate to a small disposable bag, snip one corner off and pipe the chocolate on to the cookies. Sprinkle with sprinkles if desired. Allow 30 to 40 minutes at room temperature for the chocolate to harden or place cookies in the refrigerator and it will set almost immediately. Enjoy!
Notes
*Correct flour measurement is very important in this recipe. For best results, measure by weight or the Spoon and Sweep Method (stir the flour in your container to fluff it up and then spoon it into your measuring cup, sweep excess off with the flat of a knife).
Cookies will keep in an airtight container at room temperature for 3-4 days.
This post may contain affiliate links, which means I receive a small commission if you make a purchase using them. There is absolutely no additional cost to you.