Simple and elegant Red Velvet Lava Cakes for Two would be the perfect close to any romantic meal. With chocolatey red velvet cake and molten cream cheese core, this dessert is deceptively quick and easy to make.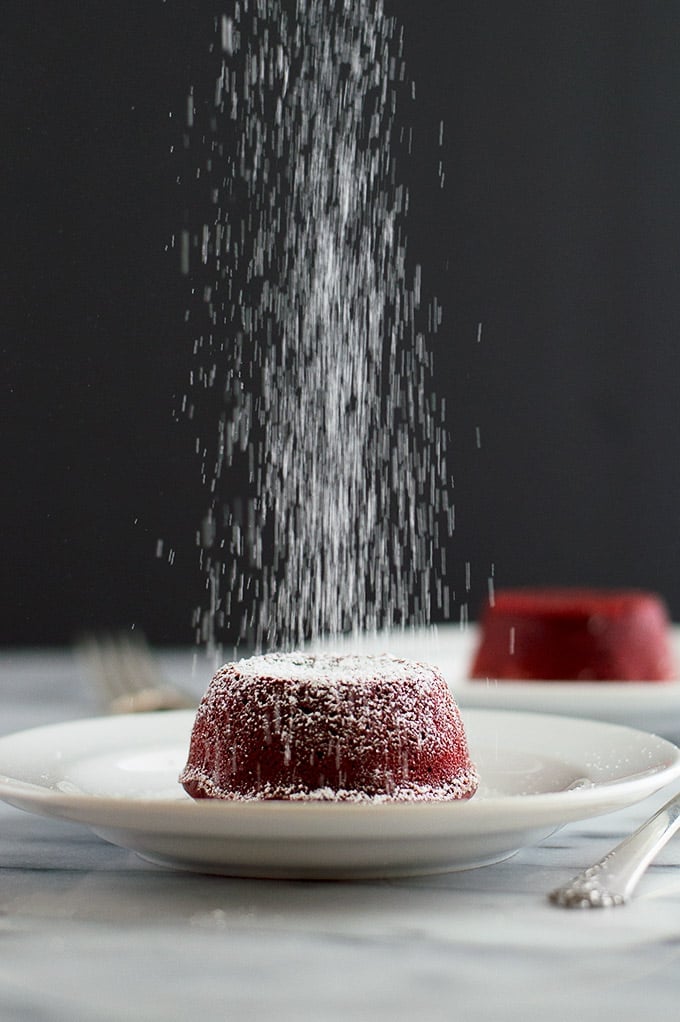 How are you enjoying October so far? Are you getting enough pumpkin in your diet? Are you taking in your recommended daily dose of scary literature? 😉
I'm doing my very best to make your October just a little more unsettling with my Creepy Foods from Fiction series. Have you been following along? So far I've made Sanguinaccio Dolce from Hannibal and Spectre Apple Pie (Cupcakes) from Big Fish.
Today, I'm posting a recipe for Crimson Peak Red Velvet Lava Cakes!
Have you seen Crimson Peak*? It's a delightfully odd mixture of ghost story and Gothic romance and is one of my favorite horror films of the last few years. Plus it has the best cast. Jim Beaver (Bobby!!), Mia Wasikowska, Tom Hiddleston, and the completely glorious Jessica Chastain.
If you haven't seen it, and you like Guillermo del Toro's other movies, you should definitely give this one a go!
Unlike the previous two recipes in this series, these Red Velvet Lava Cakes don't appear in the film, they are just inspired by it. In the movie Jessica Chastain and Tom Hiddleston's family's fortune was built on the red clay that they harvest from their land.
It covers absolutely everything on the property, and one of the most striking images in the film is the clay seeping out under formerly pristine white snow like welling blood.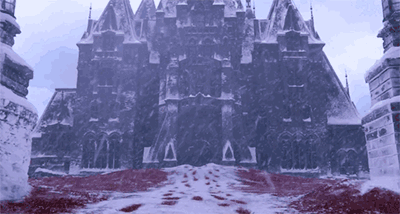 The first time I saw red velvet lava cake, dusted with powdered sugar, gooey with red cream cheese, they instantly brought the movie to mind, and I knew I had to make them for Halloween this year.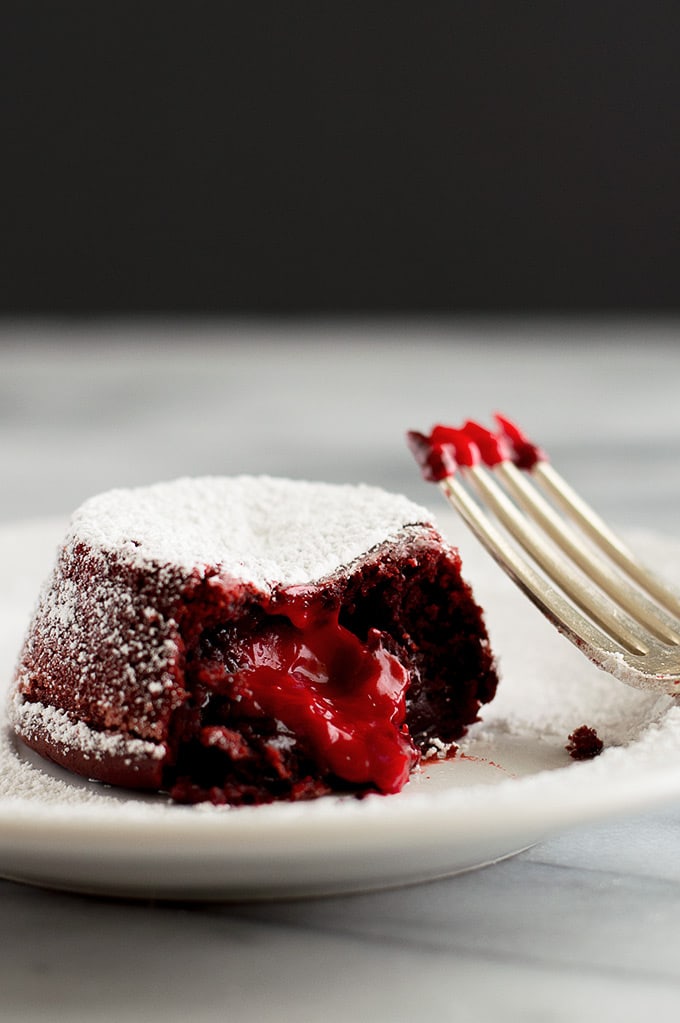 And they are beyond tasty. Honestly, I probably should have saved these to post for Valentine's Day because they are the perfect easy dessert for two, but oh wells!! Halloween it is.
See Also: Small Red Velvet Cake
These red velvet lava cakes are a breeze to throw together, and the lava center is not just undercooked cake batter. It's a molten mixture of cream cheese and sugar. (It's so good.) And, just in case you were worried, you don't need any special tools to make them either. They are baked in a plain old cupcake pan (love my little 6-cup Wilton pan*). Easy peasy.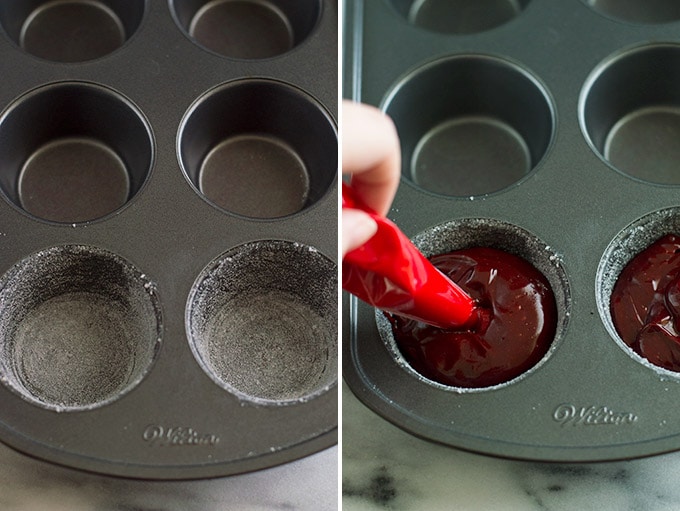 I definitely recommend them for a romantic cozy night in (your creepy haunted house with walls that look like they are bleeding with the love of your life and also your new bride). 😉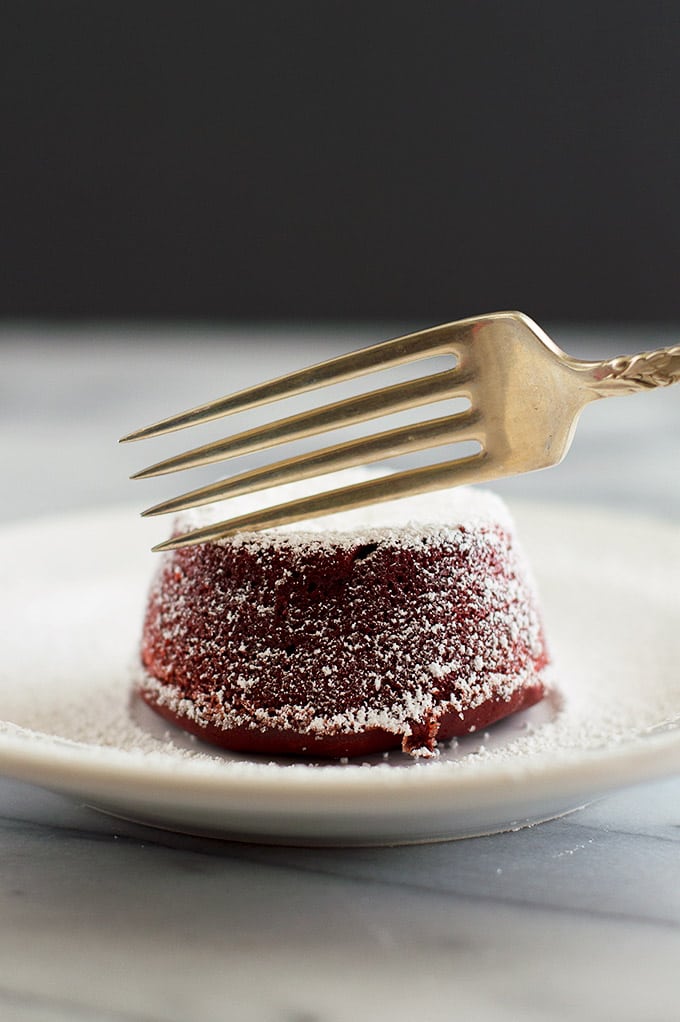 Red Velvet Lava Cake Recipe Tips
This recipe uses gel food coloring*. It cannot be substituted for with regular food coloring because you just won't get the deep crimson color with water-based coloring without affecting texture and taste. But…
If you don't have gel food coloring, you can omit the coloring completely. The cakes won't be as pretty or dramatic, but they will be just as delicious.
For a perfect even dusting of powdered sugar, my favorite tool is a fine mesh strainer. Just add sugar and shake. 🙂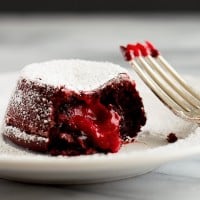 Red Velvet Lava Cakes for Two
Simple and elegant Red Velvet Lava Cakes for Two would be the perfect close to any romantic meal. With chocolatey red velvet cake and molten cream cheese core, this dessert is deceptively quick and easy to make.
Print
Pin
Servings (Hover or Click to Change Yield):
2
Ingredients
Cake
1/3

cup

(

2

oz) semisweet chocolate

chopped (good quality chips are fine)

2

tablespoons

vegetable or canola oil

1

large egg

3/4

teaspoons

red gel food coloring

divided

2

tablespoons

(

15

g) all-purpose flour

Pinch of salt
Cream Cheese Center
1

ounce

cream cheese

room temperature

2

teaspoons

granulated sugar

plus more for cupcake pan

1/2

teaspoon

vanilla extract
Topping
Powdered sugar

(optional for dusting)
Instructions
Cake
In a small microwave-safe bowl, combine chocolate and oil and microwave for 30 seconds. Stir until smooth. Set aside to cool slightly.

Preheat your oven to 425°F. Grease two baking cups of your cupcake pan. Sprinkle granulated sugar over the entire cupcake cup, sides included, like you're making a souffle.

In a medium bowl, whisk egg. Slowly whisk in cooled chocolate mixture and

1/2

teaspoon of the gel food coloring. Stir in flour and salt.
Cream Cheese Center
In a small bowl, whisk together cream cheese, sugar, remaining

1/4

teaspoon food coloring, and vanilla. Transfer mixture to a disposable plastic bag (or piping bag) and snip off one corner.

Divide chocolate mixture evenly between your prepared cupcake cups. Insert piping bag into the center of the batter and divide cream cheese mixture evenly between the cups.

Bake for 7 to 9 minutes until edges look set. Cool for 2 to 3 minutes in the pan before plating and dusting generously with powdered sugar.

Serve and eat immediately.
Adapted From Food Network
*Links marked with an asterisk are affiliate links, which means I receive small commission if you make a purchase using them. There is absolutely no additional cost to you.