You can make Hannibal's Sanguinaccio Dolce without blood for a surprisingly easy, elegant chocolate dessert.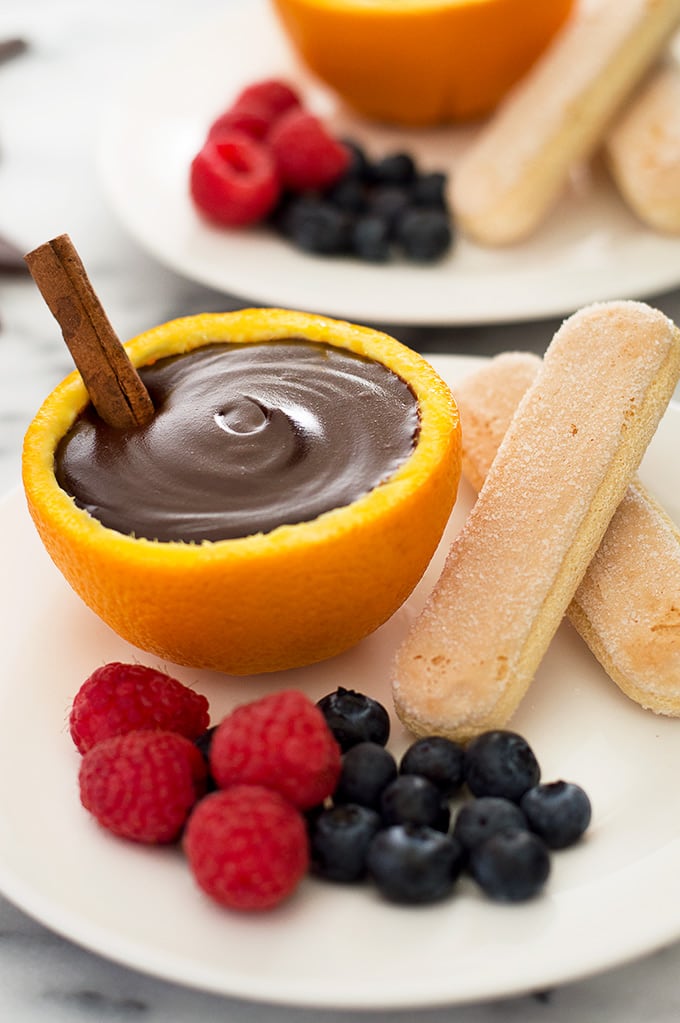 Heeeeeeey, it's October! That means 31 days of pumpkins, pumpkin spice lattes, and spooky things!! Do you have any plans for Halloween yet? I'm not totally sure what I'll be doing on the 31st, but I do know what I'm doing to celebrate on the blog…
Last month the blog theme was Quick and Easy Recipes. This month, in honor of Halloween, I thought I'd do something a little less practical and a little more fun: Creepy Recipes From Fiction!
I picked a few of my favorite spooky/scary foods inspired by television shows and movies to post every Monday this month and I'm su-ooooooo-oooooooo-ooper (not sorry) excited to share them.
First off, Sanguinaccio Dolce Senza Sangue (Sanguinaccio Dolce Without Blood) from Hannibal.
For those keeping score, this is the second Hannibal recipe on the blog. Last time, I made Lomo Saltado, and if you want to see me lose it a little over how much/why I loved this show, you can read aaaaaaall about it in that post.
Today I'll play it cool and just say, hey, Hannibal was a great show, and if you like dark humor, beautiful food, and cannibal puns, you might want to check it out. (All three seasons are available on Amazon Prime.*)
Sanguinaccio Dolce is a dessert that appears in the show's 3rd season. It's a fantastically rich dark chocolate pudding traditionally made with pigs blood. Hannibal makes it with cow's blood, though he confesses to his colleague, Dr. Chilton, that the last time they ate it together, it was made with blood from a different sort of animal…
This Sanguinaccio Dolce recipe does not use pig, cow, or any other kind of blood because I wanted to make it a little more accessible and because it can be a challenge to get your hands on fresh pig's blood.
I asked around at all of my usual stores, and no one carried it. In fact, when my butcher went in to ask his boss if they could get me any, his boss thought it was so funny, I could hear him laughing through two closed doors, which I think Hannibal would agree with me… RUDE! 😉
Anyway, this is a wonderful dessert and very easy to make. Despite the fancy Italian name, you don't need any fancy ingredients, just some milk, flour, sugar, cocoa powder, and good-quality chocolate.  They simmer together until you get a luscious deep dark chocolate pudding.
Sanguinaccio Dolce is pure chocolate indulgence, so dark and rich you'll probably just want to drift off into a chocolate coma afterwards. It feels completely sinful, making it a perfect Halloween dessert.
Serve it in a bowl with lady fingers for dipping or recreate Hannibal's plate for an elegant presentation in a hollowed out orange half with fresh berries.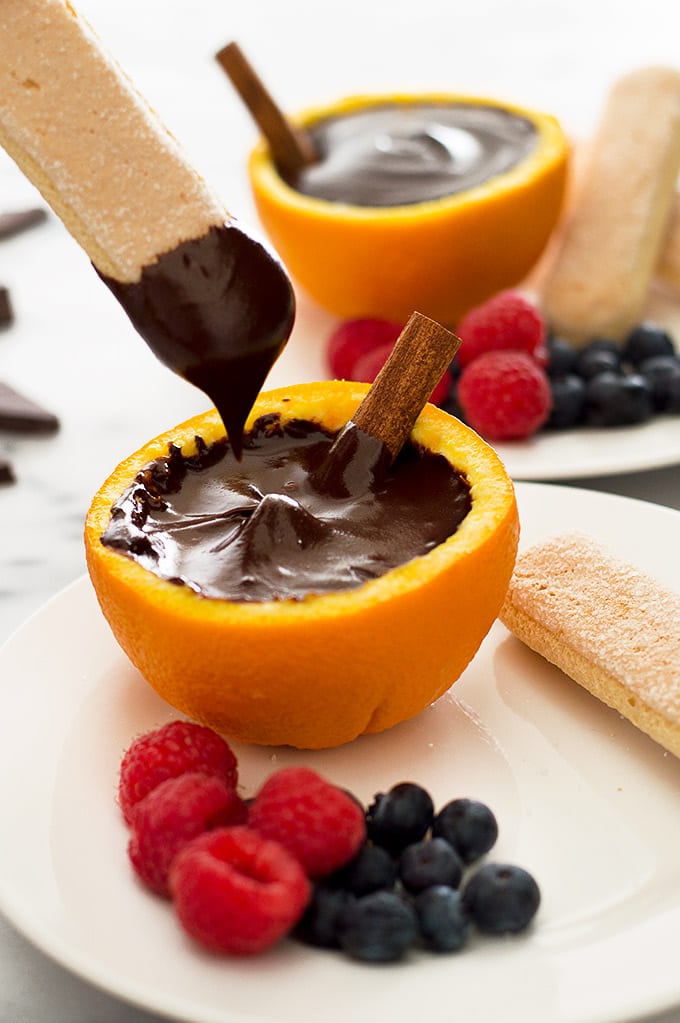 More Nerdy Recipes
Sanguinaccio Dolce Recipe Tips and Notes
This pudding is delicious warm and at room temperature, but as it cools, the surface may begin to look dull. Don't worry. Just give it a good stir right before serving to return its luster.
DO NOT skip sifting where the recipe calls for it. If there are lumps in your cocoa powder, there will be lumps in your pudding and you will not be able to get rid of them!
If you can get your hands on some fresh pigs blood, you might like to try the version with sangue!
Some stores don't carry Lady Fingers. You can purchase them on Amazon* (make tiramisu with the leftovers!) or use any mild, hard cookie/biscuit you'd like.
If you want to serve your Sanguinaccio Dolce like Hannibal, the easiest way to hollow out an orange is to cut it in half and run a spoon between the fruit and the pith. Keep working all the way down until you can pop most of the fruit out and use your spoon to scrape out the last bit at the bottom.
Finally, Fannibals, did you know Janice Poon, the food stylist on Hannibal has a Hannibal cookbook coming out at the end of October? It's called Feeding Hannibal: A Connoisseur's Cookbook* and I cannot wait to check it out!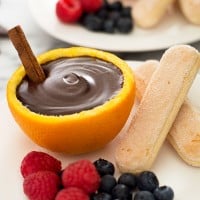 Sanguinaccio Dolce Senza Sangue
You can make Hannibal's Sanguinaccio Dolce without blood for a surprisingly easy, elegant chocolate dessert.
Print
Pin
Servings (Hover or Click to Change Yield):
3
Ingredients
1

cup

milk

(any percentage, preferably whole)

1

cinnamon stick

1/2

cup

(

42

g) unsweetened cocoa powder

1/2

cup

(

100

g) granulated sugar

3

tablespoons

(

22

g) all-purpose flour

1/3

cup

(

2

oz) chopped good-quality chocolate

at least 70%

1

teaspoon

vanilla extract
Instructions
In a medium pot combine milk and your cinnamon stick. Heat over medium heat for 3 to 5 minutes until just before simmering. Remove from heat and discard cinnamon stick.

In a medium bowl, sift together cocoa powder, sugar, and flour.

Slowly whisk in hot milk, doing your best not to allow lumps to form. Mix well and return mixture to the pot.

Whisk constantly over medium-low heat until mixture begins to bubble and thicken, 4 to 8 minutes.

Whisk in chocolate until smooth. Remove from heat, and mix in vanilla.

Cool slightly before serving.
Sanguinaccio Dolce Without Blood Adapted From Scatti di Gusto
This post may contain affiliate links, which means I receive a small commission if you make a purchase using them. There is absolutely no additional cost to you.