You will love these Small-batch Apple Pie Bars with their buttery shortbread base, gooey apple cinnamon center, and crunchy streusel topping.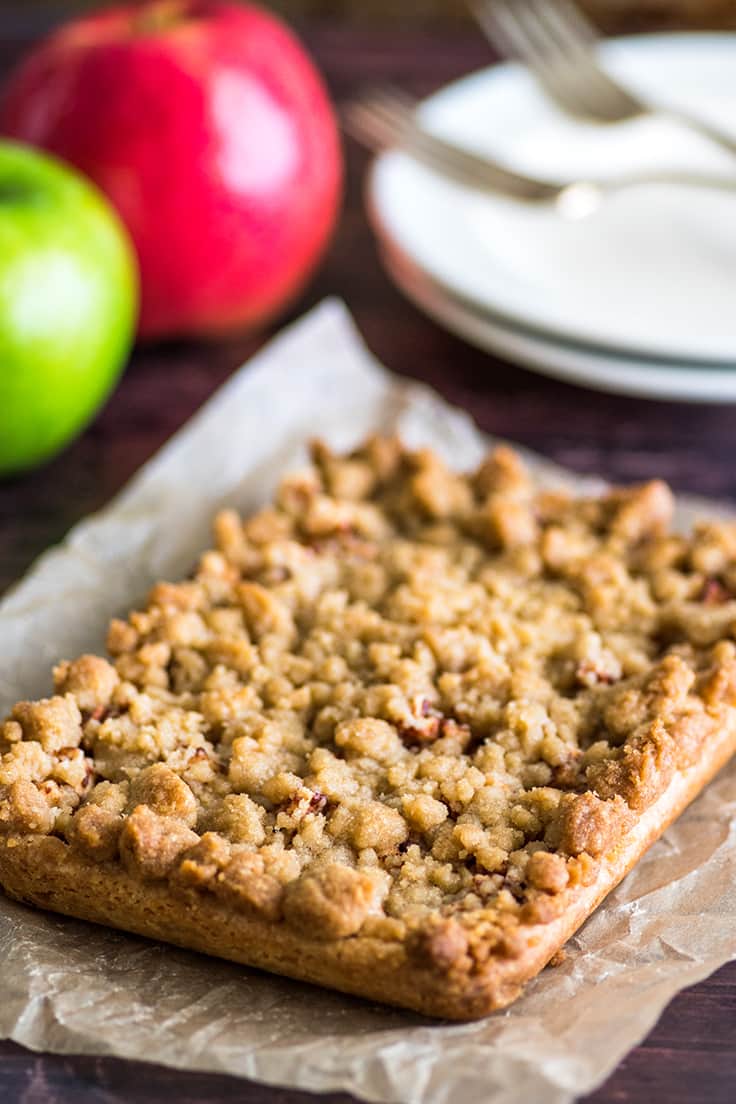 Last year around this time, I shared these Small-batch Pumpkin Shortbread Bars, and I love that recipe, but I've been dreaming about an apple version ever since. So today, that's what I'm sharing: Small-batch Apple Pie Bars!
These bars turned out to be everything I wanted and more. On the bottom layer, you have a buttery beautiful shortbread layer. Over that is a slightly gooey center of diced apple, cinnamon, sugar, and a little lemon juice to brighten everything up. And on the very top is a crunchy streusel topping.
Lots and lots and lots of streusel topping.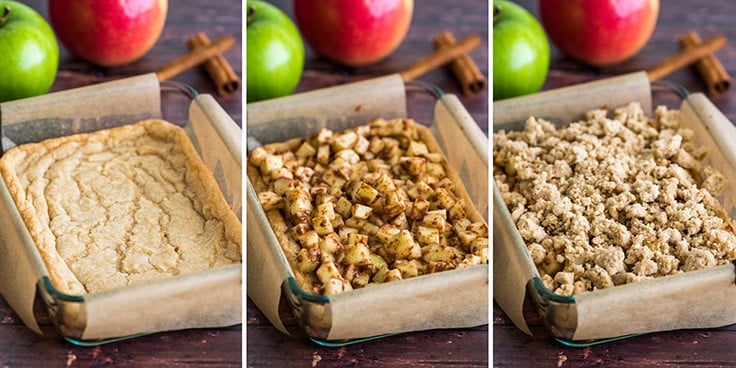 This recipe is made in a 7×5-inch dish (as usual, I used a rectangular 3-cup Pyrex dish) and makes 6 very generous squares or 8 smaller ones. You could also cut them super small and make cute Apple Pie Bites.
The bars are a tiny bit more labor intensive than some of my other fall recipes, but I think the finished product is well worth it, and none of the steps are difficult.
The shortbread base is your classic easy shortbread recipe, and the worst thing about the apple layer is that you have to peel an apple. Then after you get your hands a little dirty mixing up the crumble, you get to enjoy the amazing way your house will smell while everything bakes together.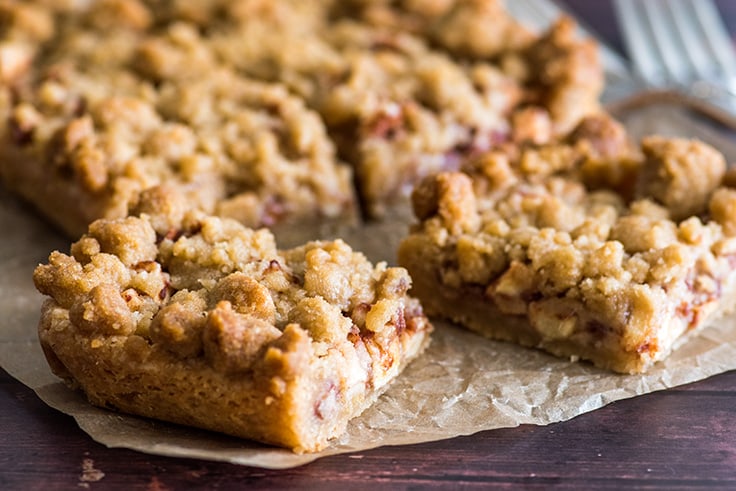 If you're craving pie, these bars hit all those Dutch Apple Pie sweet spots without requiring you to mess with pie dough. AND they have a higher ratio of sweet crunchy stuff to fruit than pie, so in my book, that's major selling point for going the easy route and making these apple pie bars instead of a full pie.
Leftovers from these bars got boxed up and distributed FAST because when faced with a plateful of these squares, you kind of just want to slink back into the shadows with the whole thing and refuse to share with anyone.
My dad was one of the recipients of the leftover bars and he declared them the best apple bars he's ever had. He's also been known to tell me that things I've cooked for him are the worst things he's ever eaten, so when he pays something a compliment, you know he's telling the truth. 😉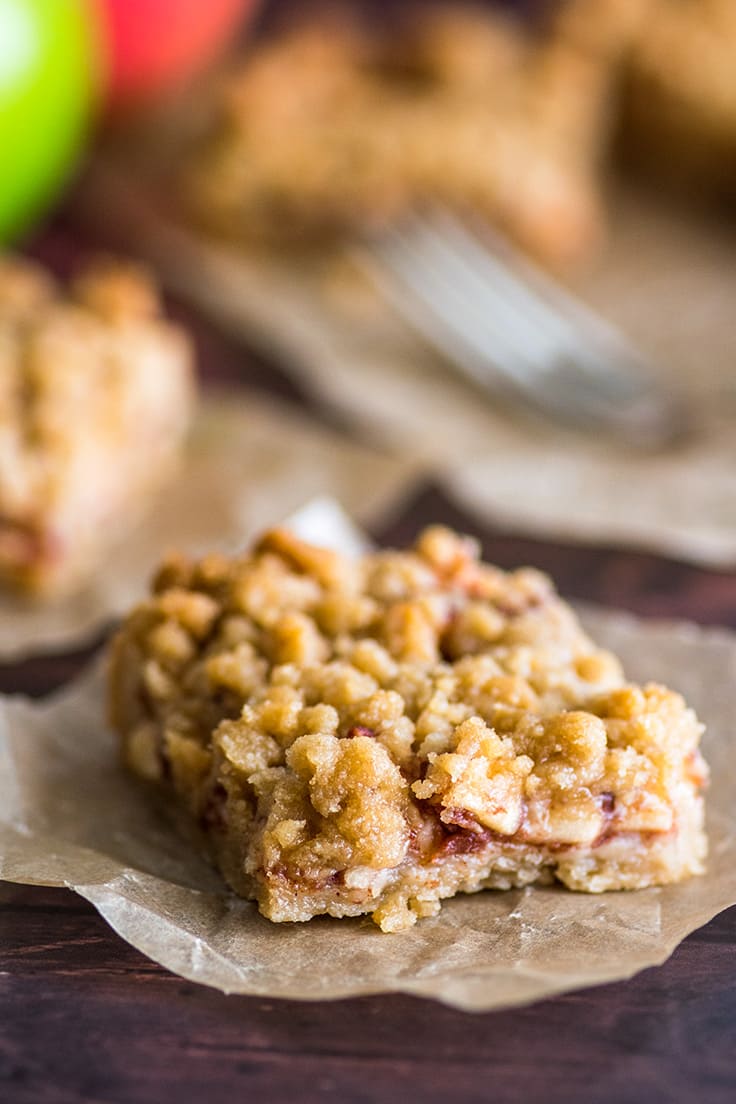 More Fall Recipes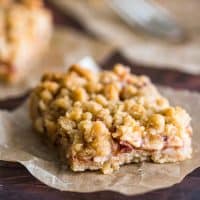 Small-batch Apple Pie Bars
You will love these Small-batch Apple Pie Bars with their buttery shortbread base, gooey apple cinnamon center, and crunchy streusel topping.

Print
Pin
Servings (Hover or Click to Change Yield):
6
to 8 bars
Ingredients
Special Equipment
Shortbread Base
1/4

cup

(

2oz

) unsalted butter

softened

1/4

cup

(

30g

) powdered sugar

1

tablespoon

and

1

teaspoon (

17g

) granulated sugar

2

teaspoons

vanilla extract

1/2

cup

(60g

) all-purpose flour

1/4

teaspoon

salt
Apple Layer
1

large Granny Smith apple

peeled and diced 1/4 inch

2

teaspoons

(

8g

) granulated sugar

2

teaspoons

(

5g

) all-purpose flour

1/2

teaspoon

ground cinnamon

1/2

teaspoon

lemon juice

optional
Brown Sugar Streusel
1/4

cup

(

30g

) all-purpose flour

3

tablespoons

(

38g

) brown sugar

2

tablespoons

(

1oz

) unsalted butter

softened
Instructions
Shortbread Base
Preheat your oven to 350°F. Lightly grease a 7x5-inch baking dish and line with parchment paper (parchment paper is optional, but it's nice to be able to lift the bars out of the dish to cut them).

In a medium bowl, combine butter, powdered sugar, and granulated sugar, and beat until light and fluffy, 1 to 2 minutes. Beat in vanilla. Add flour and salt, and beat until well mixed.

Turn mixture out into your prepared baking dish and press into an even layer. Bake for 18 to 21 minutes, until lightly browned.
Apple Layer
While your shortbread bakes, combine diced apples, sugar, flour, cinnamon, and lemon juice. Stir together and set aside.
Brown Sugar Streusel
In a small bowl, combine flour, brown sugar, and butter, and use a fork or your fingers to mix until the mixture begins to clump and crumbs form. Place streusel in the refrigerator until the timer goes off.

Once the shortbread is lightly golden, remove from the oven and spread the apples over the top. Remove streusel from the fridge and drop in crumbles over the apples. Bake for an additional 15 to 20 minutes until streusel is lightly browned and apple filling is bubbling slightly.

Cool completely before cutting and enjoy!
Notes
Because of the moisture of the apples, the shortbread in these bars will lose its crispness overnight. If you won't finish the bars on the first day, I recommend freezing them. They freeze very well, and when you are ready to eat one, just remove from the freezer and allow to sit at room temperature for 15 to 20 minutes.
Approximate nutritional information is for 8 bars.
This post may contain affiliate links, which means I receive a small commission if you make a purchase using them. There is absolutely no additional cost to you.