This recipe for Small-batch Chocolate Chocolate Chip Muffins makes four big beautiful chocolate muffins stuffed full of melty chocolate chips.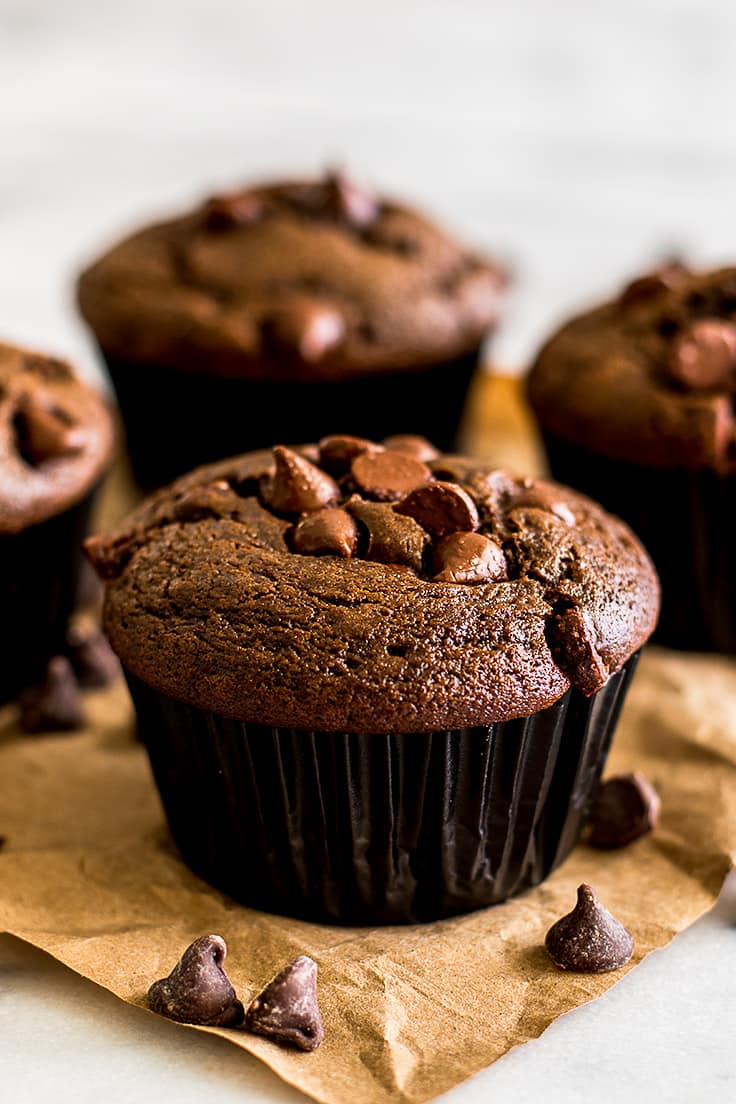 Looking for more small-batch muffins? You might also like my One Banana, One Bowl Small-batch Banana Muffins, Pumpkin Streusel Muffins, and Small-batch Cinnamon Apple Crumb Muffins.
Since I started Baking Mischief, I get lots of recipe requests from friends and family, but loudest and most consistent among them has been from my youngest sister, for me to make chocolate chocolate chip muffins.
And I've ignored her requests because chocolate muffins usually aren't my jam and because withholding things they want from younger siblings totally is (guys, I am the greatest big sister ever), but all good things must come to an end (and make even better things), so this week, I finally tackled chocolate chocolate chip muffins, small-batch style.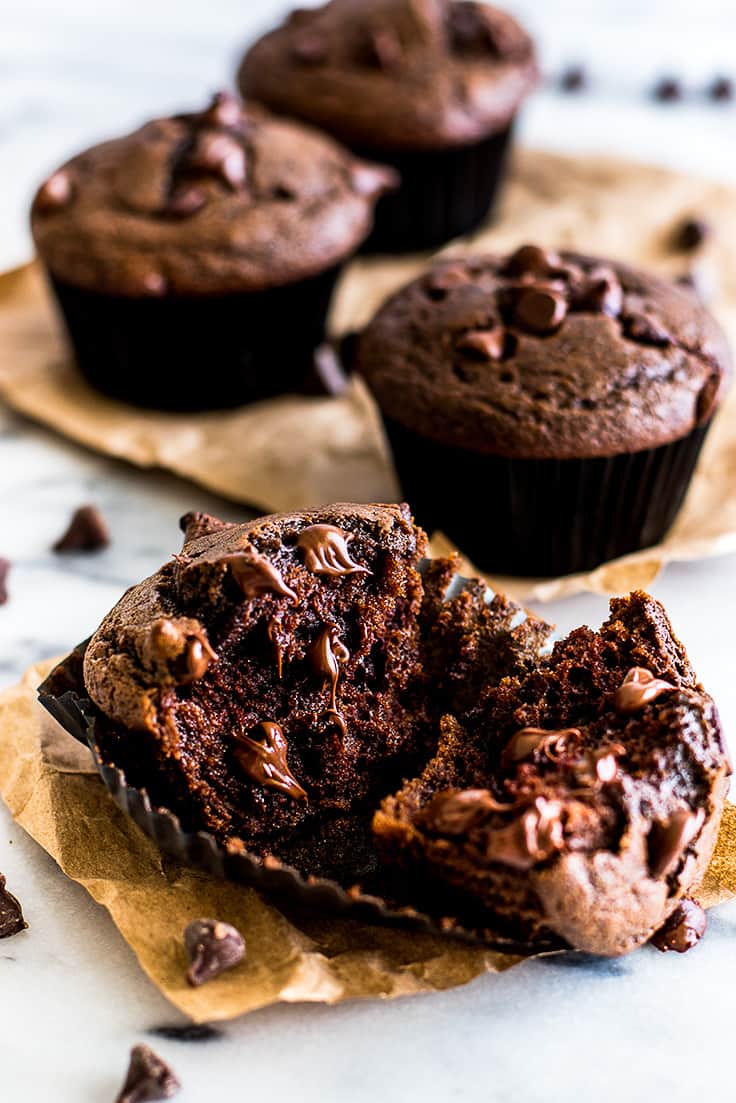 I take back everything I ever said about not being a chocolate muffin person because these Small-batch Chocolate Chocolate Chip Muffins are FABULOUS. They are over-the-top chocolatey, packed full of melty chocolate chips, and totally dreamy. The batter is made with sour cream (or yogurt) and oil, so they are super moist AND since they don't use softened butter, you can make them the minute inspiration strikes you, which I think everyone can appreciate.
They're not *too* sweet, so they don't feel out of place on a brunch or breakfast table, but they definitely feel like a treat if you want to eat them for dessert.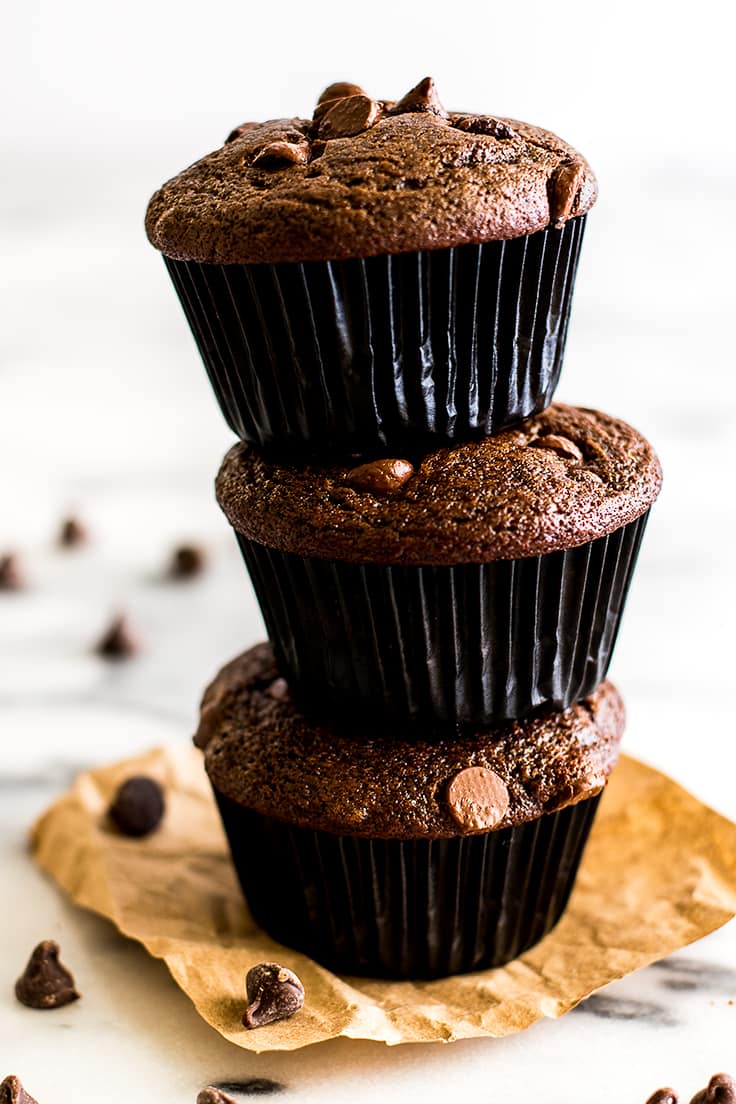 This recipe makes four muffins with big beautiful muffin tops. The secret to getting those domes is to start with the oven temp nice and high so the blast of heat helps those babies pop straight up rather than ooze over the sides. Then you drop the heat for the last few minutes of cooking time so your muffins come out moist and perfect.
And just a head's up, there's a little coffee in the recipe, which won't make your muffins taste like coffee. It just helps bring out the chocolate flavor. But if you don't have any coffee brewed/don't drink coffee, swap it out for milk. The muffins will still be so good!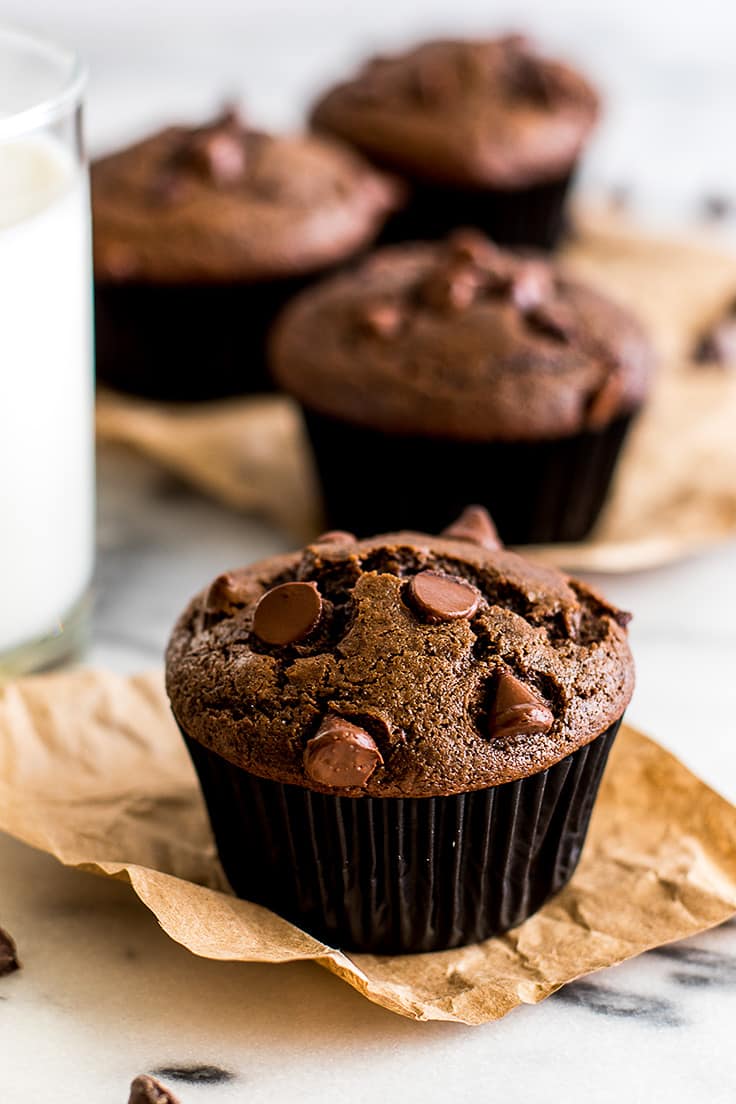 Are you a chocolate muffin person? What's your go-to muffin type?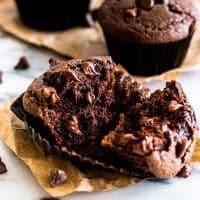 Chocolate Chocolate Chip Muffins
This recipe for Small-batch Chocolate Chocolate Chip Muffins makes four big beautiful chocolate muffins stuffed full of melty chocolate chips.
Print
Pin
Servings (Hover or Click to Change Yield):
4
muffins
Ingredients
1/2

cup

(

60g

) all-purpose flour

2

tablespoons

(

10g

) cocoa powder

1/4

teaspoon

baking soda

1/4

teaspoon

baking powder

1/8

teaspoon

salt

1/4

cup

+

1

tablespoon (

63g

) granulated sugar

1/4

cup

sour cream or unsweetened yogurt

*

1

egg white

2

tablespoons

coffee or milk

2

tablespoons

vegetable oil

1/4

teaspoon

vanilla extract

1/4

cup

(

1.5oz

) chocolate chips

plus more for topping
Instructions
Preheat your oven to 425°F and line your cupcake pan with

4

liners.

In a small bowl, whisk together flour, cocoa powder, baking soda, baking powder, and salt. Set aside.

In a medium bowl, whisk together sugar, sour cream OR yogurt, egg white, coffee OR milk, vegetable oil, and vanilla extract until smooth. Stir in dry ingredients until just combined. Fold in chocolate chips and divide batter between your prepared cupcake cups, filling them 80% of the way full (this should use all to almost all of your batter).

For extra pretty muffins, drop a couple chocolate chips over the tops of the batter before they go into the oven.

Bake for 8 minutes, turn the temperature down to 350°F and continue to bake for an additional 6 to 9 minutes. Muffins are done when a toothpick inserted into the center of the muffins comes out with just a few dry crumbs.

Cool in the tin for 5 minutes before transferring to a cooling rack. Serve warm and enjoy or cool completely and store in an air-tight container for up to 2 days.
Notes
*These muffins are great whether you use sour cream or yogurt, but sour cream will give you a prettier, bigger muffin top (the muffins in the pictures for this post were made with sour cream). So if that matters to you, keep that in mind!
Approximate nutritional information is for muffins made with sour cream.
This post contains affiliate links, which means I receive a small commission if you make a purchase using them. There is absolutely no additional cost to you.