This Small Macaroni Salad is the perfect simple side for small get-togethers and dinners with friends!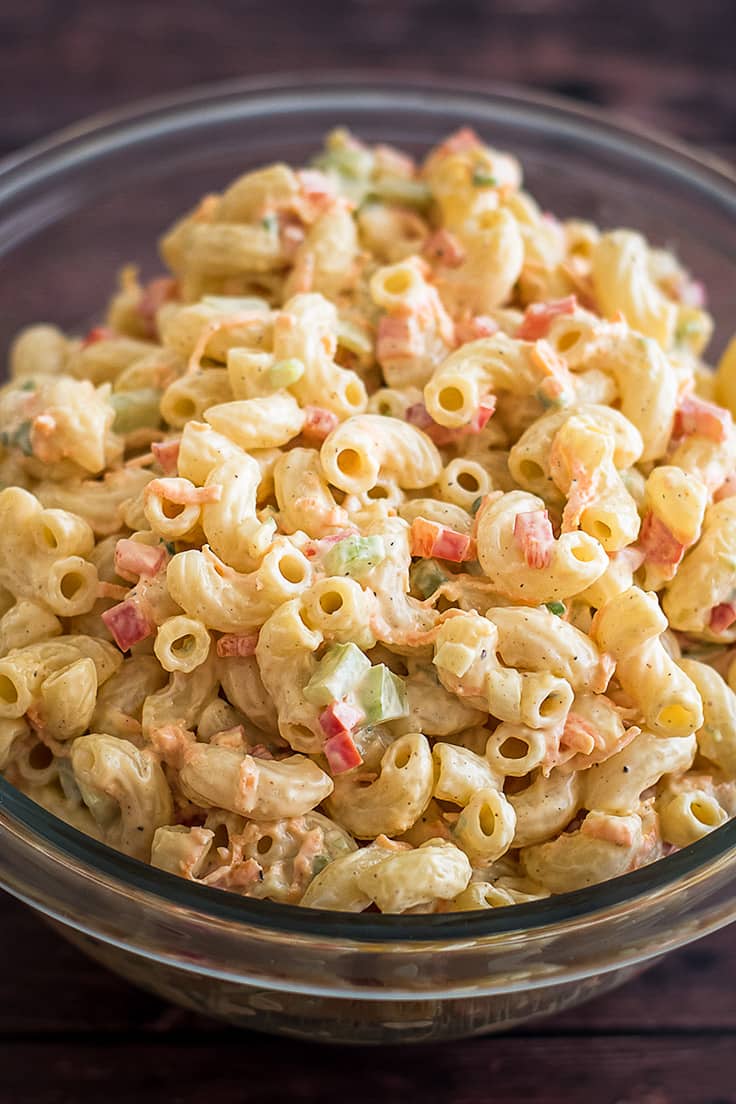 I have a confession: You know what my favorite summer food is? It's not ice cream. It's not s'mores. It's not even a perfectly cooked and marinated ribeye steak (though that's a really close second). It's spoonfuls of macaroni salad stolen from the fridge on a hot summer day.
I don't know what makes this taste so good. Maybe it's the blast of cold air you get every time you open the fridge or the delicious feeling that you're doing something vaguely naughty and getting away with it, but for whatever the reason, it's the best, and I highly recommend it.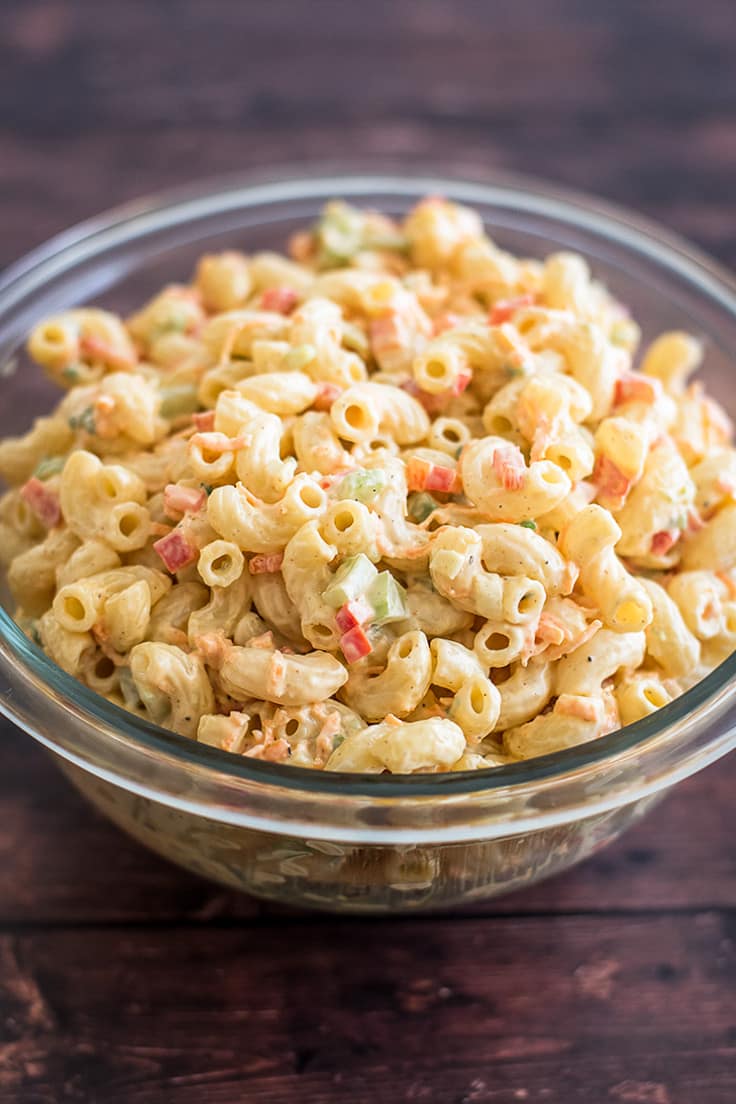 My go-to macaroni salad recipe (AKA the Best Macaroni Salad in the world) is party-sized. It's made with a pound of macaroni and makes waaaay too much food unless you are having a party. And most of the time I make it, I'm not having a party, so it either ends up going to waste OR I eat a cutlery-drawer's worth of spoon and forkfuls and don't feel great about my life choices at the end of the weekend.
So, today I'm shrinking down my fav and sharing a Small Macaroni Salad recipe.  It uses just four ounces of pasta and makes two to four very reasonable servings, making it perfect for burger nights with one or two friends, and leaves you with a little left over for fridge stealing the next day. 😉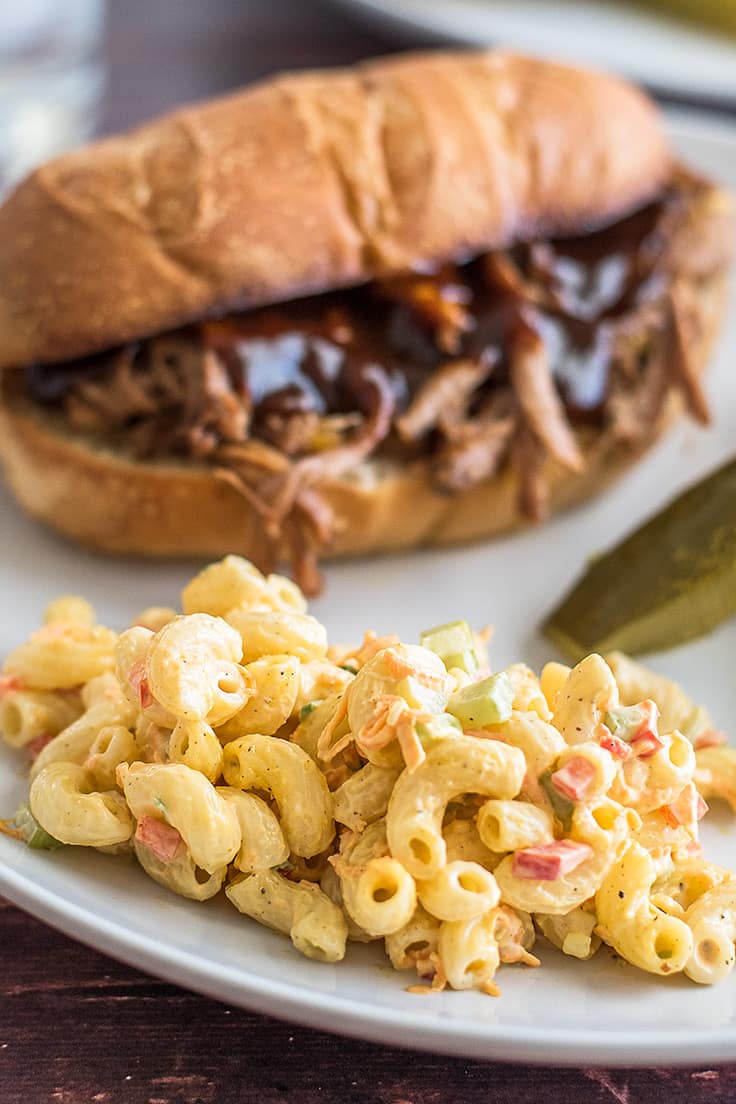 Aside from being the perfect size, I LOVE THIS PASTA. I wasn't kidding when I called the original the best macaroni salad in the world. And this small version is just as good. It's not soaked in gallons of goopey mayonnaise like some pasta salad. There's mayo to be sure, but just enough for a light dressing that's sweet but not too sweet, tangy and not too vinegary. It's loaded with crunchy bits of celery and bell pepper and is basically perfect.
Everyone I've ever served this pasta salad to falls instantly in love with it, even people who don't normally like pasta salad. It's that good.
So, serve with Tri-Tp Sandwiches. Serve with Oven-baked Ribs. Serve by itself in a bowl with a spoon. However you choose to eat it, it's gonna be a good time.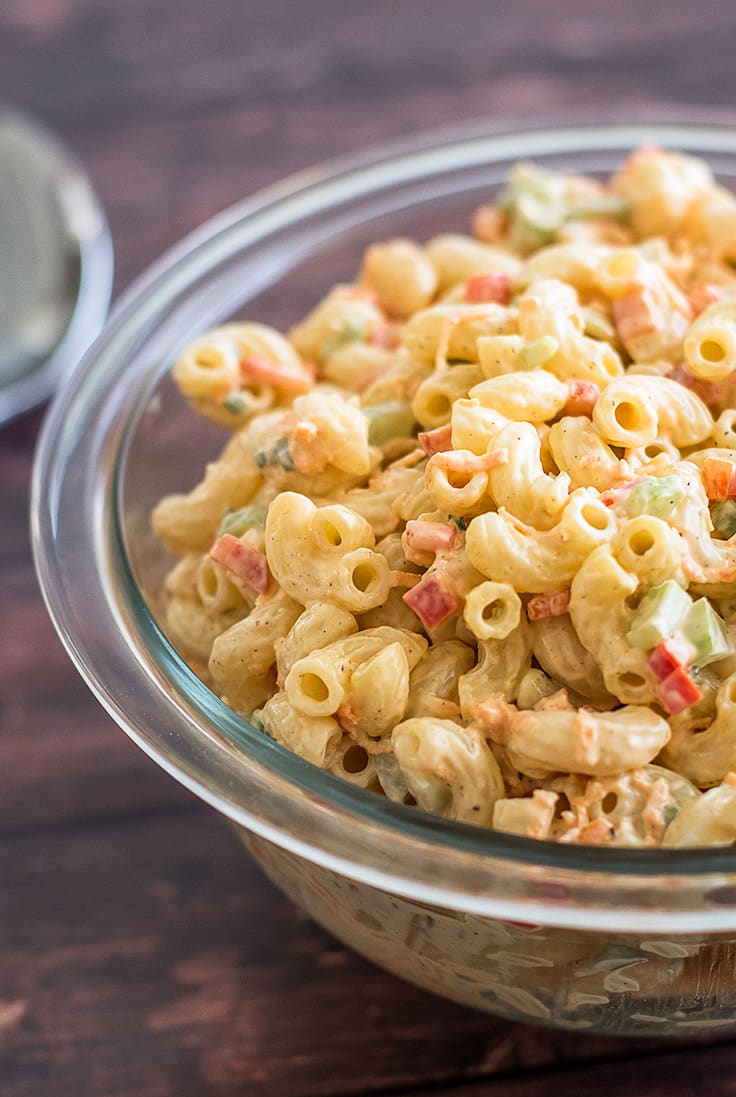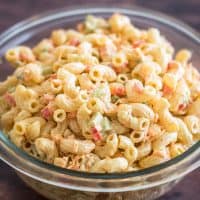 Small Macaroni Salad
This Small Macaroni Salad is the perfect simple side for small get-togethers and dinners with friends!

Print
Servings (Hover or Click to Change Yield):
4
Ingredients
Dressing
1/4

cup

(

52g

) mayonnaise

1

tablespoon

white vinegar

1

to

2

teaspoons granulated sugar

1

heaping teaspoon Dijon mustard

or yellow mustard

1/8

teaspoon

salt

1/8

teaspoon

black pepper

Pinch of cayenne
Vegetables
1

small green onion

diced, use green and white parts

1/2

cup

finely diced bell pepper

any color

1/4

cup

finely diced celery

1/4

cup

finely grated carrot
Instructions
Bring a medium pot of generously salted water to boil and cook macaroni according to package instructions. Drain and set aside to cool completely. Stir occasionally to prevent the noodles from sticking together too badly.

In a medium bowl, combine all of the dressing ingredients and whisk together until smooth. Add vegetables and toss to coat. Cover with plastic wrap and refrigerate until pasta is cool.

Once pasta is cooled, stir pasta into the dressing. Serve and enjoy!
Notes
*If you don't have green onions, you can use a tablespoon of very finely diced white or yellow onion.
If making in advance, stir an extra spoonful of mayonnaise into the pasta just before serving as the pasta will absorb some of the liquid as it sits and start to look a little dry, even tightly covered.
Adapted From Food Wishes
This post may contain affiliate links, which means I receive a small commission if you make a purchase using them. There is absolutely no additional cost to you.