The easiest oven-baked beef ribs recipe you'll ever find. All you need is two ingredients, one hour, and a whole lot of napkins.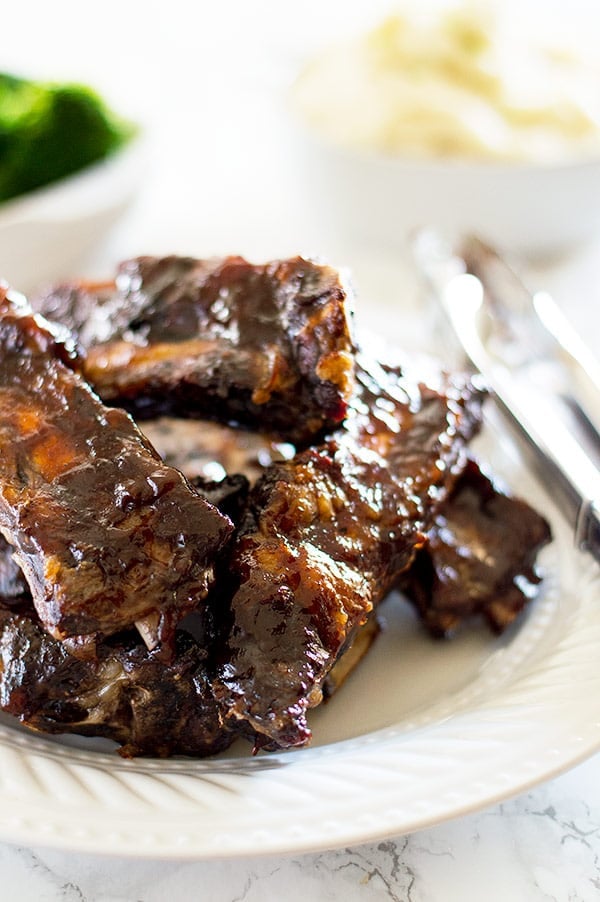 Looking for more summer favorites? Try my Tri-tip in the Oven, S'mores Cupcakes, and Slowcooker BBQ Tri-tip Sandwiches.
Happy Friday, everyone! I hope you had a productive and fruitful week and have some awesome and/or awesomely relaxing weekend plans!
Wednesday, for Nerd Month (more on Nerd Month here), we paid homage to a scene from Happy Endings, one of my favorite television comedies, by making Strawberry Mimosas so that we might all speak better Italian.
In that scene, we learn that while Penny speaks fluent Italian when drunk, Alex just eats ribs.
So today we are going to follow up Wednesday's recipe with with that classic brunch mimosa pairing: oven-baked ribs.
Just go with it.
Before we start, I'm just going to stop and say, BBQ devotees, turn away now. This recipe is going to make you so angry.
People who just really want some ribs without spending three hours slow roasting them or manning a grill, come this way.
There's a category of recipes I call "good enough" recipes. It's not something I write about often or see highlighted in the cooking community, because "good enough" isn't exactly a compelling selling point, but I think they are valuable recipes for home cooks. They're solid, tasty, uncomplicated, and easy. This is one of those.
I love beef ribs, but for the longest time, I didn't make them because the process to get "fall-off-the-bone tender" meat was too much for me. Then one day in college, I really wanted some ribs, and I made these. And they were great.
The meat wasn't falling off the bone like you'd get with perfectly cooked Short Ribs, but it had a beautifully baked coat of my favorite BBQ sauce on it and was exactly what I had been craving. My friends and I enjoyed the hell out of those ribs, and I've been making this recipe ever since.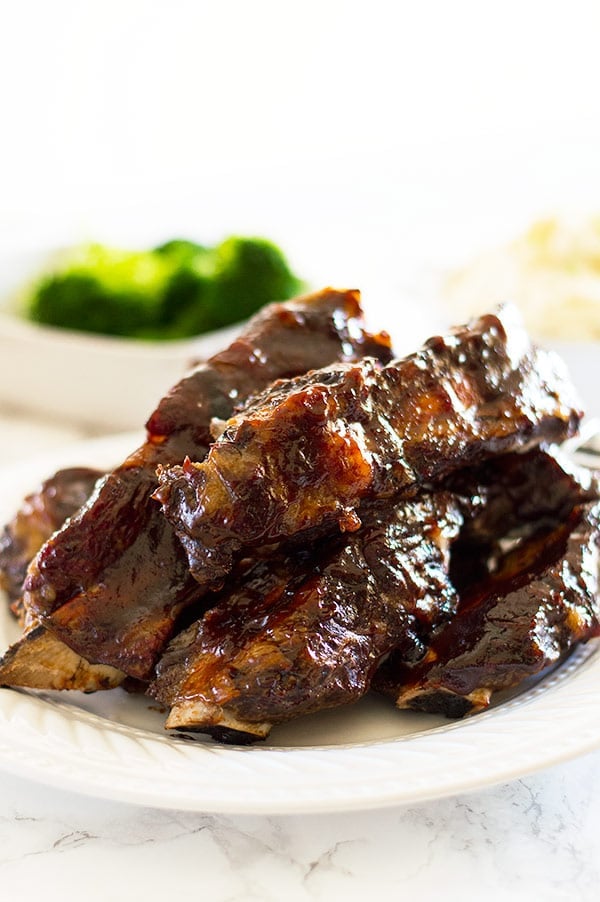 These Oven-baked Beef Ribs are one of the easiest dinners you'll find, and honestly, one of my lazy afternoon summer faves, especially served alongside Mashed Potatoes or a Small Macaroni Salad.
This is what you need: cheap beef back ribs and your favorite BBQ sauce.
This is what you do: Stick the beef ribs in the oven. Wait. Put some BBQ sauce on there. Wait a little longer. Eat.
It doesn't get any simpler than that. The worst part is cutting the ribs apart if you buy a rack and waiting while they cool before you start devouring them. I have the burns on my fingers to prove it…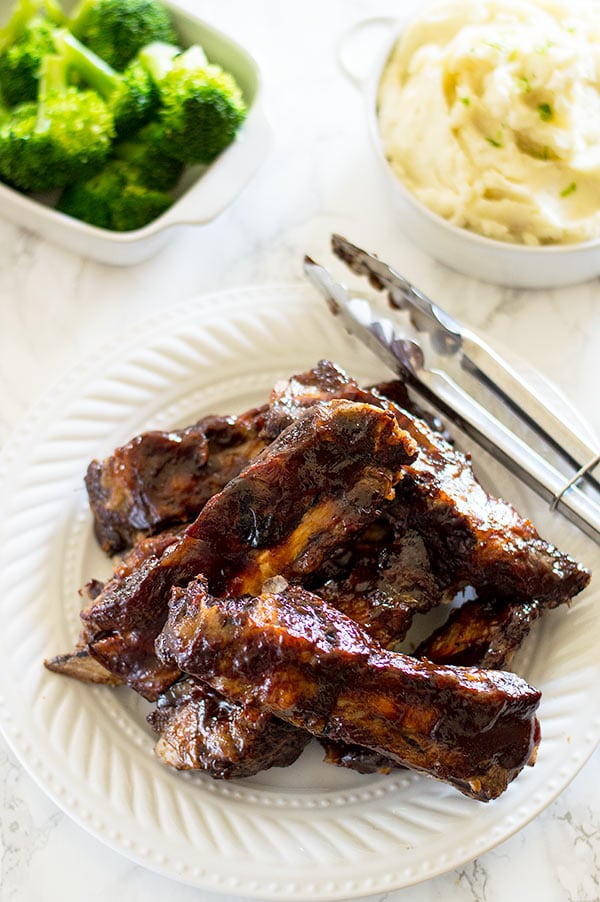 Are you a BBQ fan? Do you have any "good enough" recipes you love? Tell me about them!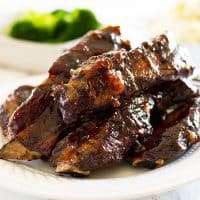 No-Fuss Easy Oven-Baked Beef Ribs
The easiest oven-baked beef rib recipe you'll ever find. All you need is two ingredients, one hour, and a whole lot of napkins.
Print
Servings (Hover or Click to Change Yield):
4
Ingredients
Rack of beef back ribs

Your favorite barbeque sauce
Instructions
Preheat oven to 350°F and cover a rimmed baking sheet with foil.

Cut ribs apart and lay them fat-side down on the sheet, not touching.

Brush generously with barbecue sauce.

Bake for 15 more minutes.*

Apply another coat of barbecue sauce if desired.

Eat and enjoy.
Notes
*Once in a while, you get a really meaty rib or two, usually on the ends, that may require a little extra cooking time.
I find 3 ribs per person to be a good serving size when served with sides. If making for a crowd, you can do two racks at the same time, just swap the top and bottom halfway through to ensure everything is cooking evenly.