What to do with leftover pesto, including instructions on how to freeze pesto and leftover pesto recipe ideas.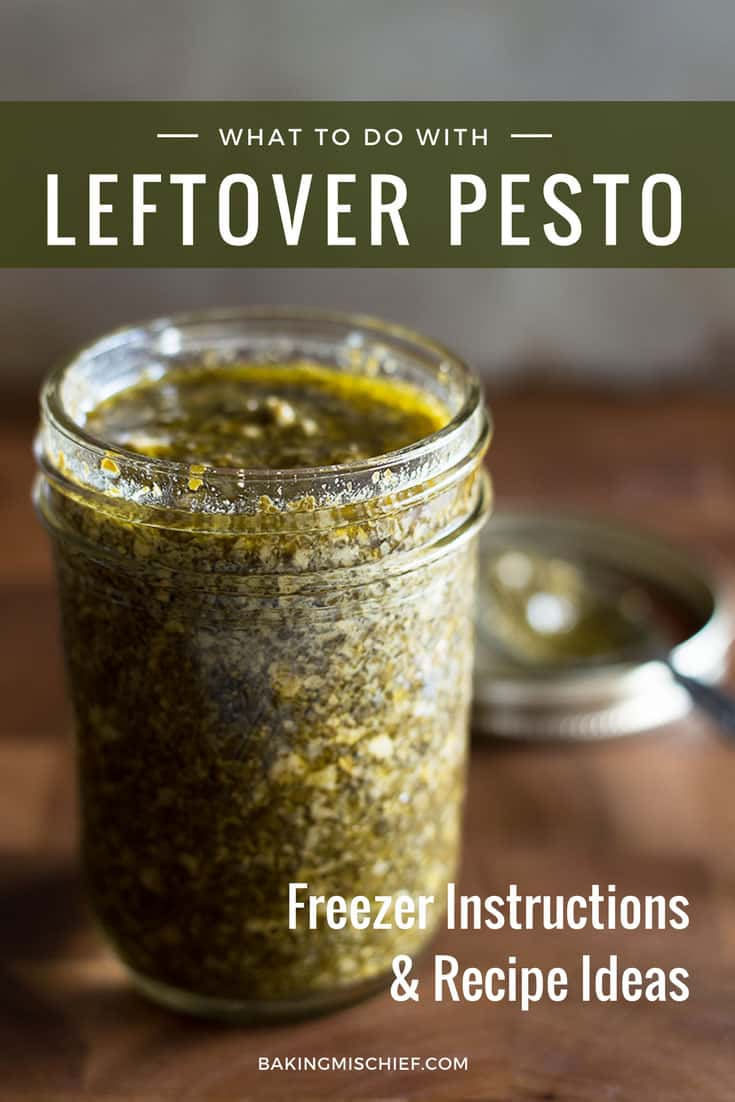 Welcome to another installment in my Waste Not series. In these posts, I tackle food waste and try to find ways to use up leftovers so we are throwing away less and using more! So far in this series, I've written about:
What to Do With Leftover Buttermilk
What to Do With Leftover Pumpkin Puree
What to Do With Leftover Pie Dough
Today, Pesto!
When it comes to leftover pesto, you have two options: make something else with it or freeze it–Did you know you could freeze pesto? You can, and it's the best.
I don't like to eat back to back pesto dishes, so I almost always end up freezing my pesto (or cooking with frozen pesto) and it works so well. I feel good about not wasting food, and it's nice knowing I always have pesto on hand.
How to Freeze Pesto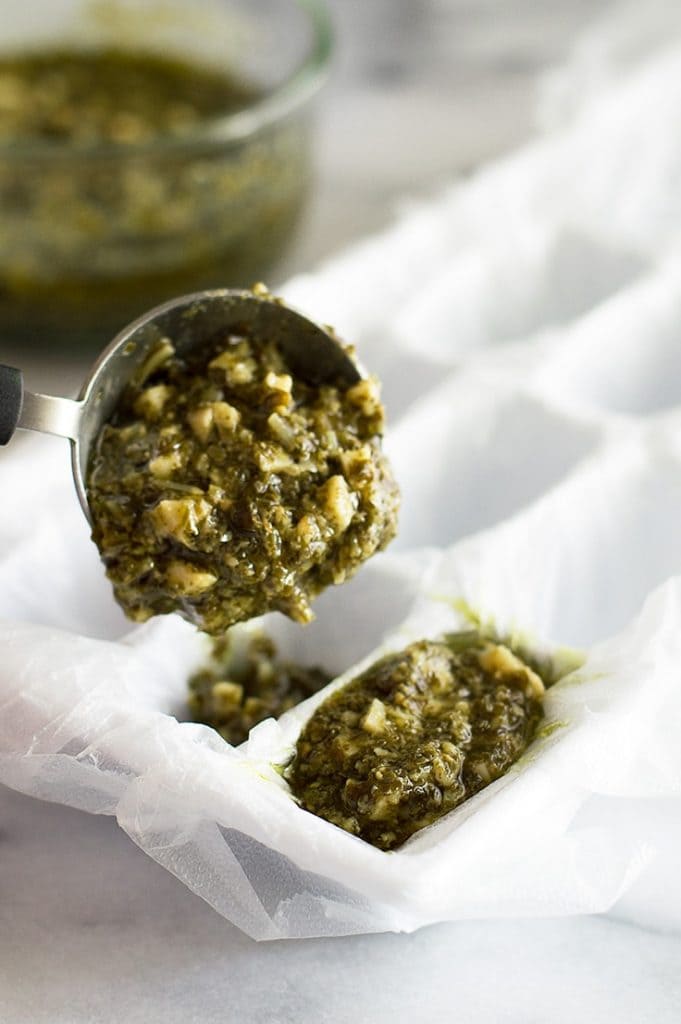 For larger amounts, simply spoon pesto into a freezer bag, freeze flat, mark the amount and date on the bag. If you're like me and tend to use smaller amounts of pesto, freeze it in tablespoon-size portions in an ice cube tray. Just line your tray with plastic wrap for easy removal and clean up, and freeze cubes of pesto. Store them in a freezer bag. If you don't have an ice cube tray, a mini muffin or even regular-size muffin tin works great.
How long does frozen pesto last?
Frozen pesto is best if used within 3 months of being frozen.
How to defrost frozen pesto.
If you plan ahead and pop your pesto over to the fridge, it will defrost in 12 to 24 hours, depending on how it's frozen. But pesto will defrost pretty quickly on the counter, especially if frozen flat in plastic bags. If you are putting it into a sauce, you don't even need to defrost it. Frozen cubes can be dropped right into sauce. Just make sure everything stays on the heat long enough to get hot.
When you are ready to use your pesto, some things to make with leftover pesto:
Recipes that use 1/2 Cup of Leftover Pesto
Pesto Salmon Milano Recipe from Wholesome Yum
Basil Pesto Hummus from Three Olives Branch
Zucchini Stir Fry Recipe With Beef & Pesto from Wholesome Yum

Recipes that use 1/4 Cup of Leftover Pesto
Pesto Chicken Caprese Salad from Nutmeg Nanny
Pesto Chicken Sandwich of Sourdough
Multigrain Pesto Swirl Bread from Herbivore Cucina
Easy Vegan Pesto Tortilla Pizza from Veggie Inspired

Recipes that use 3 Tablespoons (or Less) of Leftover Pesto
Easy Pesto Chicken Pasta for Two With Oven-roasted Tomatoes
Grilled Veggie Sandwich with Pesto Mayo from Cozy Home Cooking
Slow Cooker Potato Soup With Pesto From Peas and Crayons
Easy Cheesy Vegan Spinach Pesto Grilled Cheese from Peas and Crayons
Pesto Breakfast Rolls from Savory Tooth
Pesto Grilled Cheese Sandwich
Have you made any of these pesto recipes before? What's your favorite way to use up leftover pesto? Let me know in the comments!