Storage tips and recipe ideas for what to Do with Leftover Pie Dough.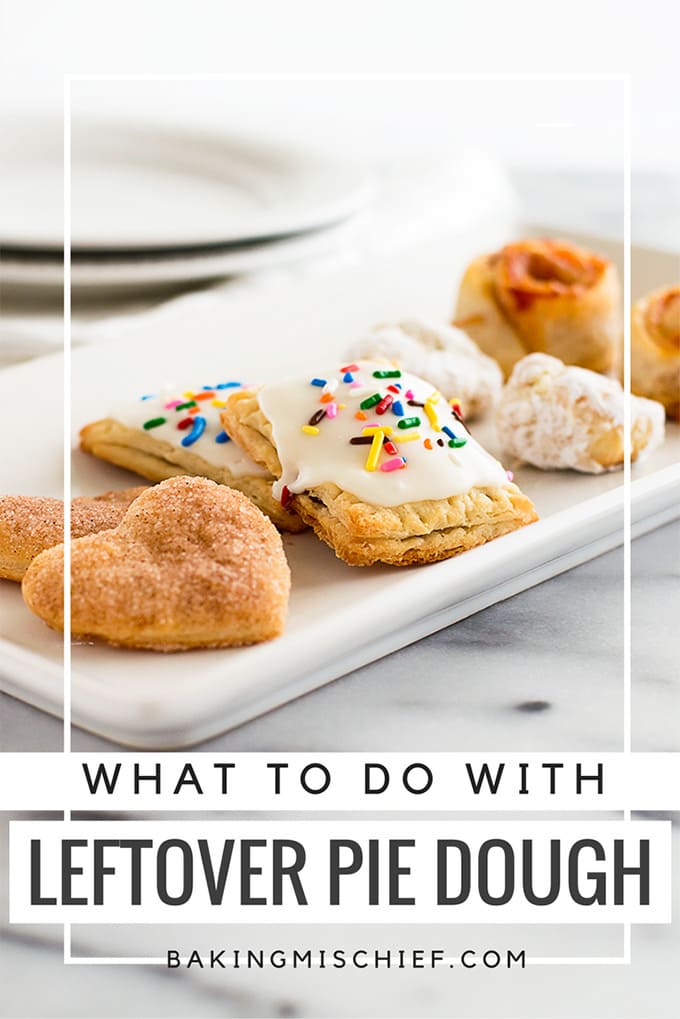 It's pie season, AKA the best time of year, and I am up to my eyeballs in pie recipes right now, so I thought it would be the perfect time to do a "Waste Not" Post for leftover pie dough (you can read more about my "Waste Not" Series in my "What to Do With Leftover Buttermilk" post).
I've been meaning to write this post since I posted my Favorite Buttermilk Pie Crust recipe, because pie crust is one of those things you always have leftovers for, and you can make so many easy and delicious things with the scraps. And only 5 months later, I finally got around to writing it. 😉
First things first: You don't have to do anything with the pie dough scraps right away! You just made an entire pie (like a Dutch Apple Pie or something probably equally impressive). If you don't feel like playing in the kitchen anymore, those scraps will keep until tomorrow. Wrap them tightly and store in the refrigerator or place in a freezer bag and pop into the freezer.
Freshly made pie dough will last:
-Up to 48 hours in the refrigerator
-Up to 3 months in the freezer (allow 12 hours to defrost in the refrigerator)
Then, when you are ready to do something with the scraps, here are…
My Favorite Things to Do With Leftover Pie Dough: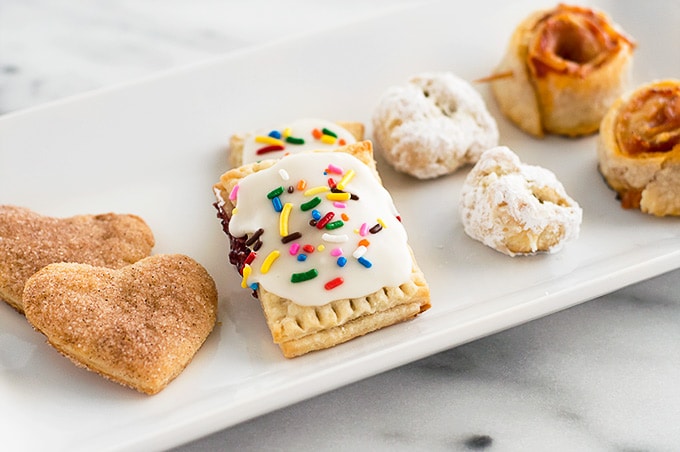 (All recipes bake at 400°F on a lightly greased or parchment paper/silicone baking mat lined baking sheet)
Cinnamon Sugar Leftover Pie Dough Cookies

(You need: Melted butter, cinnamon sugar)
Roll dough scraps out to 1/4-inch thick and cut into strips or use a cookie cutter to cut out shapes. Brush with melted butter and sprinkle with cinnamon sugar. Bake for 8 to 12 minutes, until bottom edges are golden brown.
Jam Pop Tarts

(You need: Jam, powdered sugar, milk, sprinkles)
Roll out scraps to 1/8-inch thick and cut into squares or rectangles. Add a dollop of jam to the center of half of the pieces. Place tops over the jam and crimp with a fork to seal. Poke with a fork a few times to allow steam to escape. Bake for 10 to 15 minutes until golden. Cool for at least 5 minutes and mix powdered sugar and milk together (about 1 teaspoon milk per 1/4 cup powdered sugar) until a thick glaze forms. Spread over the tops of the pop tarts and add sprinkles.
Chocolate-Stuffed Cookies
(You need: Chocolate chips, powdered sugar)
Roll dough out to 1/8-inch thick and cut about 3-inch rounds. Put a few chocolate chips in the center, fold edges up, and pinch or seal. Bake until golden brown, 10 to 12 minutes. As soon as they are cool enough to handle, drop into powdered sugar and toss to coat.
Pizza Roll Ups
(You need: Spaghetti or pizza sauce, shredded mozzarella cheese, shredded Parmesan cheese, pepperoni)
Roll leftover pie dough into a rectangular(ish) shape 1/8-inch thick. Spoon on a thin layer of red sauce, top with mozzarella, Parmesan, and pepperoni. Roll tightly and secure by poking wooden toothpicks through the center every 1 1/2 inch. Cut between toothpicks and bake for 10 to 15 minutes until  golden.
More things to make with leftover pie dough!
And, I asked some food blogger friends for some more ideas. These recipes don't specifically call for scraps, but they are easily scalable and all look fantastic!
Wee Little Blueberry Maple Pies from Hungry Enough to Eat Six – I bet you have enough dough to make a couple cupcake-sized versions of these adorable wee pies!
Mini Nutella Pies on a Stick from The Road to Honey – Pie on a stick? Love it. Add Nutella? Even better. It doesn't get much easier than these!
Apple Pie Stuffed Apples from Two Purple Figs – I'm definitely making one of these with my next batch of leftovers.
Cinnamon Roll Dippers from 4 Sons R Us – Make up a mini batch of this glaze dip and use it on some Cinnamon Sugar Leftover Pie Dough Cookies!!
This post may contain affiliate links, which means I receive a small commission if you make a purchase using them. There is absolutely no additional cost to you.