What to Do With Leftover Buttermilk: Buttermilk freezing instructions and 30+ buttermilk recipes for using up leftover buttermilk.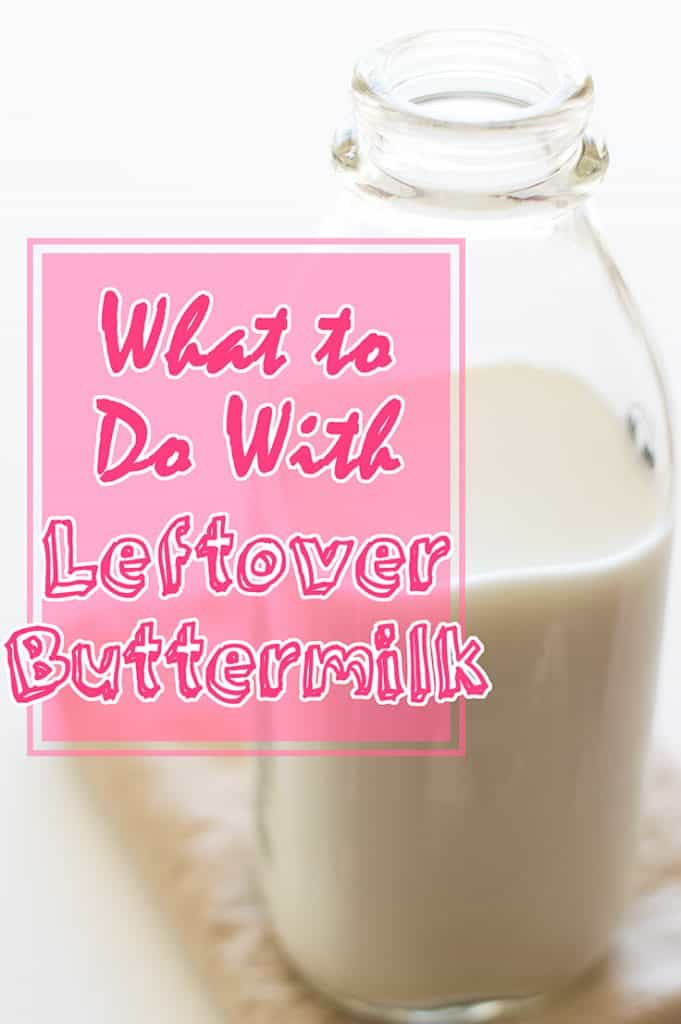 This is the first post in my new "Waste Not" series, a series where I highlight some of those ingredients that always seem to go to waste after their initial use.
Waste is one of my biggest pet peeves in the kitchen, but something I am totally guilty of and struggle with.
I'm hoping these posts will help me and others find creative ways throw away less, use up more.
More Waste Not Posts
Up first, buttermilk. More buttermilk has gone bad sitting unused in my fridge than I want to think about. Most recipes call for a couple of cups at most, yet it's generally only sold in quarts.
Here are some ideas on what to do with the leftovers…

What to Do With Leftover Buttermilk
Freeze Buttermilk
The great thing about buttermilk is that it freezes beautifully. My preferred method is to freeze 3/4-cup portions (the amount most of my recipes call for) flat in plastic bags so it can be neatly stacked or filed in the freezer.
For smaller portions of buttermilk, you can freeze cubes of it in an ice cube tray and then store it all in one bag. Just take out a cube as needed.
When it comes time to defrost, put the bag of buttermilk in a large bowl just in case the plastic has been damaged (you don't want buttermilk everywhere) and defrost on the counter.
Frozen flat, it defrosts in about 15 minutes (let it come to room temperature if you are using it in baking). The only caveat is that buttermilk has a tendency to separate in the freezer, so make sure to give it a good stir before using in dips or dressings.
For alternate freezing methods, see also America's Test Kitchen and TheKitchn.
Buttermilk will stay fresh in the freezer for up to 3 months. 
Recipes That Will Use Up Your Buttermilk
And now the fun part. If you have leftover buttermilk on hand and don't feel like freezing it, why not take the opportunity to try something new?
Savory Recipes Using Buttermilk
(2 tablespoons) Individual Chicken Pot Pies for Two
(1/3 cup) Pie Crust Pizza Tarts
(1/2 cup) Dip Recipe Creations' Cheddar Bay Biscuit Dip
(1/2 cup) Culinary Hill's Homemade Buttermilk Ranch Dressing
(1/2 cup) Karen's Kitchen Stories' Oven Fried Onion Rings
(2/3 cup) Green Eggs and Ham Mini Quiche
(2/3 cup) Two Purple Figs' Upside Down Veggie Kale Herb Cake
(1 cup) Game of Thrones Frey Pie
(1 cup) Baker Bettie's Buttermilk Biscuits
(1 cup) The Cozy Cook's Cheddar Biscuits
(2 cups) Aileen Cooks' Buttermilk Ranch Chicken Tenders
(2 cups) Chew Town's Baked Panko Buttermilk Drumsticks With Hot Sauce Mayo
Sweet Recipes Using Buttermilk
(2 tablespoons) Dutch Apple Galette for Two
(2 tablespoons) Marsha's Baking Addiction's Red Velvet Roulade
(3 tablespoons) Strawberry Shortcake Sundaes for Two
(1/4 cup) Mini Strawberry Breakfast Cake
(1/3 cup) Easy Dutch Apple Pie
(1/3 cup) Caramel Apple Pie Sundae
(1/2 cup) Small Red Velvet Cake
(2/3 cup) My Favorite Buttermilk Pie Crust
(3/4 cup) Domestic Gothess' Buttermilk Spice Cake With Vanilla Mascarpone Icing
(3/4 cup) Living Lou's Whole Wheat Gingerbread Muffins
(1 cup) Sweet Buttermilk Cornbread Muffins With Honey Butter
(1 cup) Say Grace's Red Velvet Cupcakes in a Jar
(1 cup) Zag Left's Lemon and Grapefruit Buttermilk Cake
(1 cup) Mon Petit Four's Hazelnut Chocolate Cake With Caramel Marshmallow Ice Cream
(1 cup) The Flavor Bender's Chocolate & Peanut Cake With Caramel Peanut Butter Nougat Filling
(1 cup) Keep it Sweet Desserts' Fudgy Black and White Devil's Food Cake
(1 cup) Ilona's Passion's Strawberry Shortcake Baked Mini Buttermilk Donuts
(2 cups) All Roads Lead to the Kitchen's Cherry Buttermilk Popsicles
(3 cups) Living Sweet Moments' Ricotta Filled Cornbread Recipe