Make Avengers Shawarma! A simple chicken shawarma recipe with tender, smokey and flavorful chicken and a salty, garlic and lemon yogurt sauce served over crisp veggies and warm pita bread.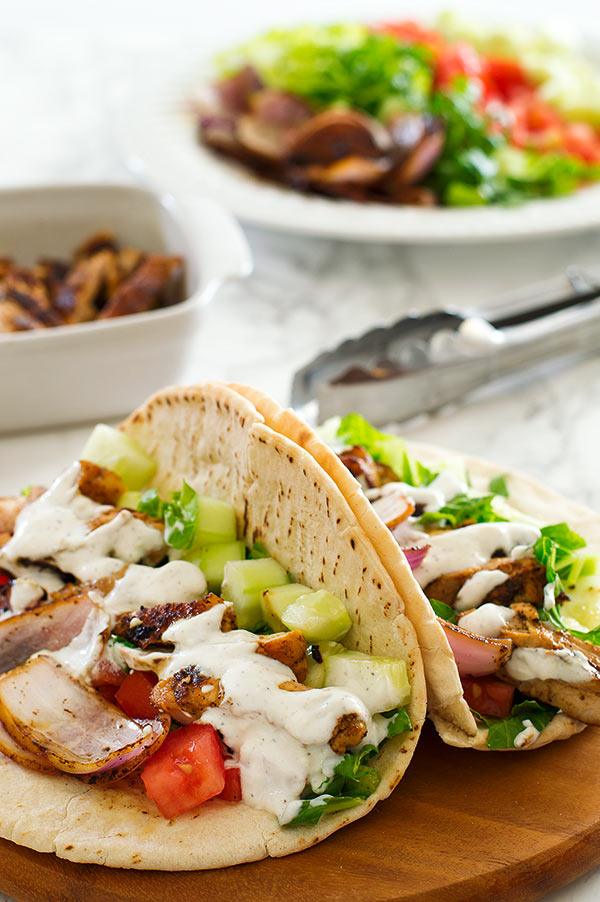 Next up for Nerd Month, we're doing another Captain America–related recipe, Avengers shawarma, AKA Chicken Shawarma With Yogurt Sauce!
The first time I ever heard the word "shawarma," was while watching The Avengers, and I had exactly the same baffled, curious reaction to it as Tony.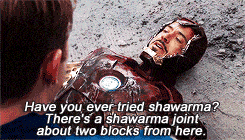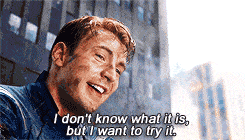 Marvel via Directorstarkk
By the very end of the film, I still had no idea what shawarma was, despite sitting through all of the credits to find out (while the lights came on, every single one of our fellow movie goers left, and the theater staff swept up awkwardly around our feet).
Until recently, I would have said the experience wasn't worth the trouble.
Then I actually tried shawarma, and I'm going to be honest: shawarma is always worth it. So today we're going to make it!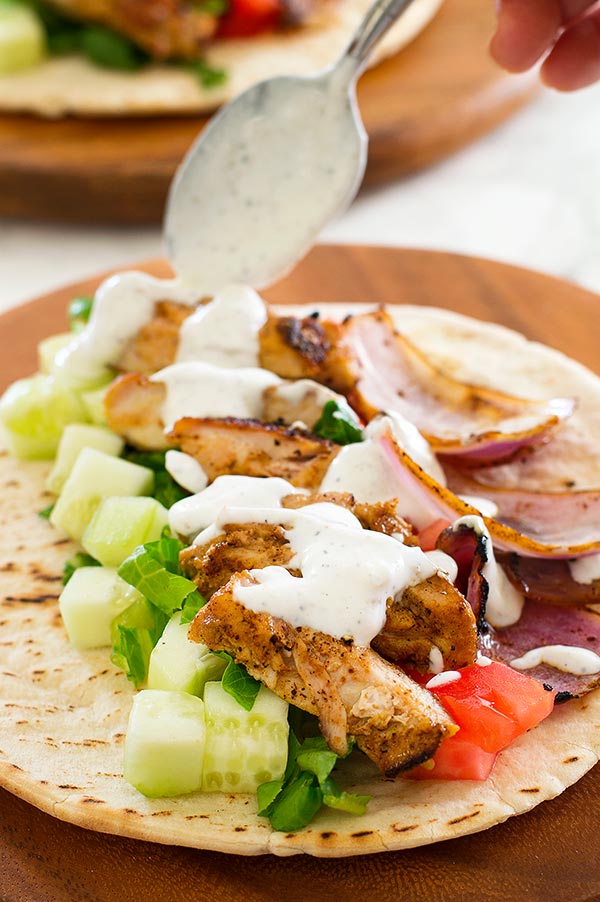 Full disclosure: real shawarma is slow-roasted on a cone. This is not technically real shawarma, but it is real good. Tender, smokey and flavorful chicken with a salty, garlic and lemon yogurt sauce over crisp veggies and warm pita bread.
It's tasty enough that you might be willing to fight an alien invasion or two to get your hands on some.
Luckily, no fighting is required, and it's actually a really simple dinner to whip up. You just marinate some boneless skinless chicken thighs in olive oil and a mix of fresh garlic and spices and then cook them up on the stove.
The pan gets deglazed with a bit of chicken broth or water and you give some red onions a quick saute in the drippings. Plate it up, add veggies, drizzle on some of that light and tasty yogurt sauce, and you are good to go.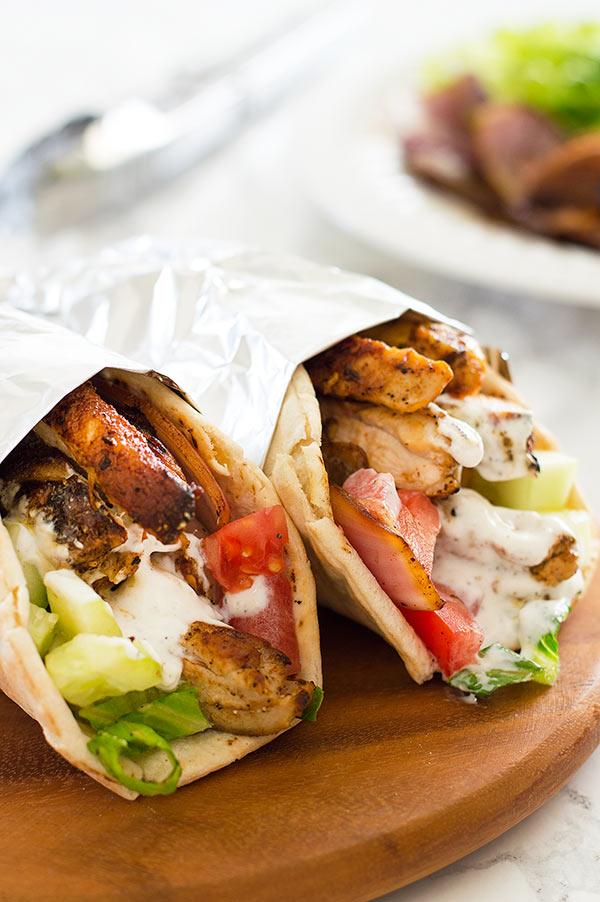 Then, just to make things real authentic, you trash the place, invite some beautiful but filthy and exhausted people over and instant easy shawarma party. Enjoy!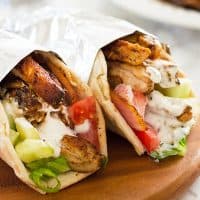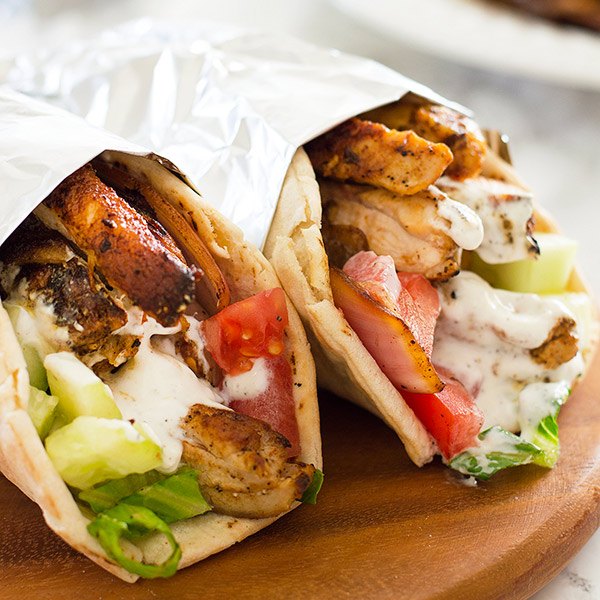 Chicken Shawarma With Yogurt Sauce
A simple chicken shawarma recipe with tender, smokey and flavorful chicken and a salty, garlic and lemon yogurt sauce served over crisp veggies and warm pita bread.
Ingredients
Marinade
1/4

cup

olive oil

3

tablespoons

lemon juice

3

cloves

garlic

pressed

1

teaspoon

ground cumin

1

teaspoon

paprika

1/2

teaspoon

salt

1/2

teaspoon

black pepper

1/4

teaspoon

turmeric

4

boneless skinless chicken thighs
Pita & Toppings
1

small red onion

cut into wedges

1/4

cup

chicken broth or water

4

pita bread loaves

4-5

leaves

romaine

shredded

1

cucumber

chopped

1

large tomato

chopped
Yogurt Sauce
5

to

6

ounces (

2/3

cup) plain Greek yogurt*

1

teaspoon

lemon juice

1

clove

garlic

pressed

1/4

teaspoon

salt

or to taste

Pepper to taste
Instructions
Marinate Meat
In a small bowl, combine marinade ingredients. Place chicken in a plastic bag and pour marinade over the top. Shake to coat and allow to marinate for at least 30 minutes, up to 2 hours.
Make Yogurt Sauce
In a small bowl (or the disposable yogurt cup), combine ingredients and stir until well incorporated.
Cook Meat
Preheat your oven to the warm setting (or lowest setting).

Heat a large skillet over medium-high heat, add chicken thighs (dispose of the marinade) and cook for 2-4 minutes until first side is seared and darkly golden. Flip and cook for an additional 2-4 minutes, until an instant-read thermometer inserted into the center of the thighs reads 160°F. Flip chicken again if necessary and turn down the heat if the chicken seems to be burning.

Transfer chicken to a plate and place a piece of foil over the thighs to keep them warm. Set aside.

Over medium high-heat, deglaze your pan with a little chicken broth or water (about a quarter cup), scraping the burned and blackened pieces off the bottom while the liquid simmers.

Add onions to your pan.

Place your pita bread into the warm oven to heat while your onions cook.

Cook onions until your they reach your desired level of doneness (for me, about 4 minutes for fairly soft onions). Remove from heat.
Assemble
Slice thighs into strips and serve over warmed pita bread. Top with cooked onions, romaine, tomatoes, cucumbers, and yogurt sauce.
Recipe Notes
*5-6 ounces is the standard single-serving size for a package of yogurt.
Nutritional Information
Marinade Adapted From:
NYTimes
More dinner recipes you should try.
Make-ahead Instructions: Chicken, onions, and yogurt sauce can be cooked/prepared up to two days in advance. The rest of the vegetables should be cut just before serving.
Recipe For Two Instructions: Half of 1/4 cup of olive oil is 2 tablespoons and half of 3 tablespoons of lemon juice is 1 tablespoon, 1 1/2 teaspoon. The rest of this recipe halves cleanly.
Freezer Instructions: The cooked chicken thighs freeze well. The onions can be frozen, but will have a softer, slightly mushy texture after re-heating. Freeze both in air-tight containers and keep up to 4 months. The fresh veggies are not good candidates for freezing . To store leftover pita bread, wrap in foil, freeze in a freezer bag, and defrost on the counter or in the microwave, sprinkled with a bit of water. Frozen pita should be used as soon as possible because it will dry out the longer it's kept in the freezer.
*This post may contain affiliate links, which means I receive a small commission if you make a purchase using them. There is absolutely no additional cost to you and it helps keep the lights on around here/pay my student loans. 😉